Back to all posts
Cosmoscan for Persistence: a Comprehensive Onchain Data and Statistics Explorer
2021-10-13 11:21
At the beginning of the Cosmos Hub journey two years ago, there was a lack of relevant tools to explore current data and statistics of Cosmos Atom. Everstake, an early Cosmos validator, and supporter has successfully solved this issue by producing one of the first blockchain explorers for ATOM: Comoscan. Comoscan is zeroed in on fast providing statistics on crucial metrics. From its initial MVP launch in 2019 until now, Everstake has constantly maintained Cosmoscan to keep it up-to-date, provide rapid-paced performance and keep high-level UX. The main feature being data is structured in convenient visual charts, which can be analyzed for a given time period. We were pretty hyped up by all the positive feedback from customers using our product. So we decided to expand Cosmoscan to other Cosmos-based blockchains, starting with Persistence, where Everstake is acting as a Genesis Validator.
We are super pleased to introduce a freshly baked Cosmoscan for Persistence. Just as importantly, no subscription is needed and all data loading is almost instantaneous. To reach the web application, just follow this link: https://cosmoscan.net/persistence.
Persistence blockchain triumphantly entered the Cosmos Ecosystem in Spring 2021, developing next-gen dapps aimed at dramatically changing blockchain economics. At the time of writing, Persistence had demonstrated massive traction, having over $800 million of market cap with a total supply of 325 million XPRT, more than 85% of which is staked.
pSTAKE, an innovative liquid staking platform with initial support for Cosmos ATOM designed by the Persistence team, collected $5 million in TVL over two months from its capped launch. pSTAKE allows its users to benefit from staking and DeFi activities simultaneously, using the same crypto assets. The next near step will be to add XPRT to the platform.
Besides, there are two apps under deep development, covering NFT markets (Asset-Mantle) and synthetics assets exchange (Comdex).
Persistence network's native token XPRT (XPRT Tokenomics and Utility) is involved in all applications as a work token and has already covered a decent part of the market, including top-tier centralized exchanges Kucoin, Huobi, Ascendex, Gate.io, and DEXs Osmosis, Sifchain, and Emeris with millions of dollars in trade volume. Thus, XPRT-related data sets are huge and distributed. Via Cosmoscan, in just seconds, you can find all the needed information for decision-making regarding XPRT trading, investing, staking, etc.
Cosmoscan
Structure
There are four pages of Cosmoscan's structure: Home, Network, Governance, and Validators. All of them other than Home include two sections: Stats and Charts.
Headers
In the upper pinned string are current metrics including block height, latest validator, latest proposal, average validator fee, block time, and price.
Home
There are the main market numbers.

In the separate block below, are charts of XPRT transfer volume and bonded ratio, which could be shown for a selected period of time: last day, last week, last month, or last three months.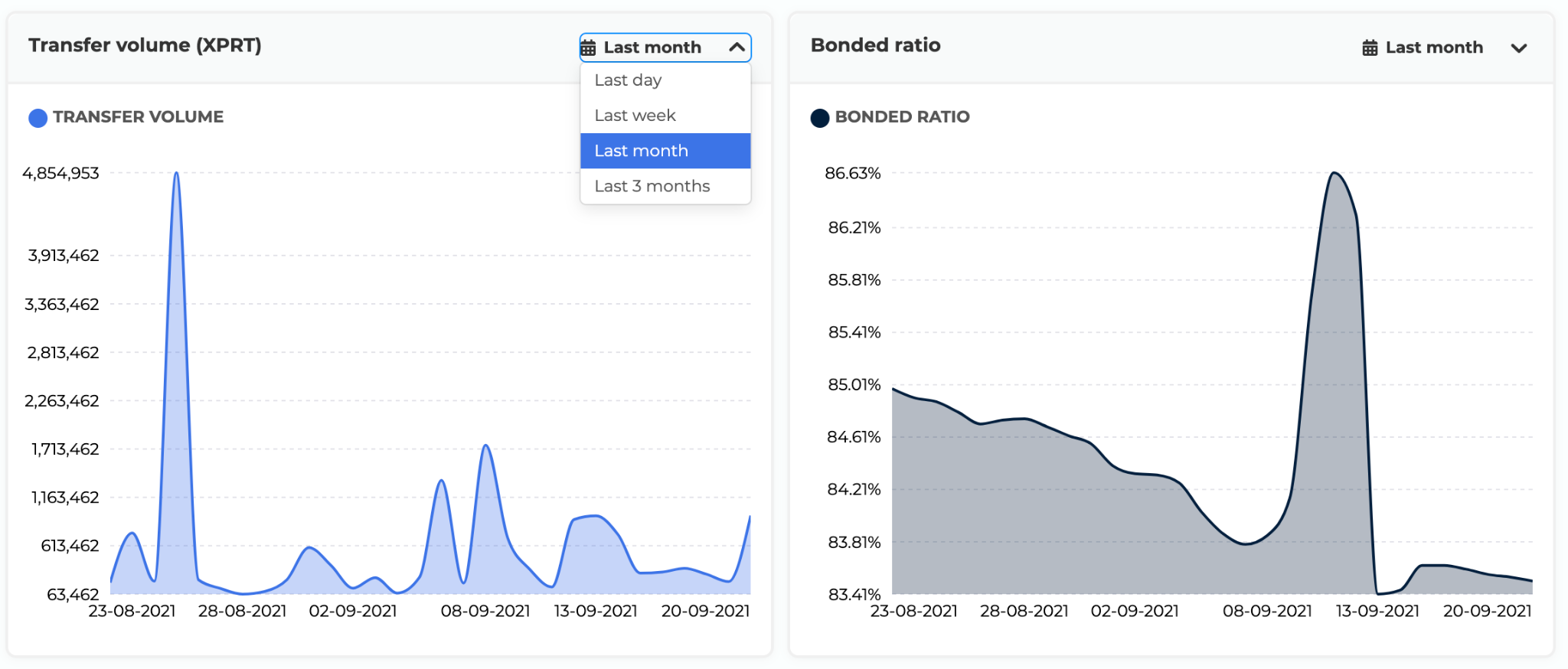 Network Stats
The network stats page demonstrates stake shares distribution among all active validators in a form of the pie chart.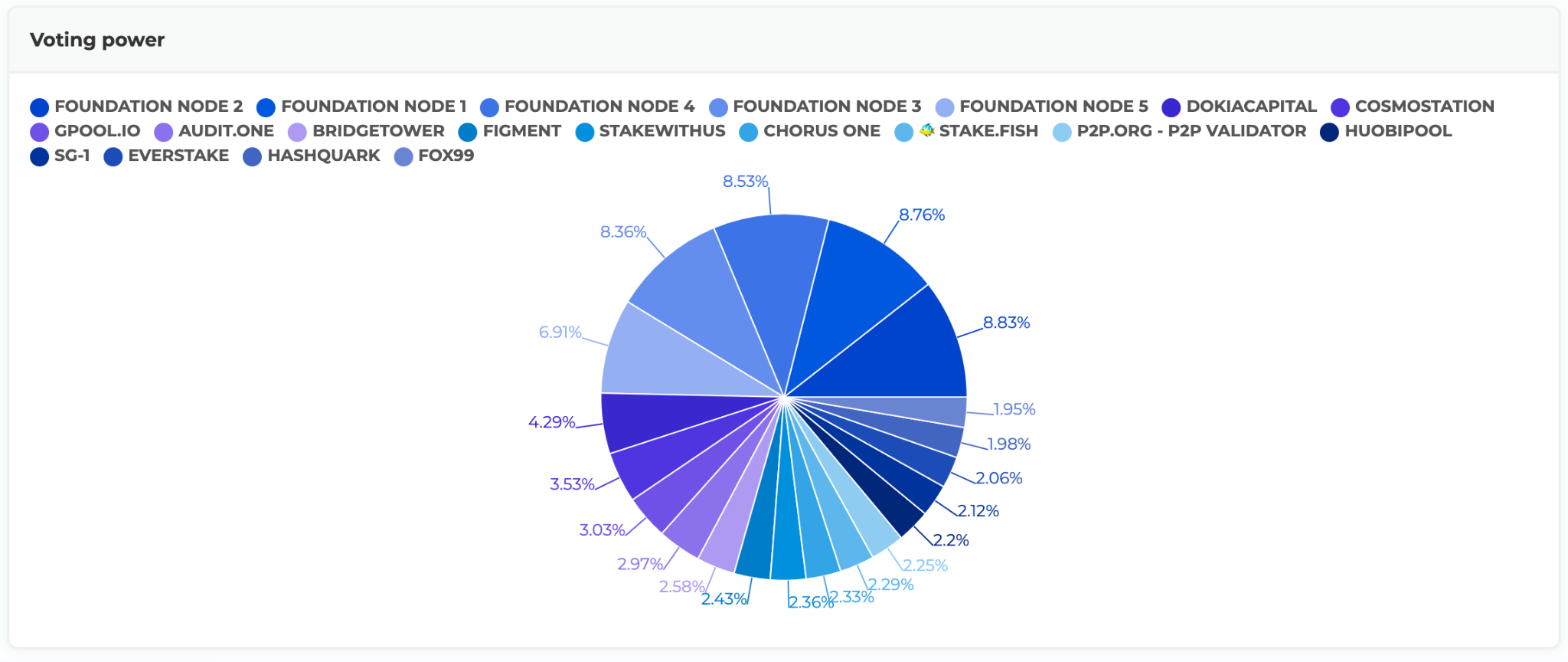 Then the overall data on the various events and activities is provided, such as total bonded $XPRT, network size, number of big and small accounts, and much more. Note, that these charts show numbers for the current date by default, but that could be changed in the calendar attached.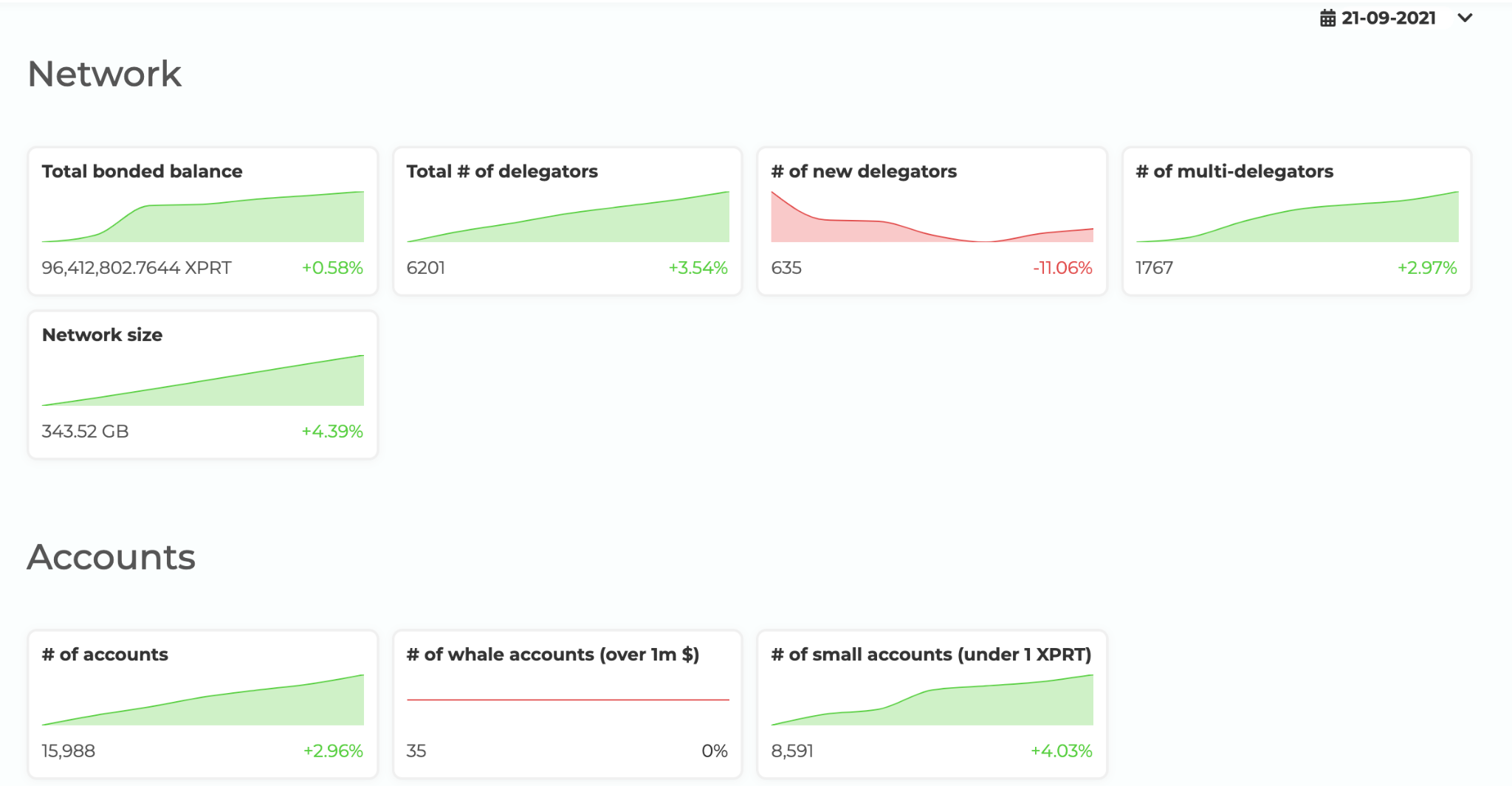 Network Charts
Network charts provide a visual representation of the data from the Persistence blockchain and include the number of blocks, validators, delegations, unbondings, etc. Each of the eight charts can be also sorted by time period.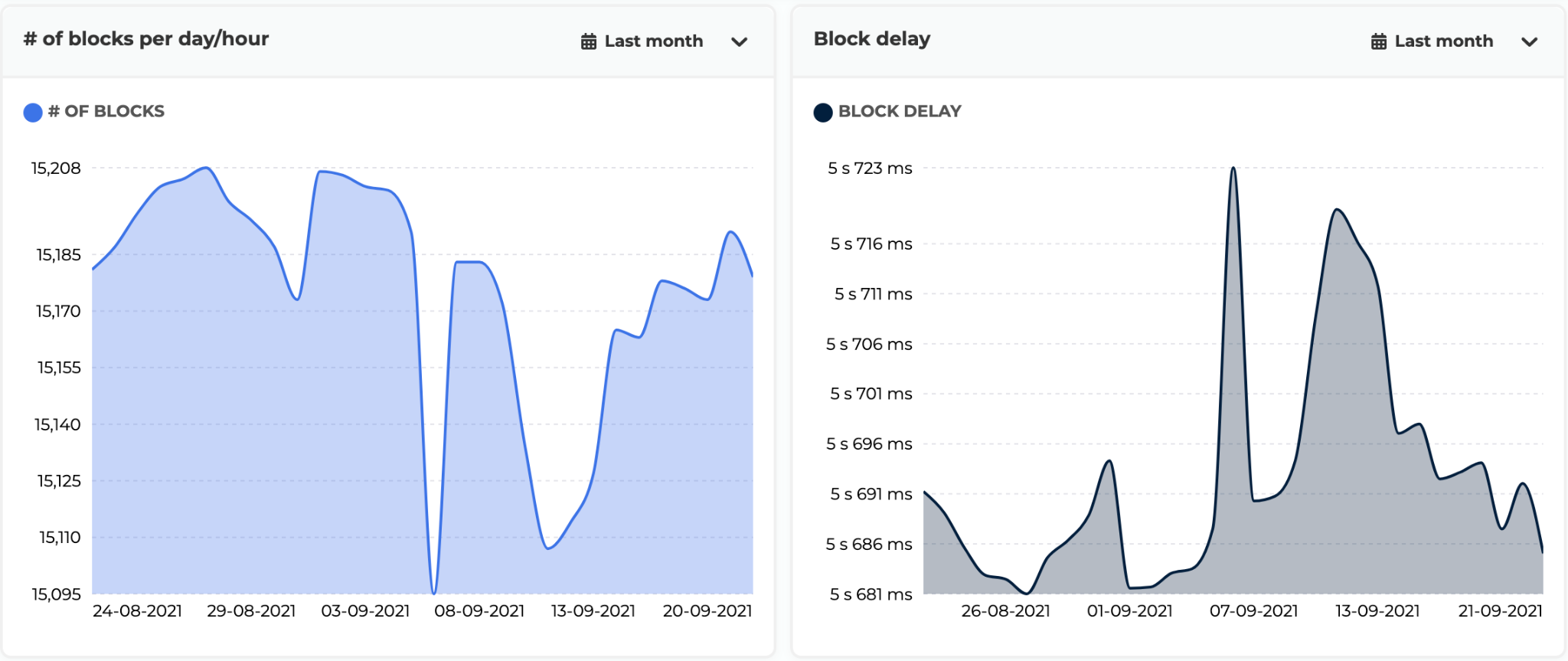 Governance Stats
This page reveals all essentials of the proposals and voting for them.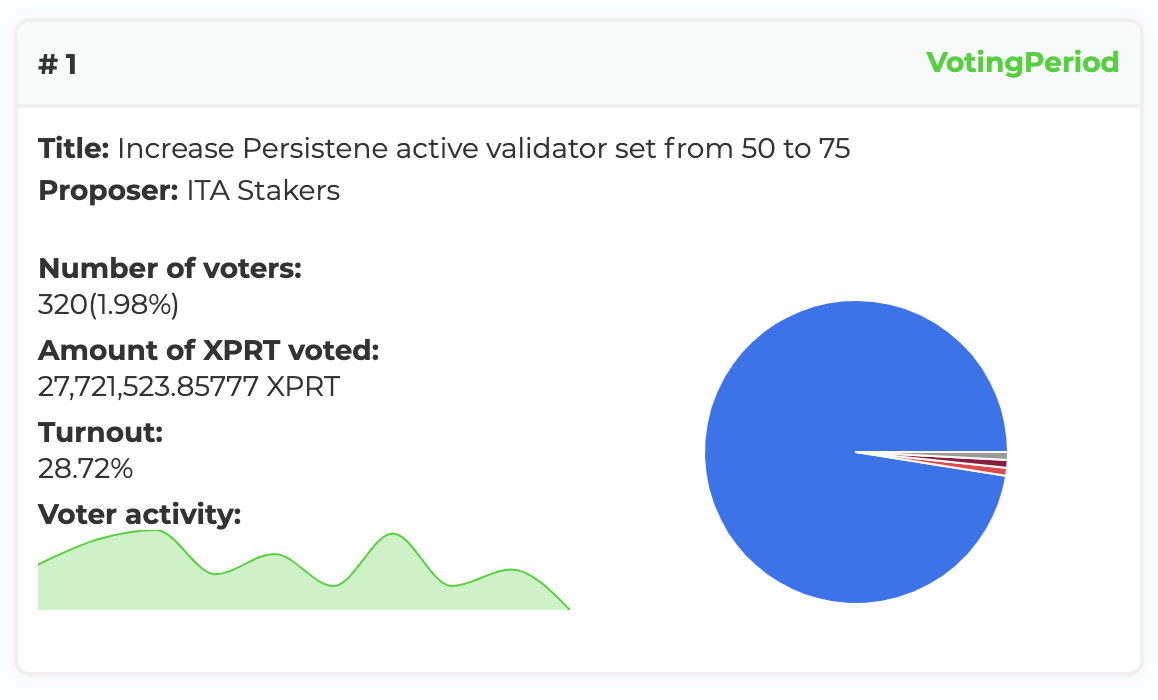 Governance Charts
The following can be found here: visualized proposal turnout, voter activity, and the most vetoed proposals.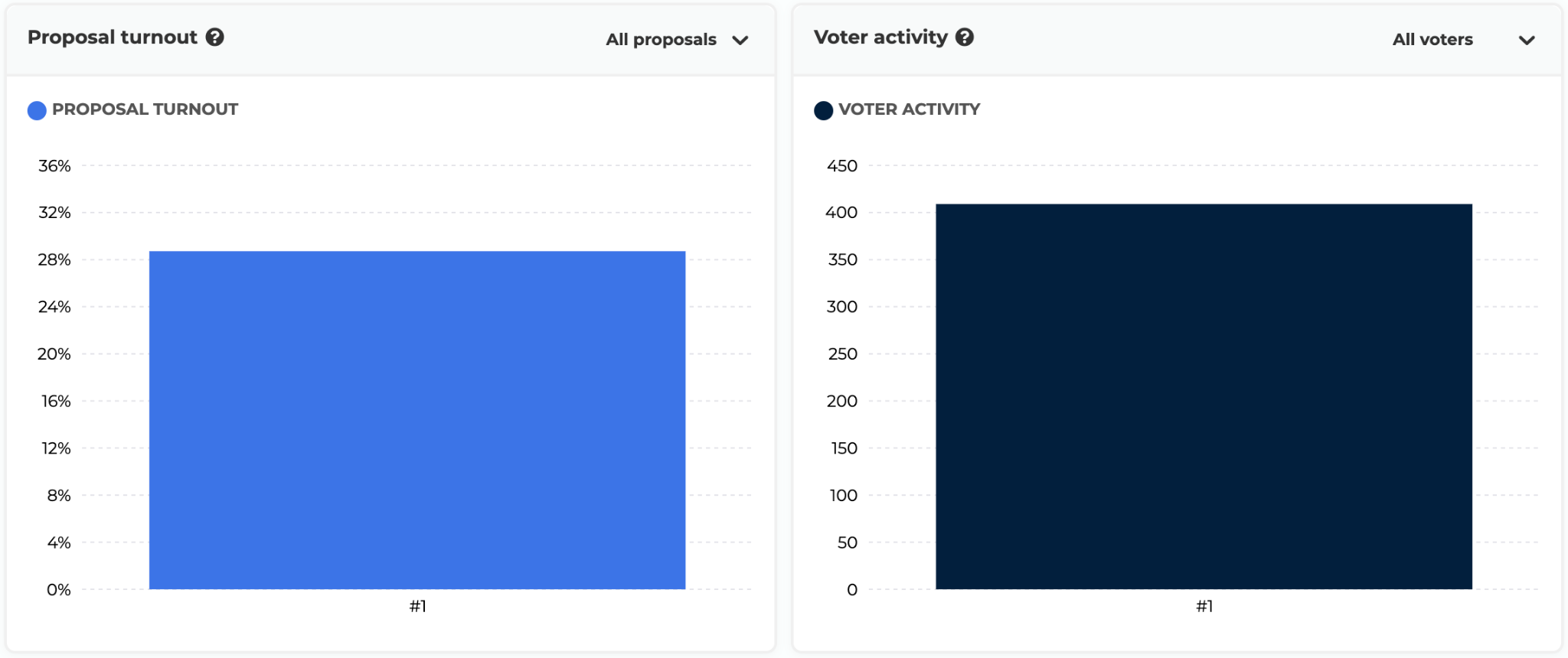 Validators Stats
All staking providers who validate the Persistence Protocol are represented in a structured list arranged by voting power. This table aims to compare validators by core parameters like a total stake, self-stake, fee, and a number of delegators.
By pressing the validator's name in the first column, you can reach its blockchain addresses, website, and distribution of delegated XPRT.

Dropping lower, charts with delegated balance and the number of delegators could be found.

Finally, at the bottom of that page, all delegators are represented by addresses, sorted by staked amount.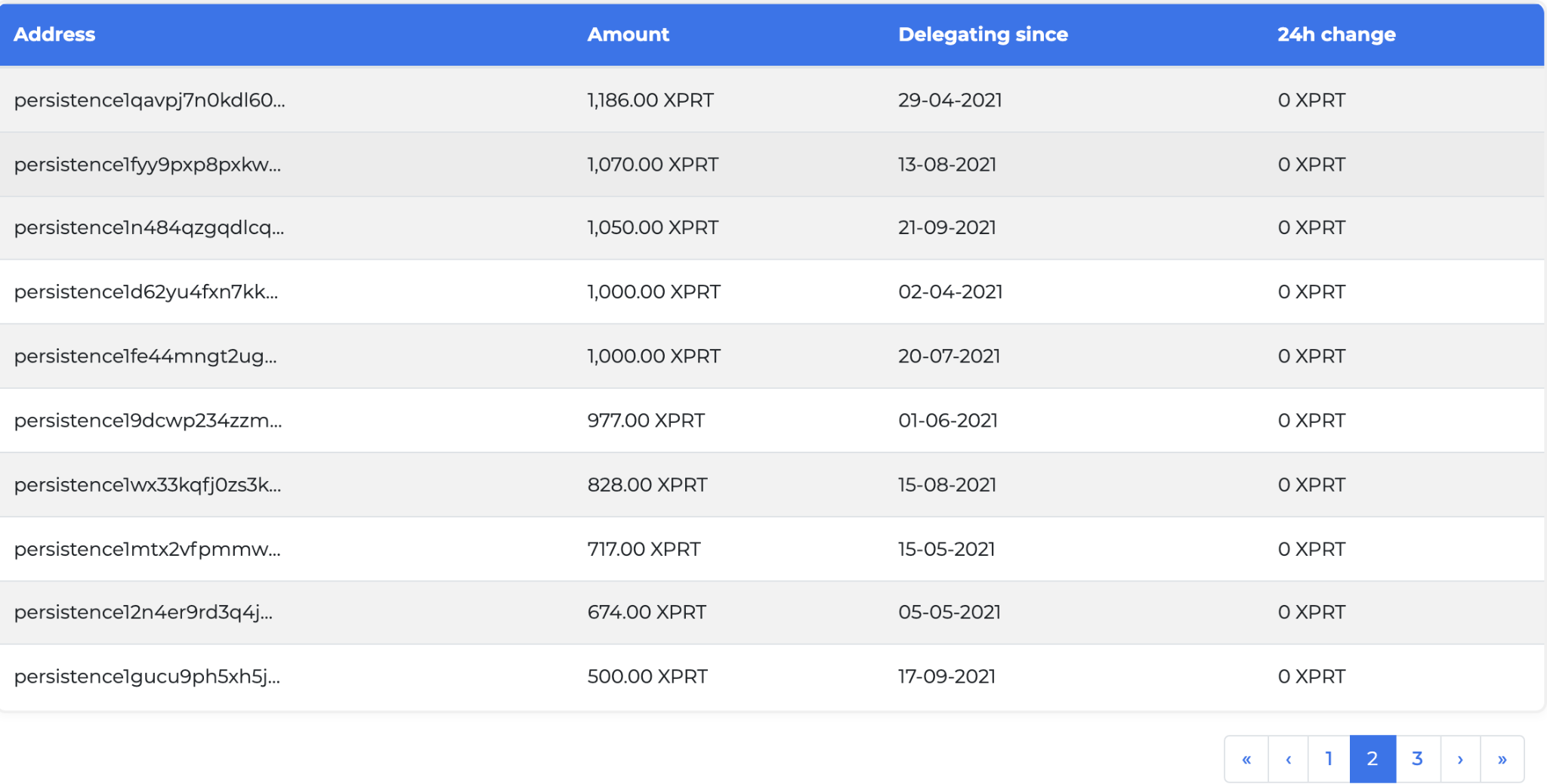 Validators Charts
Visiting this section, you will get key validators metrics visualized, namely blocks proposed, the number of jailings, fee range, and total delegators.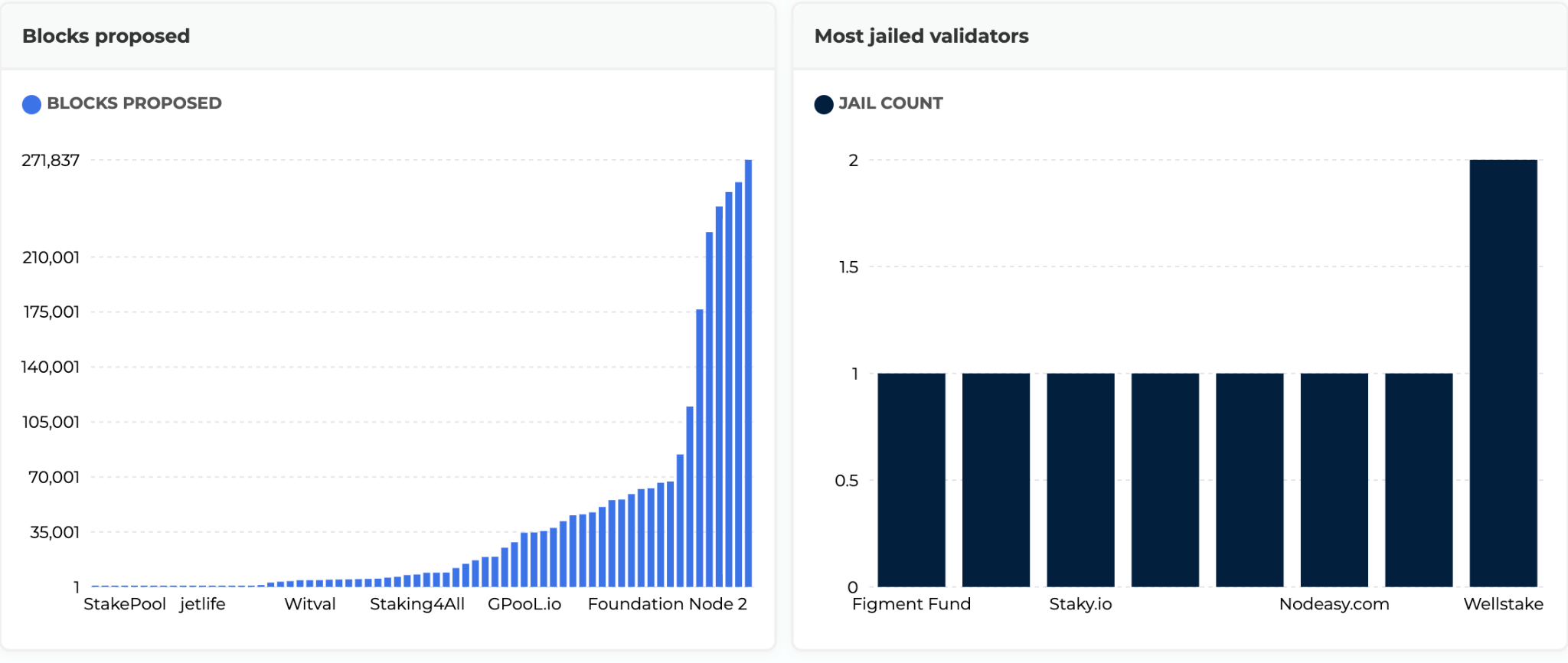 Footers
All Cosmoscan pages can be reached from footers as well. Also, there are repos behind Cosmoscan and links to Everstake's socials, where you can always get fresh blockchain-related news and educational content. Keep in mind that our support is active and available 24/7 via Telegram chat.
To rate Cosmoscan, just click on the blue smiley face in the left down corner to add your mark.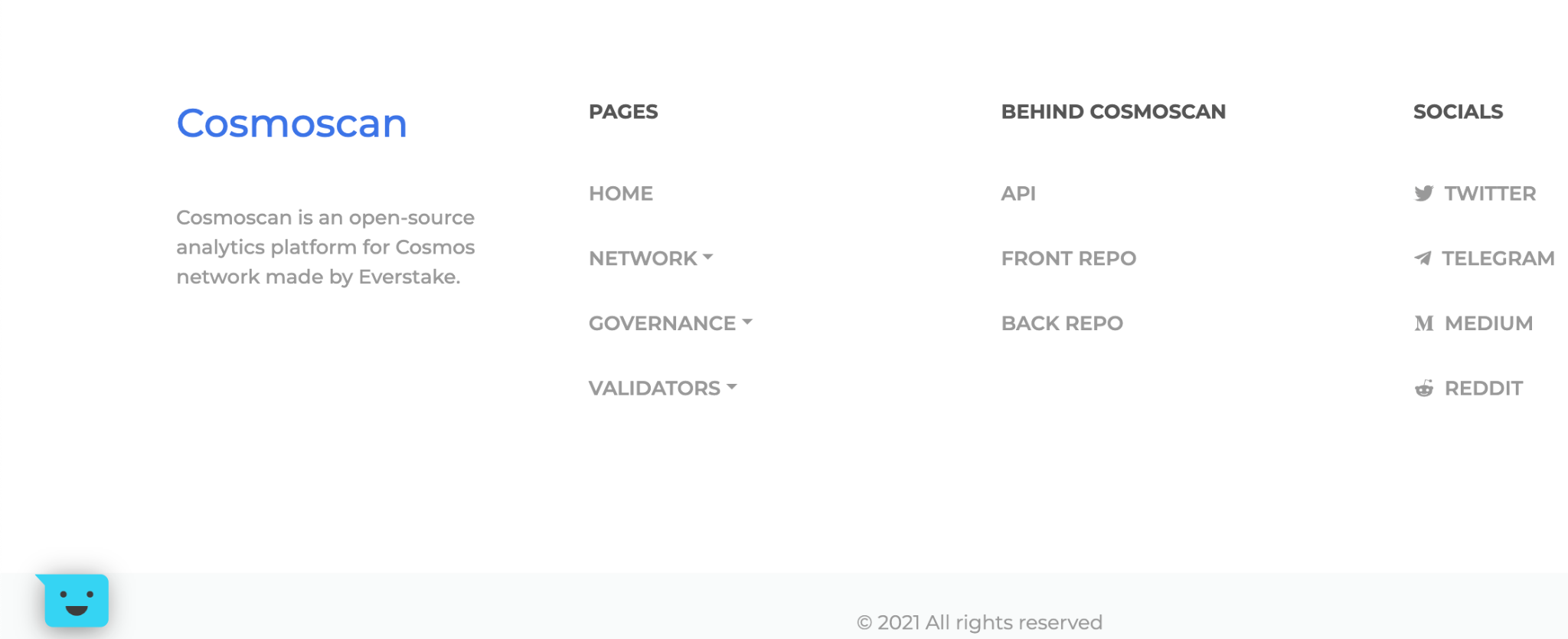 If you have any feedback or suggestions on how to improve Cosmoscan, just drop us a line at [email protected]
At Everstake we strongly believe that our contributions to blockchains, including Cosmoscan, bring more democracy, transparency, and increased massive adoption of blockchain technology by a broad audience.
To stake XPRT with Everstake, please follow our guides:
How to Delegate XPRT in Cosmostation Crypto Wallet
How to stake XPRT in Keplr Wallet
How to Connect a Ledger Wallet to the Persistence Wallet and Stake XPRT
How to Delegate XPRT in Persistence Wallet
Follow us on social media