Back to all posts
How to stake Solana in the Solflare wallet using Ledger
2020-11-11 10:06
Solana developers created a scalable blockchain-based on the Proof-of-History consensus mechanism to solve the problem of time synchronization in a decentralized ecosystem. Solana aims to achieve a network throughput of 710 transactions per second, making it one of the fastest blockchains.
Dokia Capital has developed a Solflare wallet for Solana token holders, which allows users to delegate their SOL tokens and receive rewards. At the moment no rewards are awarded to stakers — this option will be added in the coming months. However, the Everstake validator decided to support its users and pay them staking rewards until Solana enables them. Read more about this here.
In Solflare, users can create a wallet for staking SOL tokens in either of two ways:
1. Using a Keystore file that users download for backup when creating their Solflare wallet. If you prefer this method, then in this guide you will find detailed instructions on how to stake Solana this way.
2. By connecting a Ledger Nano S or Nano x hardware wallet. You can use your Ledger device to create and use a Solflare wallet to securely delegate SOL tokens. We'll cover this in this guide.
Important! If you are using a Ledger Nano X wallet, you may encounter errors when working with Solflare. Developers are already working on this problem and will let you know when it is fixed.
In this step-by-step guide, we will show you how to stake Solana (SOL) tokens in the Solflare web wallet using the Ledger hardware wallet.
How to create a wallet
1. Prior to creating a Solana wallet, you will need to install the Ledger Live app. If you haven't done this yet, download the app to your device from the Ledger manufacturer's official website.
2. Launch the app and go to "Settings" to activate developer mode in the "Experimental features" section.
3. Now open the "Manager" tab located on the left side panel of the Ledger Live app. Then connect your Ledger device to your PC and confirm the connection to use it.
4. In the app catalog, find Solana in the list and install it so that you can use your Ledger wallet to stake SOL tokens.
5. Done. Now you can create your online Solflare wallet
Solflare is a convenient online wallet for Solana holders with an intuitive interface, where users can easily stake SOL tokens. To create a wallet, go to the Solflare website and click "Create a Wallet".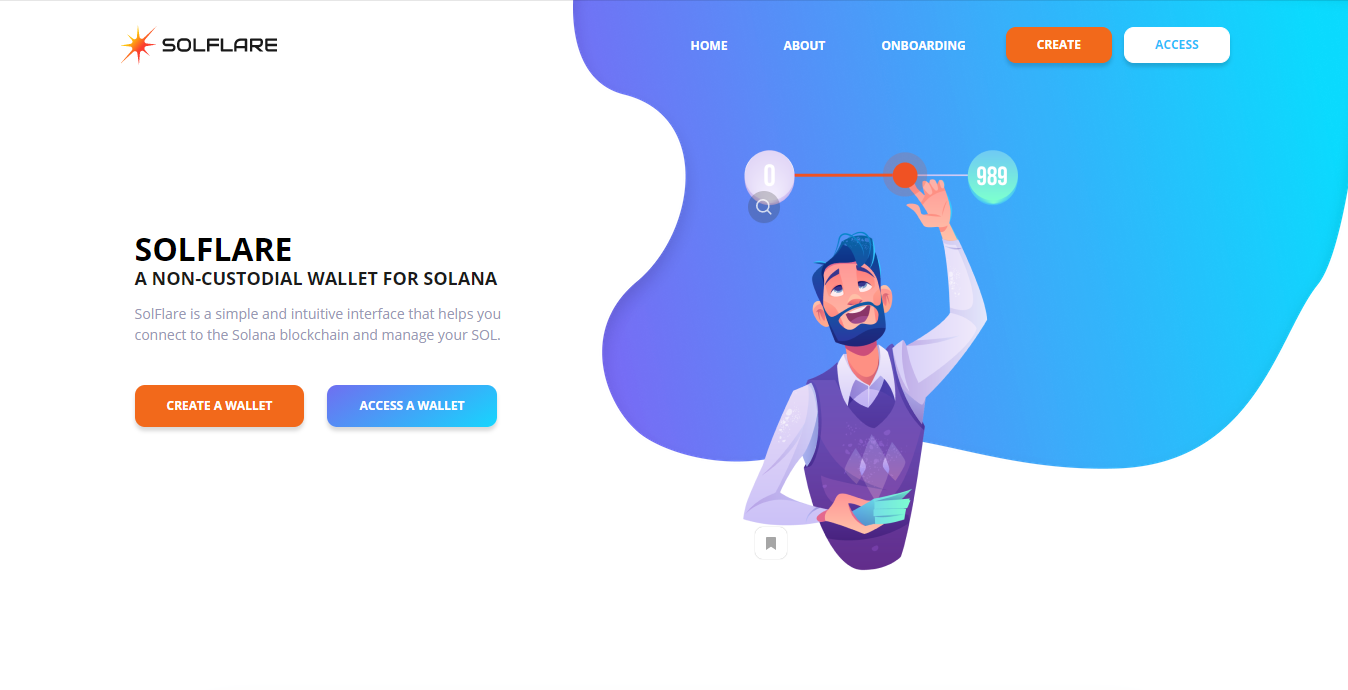 Attention! Web wallets can be vulnerable to online attacks, mainly phishing and other methods of data interception. If the amount of your assets is large, use Ledger hardware devices to access your wallet to prevent theft of funds and make staking safe. Hackers will not be able to steal coins without access to your hardware wallet.
On the wallet creation page, select the "Using Ledger Nano S | Ledger Nano X" tab. To continue, your device must be connected to a PC. If you haven't done so yet, connect it, then click "Access".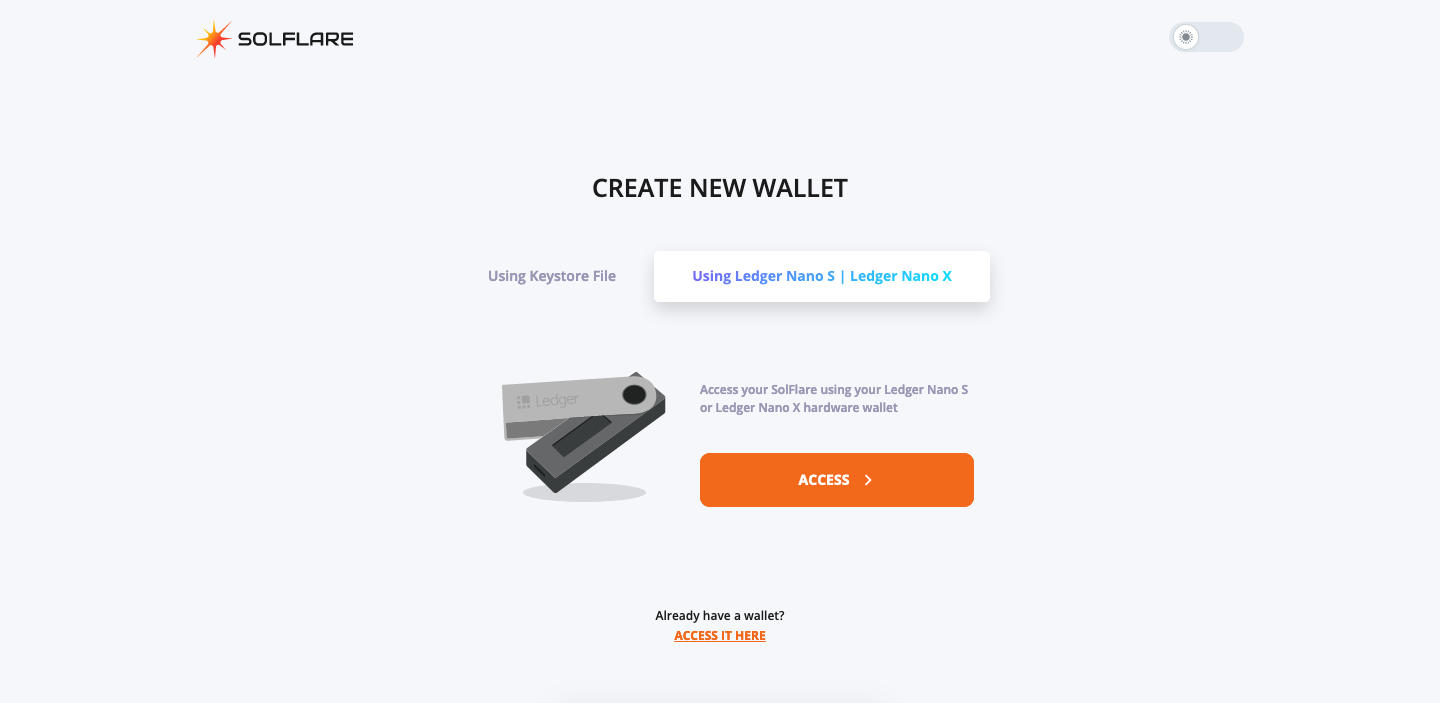 If the Ledger Live app notifies you that your hardware wallet is ready to use, select the destination path for your Solana wallet. A pop-up window will appear where you need to select your device. Select your wallet and click "Connect". After that, click "Access" to open a new wallet.

The wallet is ready to use! You just need to top it up, and you will be able to move on to Solana staking.

How to top up your Solflare wallet
You will need to create a separate account for staking, which you can top up from your Ledger hardware wallet. If you don't have SOL tokens on your device, you can purchase them on a crypto exchange or use other cryptocurrency exchange services.
There are two ways to create a staking account:
Go to the "Staking" section and select the corresponding option;
By clicking the "Get started" button on the web wallet main page.
When adding funds to your wallet, consider network fees, and allocate a small part of the amount to pay transaction fees. So, after you start creating a staking account, a window opens. Enter the amount of SOL tokens you want to add to your wallet and click "Next".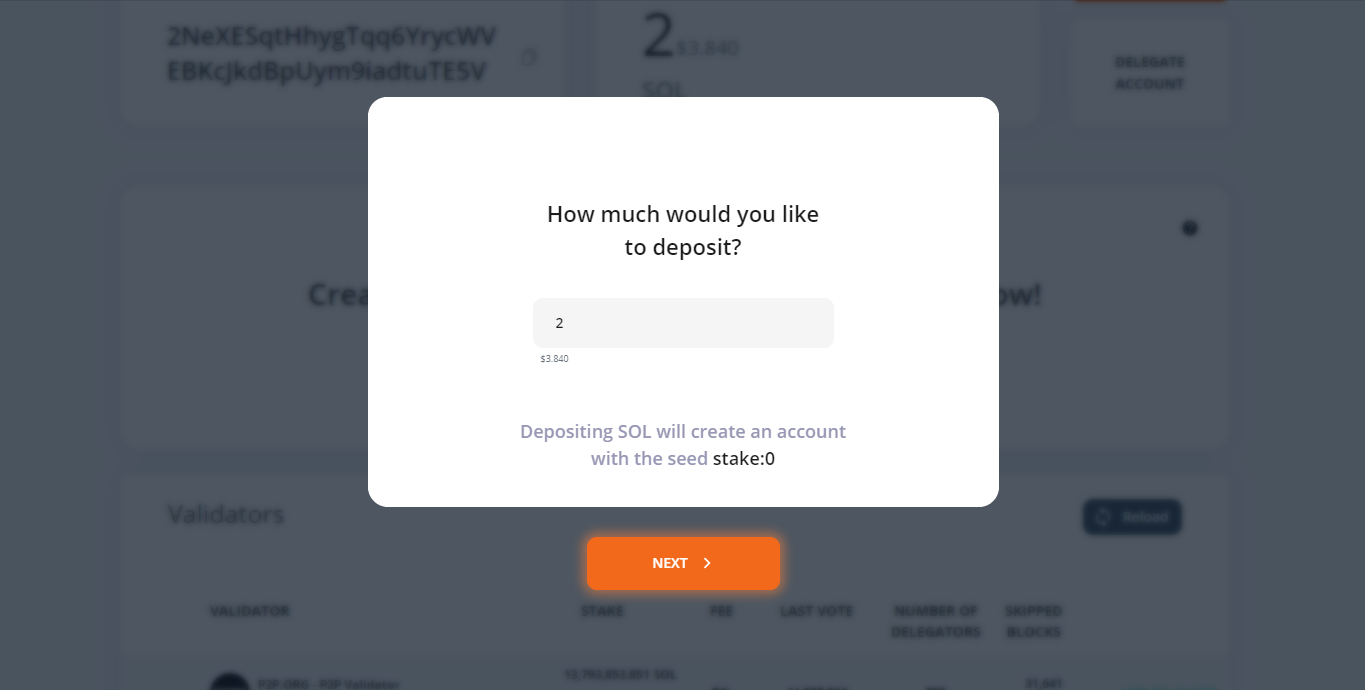 Then check the payment details and confirm the transaction by pressing both buttons on the Ledger device. Within a few minutes, SOL tokens will appear on your staking account balance.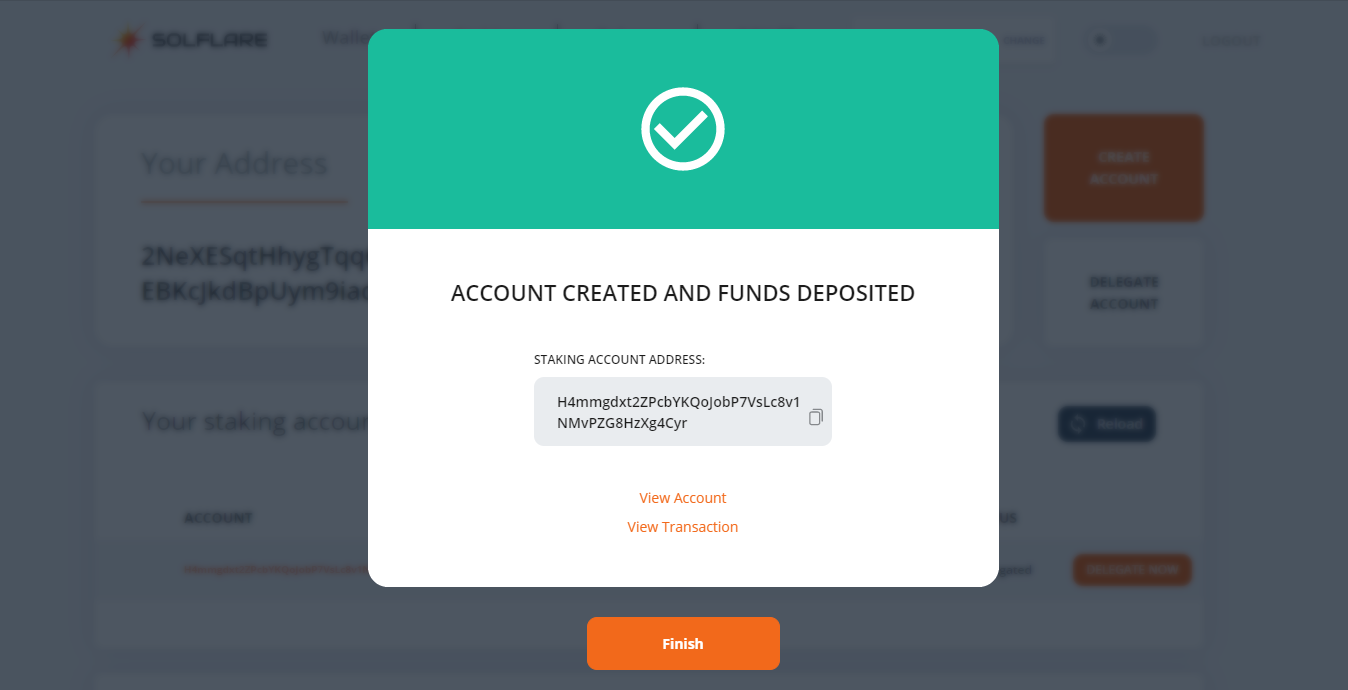 Great! The wallet has been replenished, and now we can proceed to delegating Solana tokens.
How to stake Solana
The last step is to delegate tokens to a validator. The main page displays all created accounts for staking and their balances. To delegate SOL tokens, select the appropriate account and click the "Delegate now" button.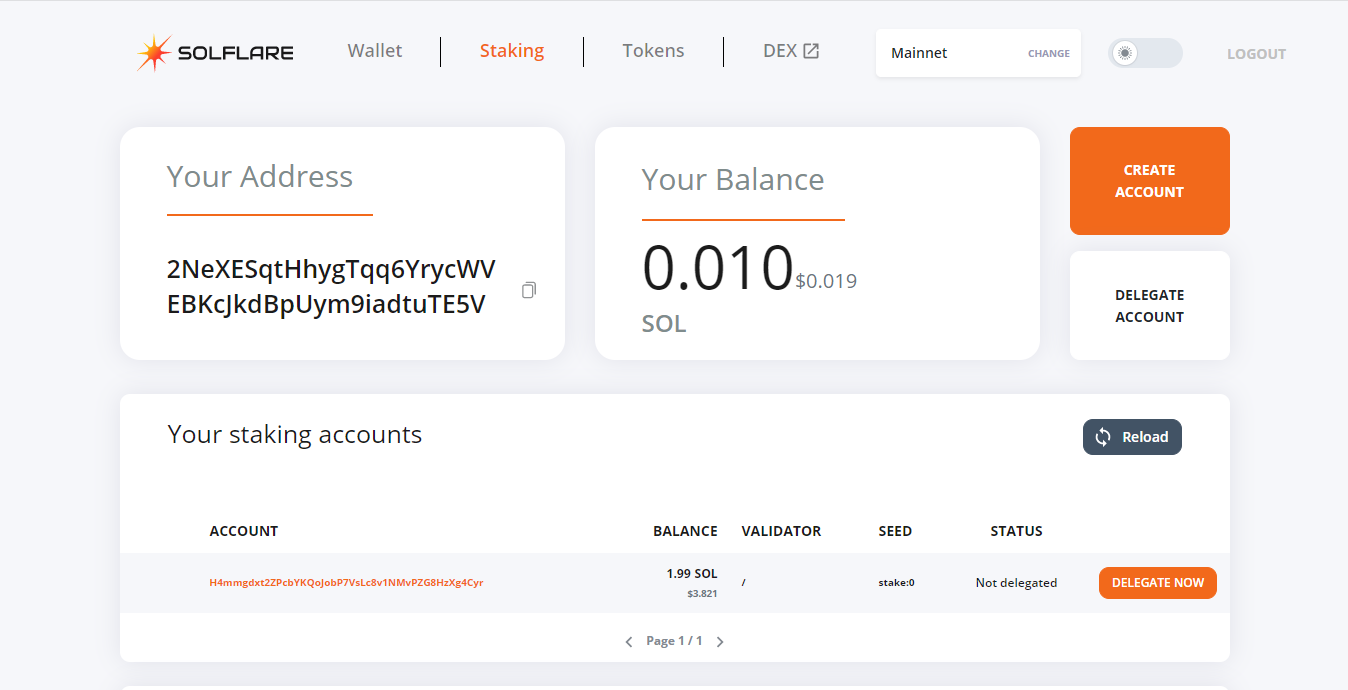 A window will open for selecting a validator. Just start typing the delegate name — Everstake, and it will appear in the list. Select the validator and click "Next".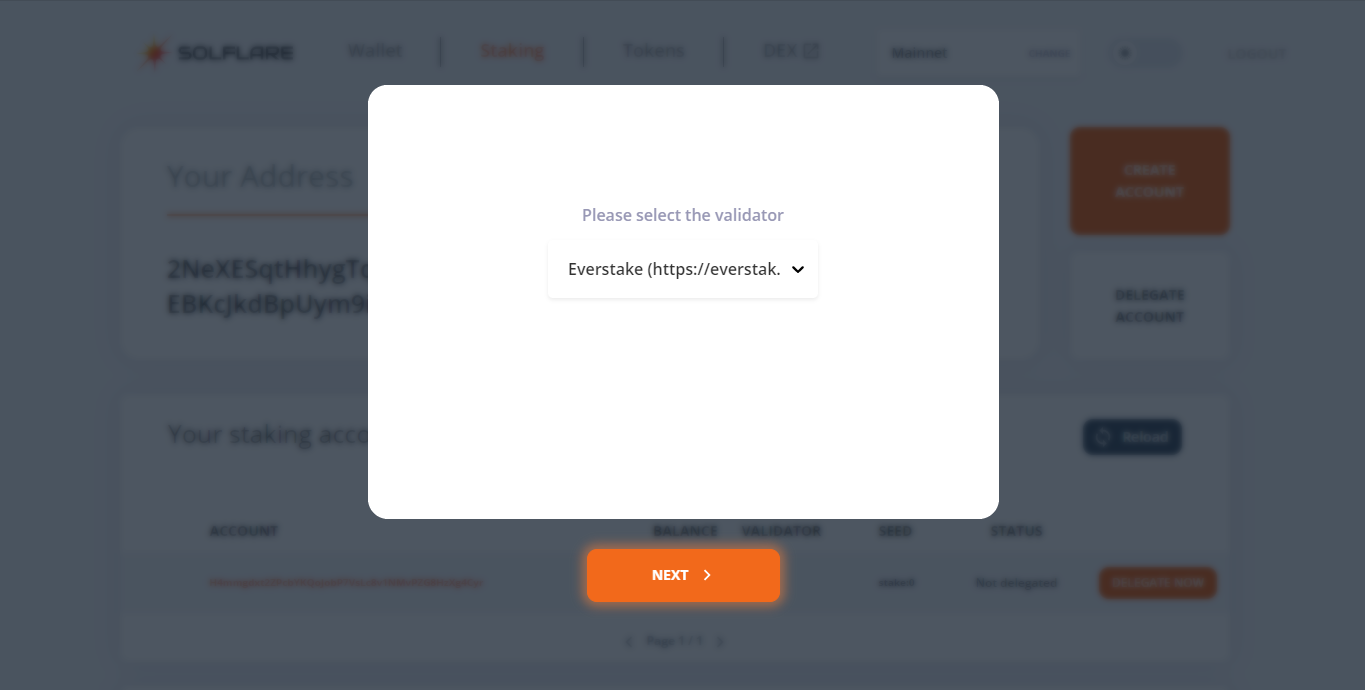 "Approve" will appear on the screen of your Ledger device. Make sure that the amount entered is correct and you have taken into account the network fee. Solana will charge 0.01 SOL per transaction. Then confirm the transaction by pressing both buttons on the device. If the transaction has passed, you will see the following message: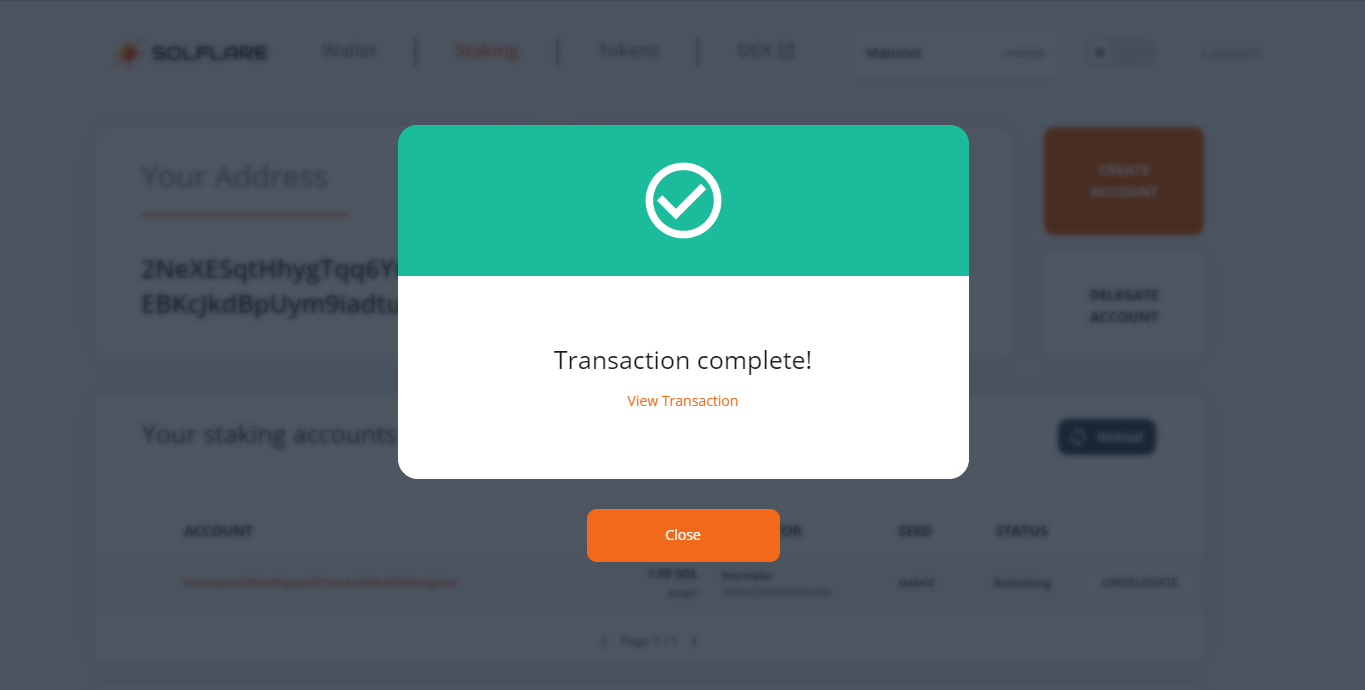 This means that you have successfully secured Solana tokens and can now receive a reward as soon as the network processes the transaction. On the main page, you will see the delegation status. If you want to undelegate coins, connect Ledger, click "Undelegate" and specify the SOL tokens amount you want to undelegate.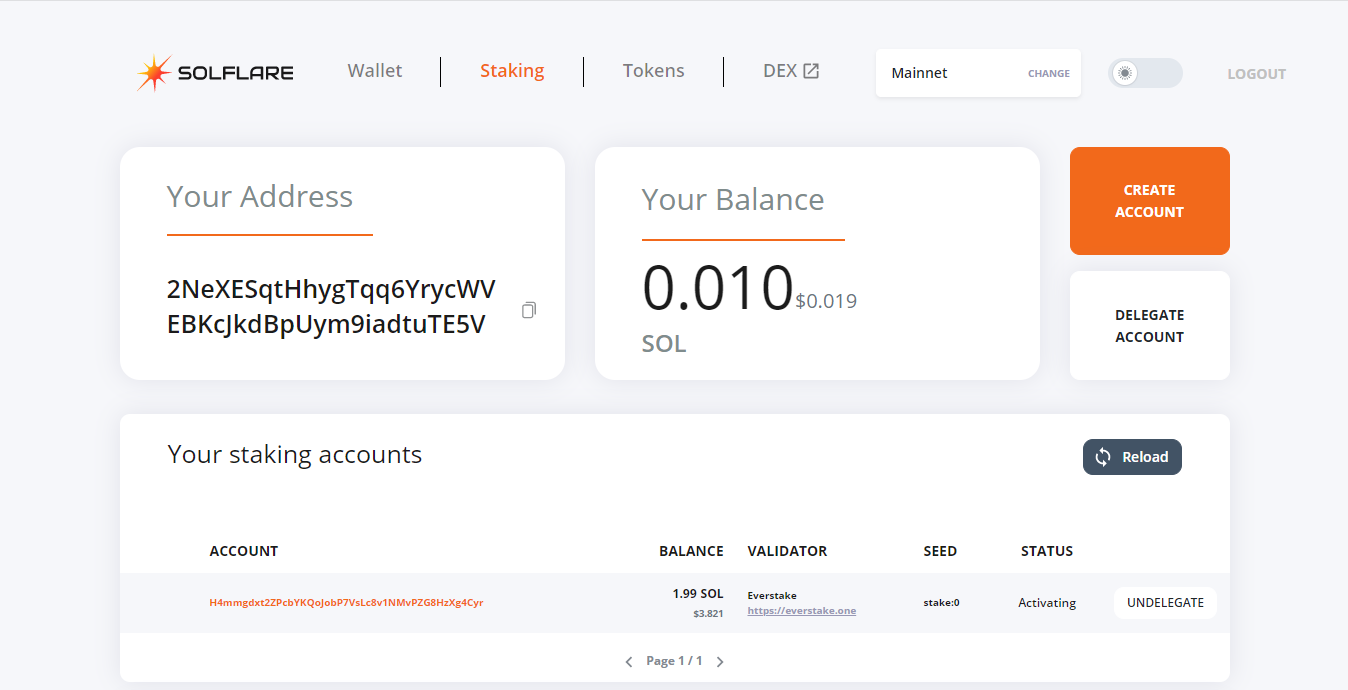 Now you know how to make Solana and can enjoy the reward right now if you voted for Everstake. Stakers will receive rewards in the amount of 1% per annum every week until the start of inflation. After testing payments, Everstake plans to increase the APR. Choose Everstake as a validator — a team of professionals carefully selects projects for staking and maintains the stability of validators in order to ensure maximum staking profitability for their tokenholders. On the site, you can also learn more about the Solana project and find a calculator for calculating profits, as well as guides on staking. We wish you a huge profit!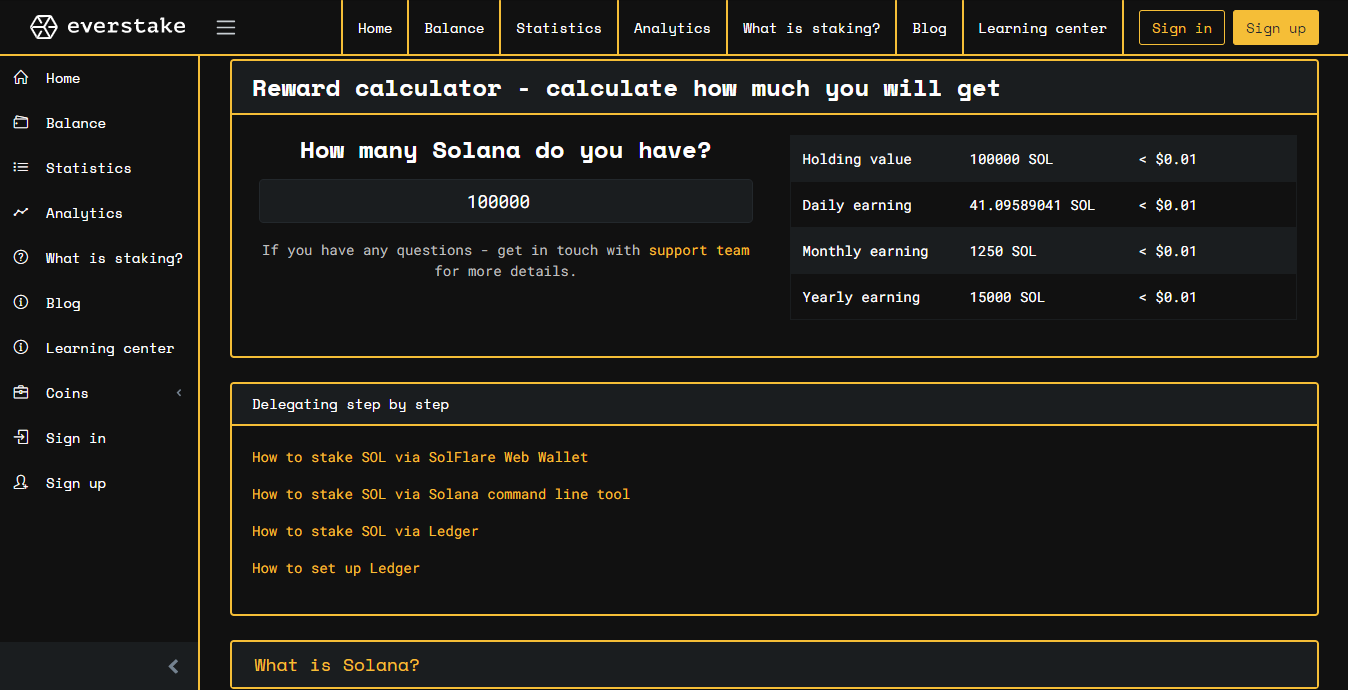 Everstake validator address: 9QU2QSxhb24FUX3Tu2FpczXjpK3VYrvRudywSZaM29mF
Promo Fee: 0%
Fee after promo: 7–10%
Subscribe to our Medium channel and social media to keep up to date with important events from the world of staking.