Back to all posts
How to use Dock Wallet App
2021-12-22 08:54
What is the Dock Network (DOCK)?
Dock is an open-source network providing infrastructure and tools for issuing verifiable credentials using blockchain technology. With Dock, an individual or entity can create their own decentralized identity (DID) and manage it, and with blockchain technology Dock verifies its authenticity.
If you want to know more about the Dock Network, read our article:
What is the Dock Network and why it can be useful?
DOCK tokens are listed on several exchanges such as Binance, Kucoin, Huobi, Wazirx, Hotbit, Gate.io, and purchasing DOCK via the widget on Dock's website also is available now.
Token holders play an important role in the Dock network by selecting validators to run and secure the Dock network and, as a result, are eligible to receive token rewards.
You can check the existing staking guides below.
How to stake DOCK using Dock JS App
How to stake DOCK using Polkadot JS Extension
In this guide, we found out how to use Dock Wallet App, which was launched recently. This is a significant milestone for Dock, as not only can community members now store, send, receive, and manage Dock tokens from their mobile device, it will serve as an important gateway to a number of planned Dock innovations.
Functions Available in Dock Wallet App
Dock's Wallet App gives the token holder full control over their DOCK tokens as the wallet enables them to control and manage their own private keys, allowing them to send and receive tokens without the involvement of any third party.
Existing centralized crypto exchanges are in control of the tokens held on their platforms; to send, receive, lock, or withdraw cryptocurrency, the network must first approve of this transaction. With these so-called custodial wallets, there are many security considerations including; (1) them being hacked or (2) blocking your access to your account for a certain reason if they feel it is necessary.
With Dock's Wallet App, and as previously mentioned, the token holder is in control of the private key, can send, receive, withdraw, and manage their tokens without the permission or input of any third party. The user creates their own recovery phrase and can create several accounts on the App.
How to start using Mobile Wallet
Download and install Dock Wallet from App Store or Play Store.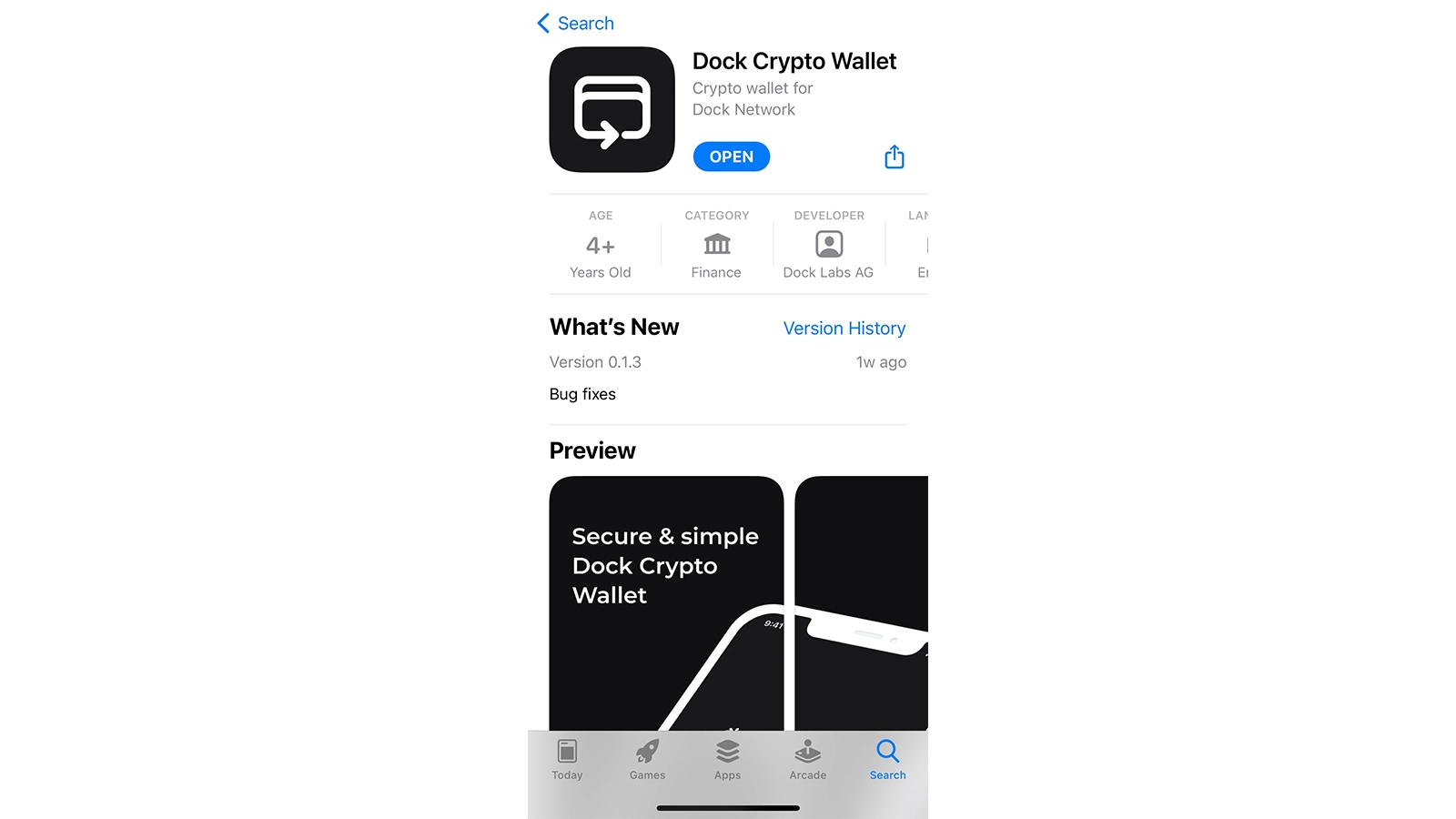 Once the installation is completed, click 'Create a new wallet' or, if you already have a wallet and wish to use it, click 'I already have a wallet'.
Then you should to Setup Passcode. Enter and re-enter your password. Remember it well. Otherwise, you might be unable to sign in.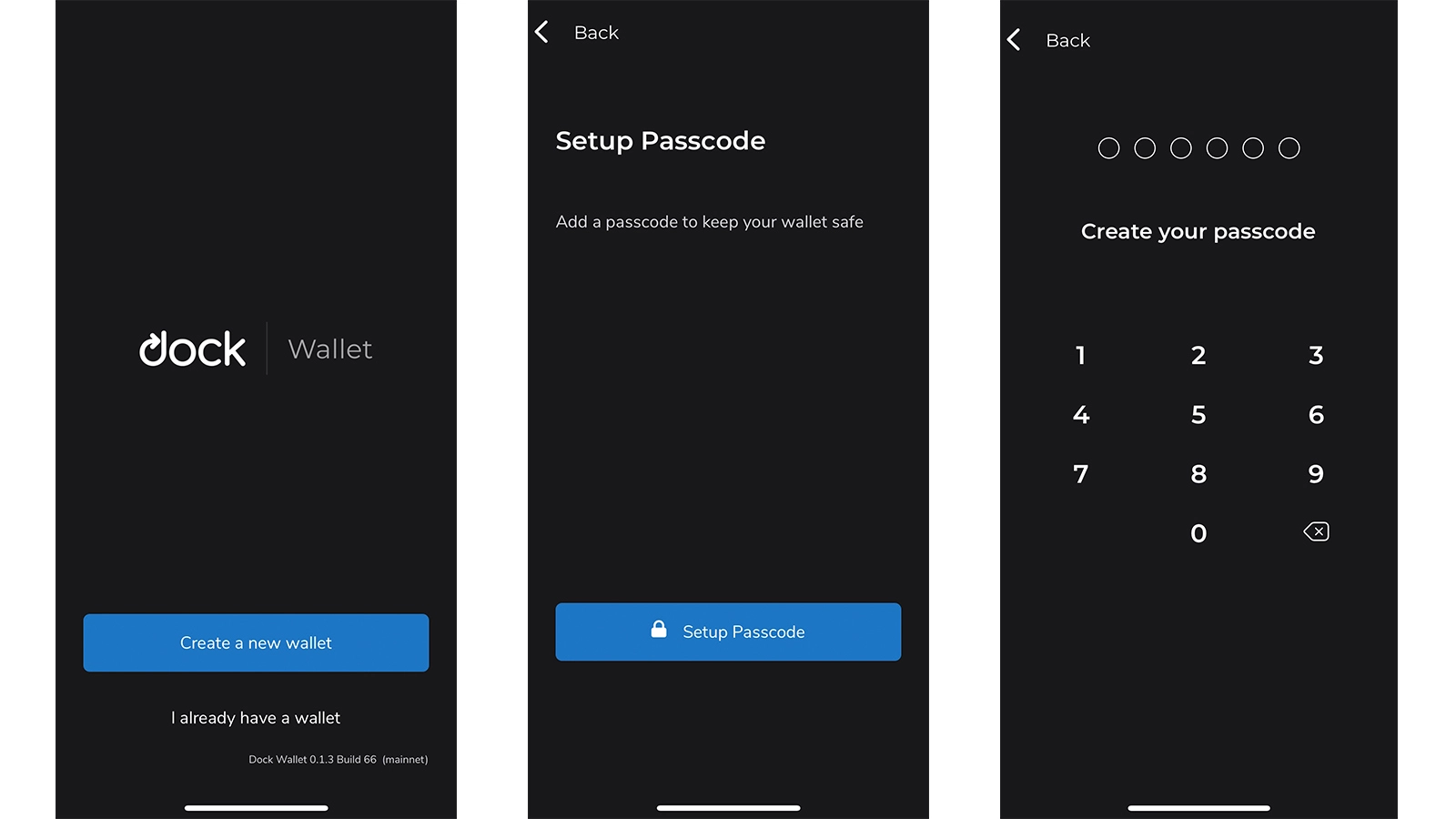 There is an option of adding an extra layer of security, so you can use your biometric to protect your wallet.
At the next stage, you should choose an appropriate option. In case you have already an account, you can import it via account recovery phrase, JSON file, or scanning QR code.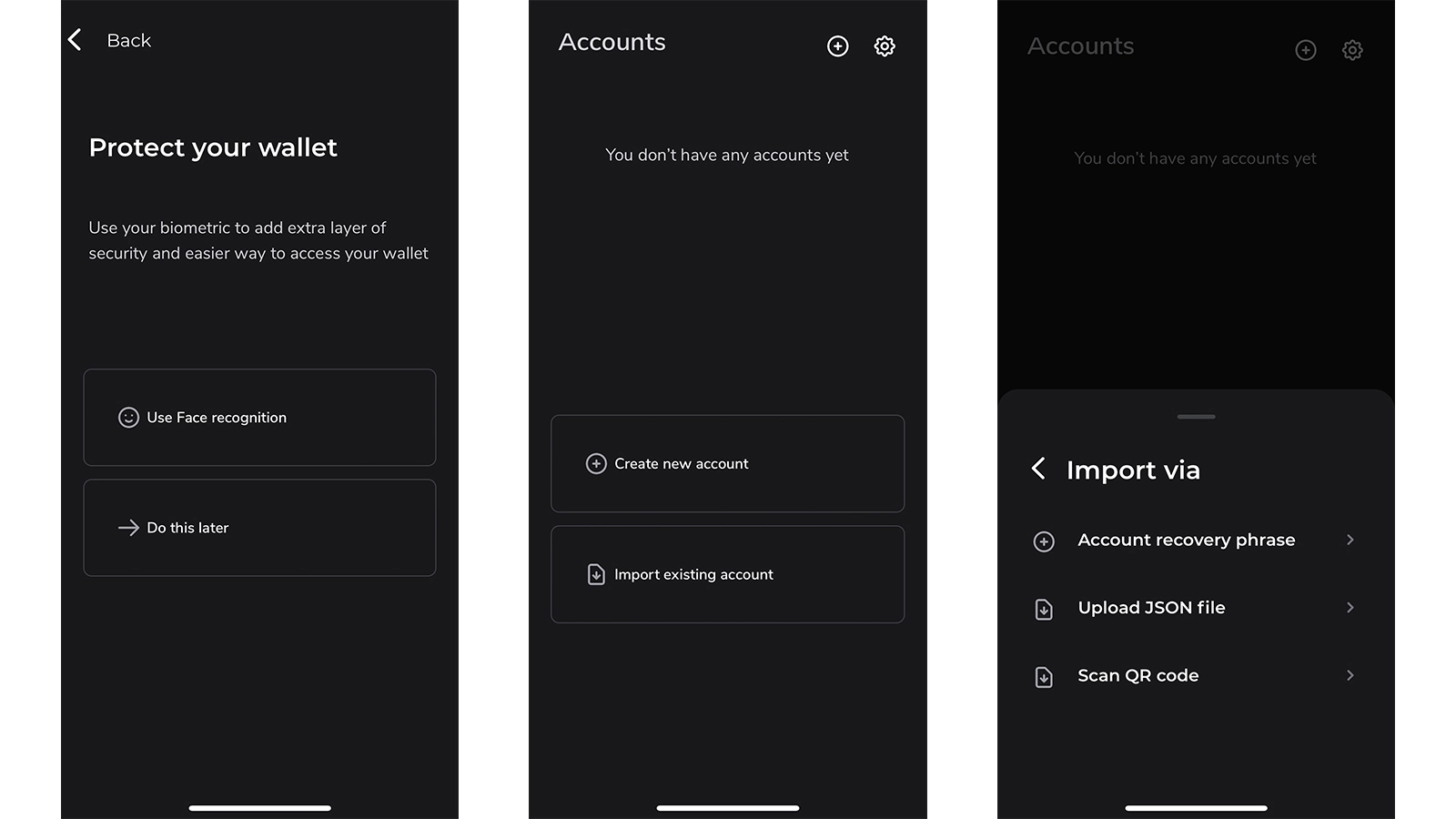 If you do have not an account yet, click 'Create new wallet'. Enter your account name. Then backup your account.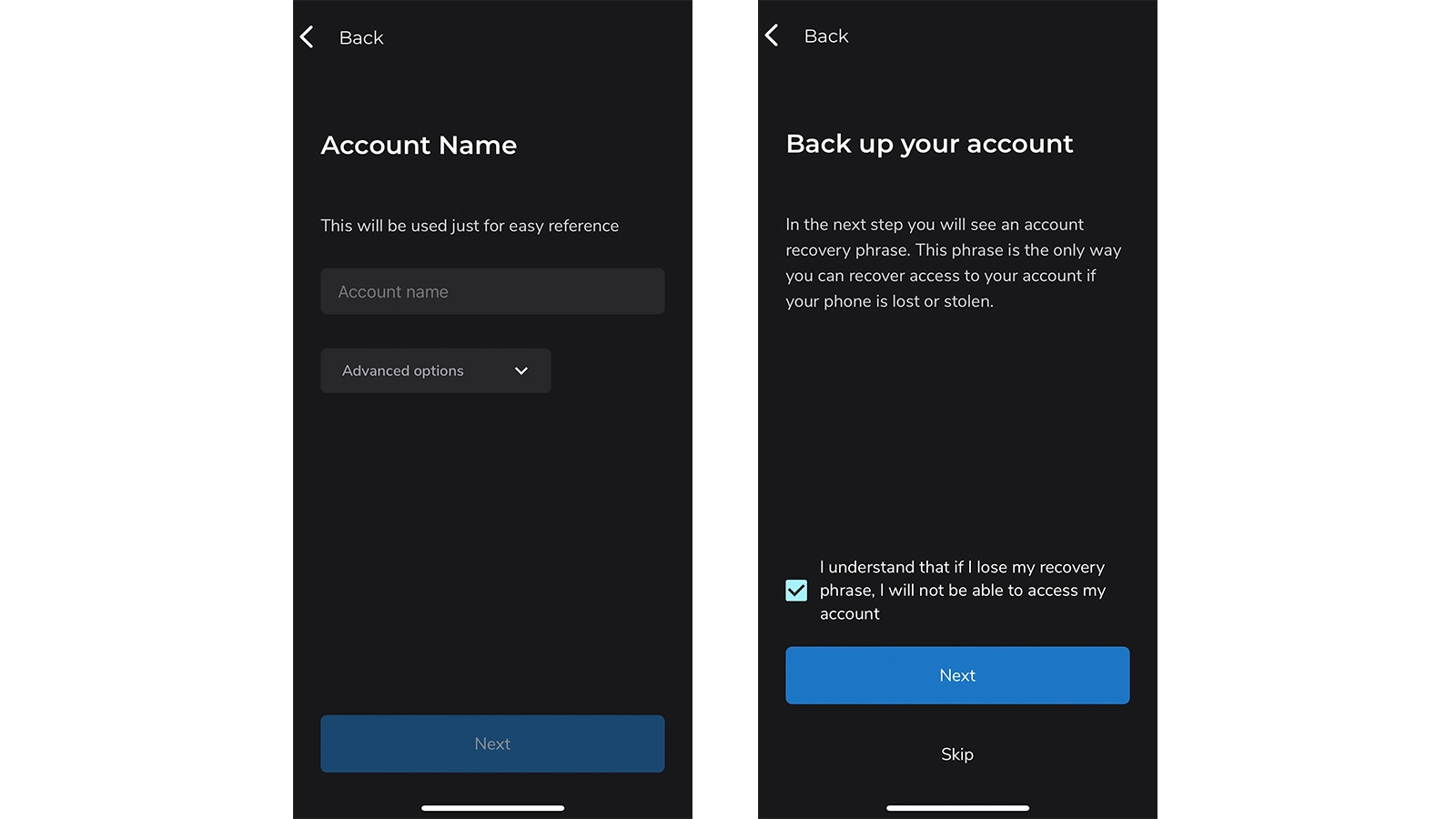 Dock Wallet will show you your Recovery Phrase. For security reasons, keep it written on a piece of paper rather than copying it into a digital carrier.
Never share your seed phrase or your private key to anyone or any site, unless you want them to have full control over your funds. After you safely store your seed phrase, please click on the 'Next' button.
Tip: Check our Crypto Security Guide to keep your assets in safety.
To finalize the process, firstly you must insert two words from the recovery phrase in the previous screen and finally click on the 'Next' button, as shown below.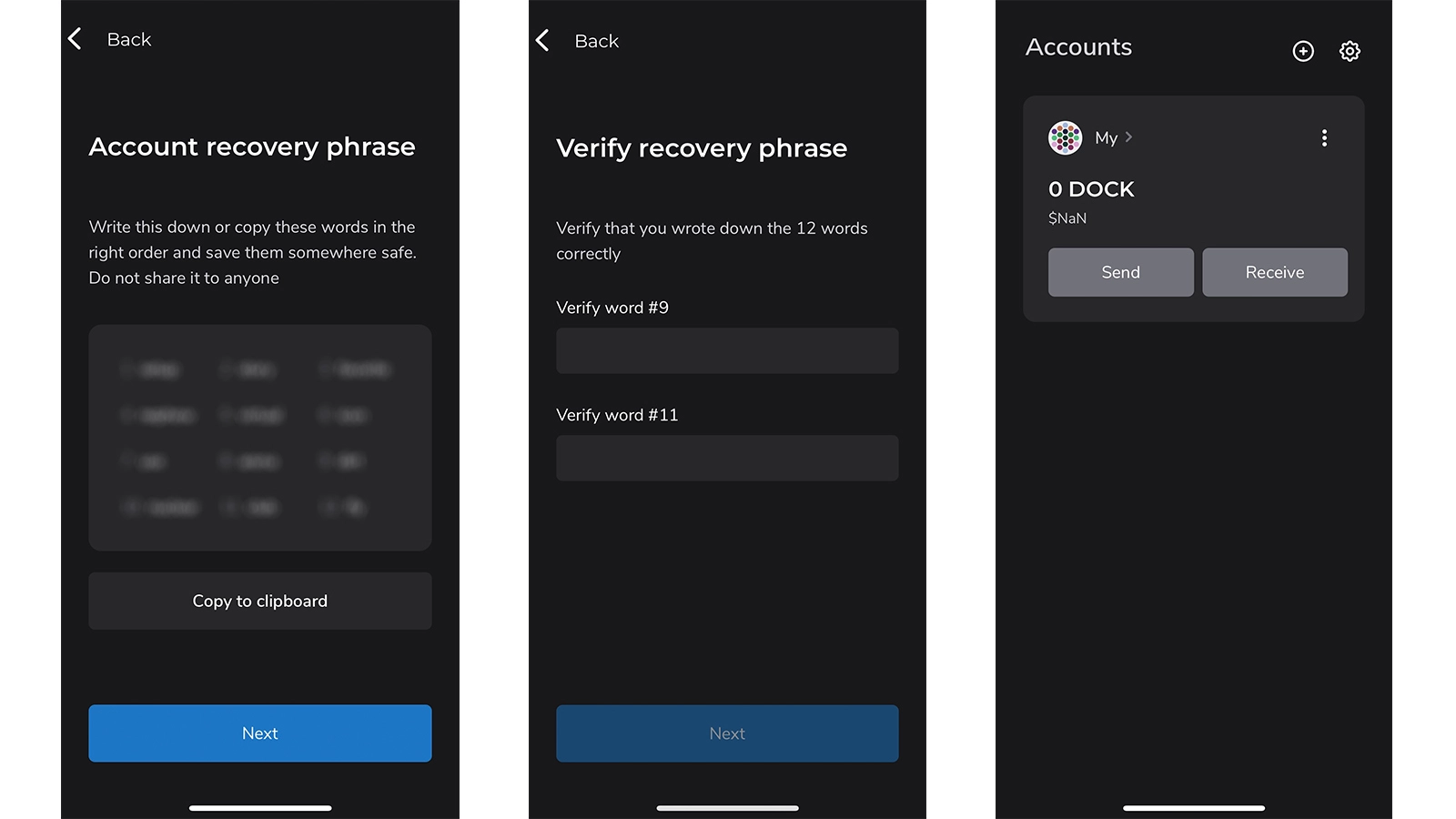 Congratulations! Your Dock wallet has been set up successfully.
How to fund your Dock wallet?
Firstly, you must click on the three dots and choose 'Details'.
Information about your account's transactions will be available here.
Your account's address will be shown when you click on the 'Receive' button. Scan the QR code or copy the address.
And then, go to your DOCK account (wallet/exchange) and send your DOCK tokens to your already copied Dock wallet address.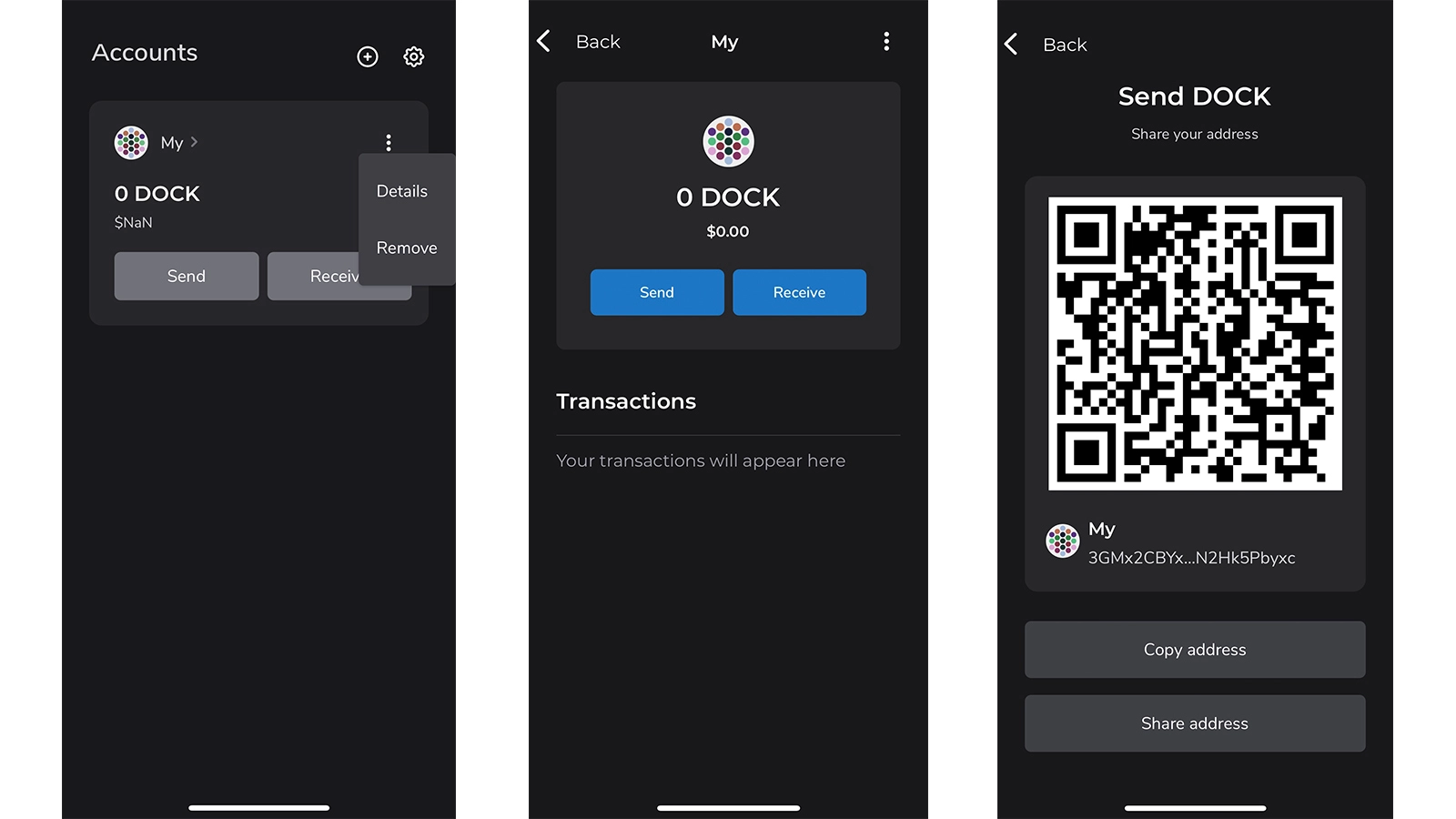 As mentioned above, the wallet not only represents a much-improved user experience for the Dock community today, but it will also be a building block for new features. Future iterations will include the ability for individuals to receive, store and send verifiable identity and credentials, as well as staking and governance features.
About Everstake
Everstake is a large staking provider run by an experienced blockchain, IT, and fintech development team.
The team is actively involved in various crypto projects, develops solutions to improve the process of handling PoS blockchains, and provides validator services.
Everstake is one of the most ambitious and promising projects in the crypto industry nowadays. We have vast validating experience in more than 45 PoS blockchains. Our highly professional DevOps are dedicated to each node, backed up by the assistants, and provide 99.95% uptime. Each network is also being monitored by the Blockchain Manager. We keep the reserve nodes for each of the main nodes we run. The backup server is there to take up the job in case of malfunctions.
Everstake has 465.000+ unique users at the moment of writing this guide and our community is growing rapidly every day. We support our users 24/7 and help them with the issues related to staking in our Telegram chat.
The Everstake team strives to simplify the delegation process for token holders. Our team cares a lot about raising its users' awareness and creates quite informative articles. We are focused on creating and developing guidelines that help users in staking. Newbies will find helpful guides in different languages in the Everstake blog to help them figure out how to stake certain tokens in various crypto wallets.
We track all the trends and innovations in the crypto world and highlight the main events in our SM accounts.
Everstake is a great Block Producer who has continuously shown in-time rewards. Join us and stake your assets with one of the most reputable validators in the crypto space!
Subscribe to Everstake on social networks to receive the latest news from the world of cryptocurrencies and read useful staking guides!