Back to all posts
What is the Everstake Telegram Bot and how does it work?
2020-11-03 16:32
The Everstake team has developed a convenient bot that allows you to monitor staked tokens, addresses used for staking, and promptly get information about transactions in your wallet. In this article, you will learn what the Everstake bot is, what it can do, and how to use it.
What is the Everstake bot?
This is a Telegram bot, designed for stakers, which allows you to track the status of staking addresses from anywhere using a mobile app or desktop client. It is straightforward to create an account in the bot and connect the address. Let's see how to do this.
How to launch a bot
1. Follow the link and open the bot page in the Telegram app.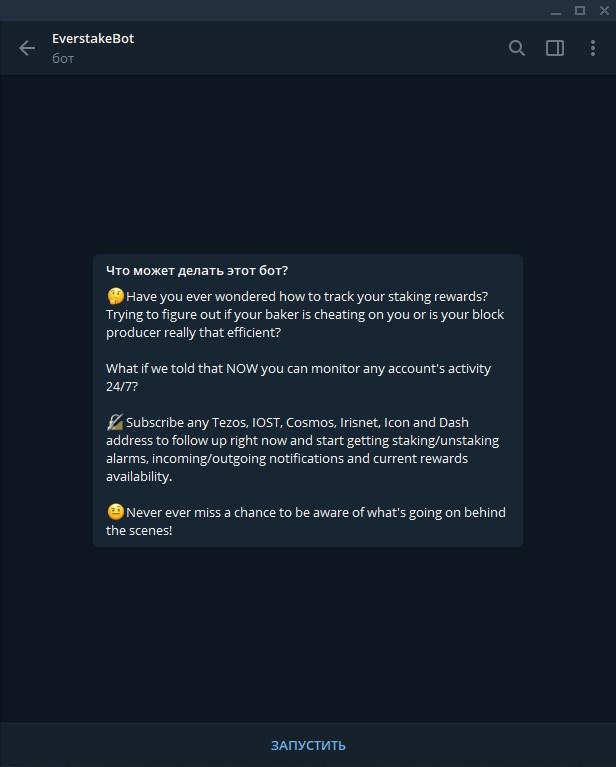 2. Click "Launch" and you will see the main functions of the bot's home page:
Visit Website — opens the Everstake website, where you can learn about the company and what it does. There you will find descriptions of platforms, a profit calculator from staking, and a lot of other useful information.
? Ask question — it is a link to the chat where you can chat with the community and ask questions. User support service can also be found there.
Sign up — starts account creation;
Start Monitoring — adds a token for tracking transactions and staking.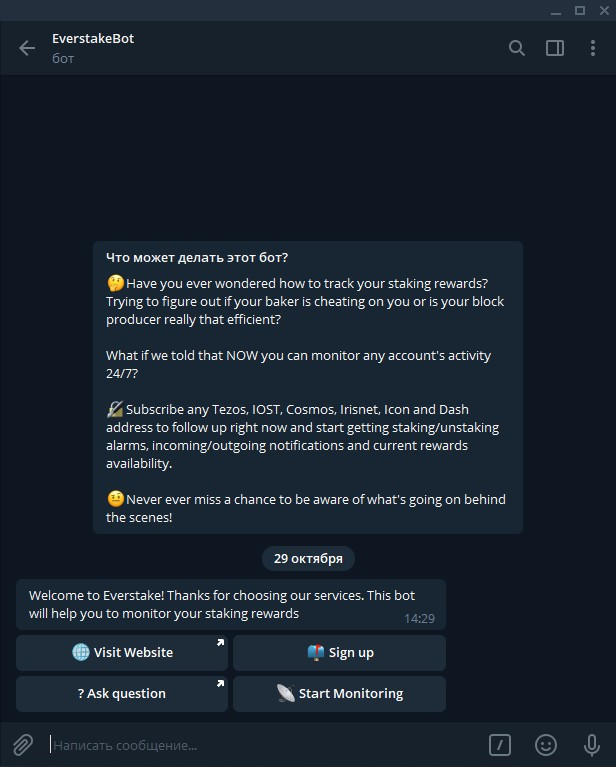 3. First, you have to register an account. Click "Sign up" and add your email address.
4. Address is successfully added. Now you can start monitoring your addresses. To do this, click "Start Monitoring". A menu with multiple buttons opens. Click "Add subscription" and select the token whose address you want to track.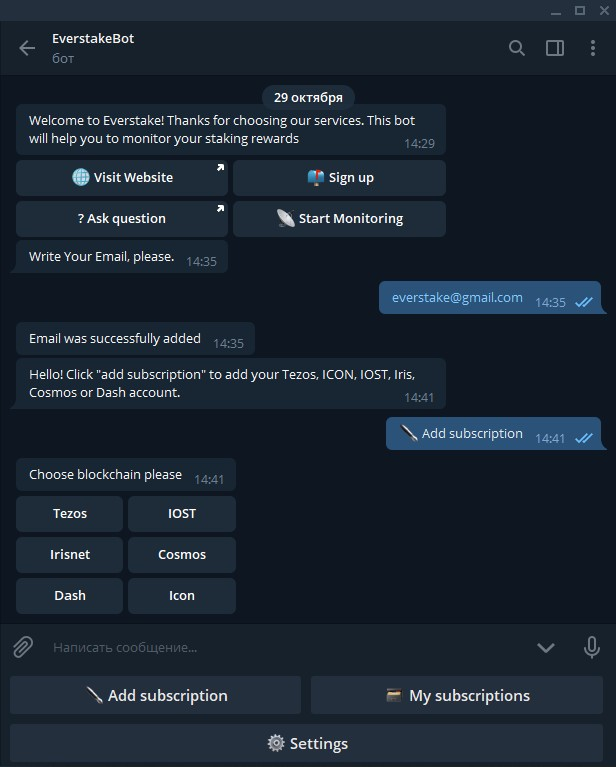 5. Come up with and enter a name for the account, and then the address of the cryptocurrency that you will track. If everything works out, the bot will send the "Address was added" message.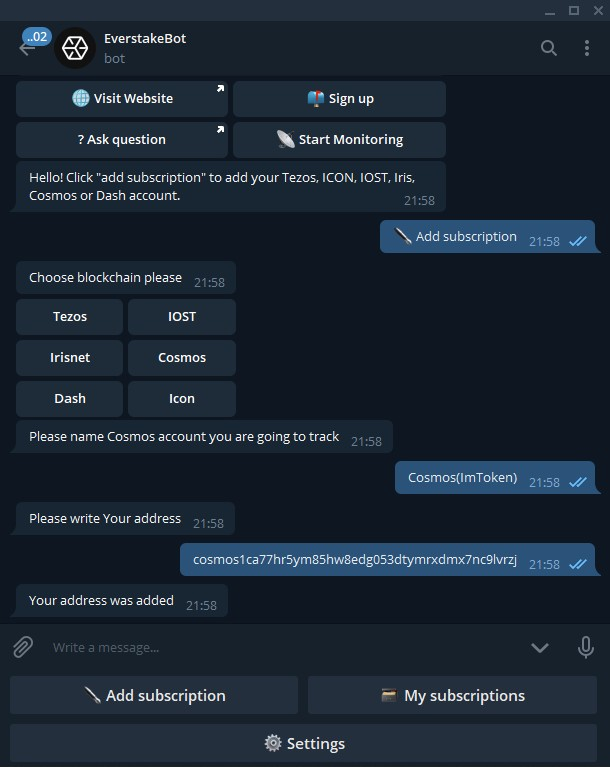 Now you can stake tokens and monitor how the state of your wallet changes so as not to miss any events with the cryptocurrency address. After you stake your tokens from this address, the bot will send a notification with the transaction details, as shown in the screenshot below.

What can the bot do?
The bot tracks all transactions that are made with the added address. You will receive messages from the bot every time you:
Stake your tokens;
Get a reward for staking (coin accrual);
Unstake tokens;
Top up your wallet with tokens;
Withdraw cryptocurrency.
This way you can quickly find out what is happening to your address and intervene if something goes wrong. You can view all the added addresses and specify actions with them by clicking the "My subscriptions" button in the main menu of the bot.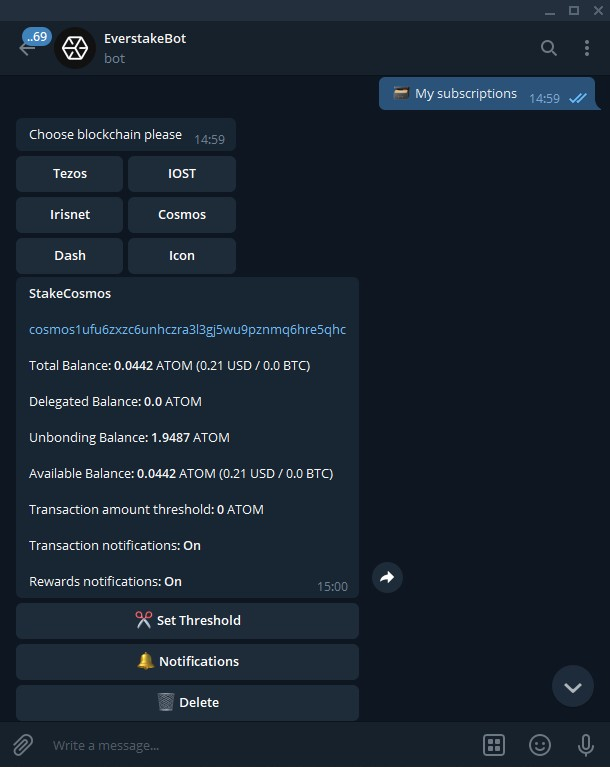 All addresses and a set of additional functions for each address will open:
Set Threshold — set the minimum transaction size for the selected address;
Notifications — enable/disable notifications for this address;
Delete — delete the address from the bot and stop tracking it.
You are now familiar with the functions of the Everstake bot. Add a bot so that you can conveniently track your staked coins, be aware of when and how many tokens accrued and quickly intervene in case of problems.
Subscribe to the Everstake social media, where you will find useful guides on staking, platform reviews, and stay up to date with important updates. We wish you profitable staking!