Back to all posts
How to stake Harmony (ONE) with Harmony Chrome Extension Wallet
2021-02-24 09:42
Dear ONE token holders, in this guide we describe how to stake ONE tokens via a Harmony One Wallet Google Chrome extension. Let's go!
Installing the wallet
First, you need to install the official Harmony One Wallet extension in your browser, which is available here.
Make sure the author of the application is Harmony and do not download the plugin from other links.
Google Extension is the easiest and most convenient way to stake ONE in your wallet. Go to the Harmony One Wallet page, download and install the extension.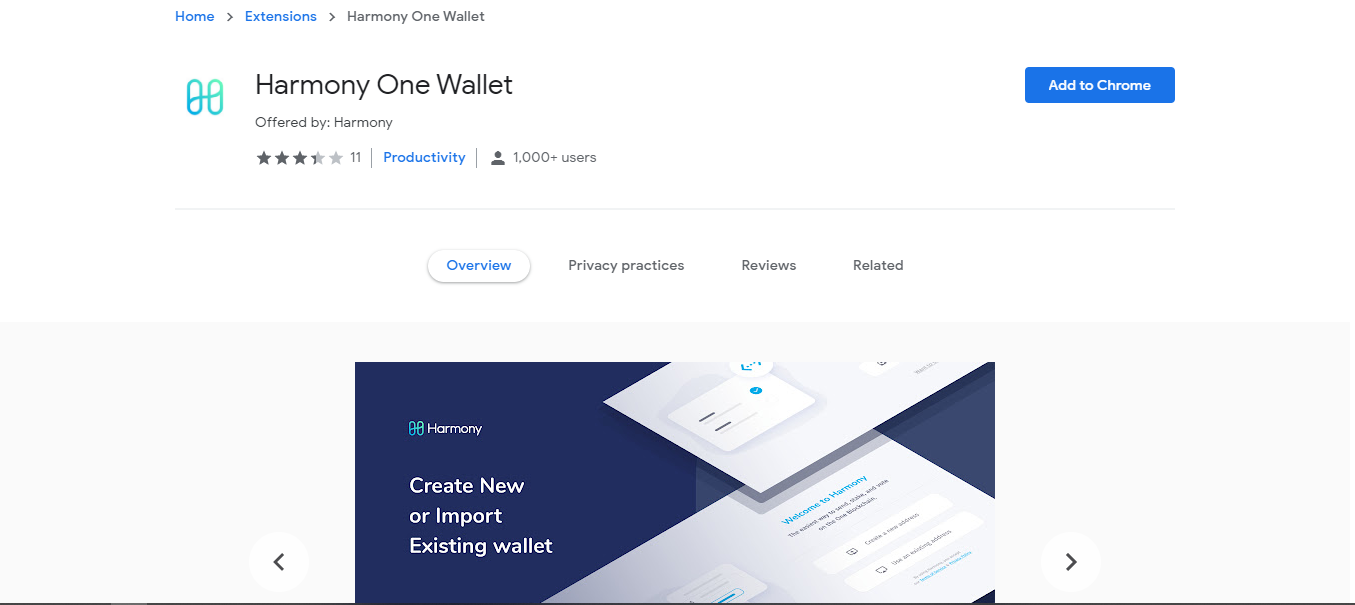 Please pay attention to the download source before installing. Fake plugins may appear in the Google store that steal passwords and other personal data of users. If Harmony is listed by the developer, it's fine with us. Moving on.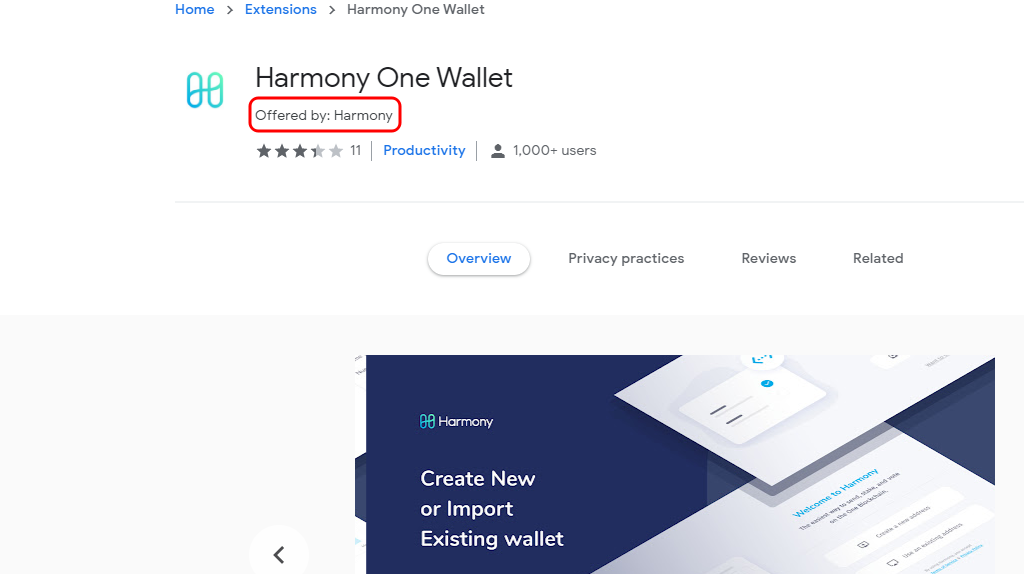 Now click on the new extension icon located in the upper right corner of your browser. A new tab will open with Harmony One Wallet. First, we need to create a new wallet.
Creating a wallet
In the "CREATE" tab, specify the name of the new account. The name is up to you. Then click "Create". In the "IMPORT" tab, you can add a wallet by entering a private key or a mnemonic password (seed-phrase) if you have an account already (let's say, to import it from another wallet).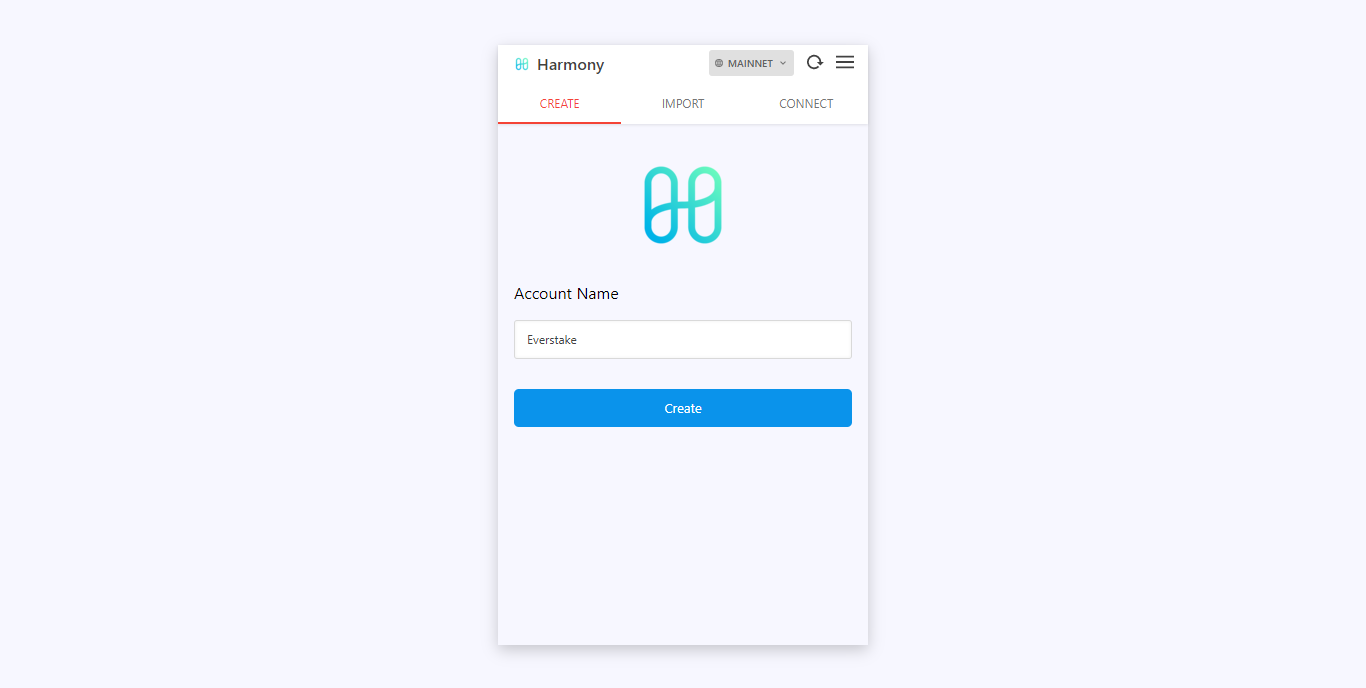 Come up with, enter, and then confirm a complex password to protect your wallet. Do not use simple passwords like "James1991" or "qwerty654321" — they are not safe. A good password should be at least 12 characters long and contain as many different characters as possible.
Also, write down the seed shown on the screen. A memo regarding storing a mnemonic password:
Do not copy the seed phrase;

Do not store it on digital devices;

Write only on paper or other physical media;

Create multiple instances and hide them in safe places.
Remember: if you lose your seed phrase, you will not be able to restore access to funds.
After you have specified the password and saved the seed phrase, click "Next".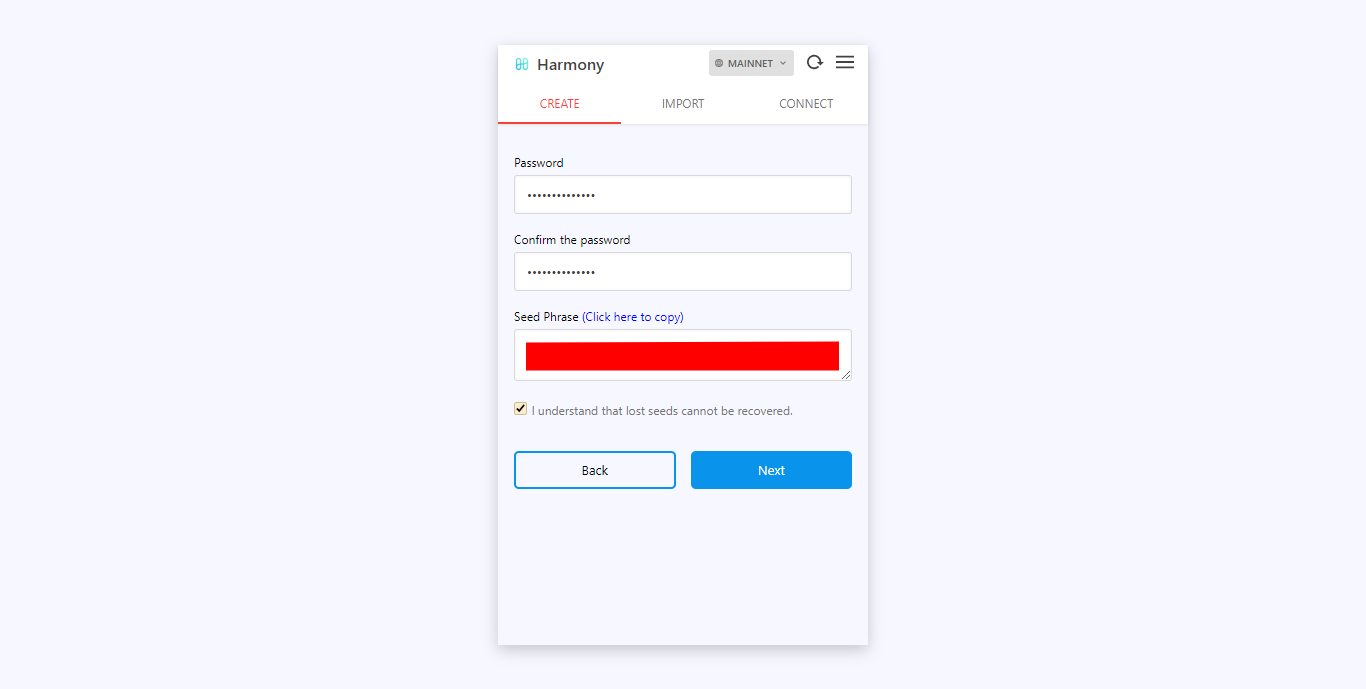 Confirm the seed phrase by adding words on the screen in the same sequence as you wrote them down earlier. This is to ensure that you have correctly written the mnemonic password. Click "Next".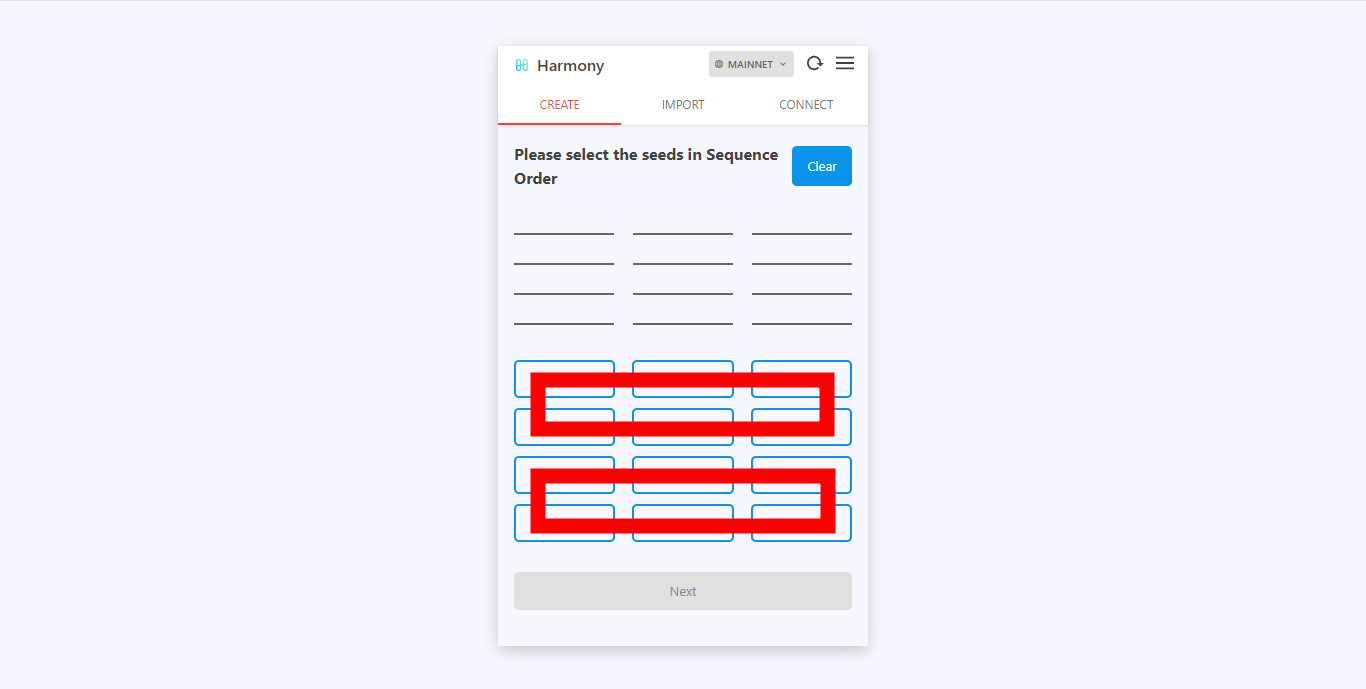 Set your PIN and re-enter it.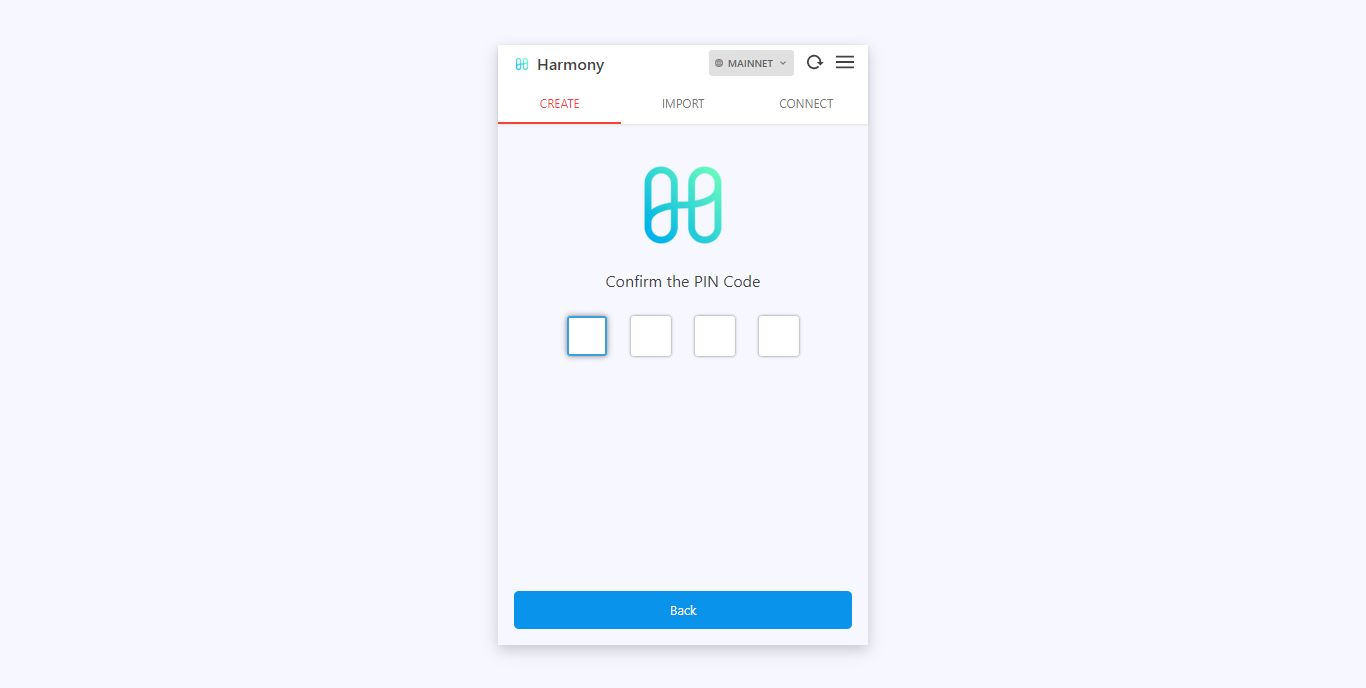 You have successfully created a new wallet. Now close the browser tab and open the extension to stake ONE tokens.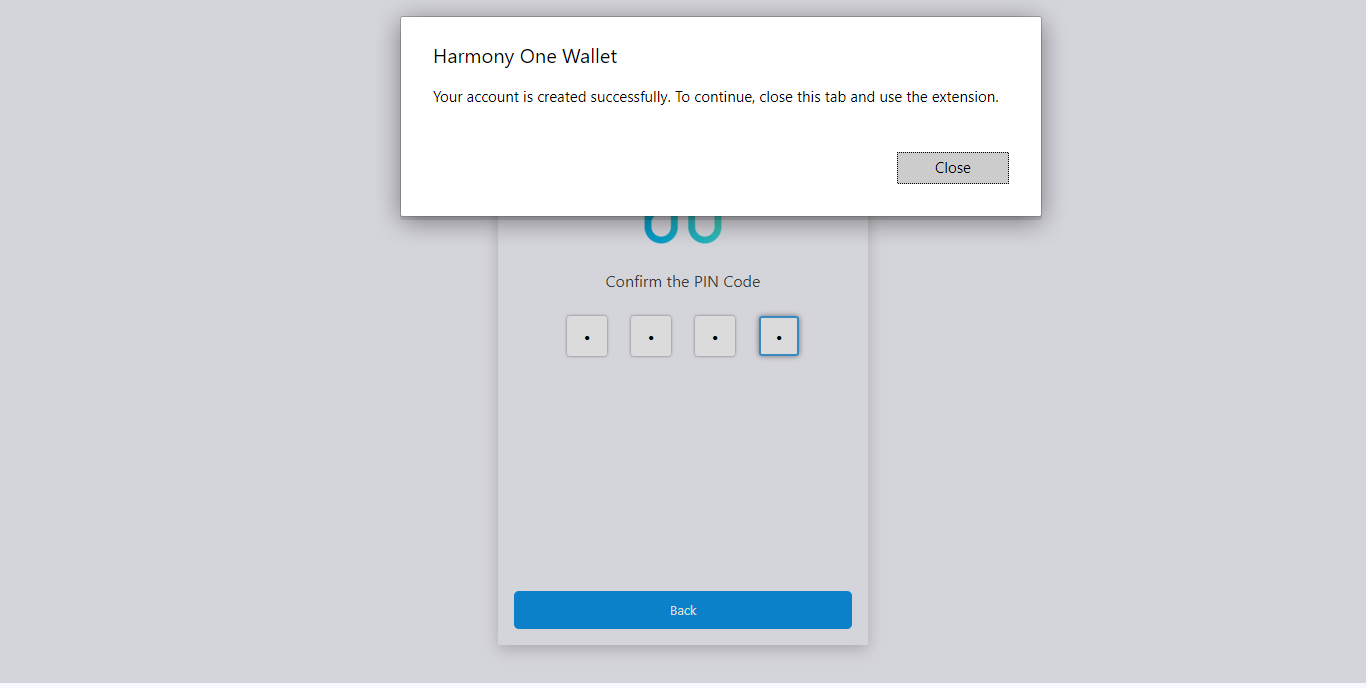 Top-up Harmony One Wallet
Your wallet has been created, but you still need to top-up before staking. To do this, simply hover over the address area, as shown in the screenshot, and click on it. Then send ONE tokens to that address. Please note two things:
1. The minimum staking amount is 100 ONE. You should also take into account the network commission, which is ~ 0.01 ONE. Keep at least 1 ONE liquid in your wallet — this should be enough to cover fees for ≈100 trxs.
2. Sometimes, even the above-mentioned detail is not enough in order to proceed with the transaction. Considering the load that occurs on a blockchain time-by-time, the transaction process may display an error message due to the small gas fee. Gas refers to the cost necessary to perform a transaction on the network. Due to the given reason, if you ever face an error while making a transaction, just set your gas price to the higher number (for example, 30) as it is shown on a screen and it should all be fine!

3. The number of shards is very important. If you send tokens from shard 0, then they should be sent to shard 0 of another address, respectively.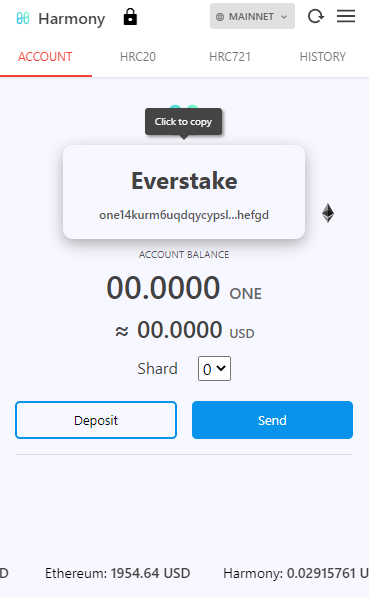 The wallet has been topped up. Now move on to staking.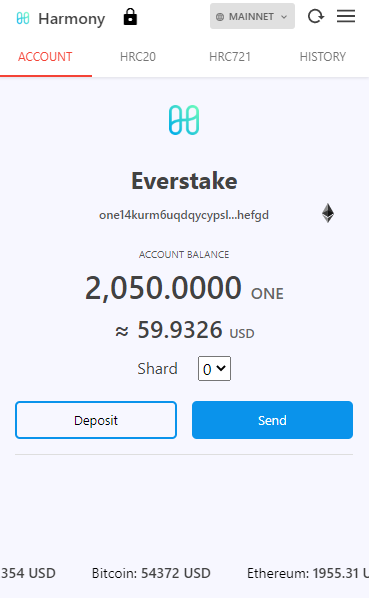 Staking ONE
Go to the Harmony ONE website and click "Use an existing address" to import your previously created wallet.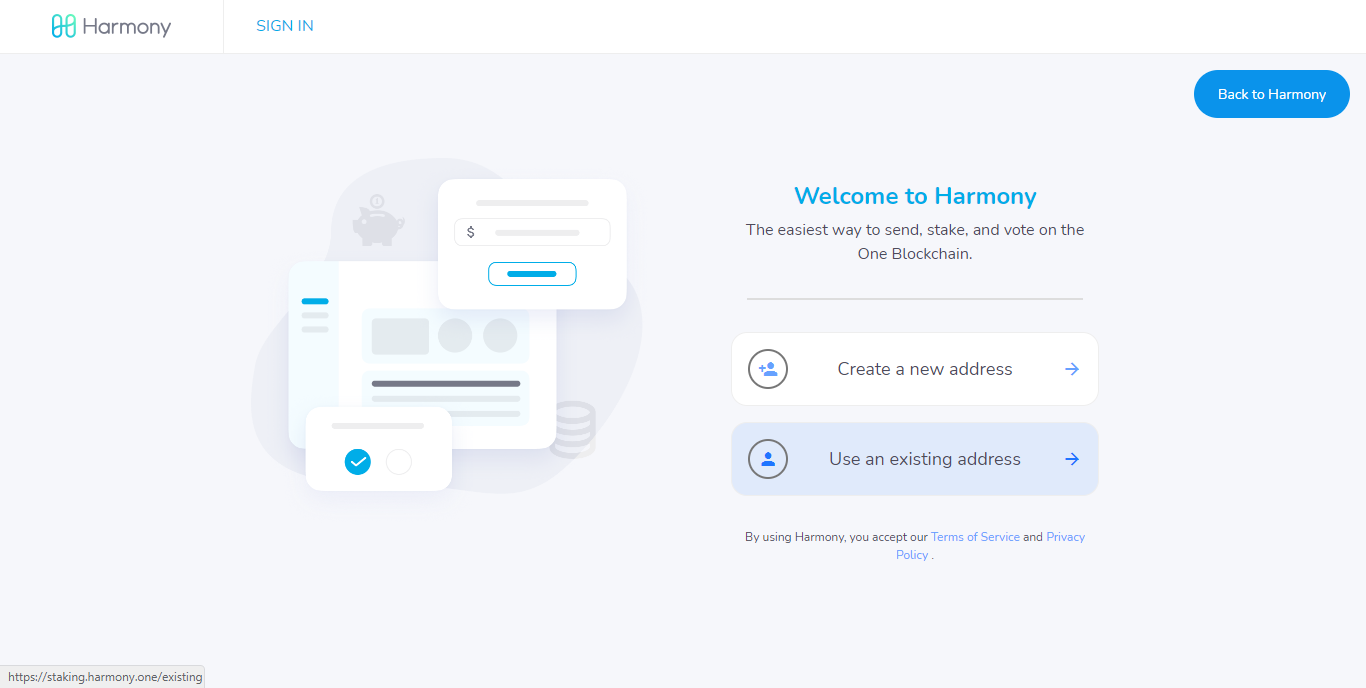 Select "Use Harmony One Wallet".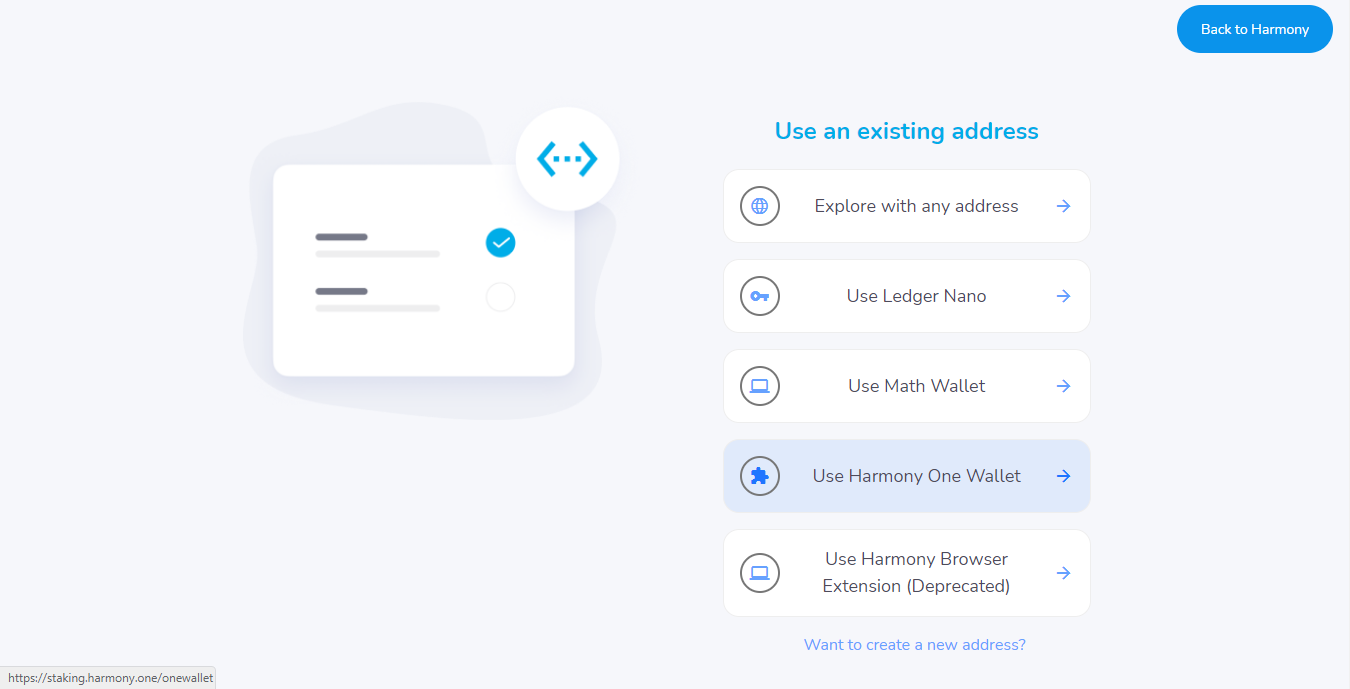 You need to connect to the site using the Harmony One Wallet extension. Click "Sign in".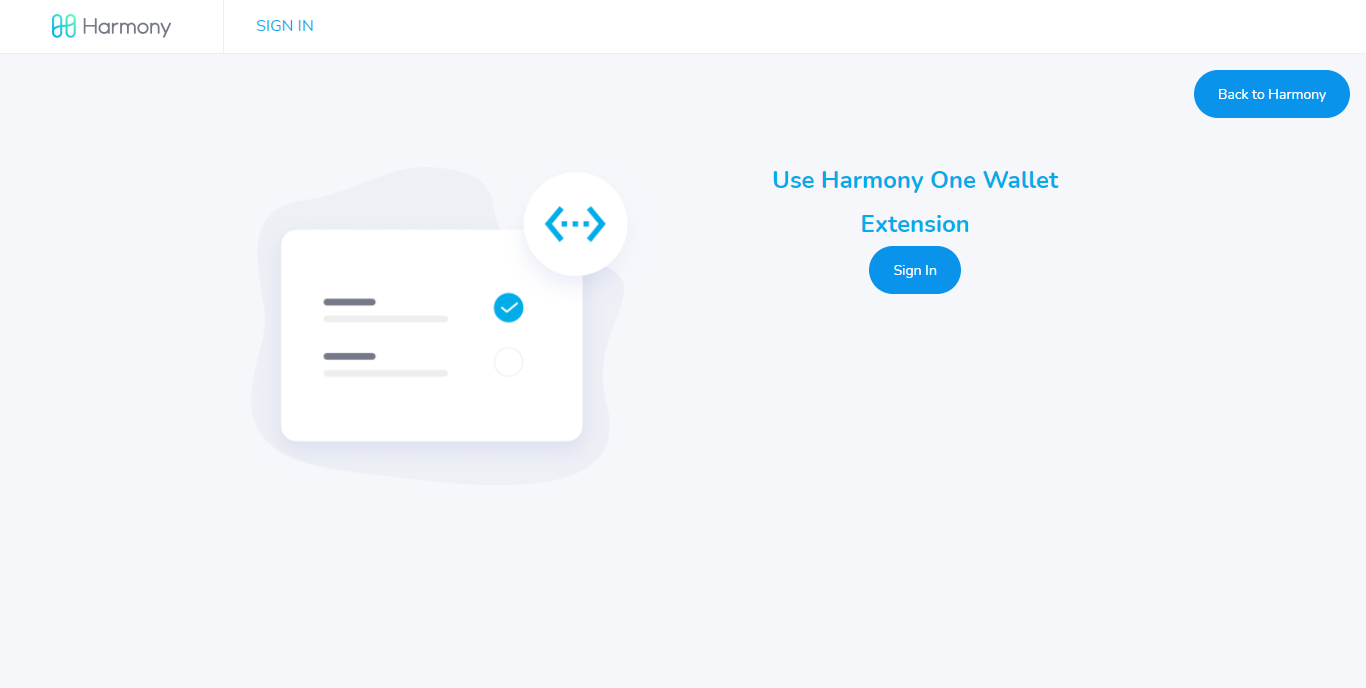 In the drop-down window, select the wallet where ONE tokens are stored and click "Accept" to confirm authorization through the Chrome extension.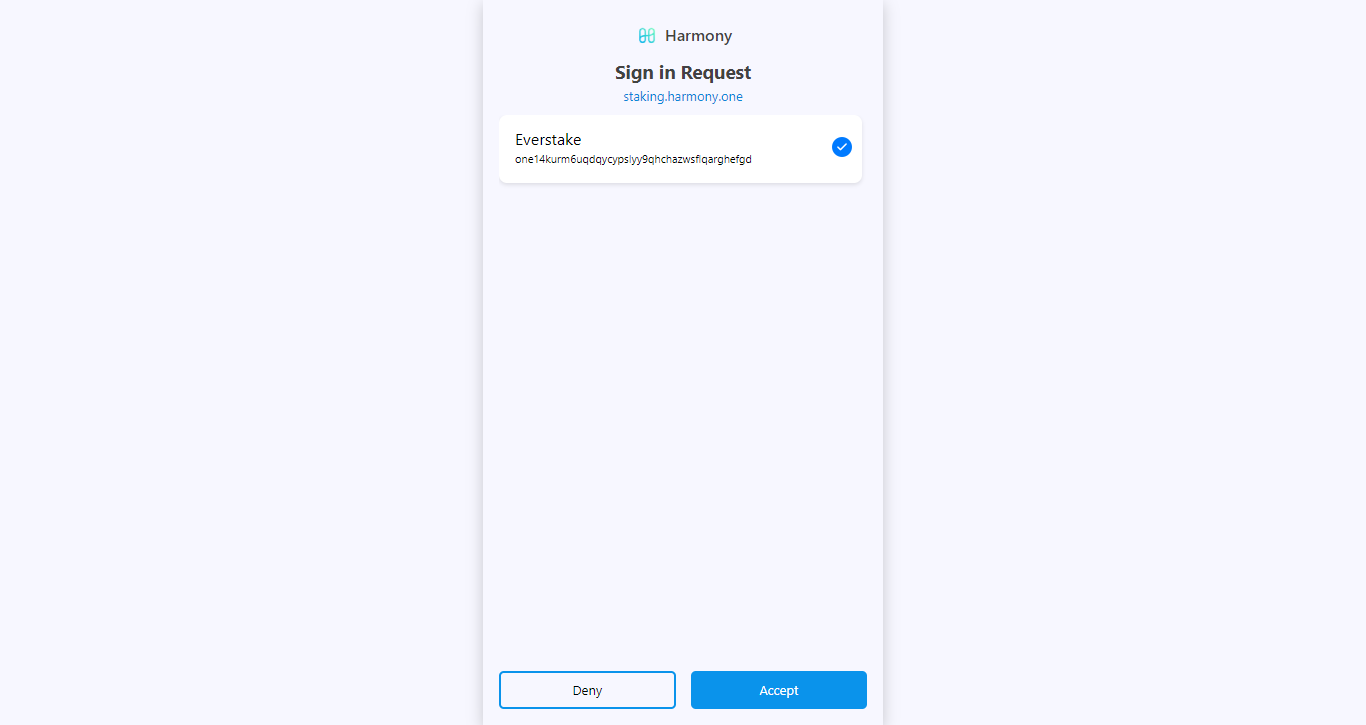 The dashboard displays your wallet portfolio and a list of validators to which tokens have been delegated. There are no validators in the portfolio yet, and they need to be added. To do that, go to the "Validators" tab in the left panel.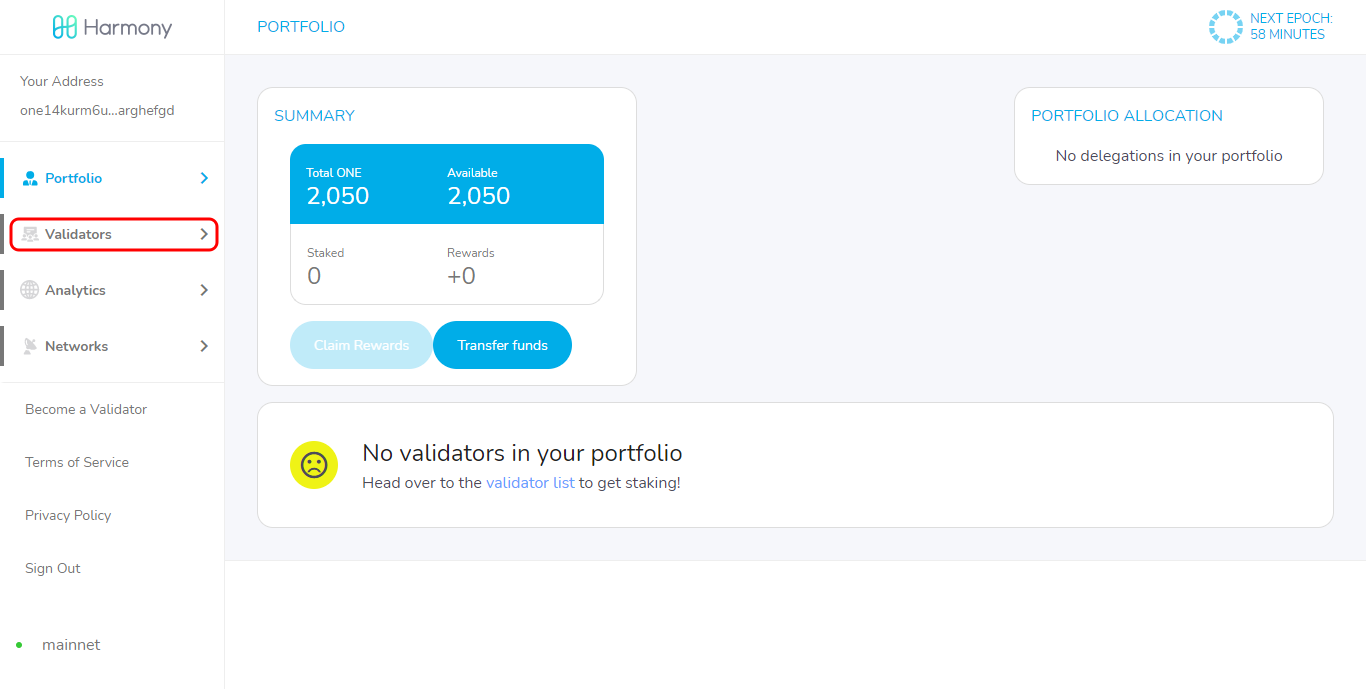 A list of validators will open. Type in the search bar the name of the selected validator, for example, Everstake, or find it in the list. Click on it to continue.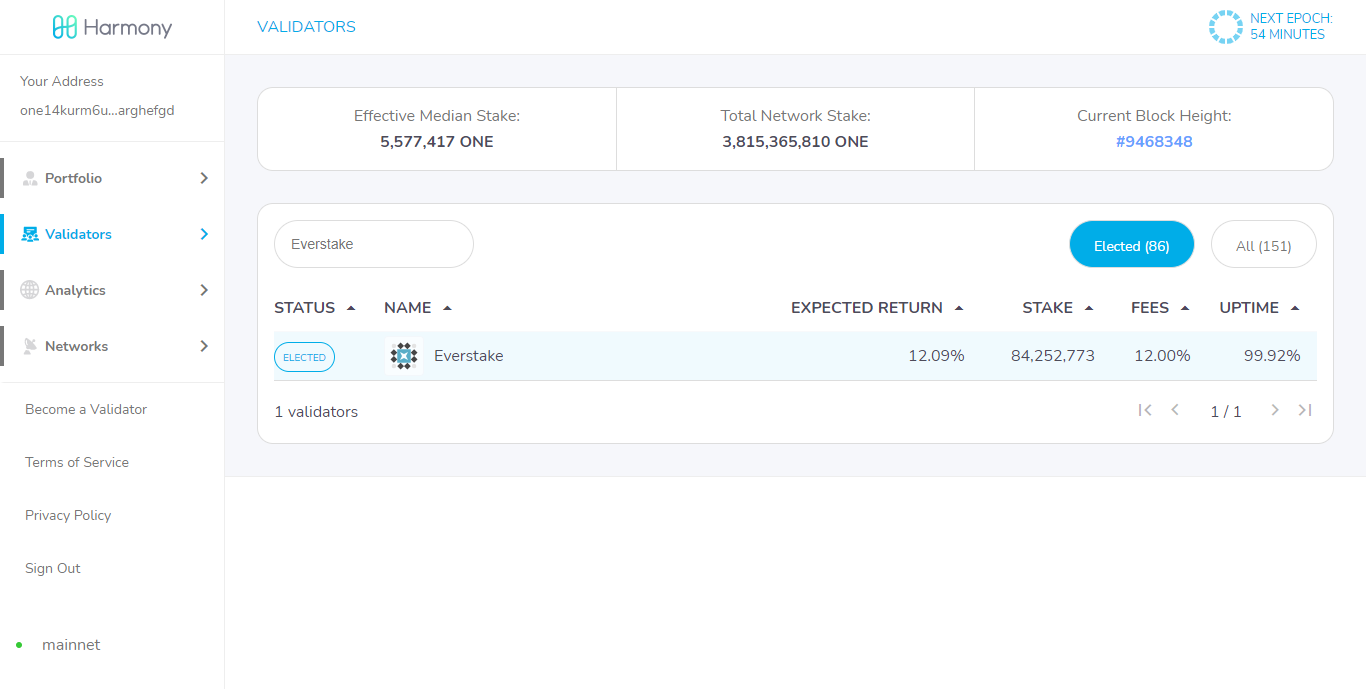 On the validator's page, you will find statistics and other useful information: uptime, reward size, address, commission, and more. Click "Delegate" and proceed to staking.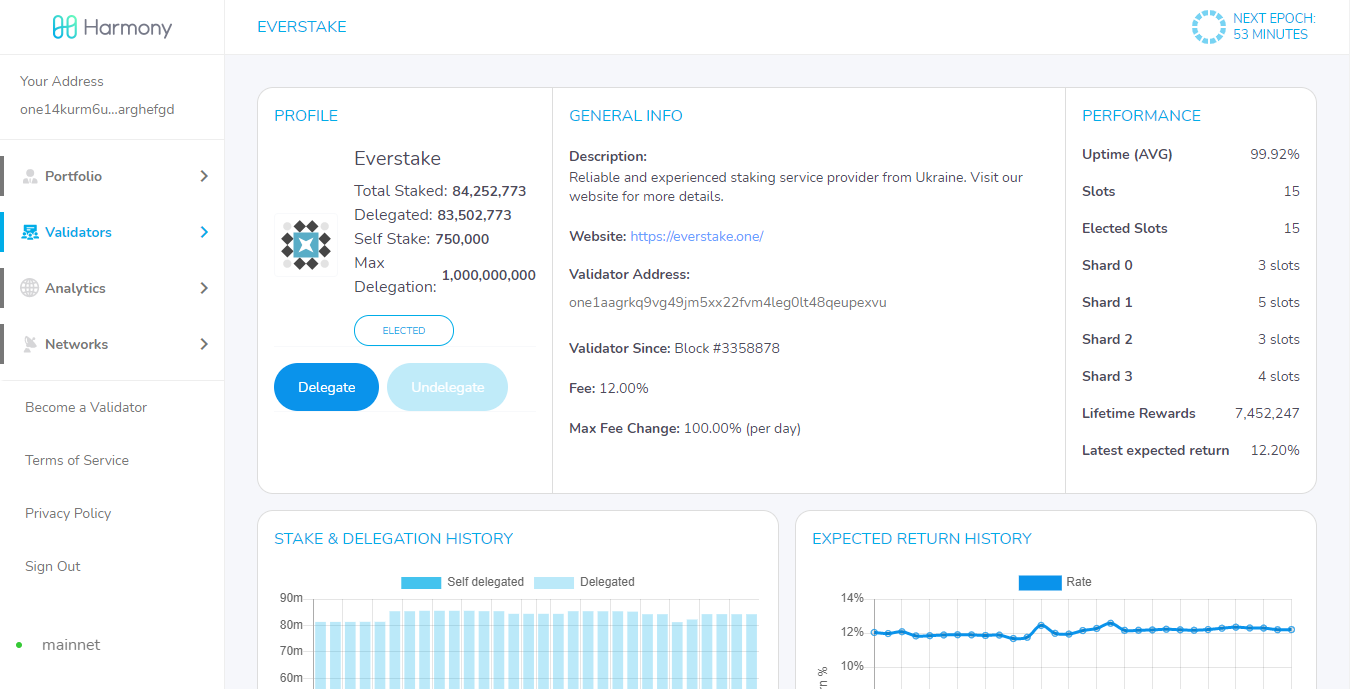 Enter the amount of tokens you want to stake, and leave a few tokens so that you have something to pay for the network fees with. You can stake everything by clicking the "Max" button or select the amount by moving the slider. But don't forget to keep at least 1 ONE liquid at your account! When done, click "Next".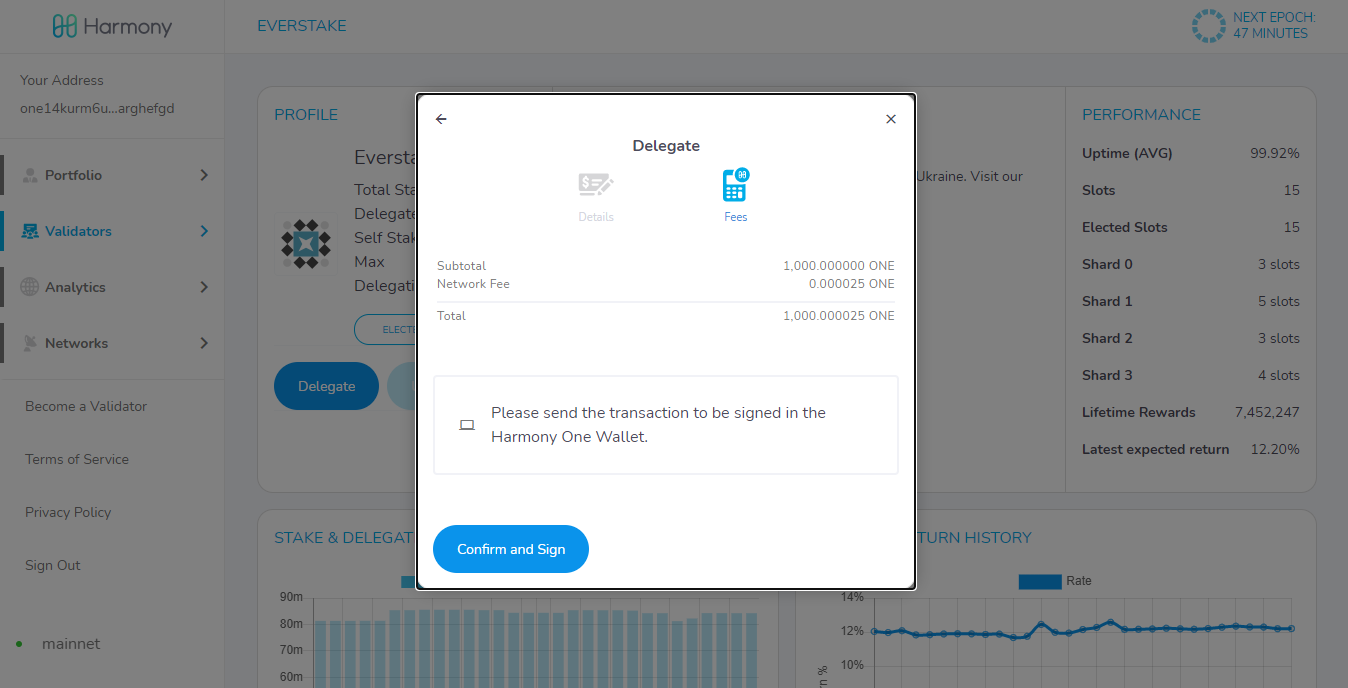 What remains is to confirm the transaction in the Harmony One Wallet extension. Click on "Confirm and Sign".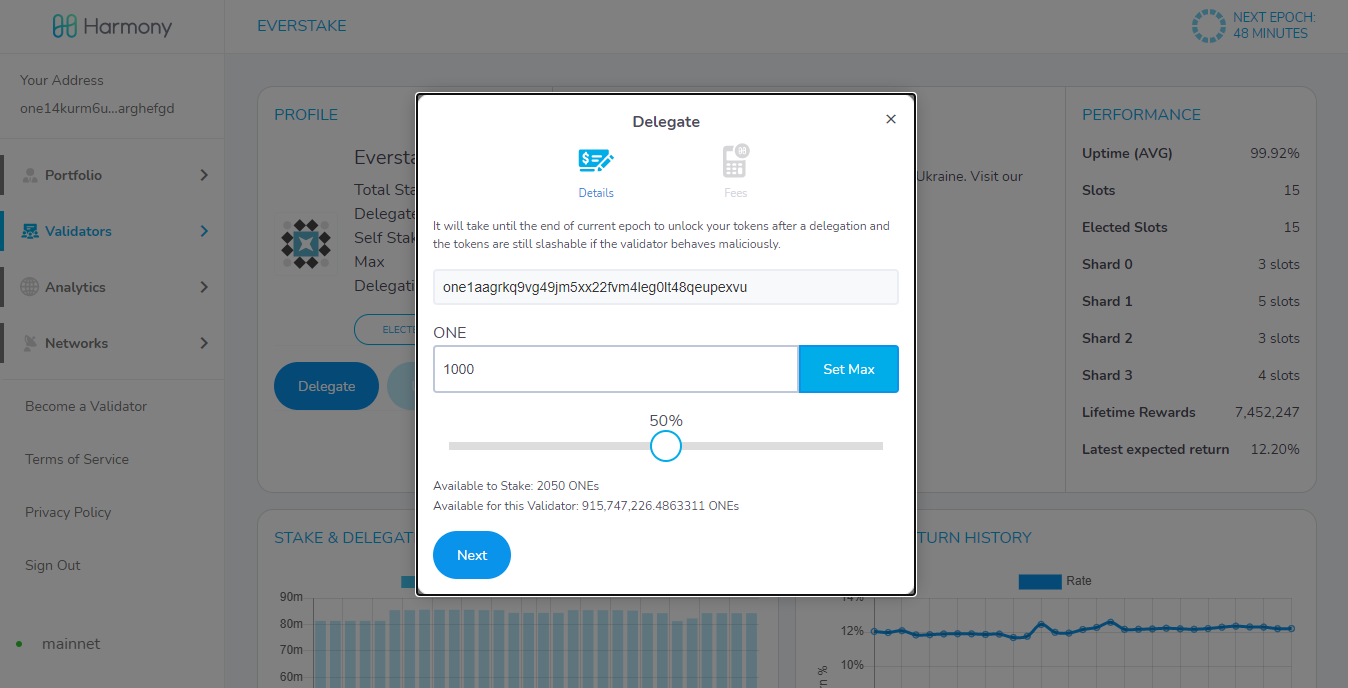 In the pop-up window, enter your wallet password and click "Approve".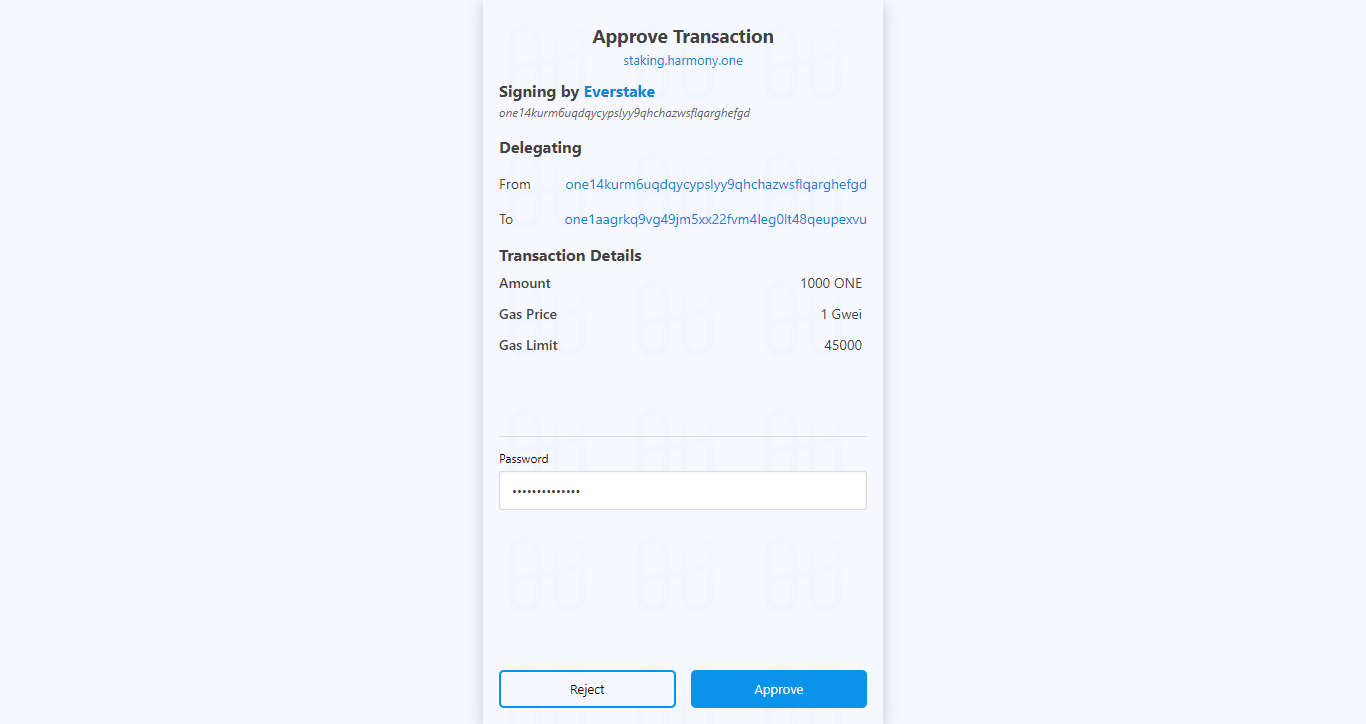 Congratulations! You managed to stake ONE. Wait a moment for the validators to confirm the transaction.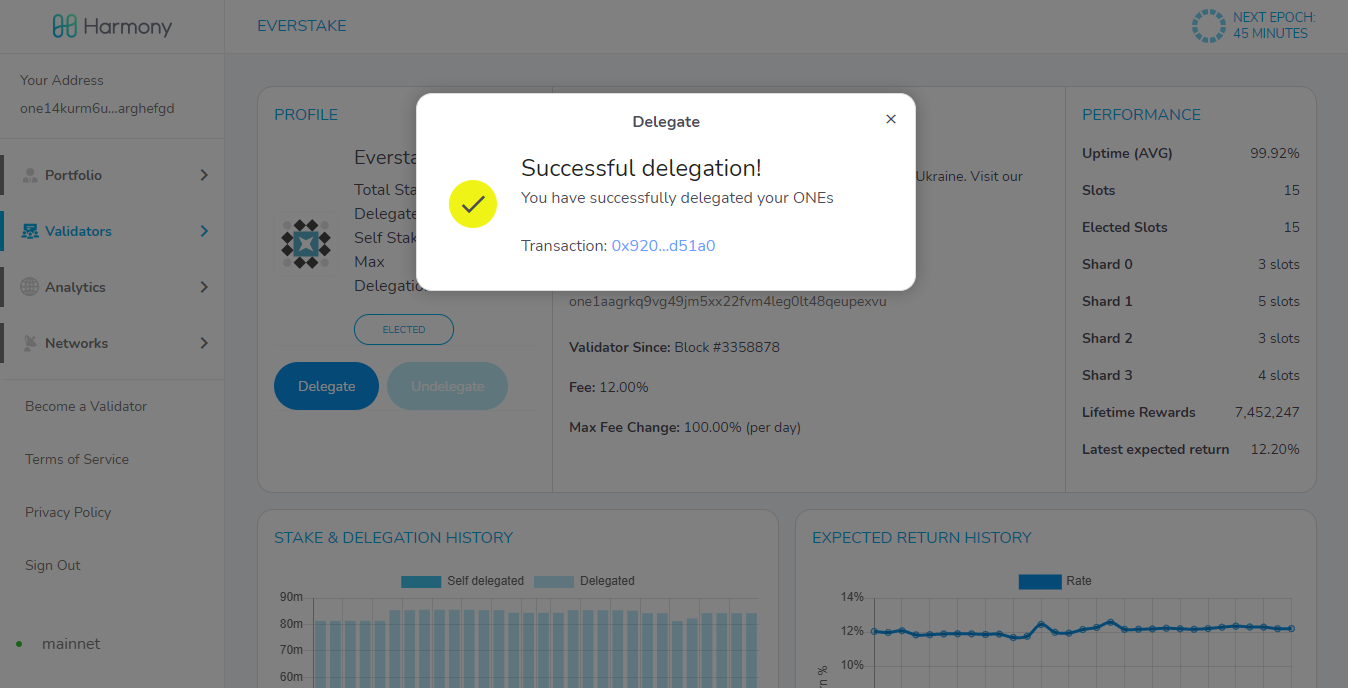 A new validator, Everstake, appears on the "Portfolio" page. Accrued rewards will also be displayed here.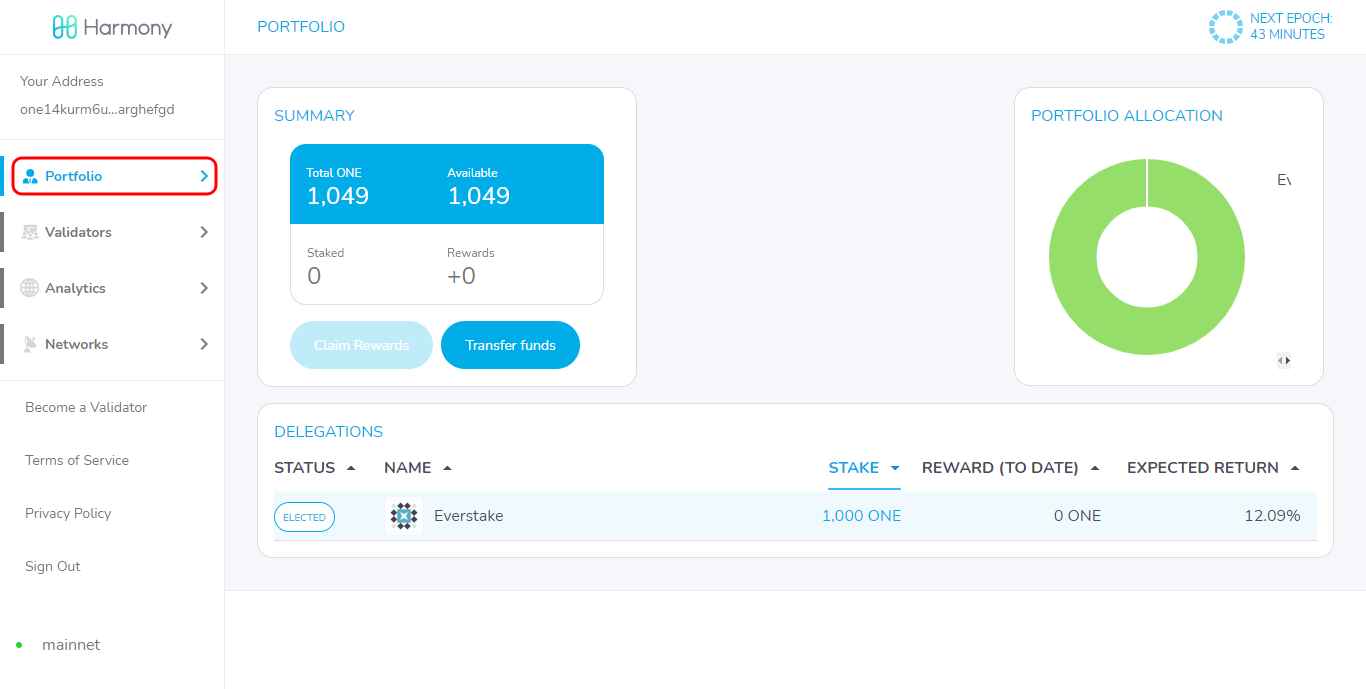 If you decide to unstake these tokens, click on the validator again and then on "Undelegate". But note that the unstake period lasts 7 epochs, which is approximately 5–6 days. Before this deadline, ONE will not be able to be unstaked.
Wishing you profitable staking!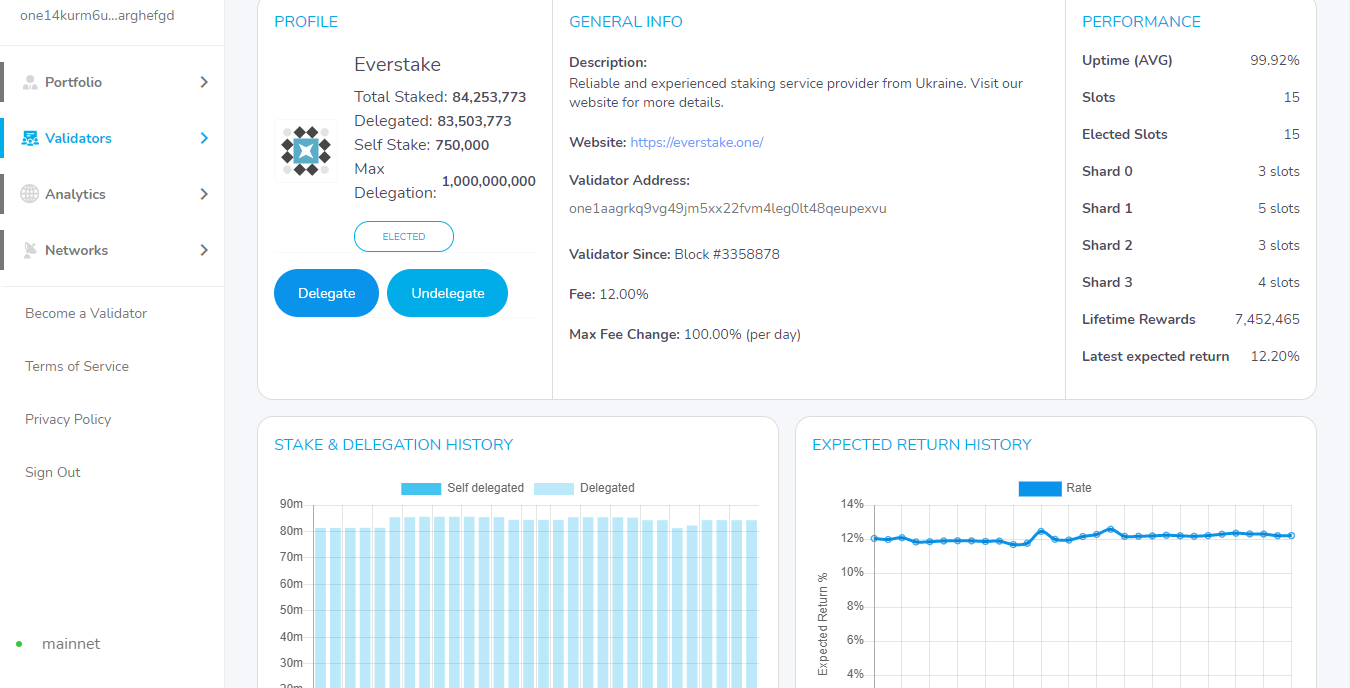 What to do for those who have an old extension installed
The outdated extension has bugs. In addition, some users complain that they have lost their passwords and access to wallets. If you are still using the old plugin, do the following:
1. Remove the old extension and install the new one.
2. Launch the Harmony One Wallet extension, go to the "IMPORT" tab and select the "Mnemonic" type. Then enter your seed and click "Import".
3. Come up with a name for your new wallet and then set a new password and PIN. Click "Next".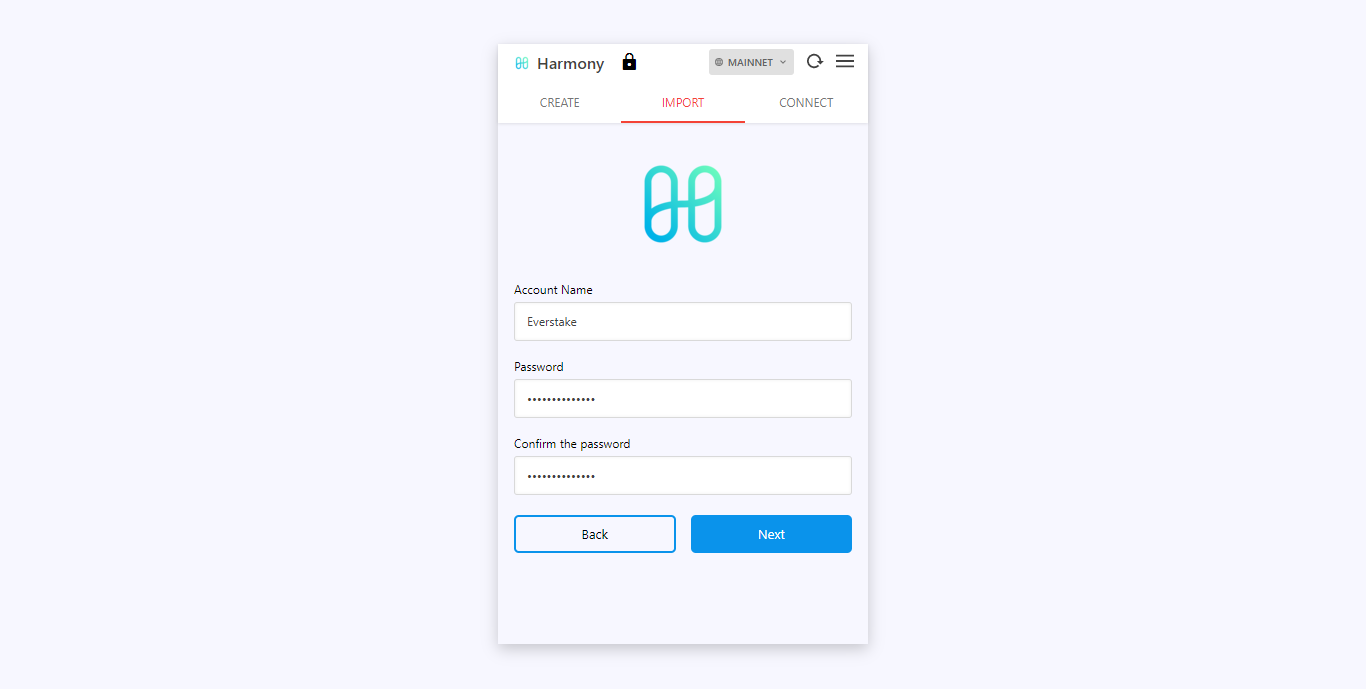 You have restored your old wallet and you can now proceed to ONE staking. If you have lost your password and seed, but you still have access to the wallet, simply create a new Harmony One Wallet, transfer your tokens to it, remove the old extension and re-install the most recent one. Otherwise, you will not be able to restore access, and the coins will be lost forever.
Subscribe to Everstake for important updates and fresh staking guides!