Back to all posts
Our Contribution to Cosmos Network
2019-09-26 08:53
As we have already mentioned multiple times, we at Everstake see much more than simply block validation in our mission with any blockchain we are working with. We believe that blockchain will overturn the world someday, and we are excited to contribute to its development in every possible way. Now, we would like to review our contribution to one of the most progressive blockchains out there, the Cosmos Network.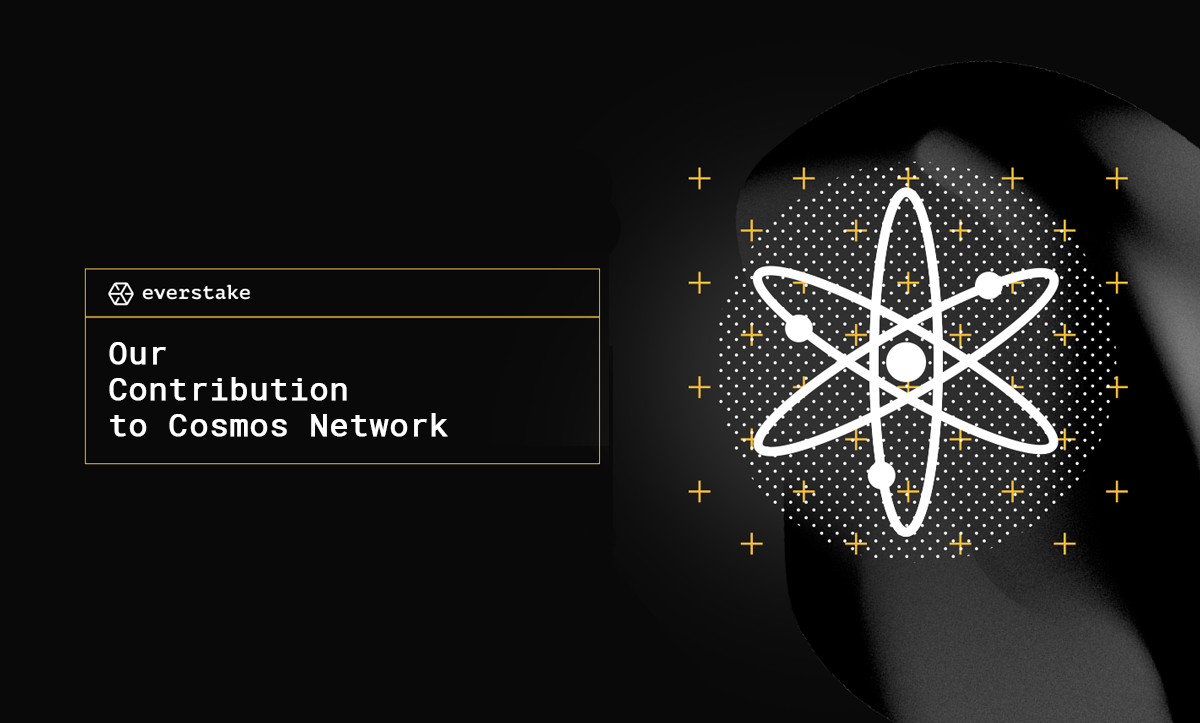 Block Validation
Everstake is one of the Top-100 validators in the Cosmos Network, and the position is crawling up thanks to your reliance. Our perfect set-up node with the latest software allows our customers to collect over 13% of annual yields. This number already accounts our low 3% fee we are using for the node maintenance. You can join our staking pool to start receiving the yields with a reliable Cosmos block validator.
Education
The growth of blockchain technology relies on new people coming to use it and embracing the latest achievements. To simplify the onboarding, we constantly issue new guides for newcomers interested in blockchain technology, and Cosmos Network is no exception. Cosmos is a great platform for the first steps in banking, it is easy, fast and straightforward, and we recommend it to everyone who wants to try staking. Recently, we have issued an educational guide for newcomers on how to start staking, especially in the Cosmos Network.
Technical Specialists
The blockchain can support numerous applications and functions, but to do so, these applications should be developed in the first place. To implement outstanding ideas, blockchain needs more developers, and we are helping the increase by composing technical guides on blockchain development for new coders. Cosmos Network offers a powerful SDK supporting lots of valuable functionality and we have published a technical guide on the basics of building blockchain apps with Cosmos SDK.
Open and Accessible Analytics
A transparent market is one of the things needed for blockchain technology to evolve. People need to have access to blockchain data, to have a foundation for improvements, extensions, new software and supporting more transactions and users. All this data is usually available in fractions on different websites or wallets, and that doesn't help transparency. We have developed the Cosmos Analytics Dashboard, with the most extensive analytical data of the Cosmos Hub, since its launch. We already provide similar dashboards to other blockchains and are developing even more.
To be on top of your stats, be it your wallet alerts, staking status updates and overall vital stats of the blockchain, we have built the Telegram bot that allows getting all needed notifications in real-time right in your messenger, without downloading and opening any excessive software.
Stellar Support
We have a highly skilled support team that will answer any of your questions related to the Cosmos Network. Staking, stats or technical questions — our support is available in our Telegram chat, together with our great community, who can help you with any of your questions or problems.
***
Follow news and updates from Everstake by subscribing to the newsletter on our website and join the discussion in our social channels through the links below.
Website: everstake.one
Twitter: @Everstake_pool
Telegram: @Everstake_chat
Facebook: fb.me/everstake.one
Reddit: /r/Everstake/
Medium: medium.com/everstake