Back to all posts
TezBox Staking Guide For Desktop and Ledger Nano S. Part 2
2019-10-31 16:11
When it comes to security, the best choice that you can make if you store digital assets is the hardware wallet. Ledger Nano S allows conducting financial operations with cryptocurrencies securely due to the secure chip which stores the private key, and it doesn't allow the key to leave the device when confirming a transaction. But everything comes with a price, and TEZ delegation via a hardware wallet requires additional effort, that we'll break down in this guide.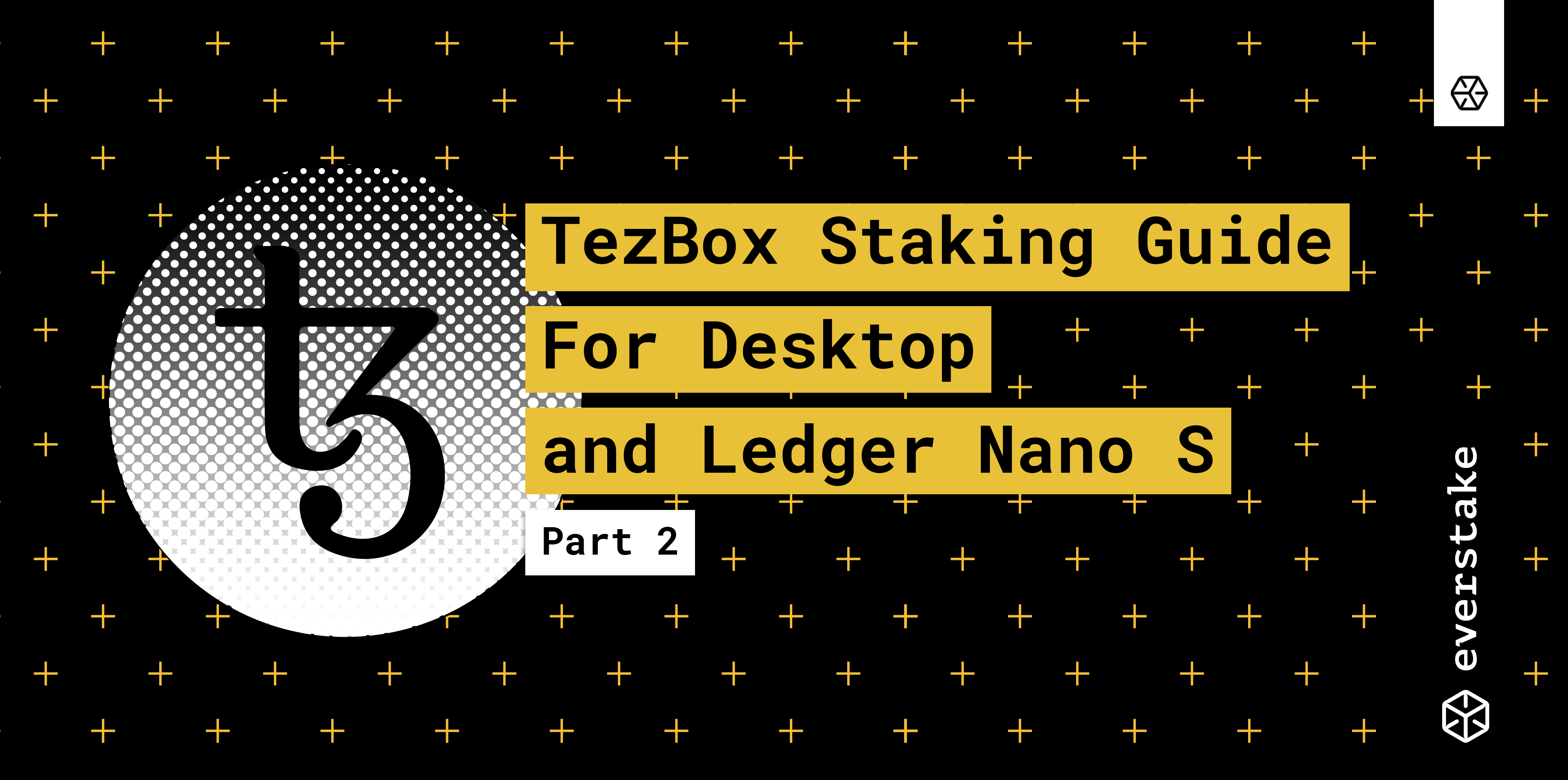 First of all, you have to download the Ledger Live application from the official website that allows managing digital assets on the Ledger. The application is available on such a platform as Windows, MacOS, iOS, Android and Linux.
Moreover, please download and install the TezBox wallet.
And also we recommend referring to our first TezBox Staking Guide for Desktop, Step 1 so that you can register a staking account with Everstake.
Before proceeding with Ledger Nano S, ensure that you have the latest firmware installed, and in case you want to make an update refer to the Ledger support center.
Connect your Ledger Nano S to the computer, open the Ledger Live and initialize your device. Then click on the 'Manager' button in the left menu.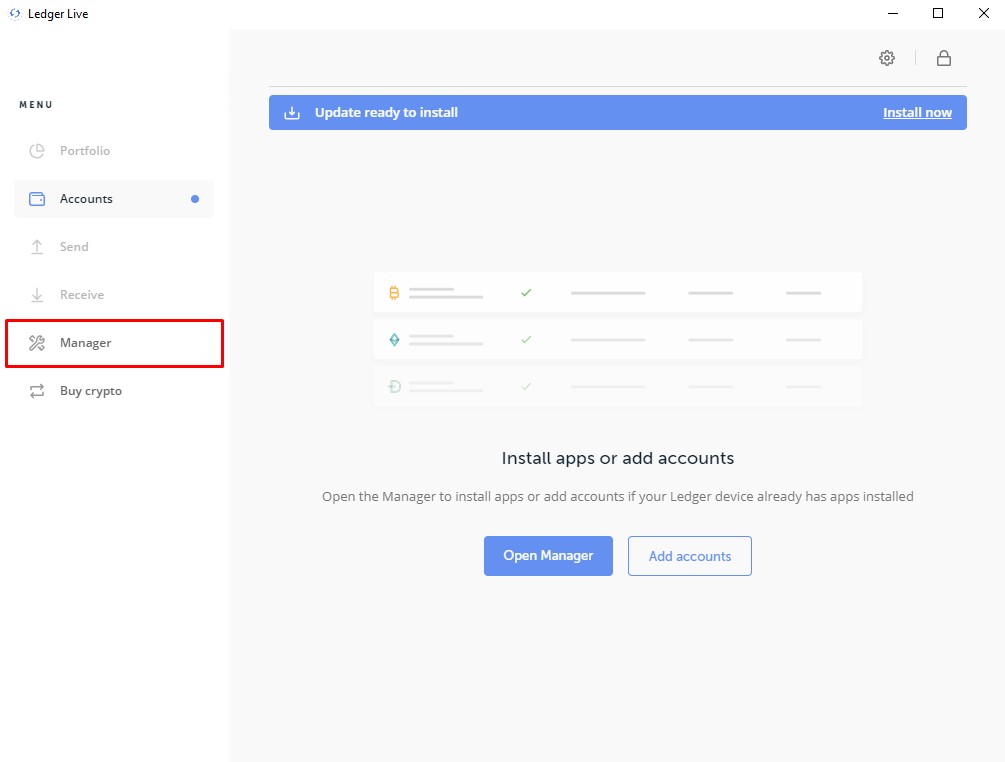 Choose the Tezos application in the App Catalog and install it.
Note, that you have to enter your PIN on Ledger Nano S so that the installation process can start.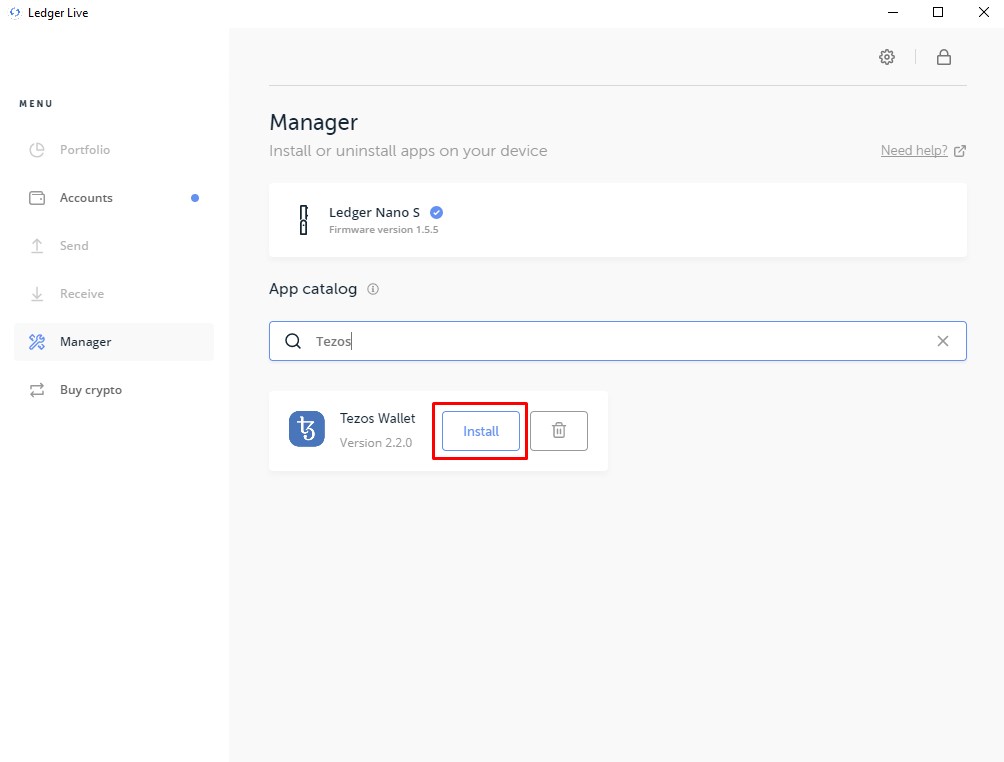 Find and open the Tezos application on the Ledger Nano S and leave it opened.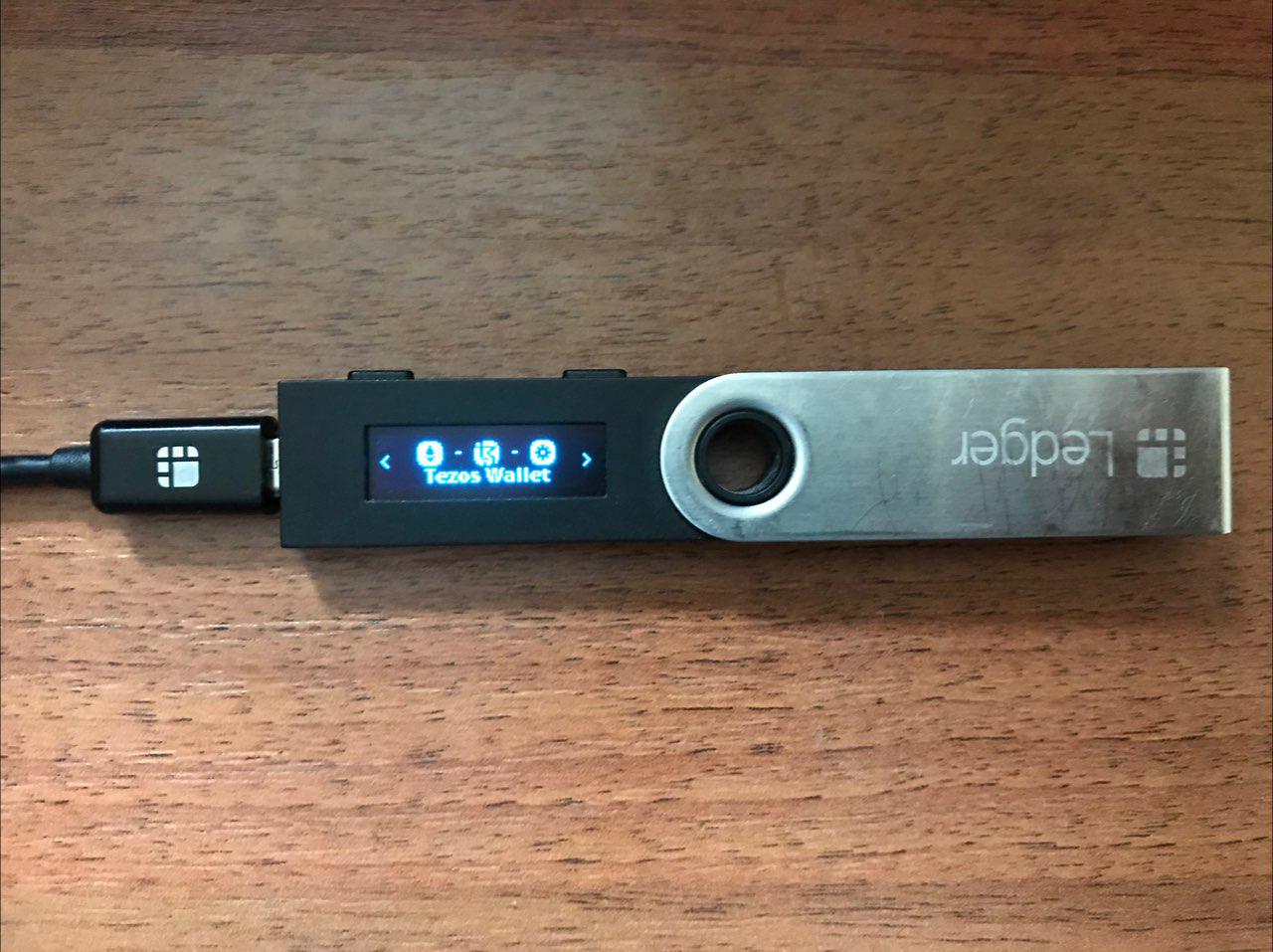 Now, open the TezBox and create a Tezos wallet through the Ledger Nano S.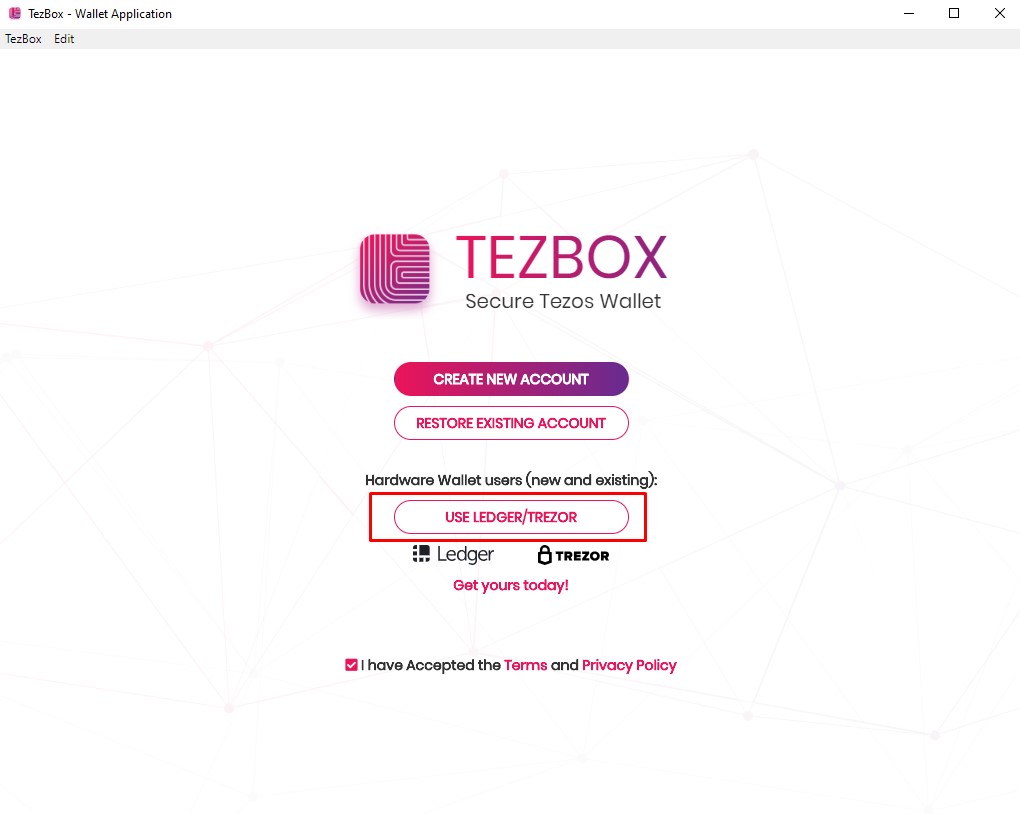 Then simply Connect your Account to the Ledger and ensure that the Tezos application on your Ledger remains opened.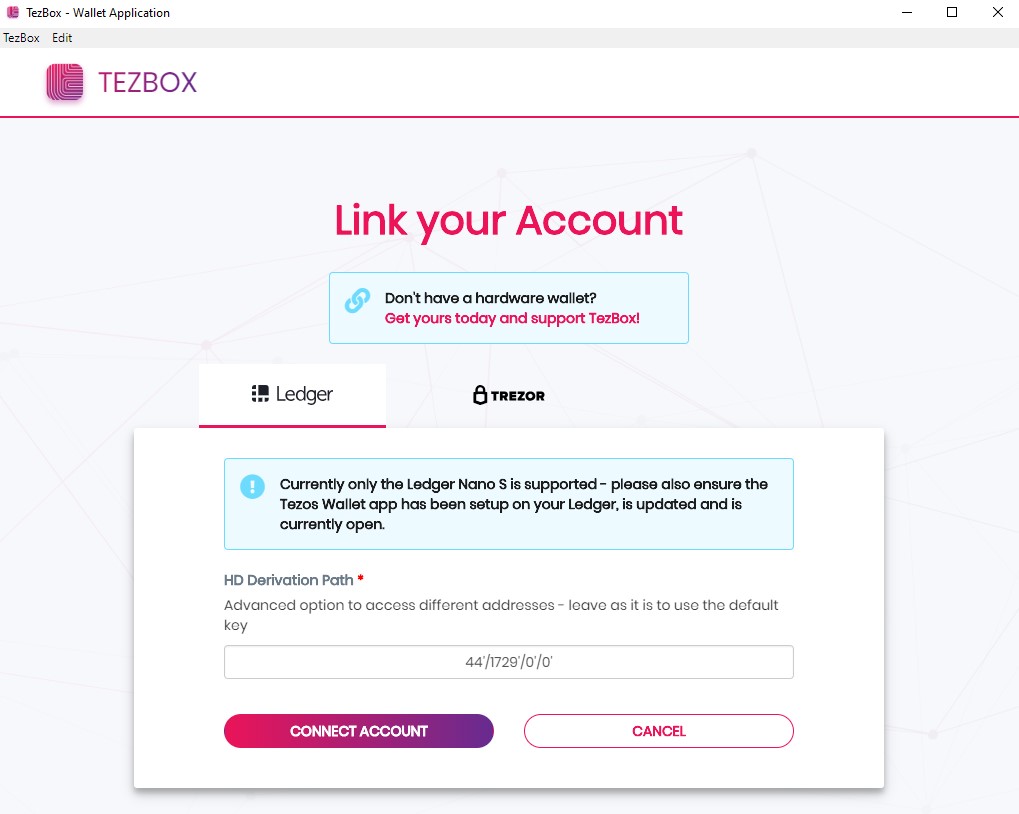 Confirm your Public Key on the Ledger.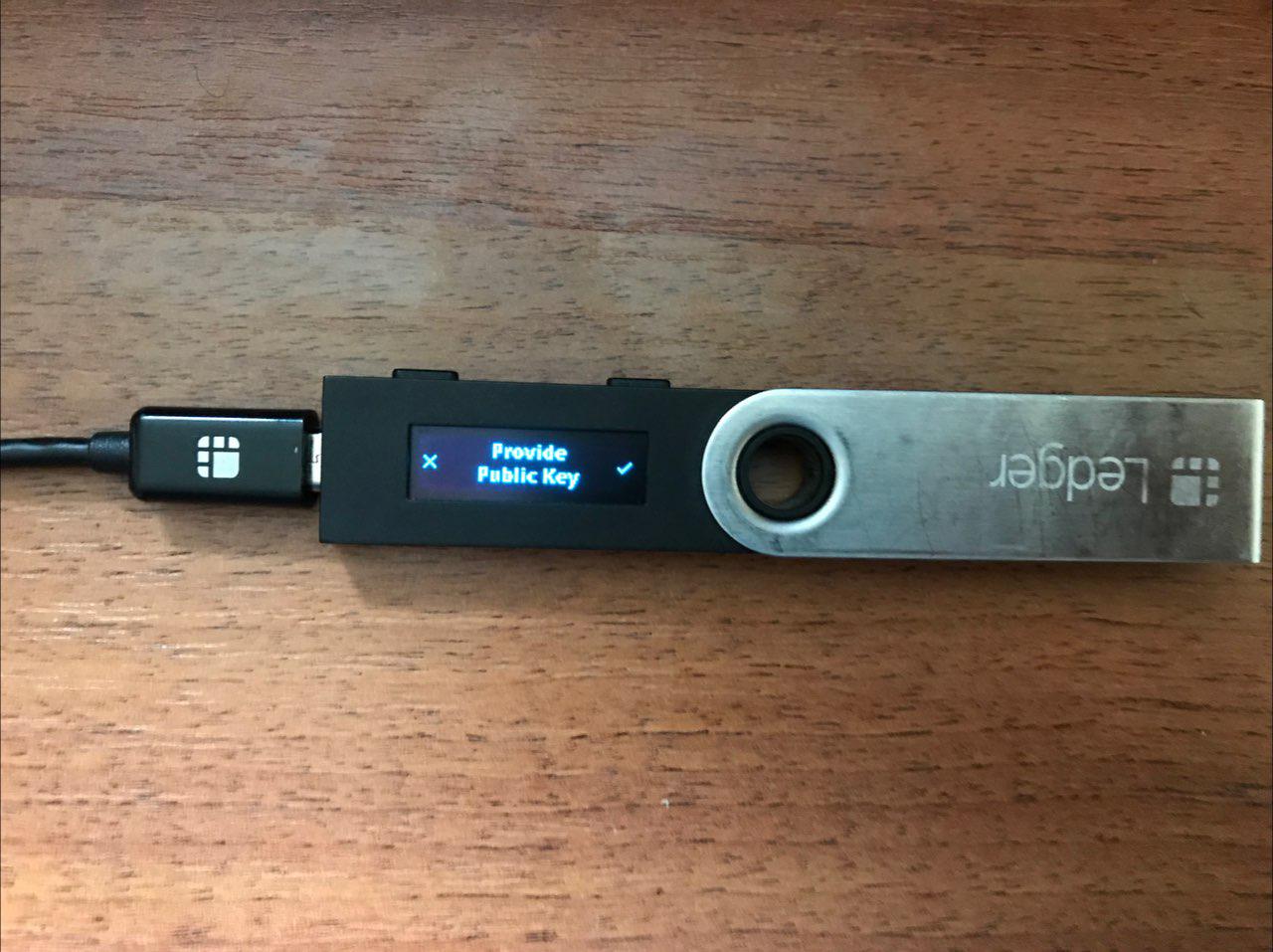 After that a TZ1 wallet will be successfully created and connected to the Tezbox.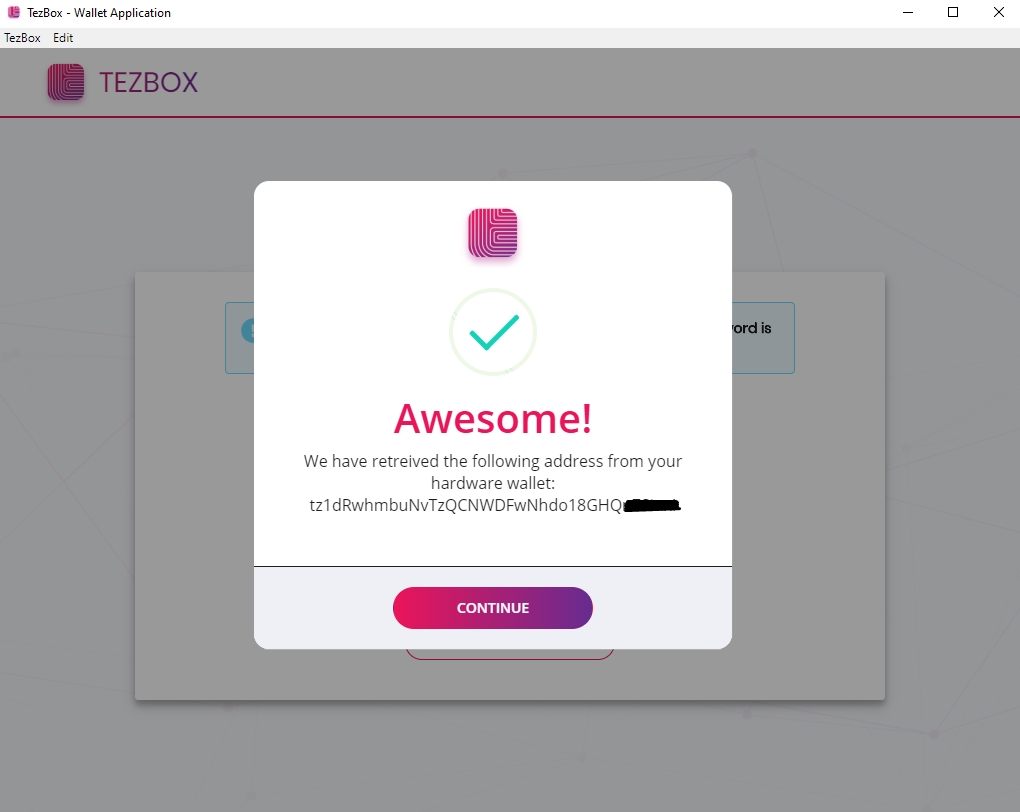 Enter any password to protect the wallet locally and Encrypt the TezBox.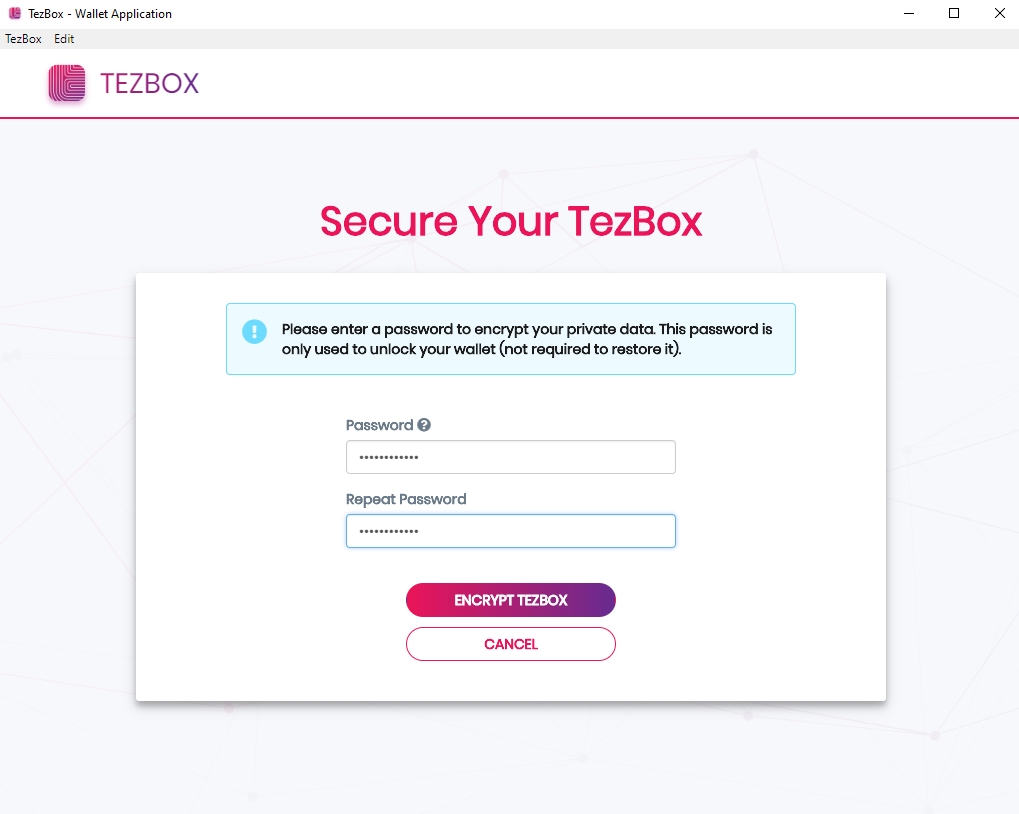 Now choose the desired amount that you want to deposit to the address provided in the application so that you can start staking.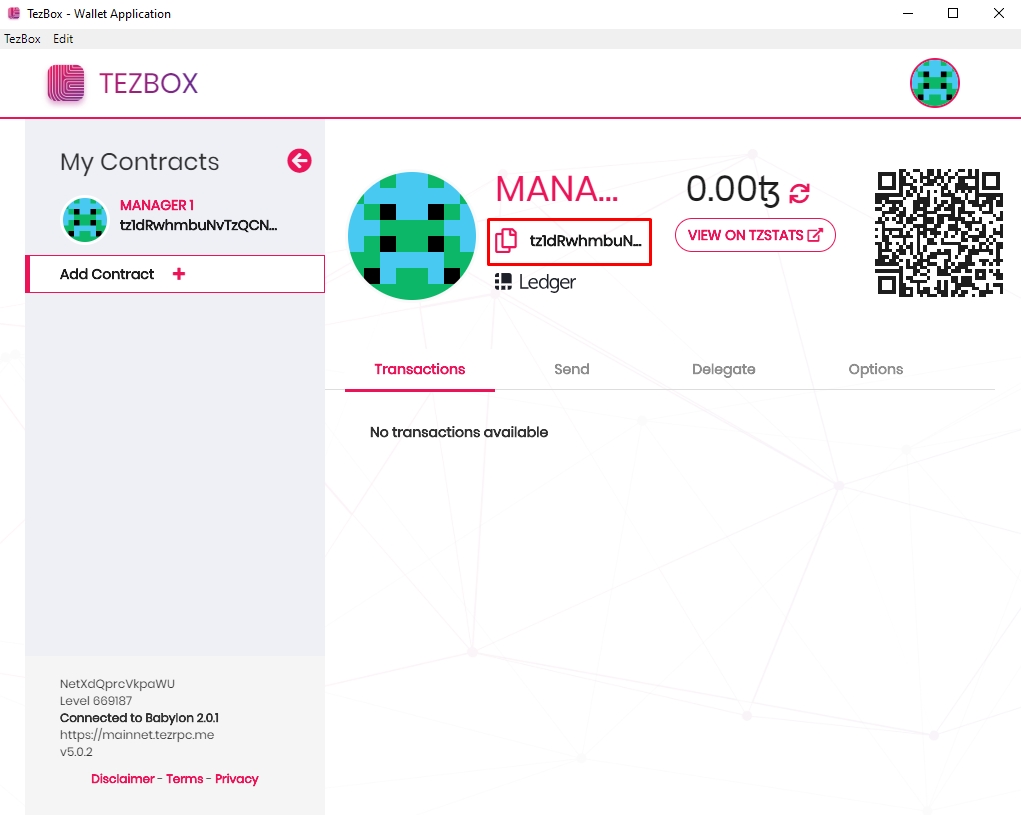 After that we have to choose a baker by clicking on the 'Delegate' section.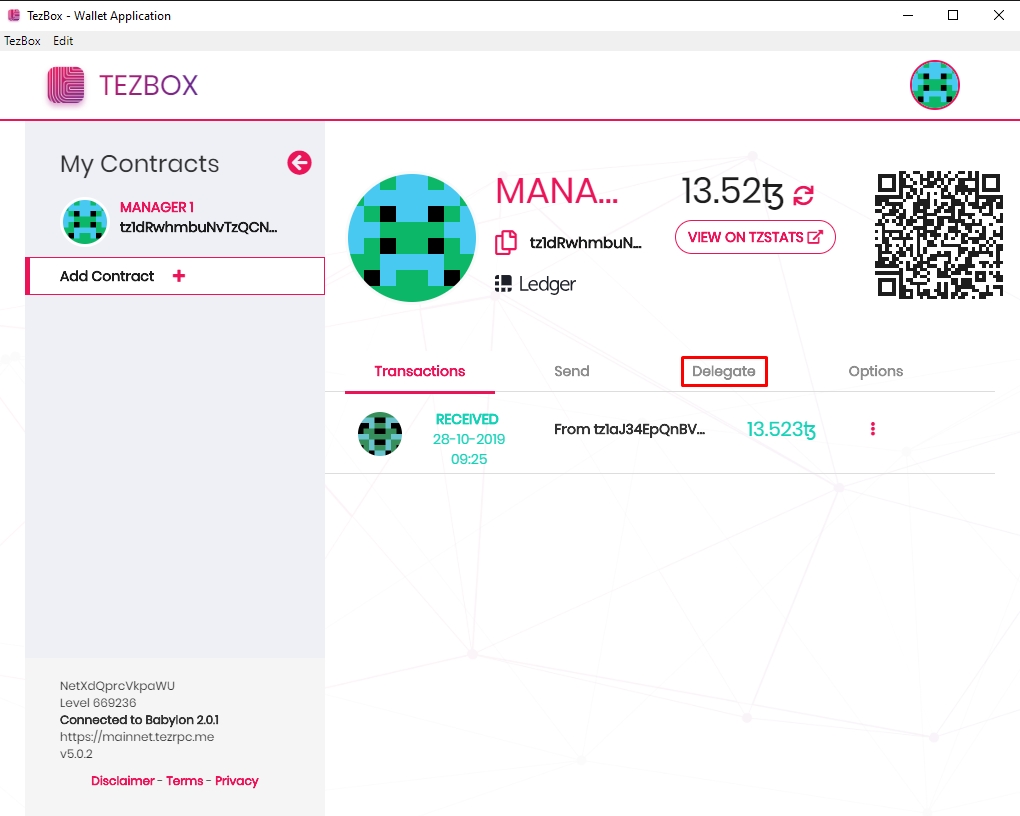 From the 'Delegate Options' dropdown menu, choose a 'Custom' delegate, and insert the Everstake delegation address into the 'Custom Delegate' Field (see Step 1 For Delegation Address).
You can also set delegation fees to 0 by clicking on the 'Fee Options' because the network doesn't require any fees for that now.
Then hit the 'Update Delegate' button.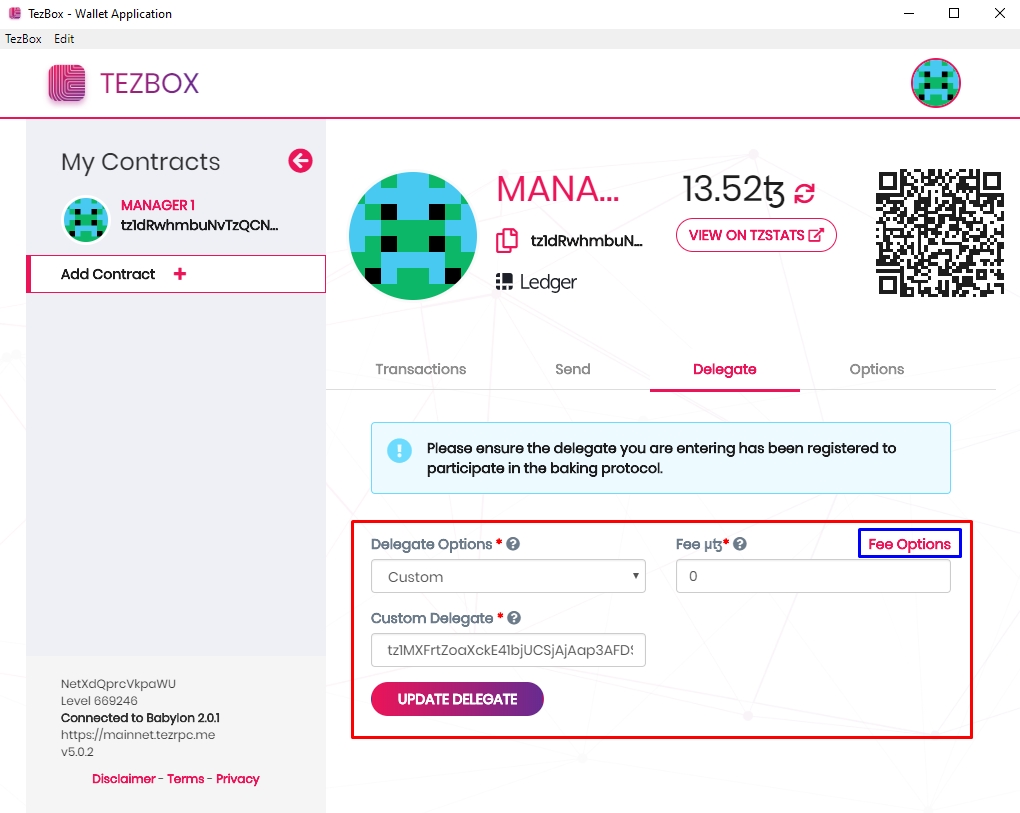 Then confirm delegation on your Ledger Nano S and wait until the blockchain confirms your action.
We want to emphasize the fact that if you just make a delegation, please allow up to 7 cycles to start receiving rewards.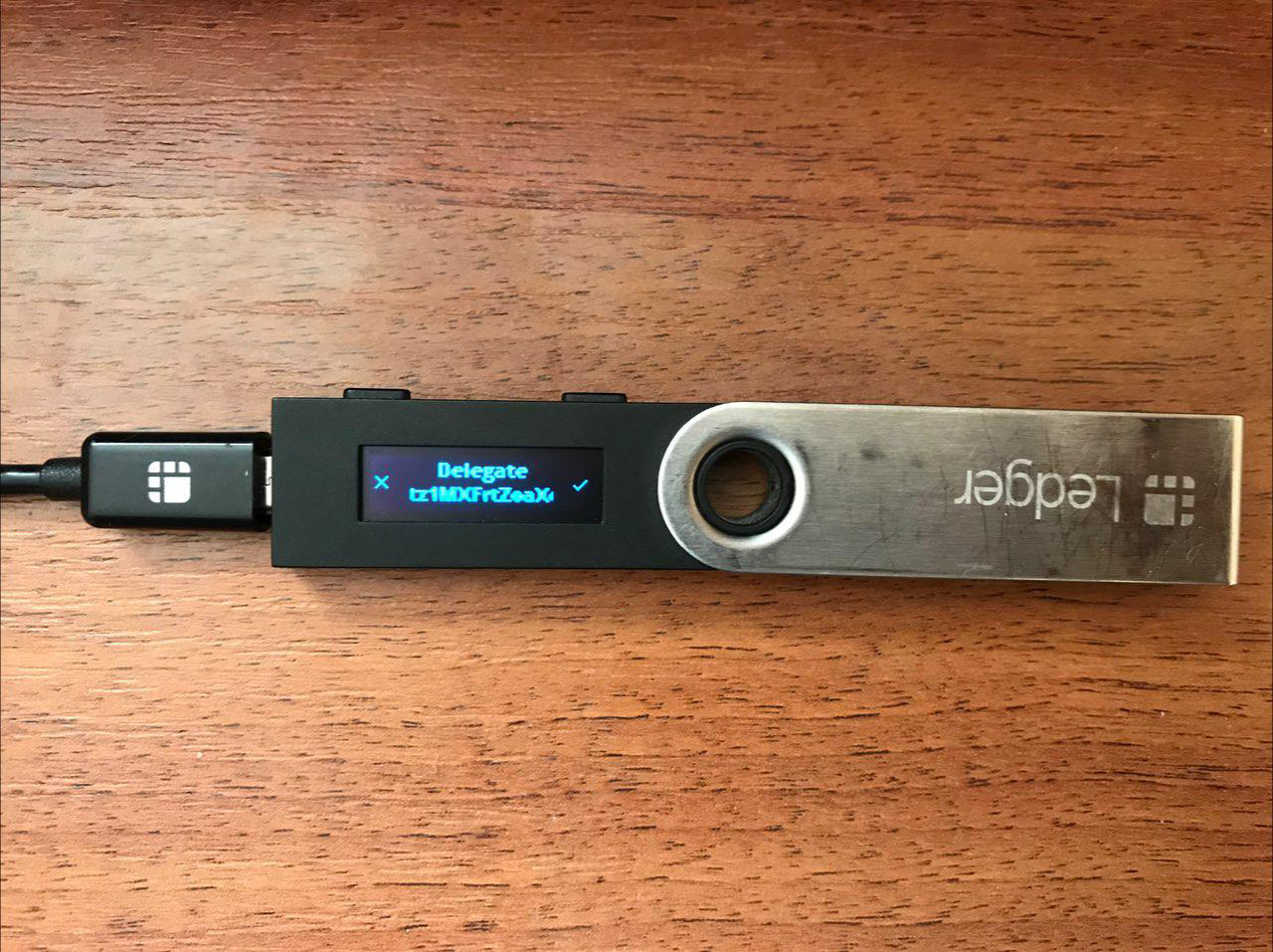 To verify your delegation refer to the TZTracker, enter your deposit address into the search bar and click on the 'Delegation' section.
***
Follow news and updates from Everstake by subscribing to the newsletter on our website and join the discussion on our social channels through the links below.
Website: everstake.one
Twitter: @Everstake_pool
Telegram: @Everstake_chat
Facebook: fb.me/everstake.one
Reddit: /r/Everstake/
Medium: medium.com/everstake