Back to all posts
Everstake as an ICON P-Rep: Strategy and Vision
2019-09-19 16:20
Everstake is taking part in the ICON P-Rep voting process. Voting is at heart of the whole ICON existence, and being a P-Rep gives us a great responsibility of taking part in the network's upkeeping. However, we believe that being a P-Rep is much more than sole participation in the consensus, especially for such a great blockchain network as the ICON is.
We are interested in the flourishing future of the platform that we believe is one of the best operational blockchains to date. To support it, we are taking part in its popularization among both experienced and new blockchain users and developers, and we contribute to its expansion ourselves. Vote for Everstake to support our vision and the strategy of action we are putting into the ICON's growth.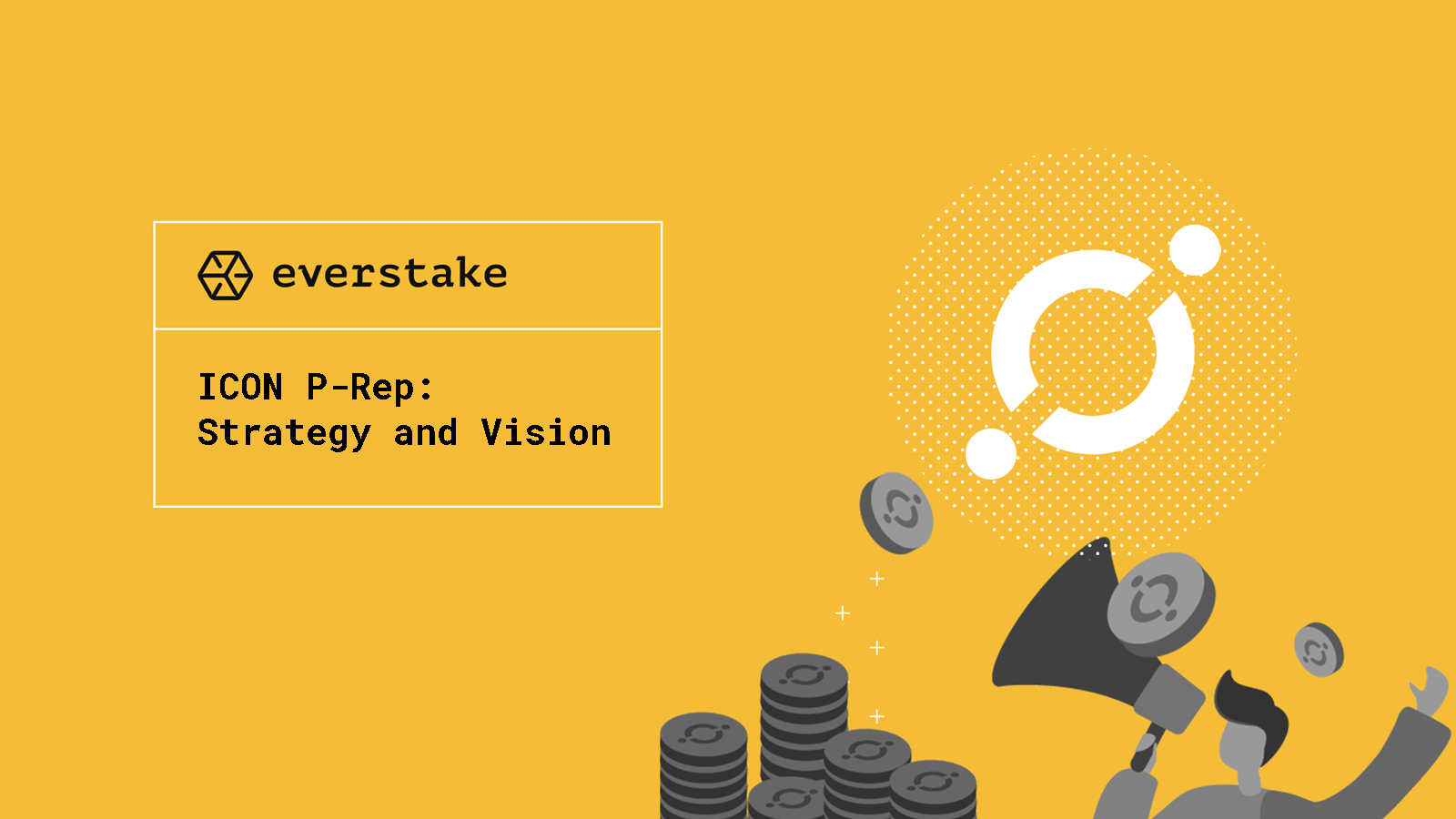 Why Everstake?
Everstake is a market-leading professional validator for proof of share blockchains. Run by a team of experienced blockchain specialists, developers and DevOps, Everstake operates the most up-to-date software on powerful servers for over 15 other blockchains. We rapidly implement any updates, maintain our nodes, and have extensive backups, which can be deployed within minutes. With all blockchains we are working with, our setups provide the networks with some of the best staking setups.
ICON Community Input
Everstake hosts a development team, which works on creating new products for all blockchains we work with. We have already launched web and mobile wallets, Telegram bots, statistics dashboards, and we're planning our ICON releases together with the ICON Foundation, to make sure that our products are useful for as many people as possible. Recently, we have released the ICON Telegram Bot, which provides lots of functions at a glance, in one place.
Promotion of ICON
The success of any blockchain depends on its popularity. Not only it brings benefits to the network participants, but the increased load is purposeful for running the network in real-life conditions and making sure that it is fit for the future. Thanks to great knowledge of the local market, we have a great opportunity to promote ICON in CIS (Russia, Ukraine, Belarus, etc.), where there's a lot of interested audiences. Apart from the promotion, we are hosting events, such as our latest Tezos hackathon, which allows us to speed up the development process, and bring great new ideas to the market. We are the only local validator, and we are interested in increasing the local community presence interested in all blockchains, including ICON.
ICON Education
We consider educational activities about the new platform an essential part of network growth. Any healthy blockchain should have the majority of its users well-educated, to make sure that they don't have any problems with the network, and their experience is streamlined. Recently, we have started our education process with ICON by issuing the voting and staking guide.
***
Everstake foresees a great future for ICON and the experience we have gathered while working with other blockchains gives us the knowledge of what is required for the network's rapid popularization. We have already started our input into the ICON's growth by developing new tools and creating guides. We hope for your support of our vision and your votes for us as an ICON P-Rep.
Thanks to the community's votes, we will be able to realize our strategy in full, build more useful applications, create more guides, and take our part in making ICON one of the leading blockchain.
Vote for Everstake and support us in comments and community talks to make that happen!
***
Everstake is one of the ICON P-reps! Please support us with your vote!
Every single vote matters for us, allowing us to continue developing tools for ICON blockchain and supporting the East European community.
Staking with ICONex Web Wallet
Staking with ICONex Mobile Wallet
Staking with Ledger
How to get ICX rewards
ICON FAQ



Website: everstake.one
Twitter: @Everstake_pool
Telegram: @Everstake_chat
Reddit: /r/Everstake/
Medium: medium.com/everstake