Back to all posts
How to stake Cardano (ADA) via the Yoroi browser wallet
2021-01-20 01:29
Yoroi is a light wallet for Cardano, a product of Emurgo, one of the companies behind the Cardano development. Yoroi has versions for browsers (Chrome, Brave, Edge, Firefox) and mobile (iOs, Android). In this guide, we will tell you how to stake Cardano via the Yoroi browser wallet.
How to install Yoroi browser wallet
Go to the official Yoroi website and choose your browser. If you want to use Yoroi on the Brave browser — choose the Chrome option.
After the installation of the browser extension, choose your language, and agree to the "Terms of Use". Then select "Simple" mode if you are a newbie or "Advanced" mode if you have blockchain knowledge.
You will see the options to Create wallet, Restore wallet, Connect to hardware wallet, and transfer funds from a Daedalus wallet to Yoroi.
How to create a Cardano wallet on Yoroi
Click "Create wallet" and select "Cardano", then again click "Create wallet".
Choose your wallet name, spending password and click "Create personal wallet"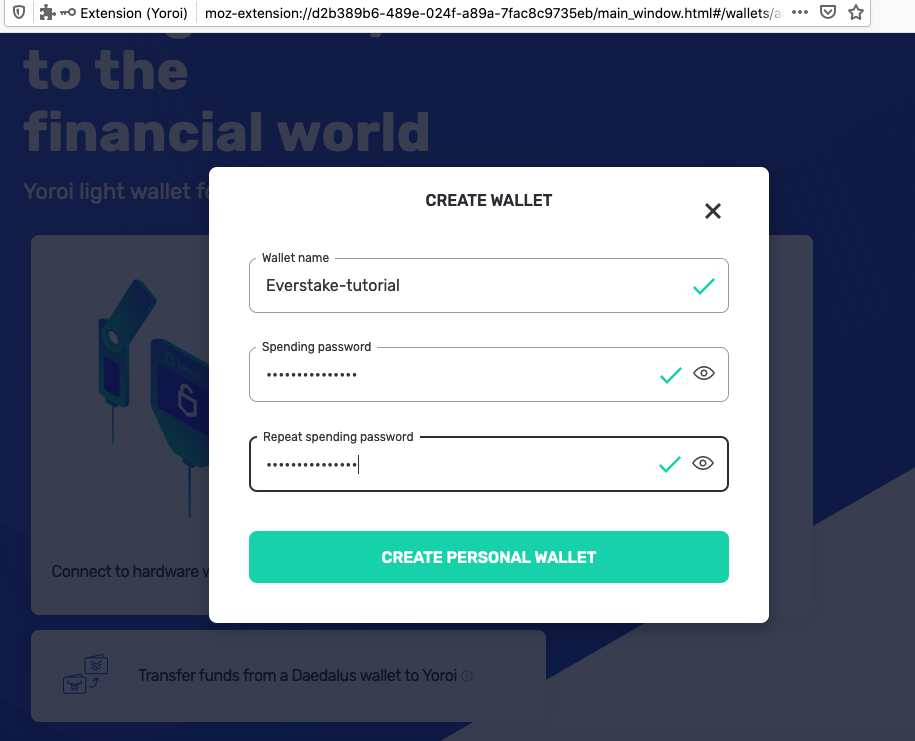 Then you will see the "Recovery phrase" window, and after you click "Continue" — you will see a set of 15 random words. This is your wallet backup phrase. In the future can be entered in any version of Yoroi to back up or restore your wallet's funds and private key. Please remember that this is very important information so keep it secure.
Please, make sure you have carefully written down your recovery phrase somewhere safe. You will need this phrase to use and restore your wallet. The phrase is case sensitive.
Then you will need to confirm your recovery phrase in the same order as it appeared in the previous window.
After confirming that "I understand that my secret keys are held securely on this device only, not on the company's servers" your wallet will be created.
How to top up the wallet
Click "Receive" and here you will see your address. Also, you can generate new addresses. So you can just copy it or use QR-code if you are using a mobile wallet.
How to delegate your Cardano (ADA)
You can delegate by ID or choose your SPO (stake pool operator) from the list
To delegate coins to Everstake, use the ID below:
[EVE1] Everstake ID:
e4abcf4408584601e7c707a8902996c0c291e1a3c8300b327ae3f6ab
https://adapools.org/pool/e4abcf4408584601e7c707a8902996c0c291e1a3c8300b327ae3f6ab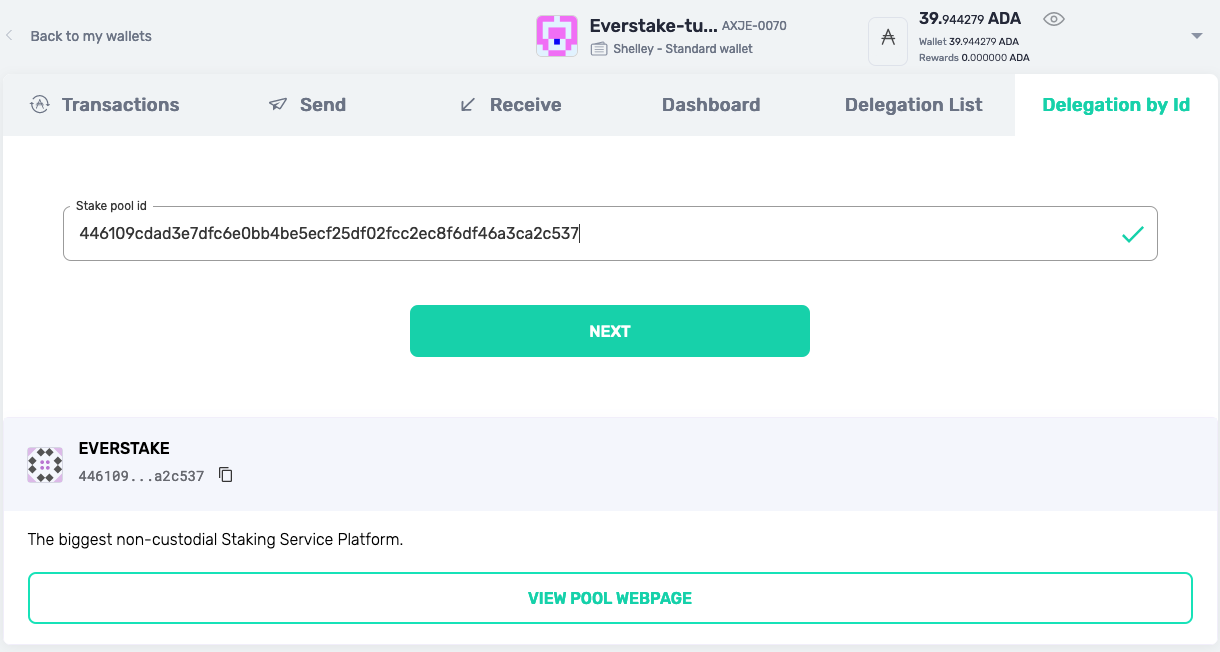 To choose SPO from the list — go to the "Delegation List" tab and type "Everstake" in the search bar.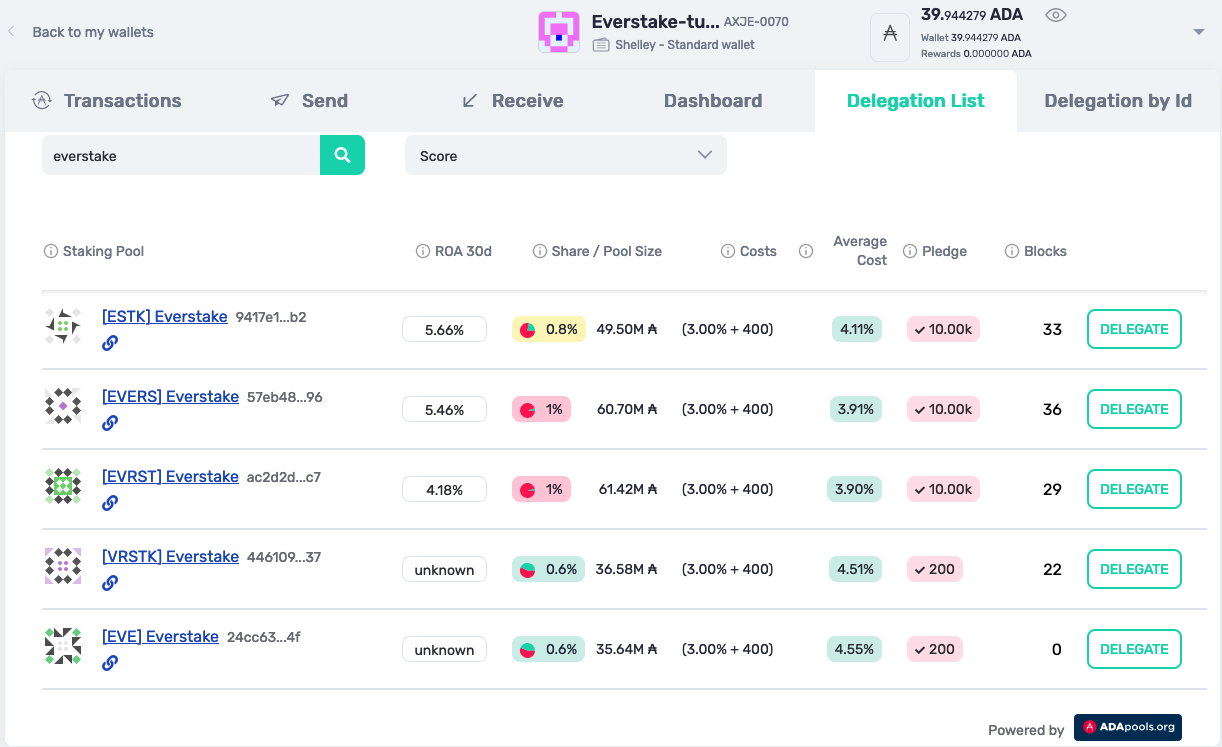 As you can see, there are several Everstake pools. The first three in the list have a big amount of delegation, so it's better to choose [VRSTK] pool (to avoid pool saturation in the future).
Click "DELEGATE"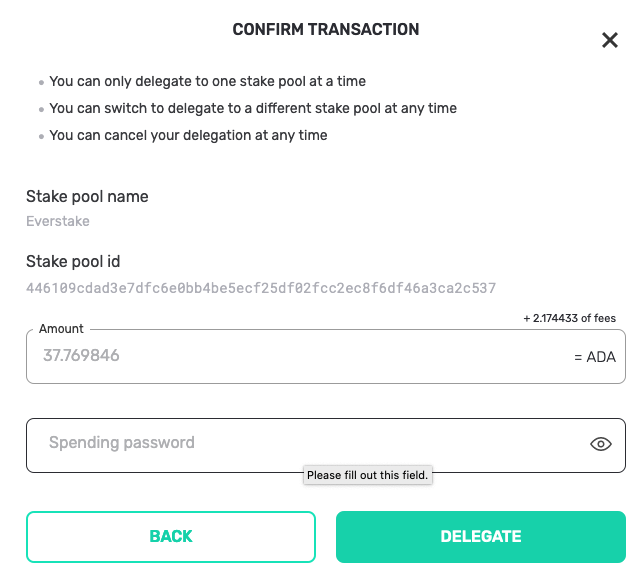 Confirm transaction with your wallet password and click "DELEGATE"
Congratulations — you successfully delegated your ADA!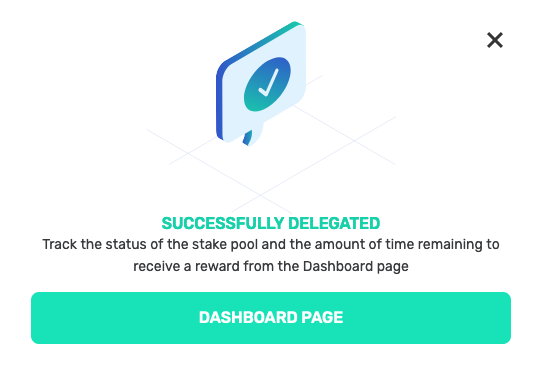 You will begin receiving staking rewards after 20 days. The Cardano staking yield is about 5% per annum. You can move your funds any time, as they never leave your wallet.