Back to all posts
How to Stake Comdex (CMDX) with Everstake via Keplr Wallet connected to Omniflix
2021-12-16 14:32
Common opinion sees centralized, traditional finances as a natural adversary to decentralized currencies. Comdex seeks to overcome this alleged confrontation. It provides a synthetic decentralized exchange (DEX) trading platform leveraging real-world investment vehicles based on the intrinsic value of commodity assets coupled with vast features of crypto-currencies in general and interoperability of IBC-powered Cosmos-based blockchains in particular.
Comdex enables a variety of earning opportunities, ranging from handling tangible asset derivatives to staking and yield farming in liquidity pools. As a part of the Persistence ecosystem, it represents a synthetic assets protocol built on Cosmos SDK with Tendermint (PoS consensus engine).
Everyone can stake in Comdex by acquiring and staking CMDX, a Comdex native token, with one of the validators operating in this blockchain, for example, Everstake. Staking CMDX secures Comdex blockchain transactions and gets rewarded with up to 50% of the annual percentage yield (APY).
Everstake being an early supporter of Cosmos network, secures all transactions in the Persistence ecosystem, including Comdex, as a Genesis validator.
Comdex has successfully listed CMDX on the decentralized exchange for Cosmos-based tokens called Osmosis.zone. To buy and stake CMDX there you will need to have a Keplr wallet.
Although CMDX staking is not available directly from the Keplr wallet, you can do it with OmniFlix, a Comdex partner platform. This guide will walk you through CMDX buying and staking powered by Keplr connected to Omniflix.
1. Create and top up your Keplr Wallet
In case you already have a Keplr wallet, skip this section and go to Section 2.
Keplr wallet is available as a Chrome browser extension, Android, and iOS applications.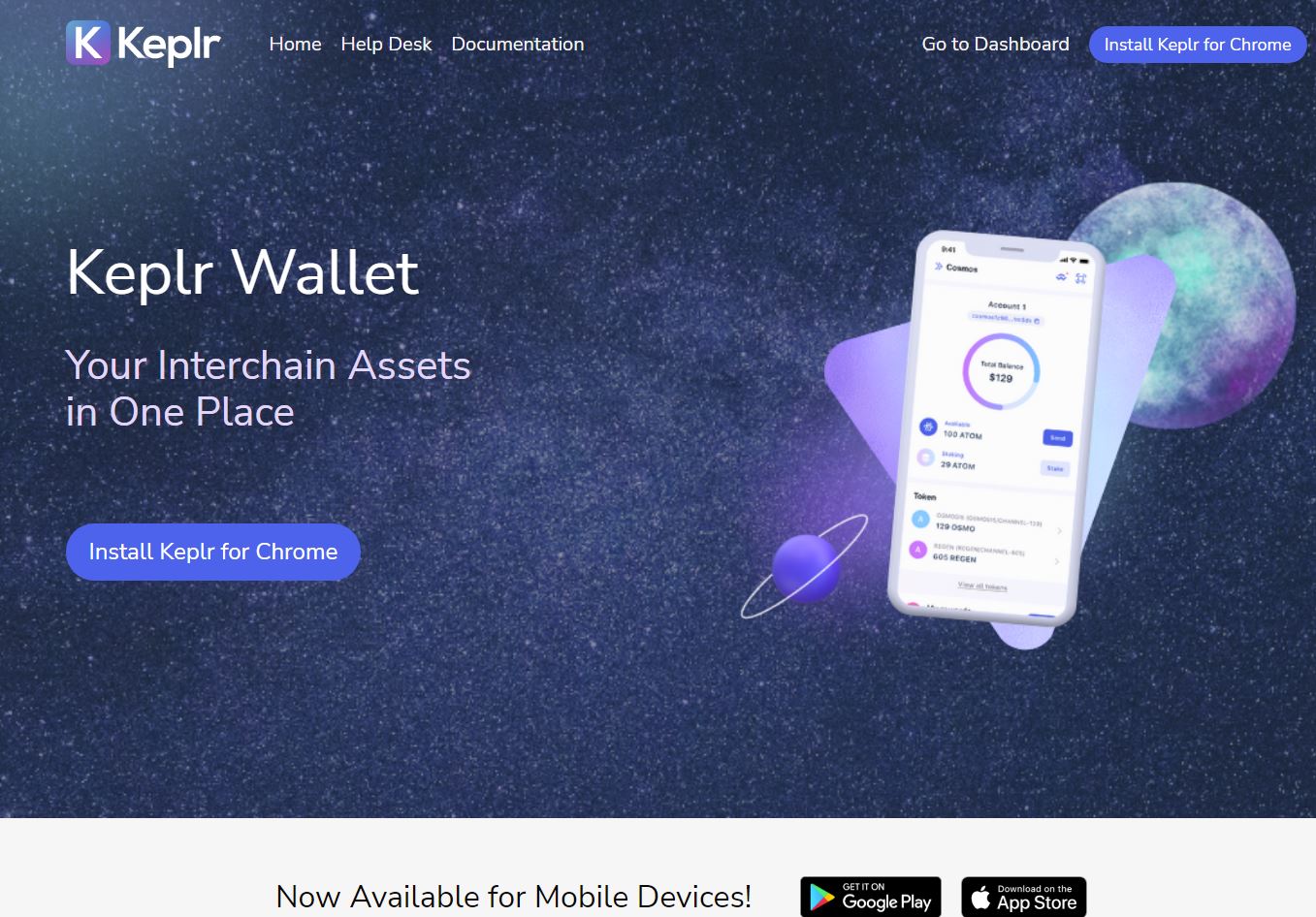 This guide will show you how to create a Keplr wallet in Google Chrome.
Step 1: Install Keplr wallet
In Google Chrome, go to

Keplr.app

, and click

Install Keplr for Chrome

.

In the Chrome Web Store, click

Add to Chrome

.

In a popup window that will appear, click

Add extension

.
Congrats, you've got the Keplr extension in your Chrome.
You can now always access Keplr with the Google account you have added it to. In the top right corner of Chrome, there is the Extension icon (a puzzle).
Click it to spot Keplr among your extensions.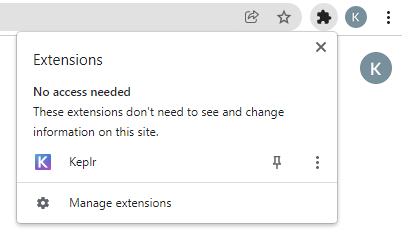 Step 2: Create a Keplr wallet
It's highly recommended that you read and stick to the common cryptocurrency user security guide before proceeding with utilizing wallet and CMDX staking.
Launch Keplr extension, and click

Sign in with Google

.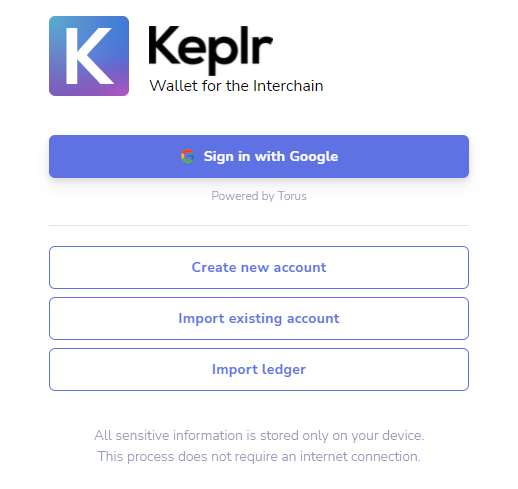 Enter your new account name and password. You can pick up any name you like and click

Next

.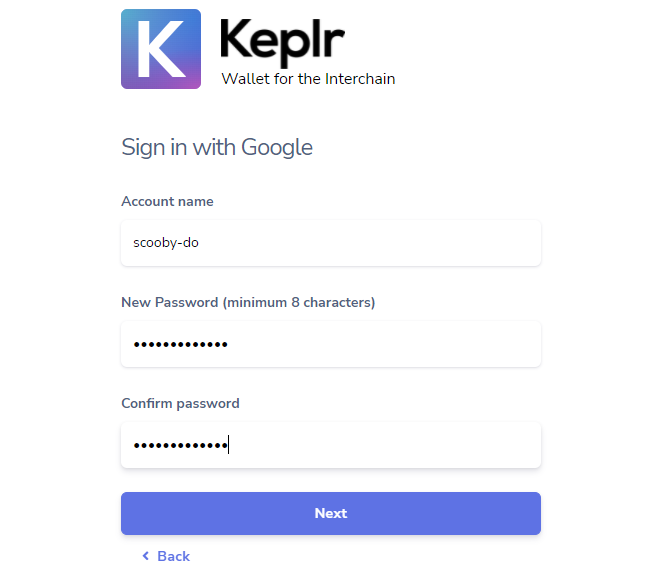 Google will ask you to sign in.
Enter the email or the phone and password associated with your current Google account.

Proceed by clicking

Next

.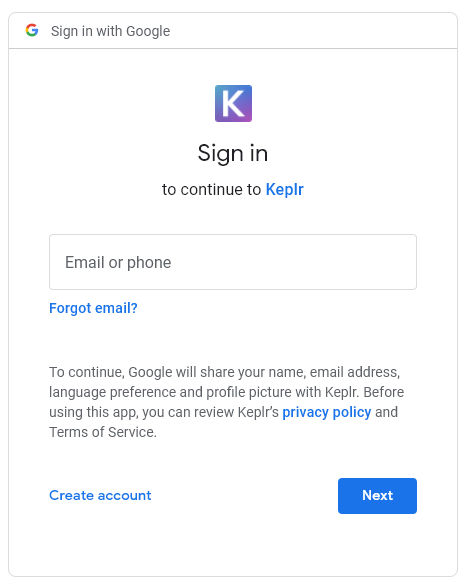 Wait while the wallet is being generated (this usually does not take more than 15 sec).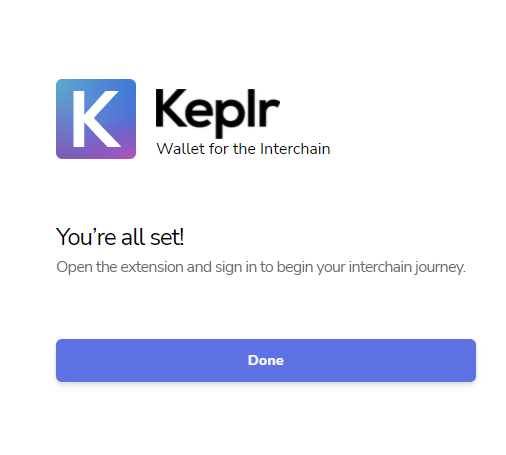 This will close the registration window.
Step 3: Top up your Keplr wallet
Once you have created the wallet, replenish it with one of the supported cryptocurrencies on Osmosis DEX e.g. ATOM for further buying CMDX.
Copy the wallet address from your extension by clicking on it.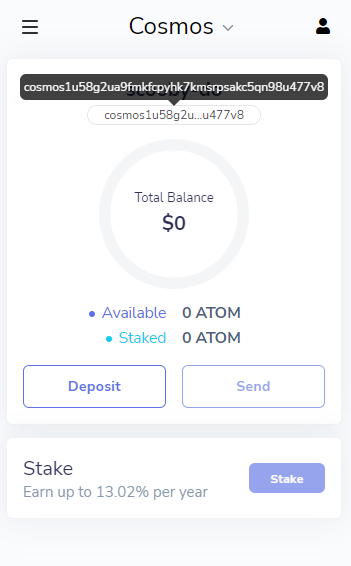 Deposit some ATOM to the wallet from any other wallet or exchange account you have.
Check up ATOM balance for replenishment.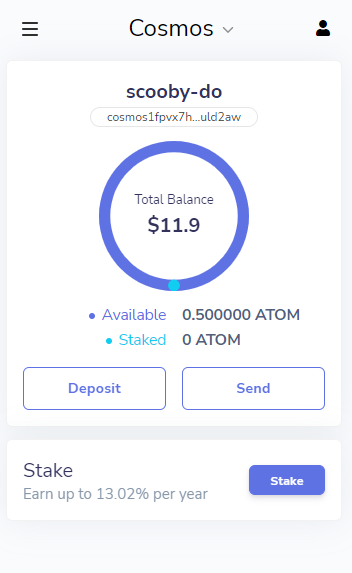 Perfect! Now you can proceed to purchase CMDX.
2. Connect to Osmosis and buy CMDX
Osmosis DEX is currently the only exchange where CMDX could be acquired and it could be easily accessed by connecting your Keplr wallet.
IMPORTANT WARNING!
Open Osmosis.zone in the Google account that you have just used to create your Keplr wallet. This will automatically connect your Keplr wallet to Osmosis.
Step 1: Connect your Kerpl wallet to the Osmosis zone
In the Chrome browser, go to

osmosis.zone

.

Click

ENTER THE LAB.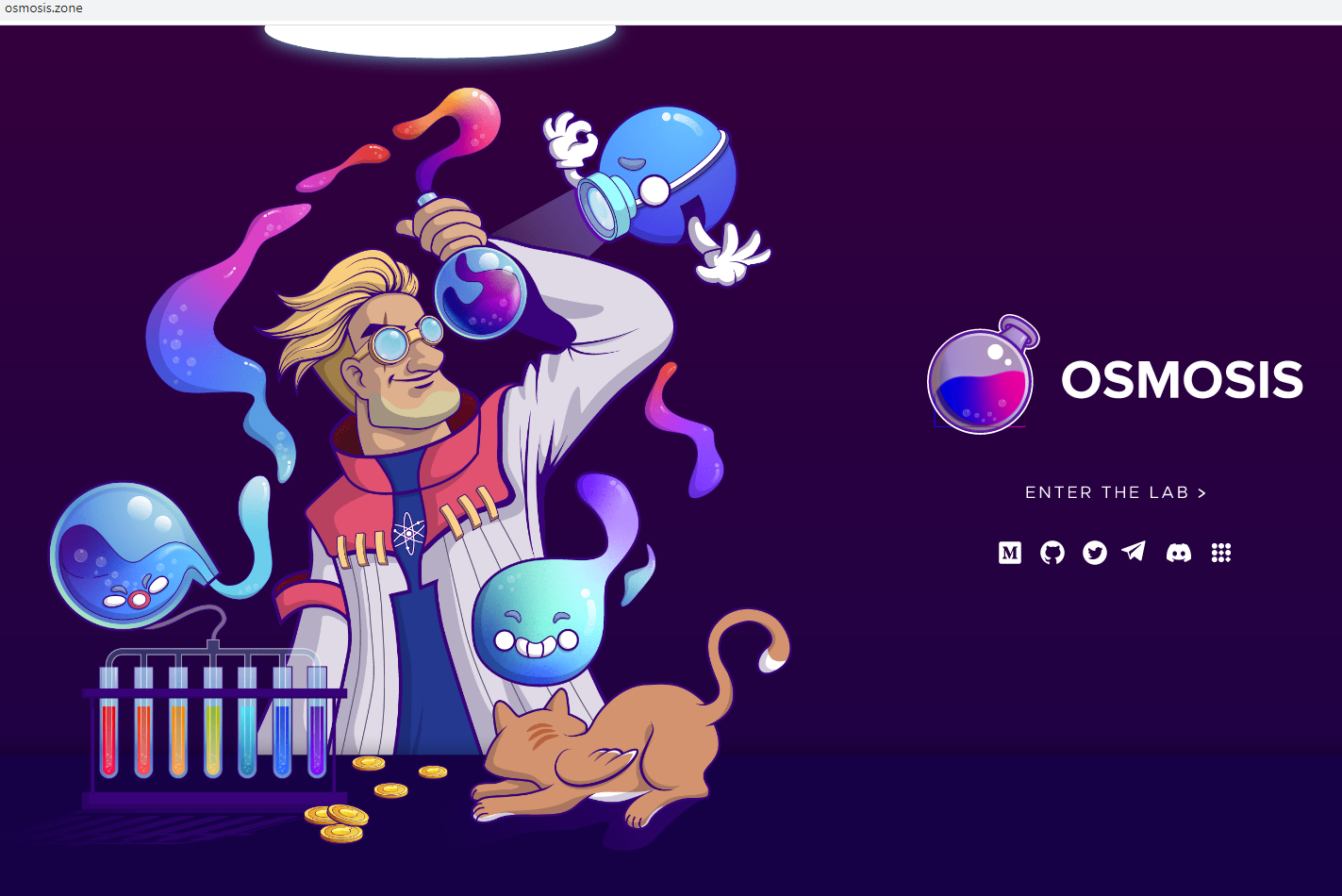 Read the disclaimer, check the box and click

Proceed.

Click

Connect Wallet

either on the right or left menu of the website.
In the

Connect Wallet

popup, select

Keplr Wallet

.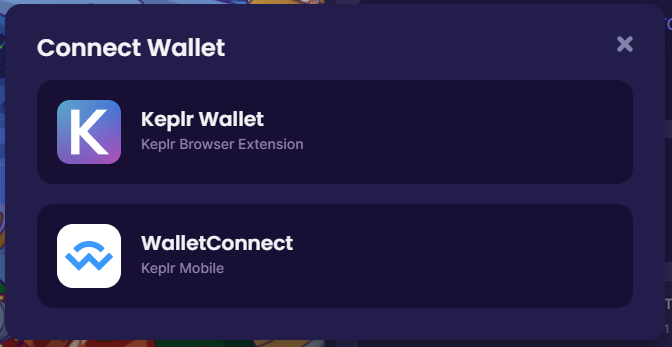 Osmosis is requesting to connect to your Keplr wallet: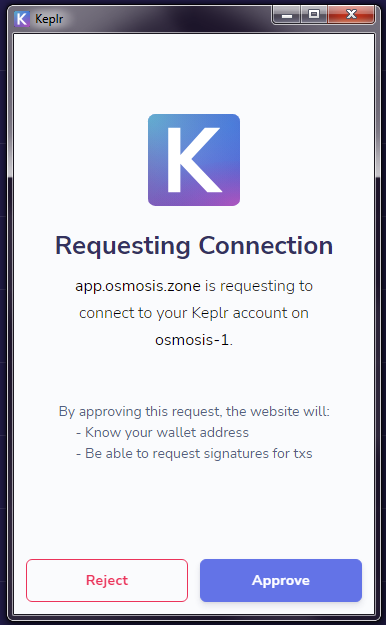 Congrats! You are connected to Osmosis now.
Step 2: Deposit your ATOM tokens on Osmosis
To buy CMDX, you need to deposit your ATOM tokens from Keplr to Osmosis.
Select the

Assets

tab and click

Deposit

to the right from

Cosmos Hub - ATOM

.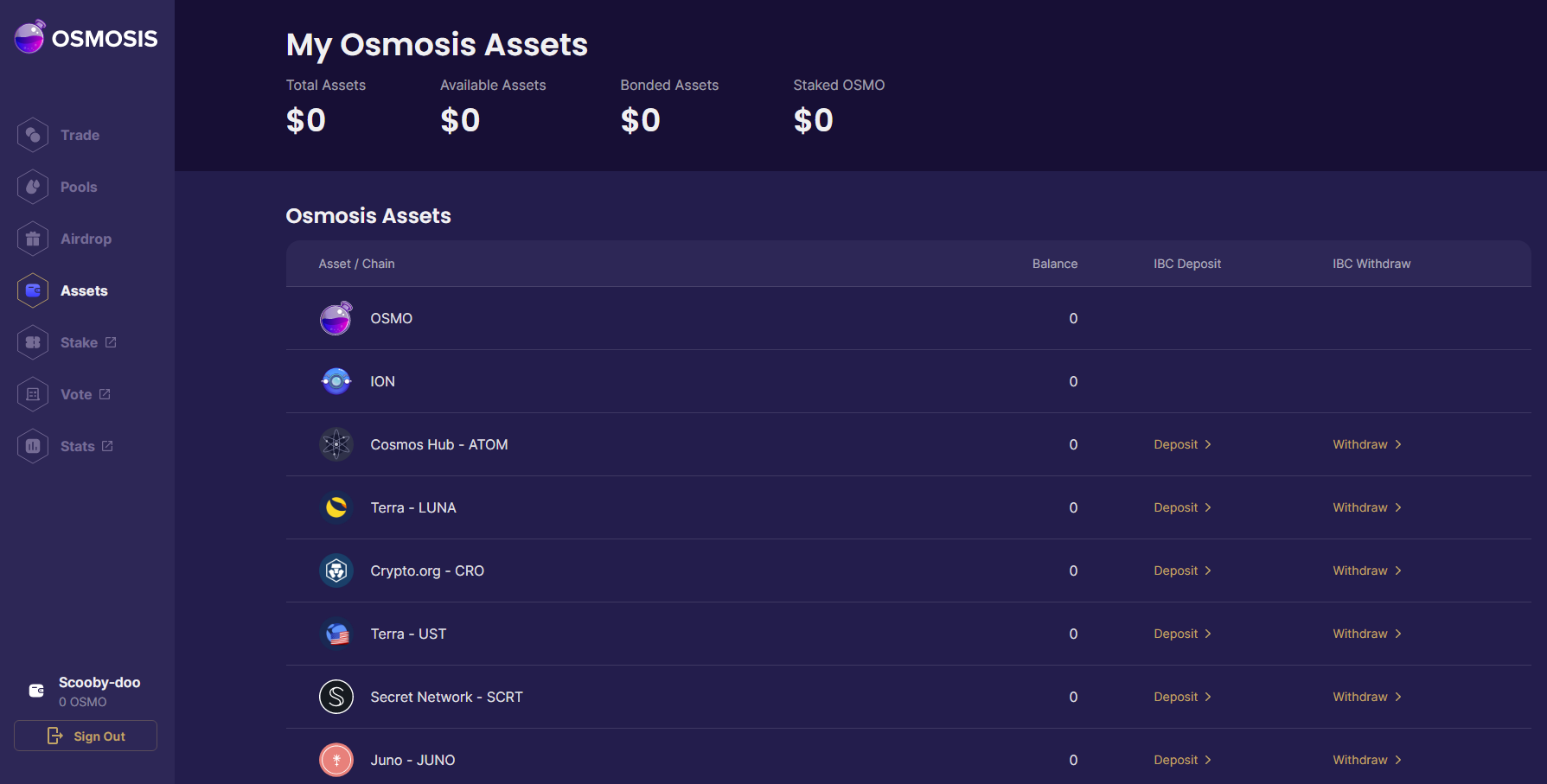 Osmosis will ask you to permit its connection to the cosmoshub-4 channel joining it with Keplr.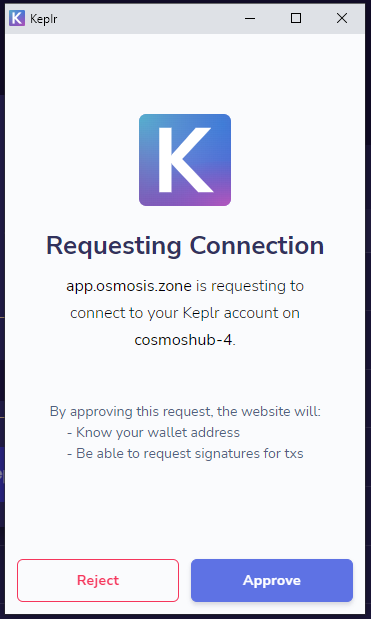 Enter the amount you would like to deposit and click

Deposit

.
In a minute or so your Osmosis balance will be topped up with ATOM.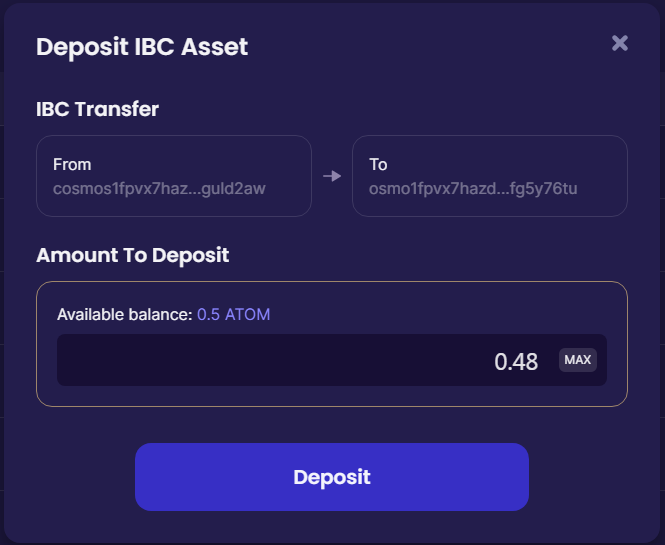 Note that you should leave a small part of ATOM due to the transaction fee required.
Approve the IBS Transfer in the Keplr window that has appeared setting the appropriate fee.
Tip: as a rule, setting a low fee is ok.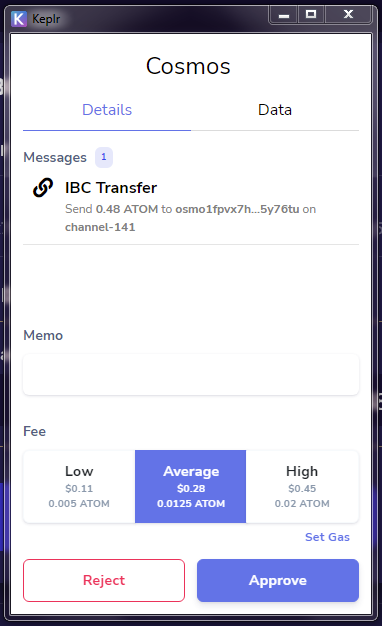 Now, you have assets on Osmosis to convert into CMDX.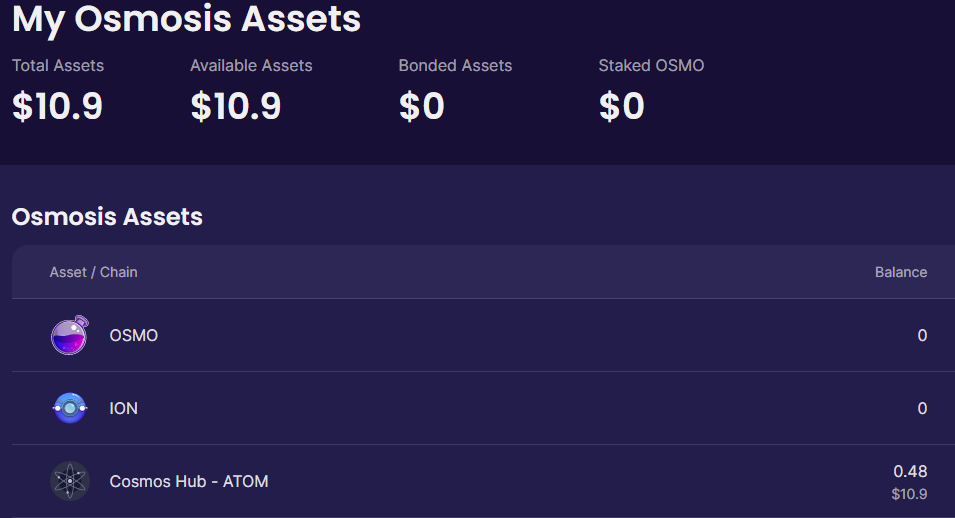 Step 3: Swap ATOM for CMDX
In the Osmosis left bar menu, go to Trade.

In the Swap menu on the right, set CMDX as a target coin.

Set ATOM amount for exchange and click

Swap

to have it converted into CMDX.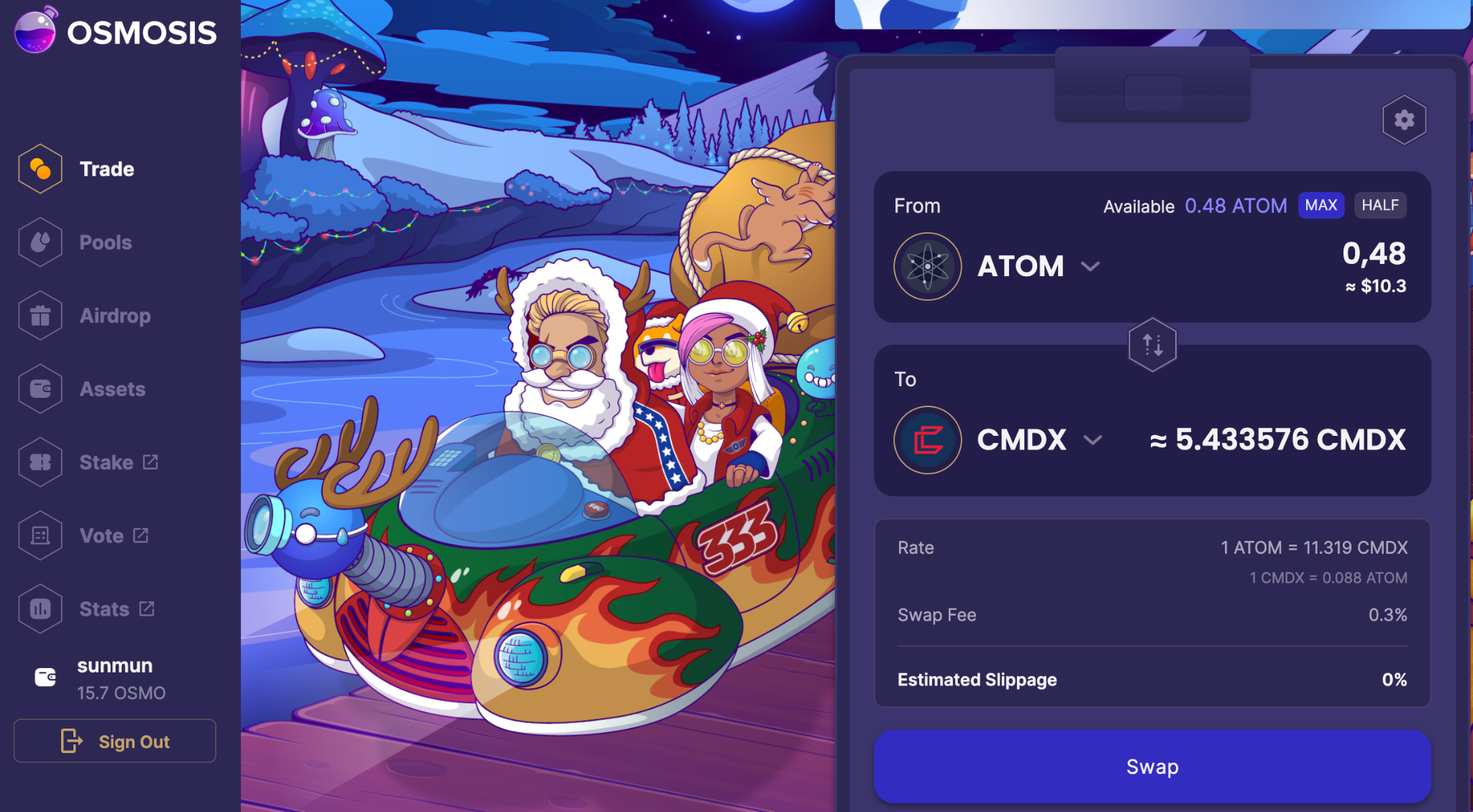 In the Keplr window that appears, click

Approve

(for this type of transaction a zero fee works).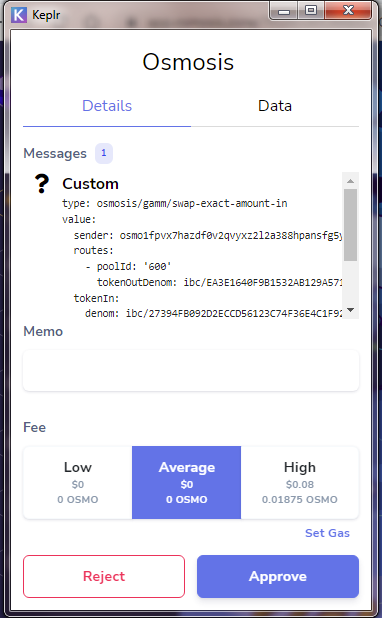 Step 4: Withdraw Comdex to your Keplr wallet
Check out your Assets tab to see the Comdex amount available for withdrawal.
Click

Withdraw

to the right from it, and approve the follow-up Keplr request for connecting the Comdex channel.
Connecting the Comdex channel automatically adds your Keplr account to the Withdraw dialog window.
Set the amount and click

Withdraw

.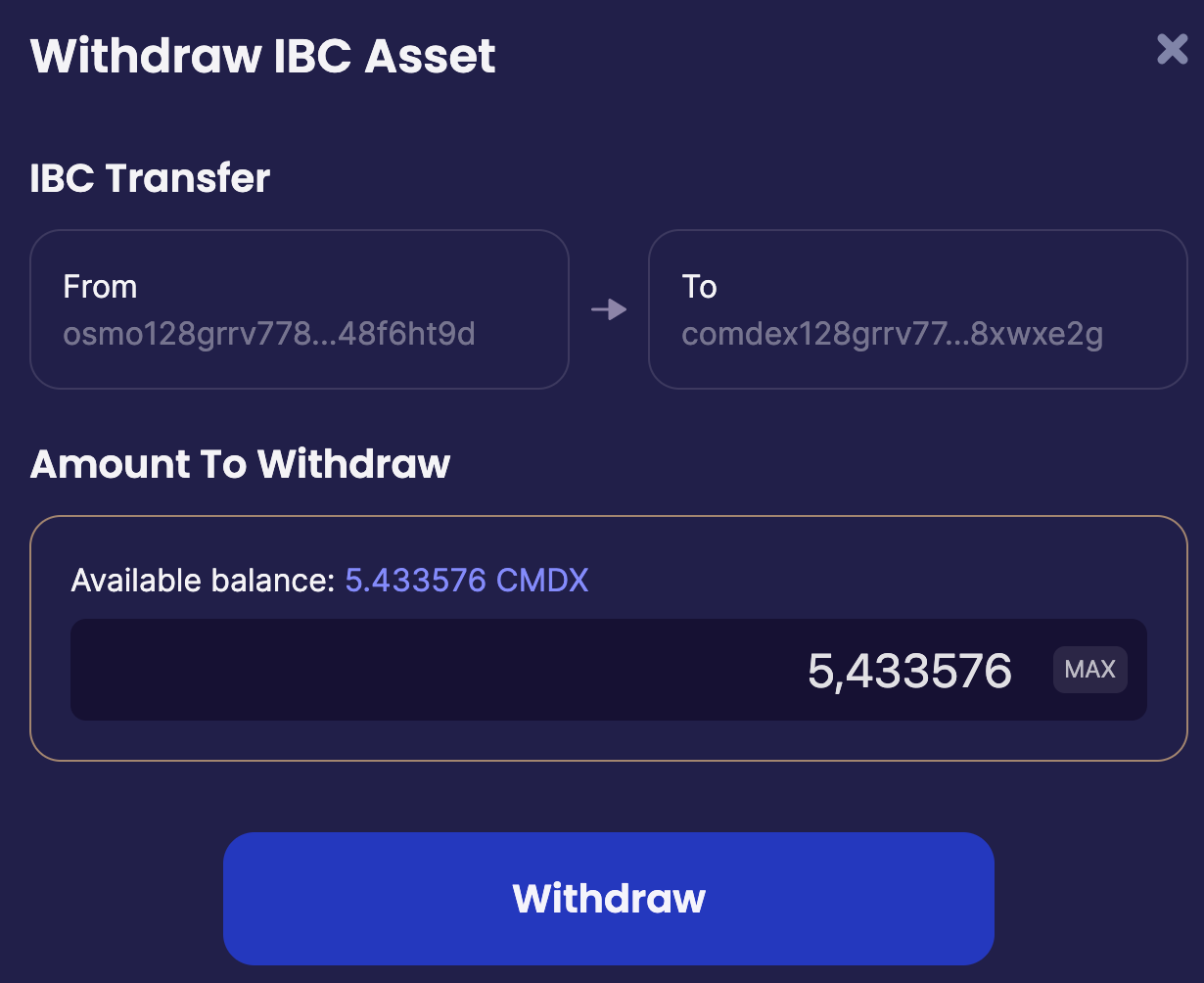 In the Keplr window, set the IBC Transfer fee (0-fee is OK), and click Approve.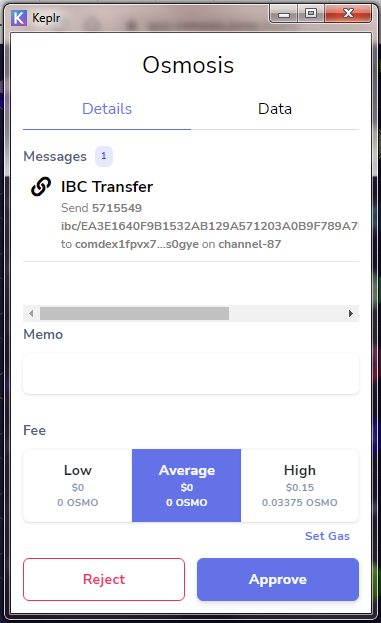 That's it! In a few minutes, you will get CMDX on your Keplr wallet.
3. Stake CMDX
Step 1: Check out your Keplr wallet
Enter your Kepr wallet, Click Cosmos or another Blockchain name your Keplr wallet displays by default.

In the drop-down list, scroll down and select Comdex.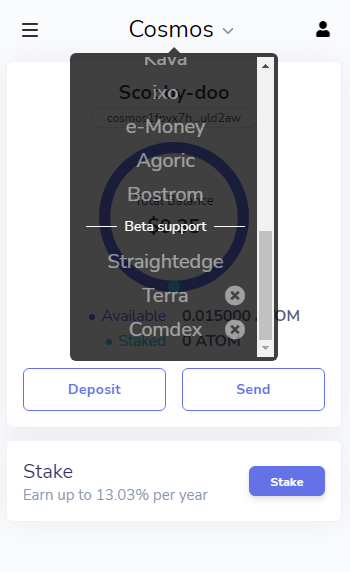 Now you can see the amount of Comdex available for transferring and staking.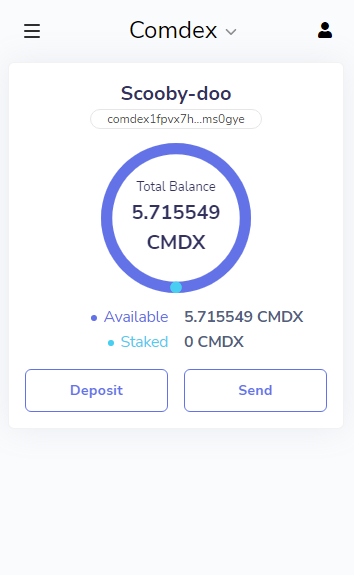 Step 2: Connect your Keplr wallet to Omniflix
Click

Connect

at the top right corner to start connecting your Keplr wallet.

Click

Approve

in the Keplr dialog window that you are already familiar with.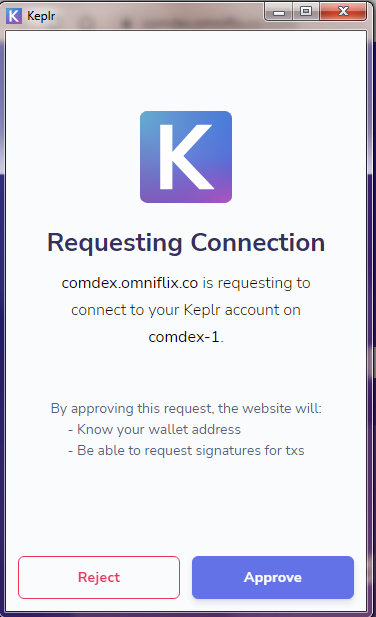 Your wallet is now connected, check the status in the left upper corner of the Omnifix website.

Step 3: Select your CMDX staking validator
In the list below find a validator you may trust, for example, Everstake, a number one validator by the number of delegators and blockchains it serves, and a Genesis validator for Comdex. The provider is famous due to its top performance and unrivaled staking security.

Tip: use ctrl(cmd)+F to locate Everstake in the list of Comdex validators.
Step 4: Delegate Tokens
Click Delegate to the right from Everstake.

In the dialog window, enter the amount you want to stake and hit

Delegate, leaving some coins for the transaction fee.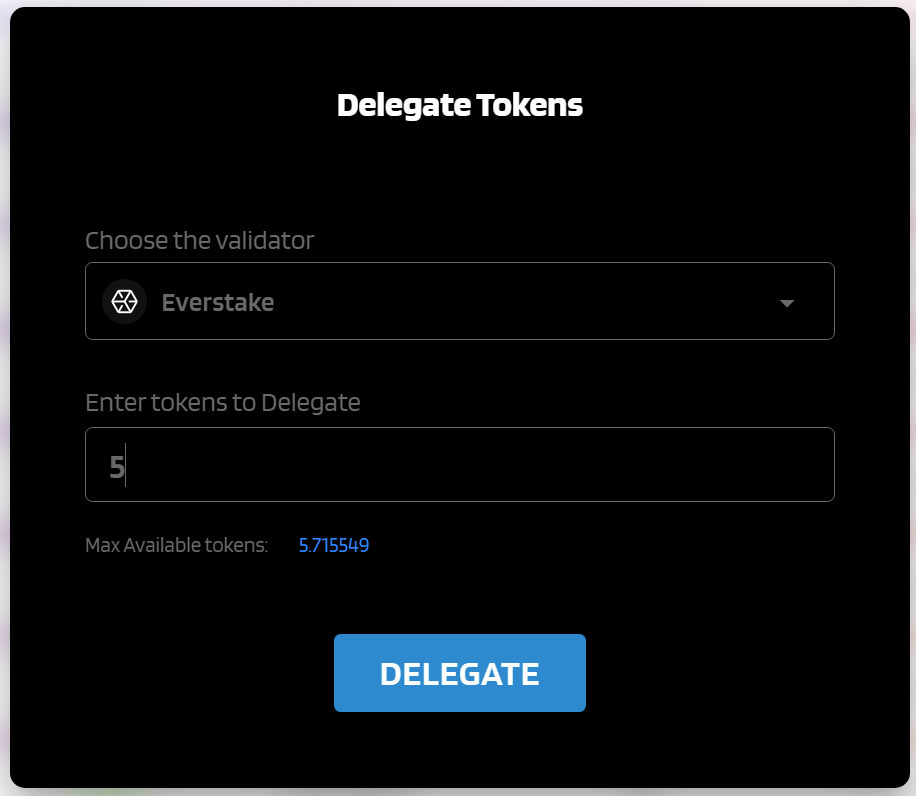 In the Keplr Comdex Delegate window that appears, set your preferred transaction fee (low is usually OK), and click

Approve

.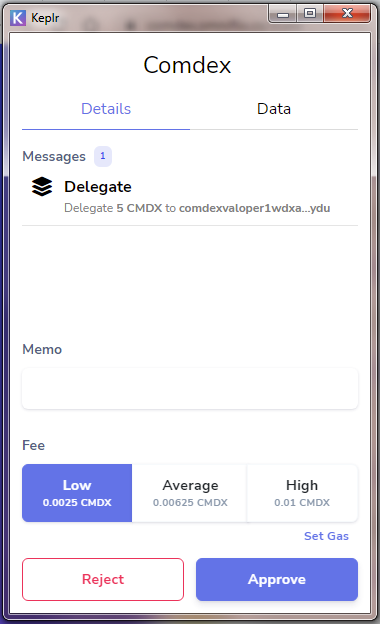 Once the transaction completes, the following notification appears: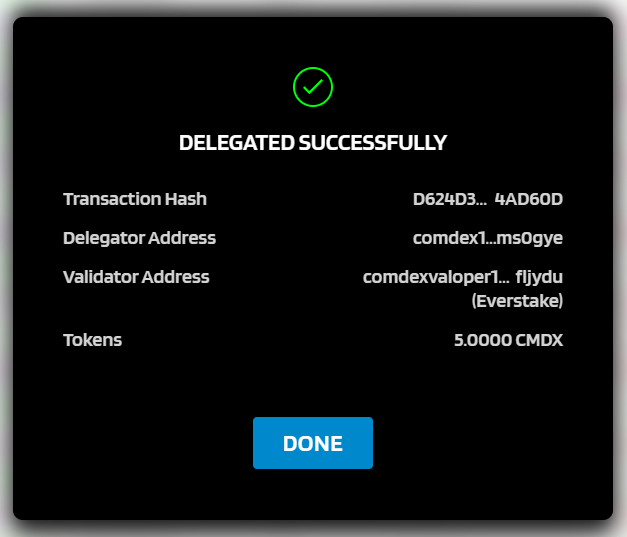 Step 5: Check your staking status in Keplr wallet
That's it, staking is done and rewards have started to accrue at an approximate rate of 50%.
Note that once you have completed the delegation, the Omniflix dashboard adds Redelegate and Undelegate options besides your validator. These options work according to the same algorithm as staking.
Redelegate

option allows you to move your stake or its part from the current validator to another one with zero fees and without unbonding. Note that the first redelegation would be instant while any further restaking will take 21 days.

Undelegate

option allows you to unstake your assets. Due to the unbonding period set up in Comdex, your assets will be available in 21 days after undelegating.
4. Why Everstake?
First of all, Everstake is a highly experienced staking provider, more than 3 years on the market. Operating over 45 blockchains, each supervised by a dedicated DevOps crew, it knows how everything works and how to solve emerging challenges.
Being a team of experienced developers, financial experts and blockchain enthusiasts, the company maintains a top-quality up-to-date staking infrastructure, helping institutional investors and regular token holders to profit off their crypto assets.
While Comdex aims at democratizing finance by providing users with access to financial products, Everstake, a genesis validator for Comdex, is a No.1 staking provider by the number of users it serves. Everstake is always online (~99,99% uptime) providing sustainable payouts to 465,000 delegators.
Subscribe to Everstake updates on social media! You will always be aware of important events and find useful staking guides.