Back to all posts
How to stake Cosmos (ATOM) via the Cosmostation mobile wallet
2020-11-19 09:04
The Cosmos blockchain has created a powerful ecosystem known as the Internet of blockchains. Users of its infrastructure can stake ATOM tokens and get about 8% per annum by simply delegating coins to validators — nodes that add new blocks to the network and maintain its performance and security.
In this step-by-step guide, we will explain how to stake Cosmos (ATOM) in the Cosmostation mobile wallet.
How to create a wallet
Cosmostation is a lightweight mobile wallet that supports ATOM storage, transfers, and staking. To create a wallet, install it on your iOS or Android mobile device.
Launch your wallet and tap "Create" on the home screen to add a new wallet, or "Import" if you already have a Cosmos wallet.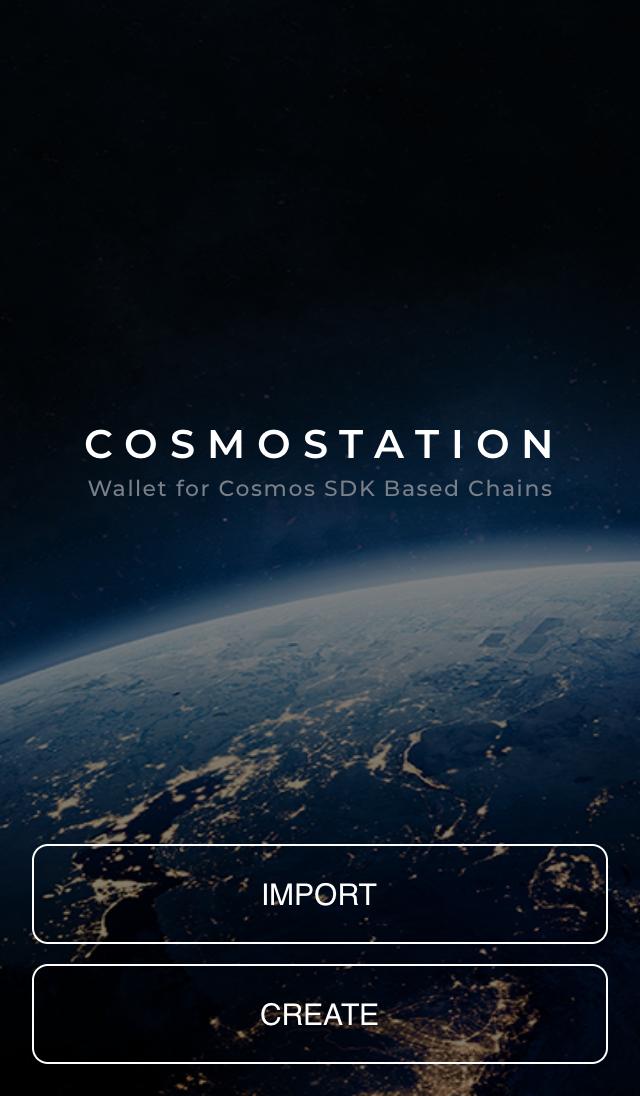 Select the Cosmos mainnet to connect to. Cosmostation is a multi-chain client that supports such blockchains as Binance, Iris, Kava, Band Protocol, and a number of others.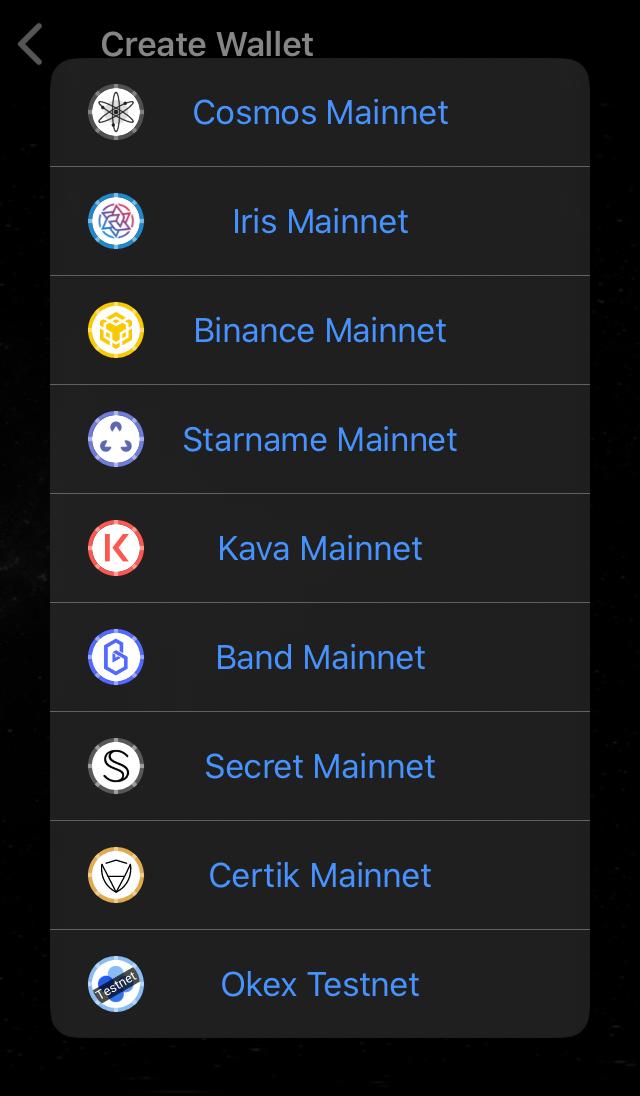 In the next step, you need to write down the seed phrase that is used to restore your wallet. Once you are ready, click "Show mnemonics" and write down the seed phrase on paper or somewhere else. Do not take screenshots or store your mnemonic password digitally — this is not a secure way and your wallet may be compromised.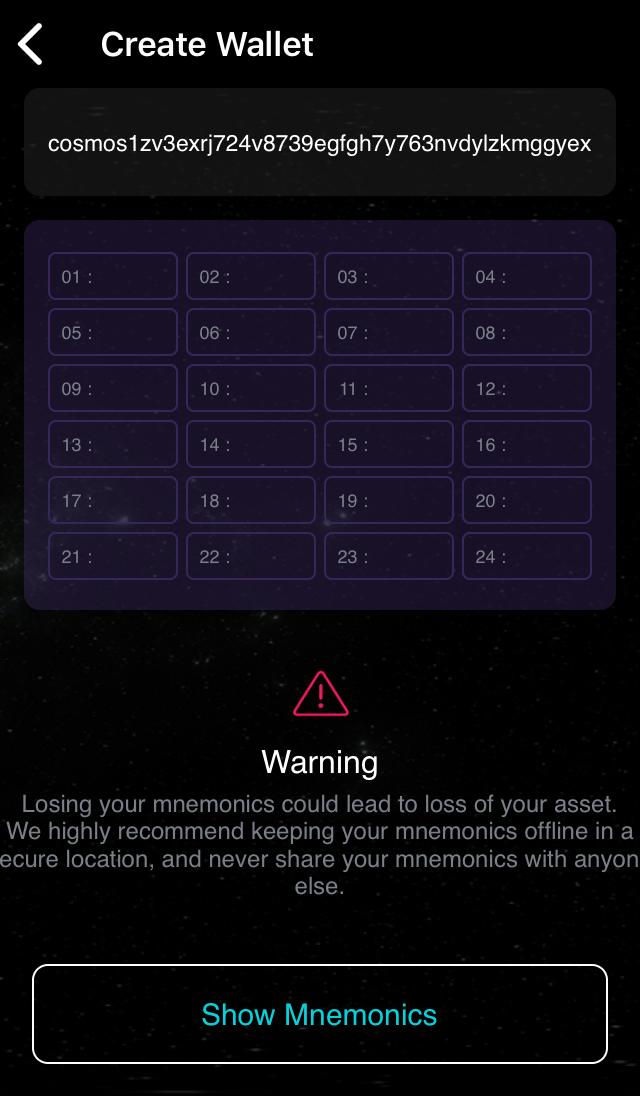 Important! If you forget or lose the seed phrase, you will not be able to restore access to funds, and your tokens will be permanently lost. Write down the seed phrase on paper, save it in a safe place that is not accessible to third parties, and do not pass it on to anyone other than people you trust.
After you write down the seed phrase, create and confirm a PIN code to log in to the Cosmostation wallet app, consisting of 4 digits and one A — Z character. Your wallet is now ready. Now you can top it up and stake ATOM tokens.
How to top up the wallet
There are three ways to top up your Cosmostation mobile wallet:
Just copy the Cosmos address and tell it to the sender or the crypto exchange that will transfer the tokens to you.
Share the address via messenger or email. You will send a payment request, that people can use to send you ATOM tokens.
Create a QR code that can be scanned in the app to quickly send you tokens.
All three options are available on the main screen of the Cosmostation wallet.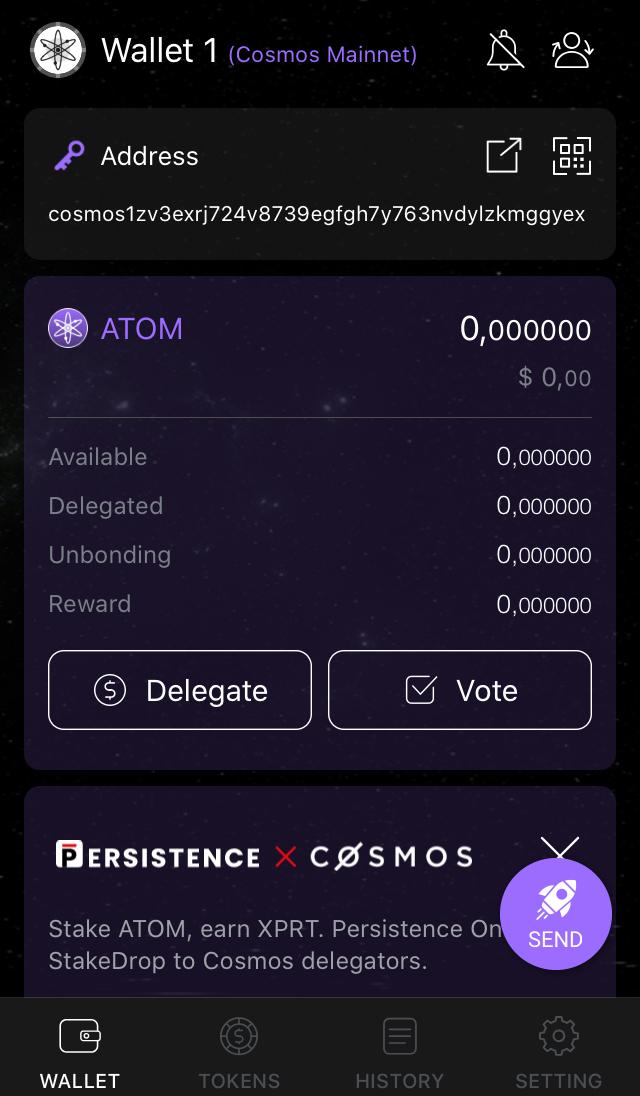 At this stage, you can add an address to the Everstake bot, which is convenient for tracking your wallet status. The bot will send notifications when you top up, withdraw funds from your wallet, stake, or unstake tokens. We have described how to connect the Everstake bot in a separate guide.
How to stake ATOM
1. Click "Delegate" on the app main screen.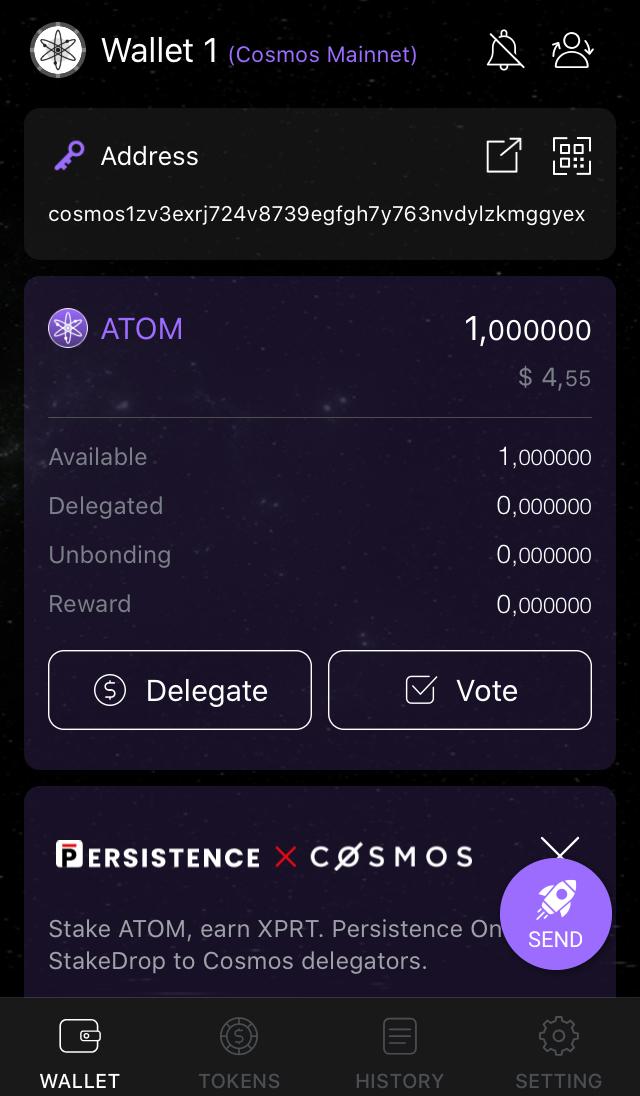 2. This opens a list of validators. Go to the "Top" tab, find the Everstake validator and select it.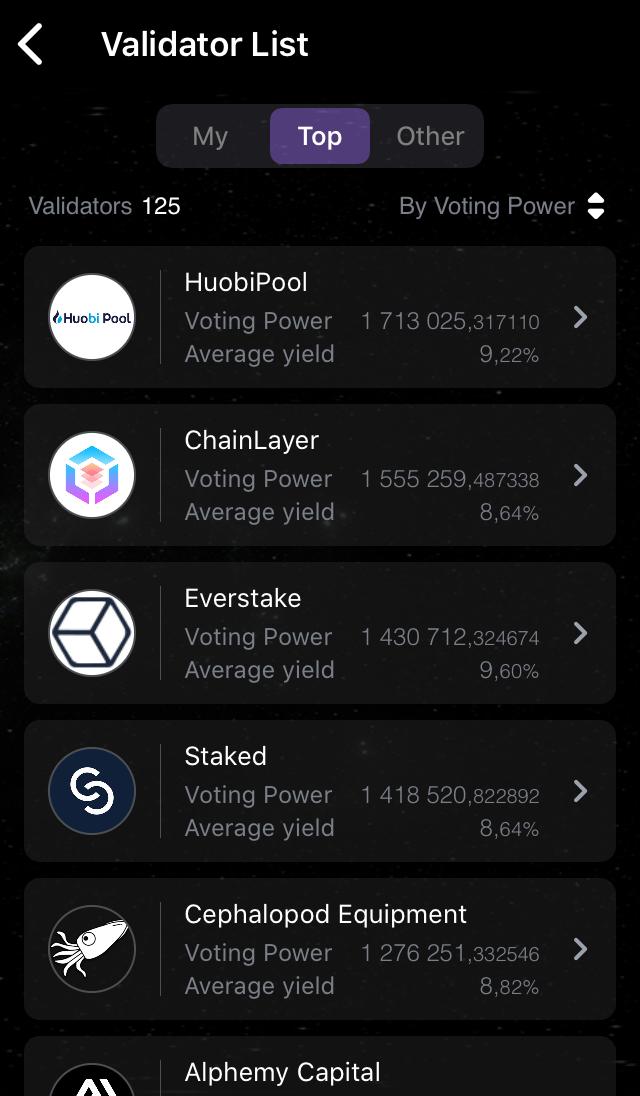 3. A page with detailed information about the validator will open. Here you can see the fee amount and the annual return on staking. To stake ATOM tokens, click "Delegate".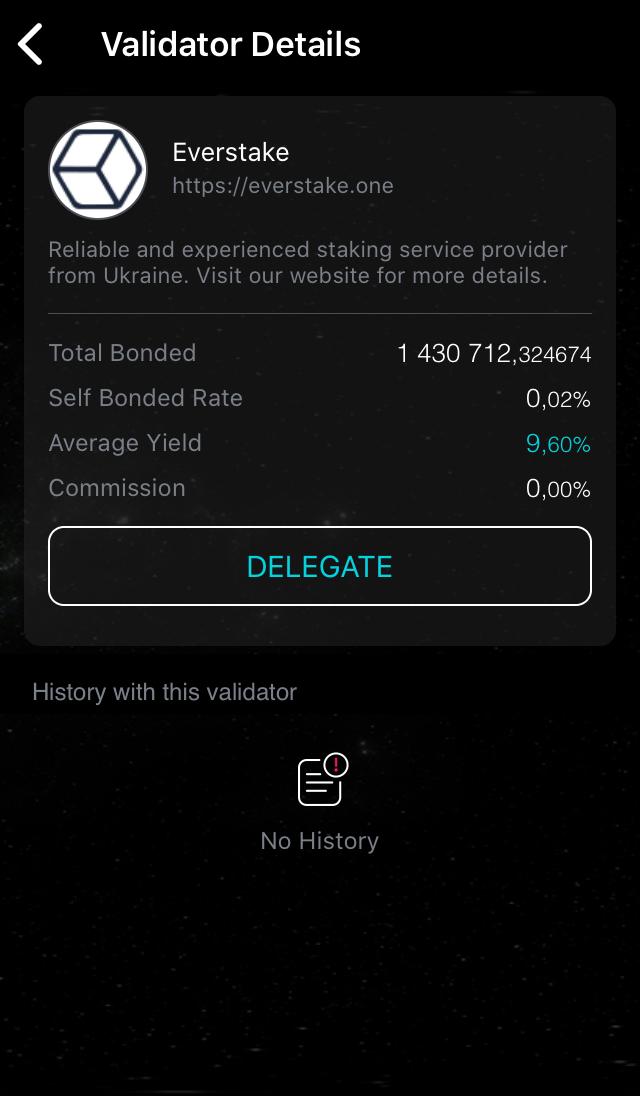 4. Enter the amount of coins you want to delegate. You can enter the value manually or select one of the available options, as shown in the screenshot below. Then click "Next".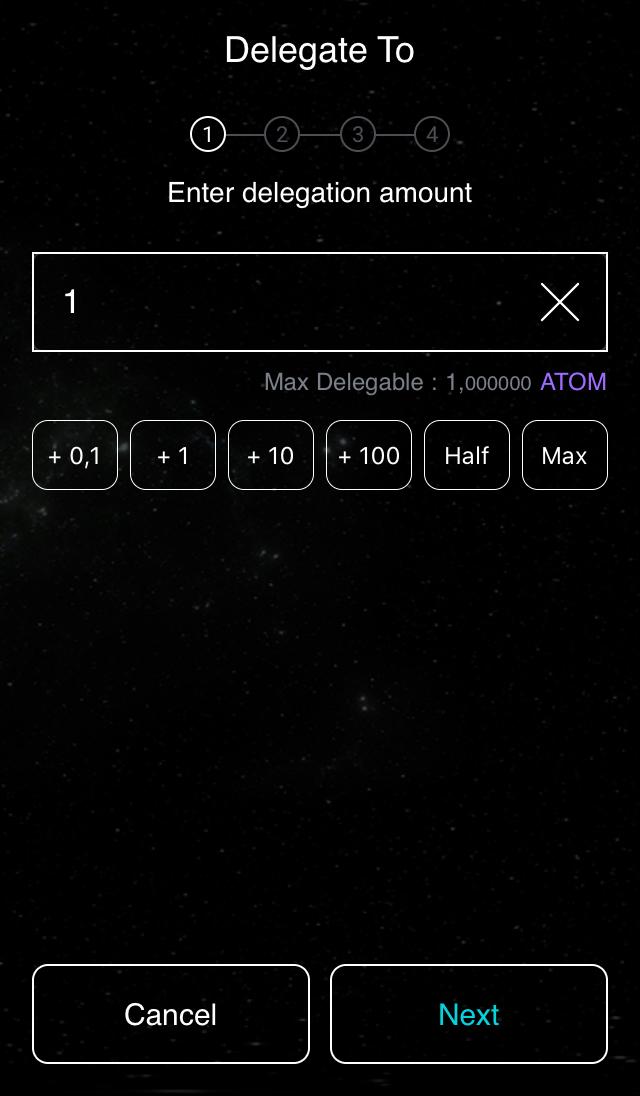 5. You can add a memo (optional). This parameter identifies the user, but if you use it, you will need to specify a memo to withdraw coins — without it, you will not be able to get your ATOM back, but this can serve as additional protection for your wallet. We'll skip this step and move on.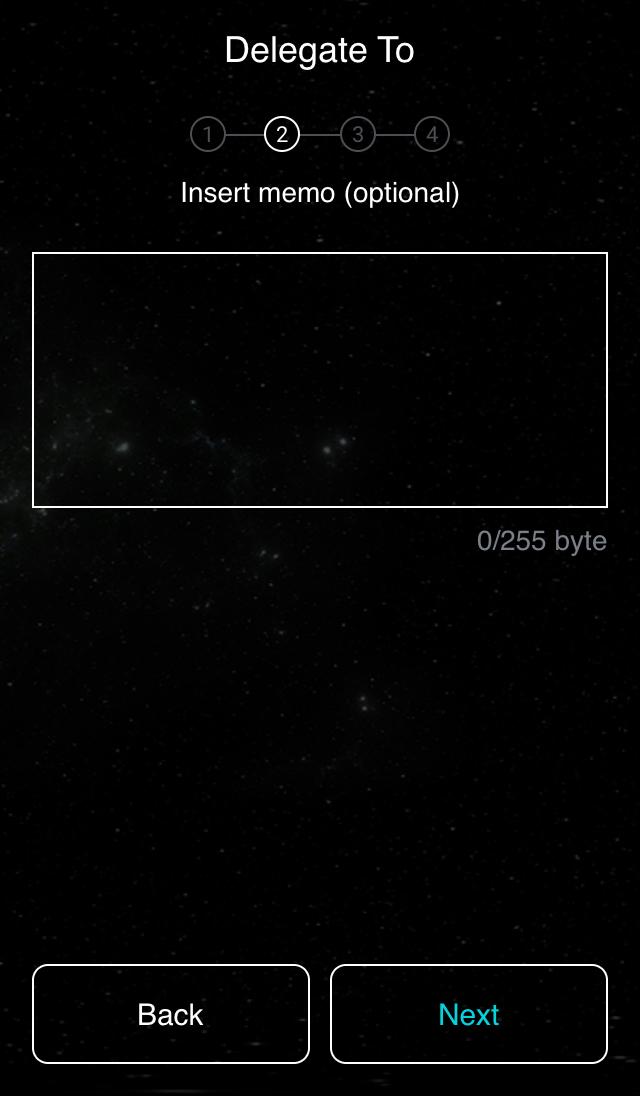 6. Select the fee amount per transaction. The larger it is, the faster the validators will confirm the transfer.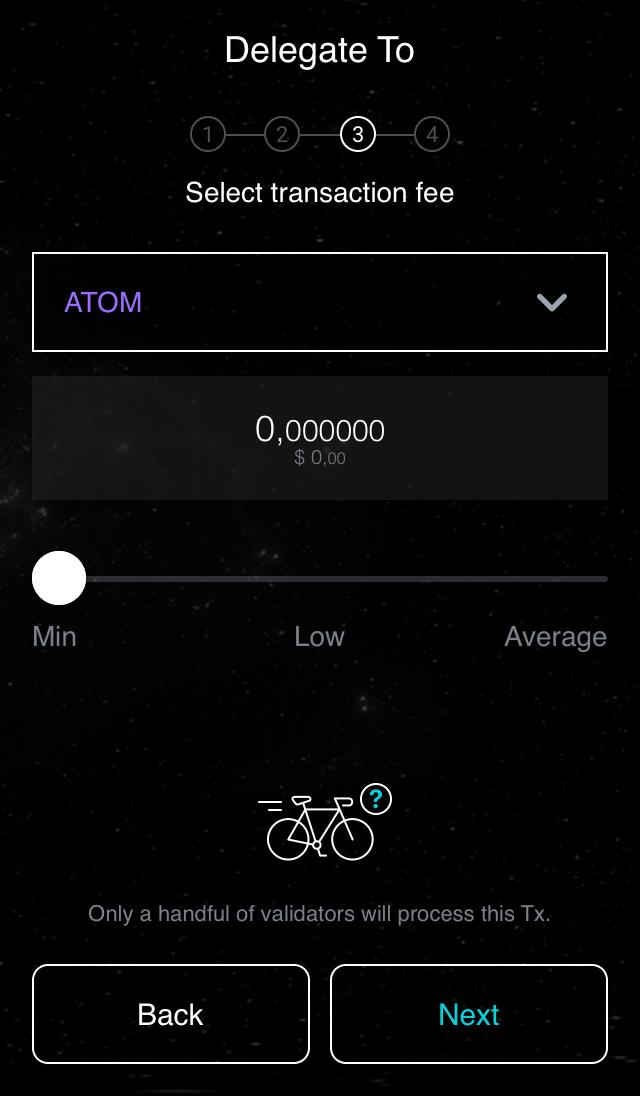 7. Check the transaction details again and confirm it.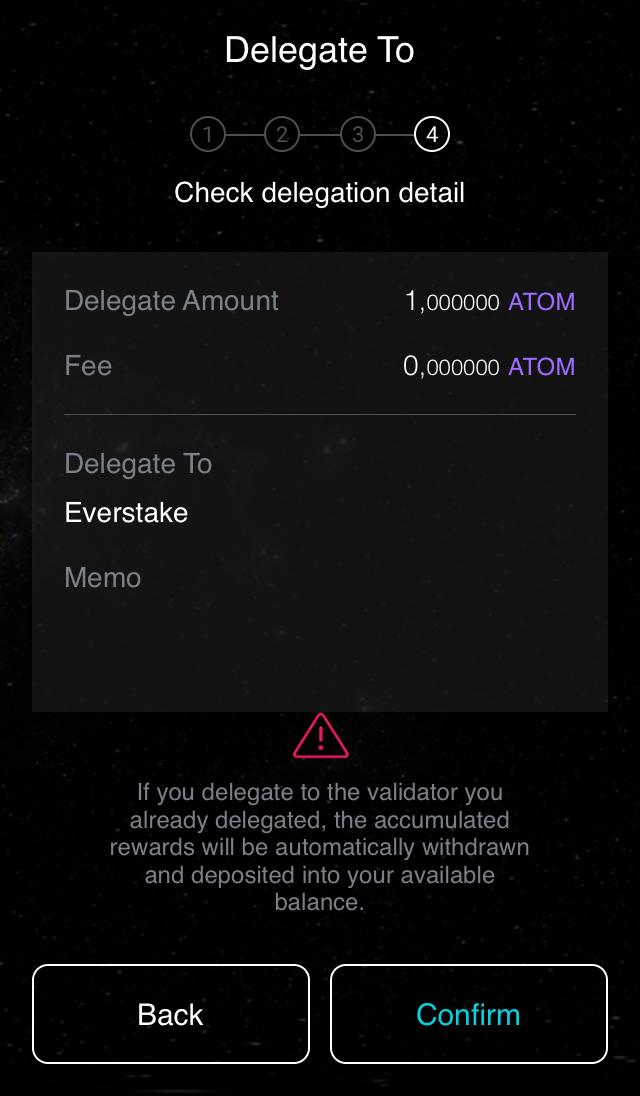 8. Wait for the transaction to be confirmed — it may take a few minutes. If everything went well, you will see the following message: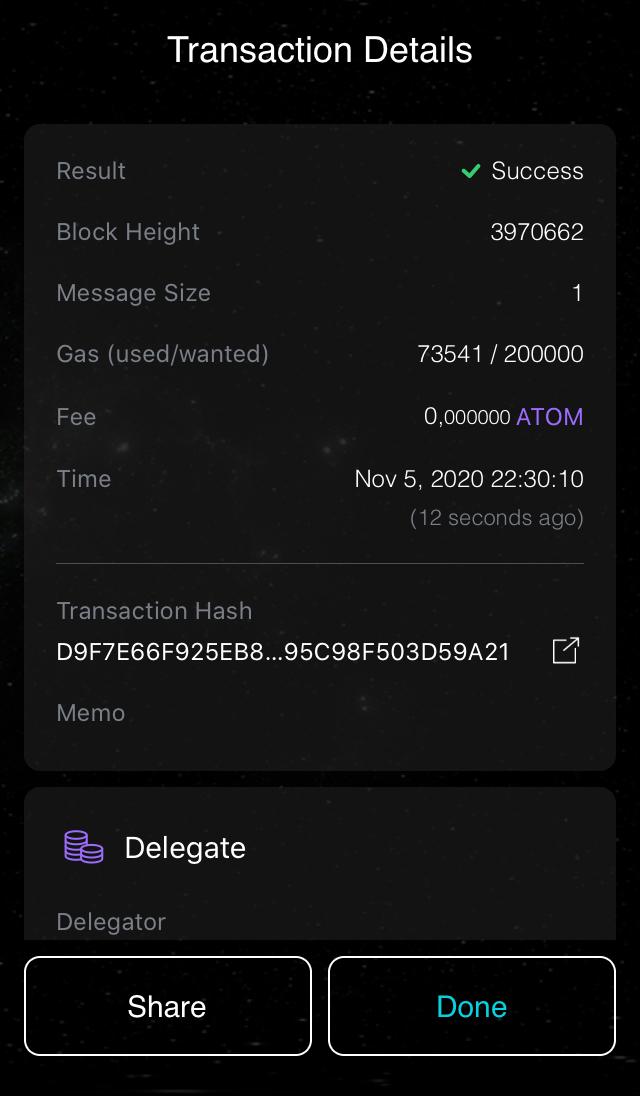 And the Everstake bot will send you a notification that you have successfully staked Cosmos.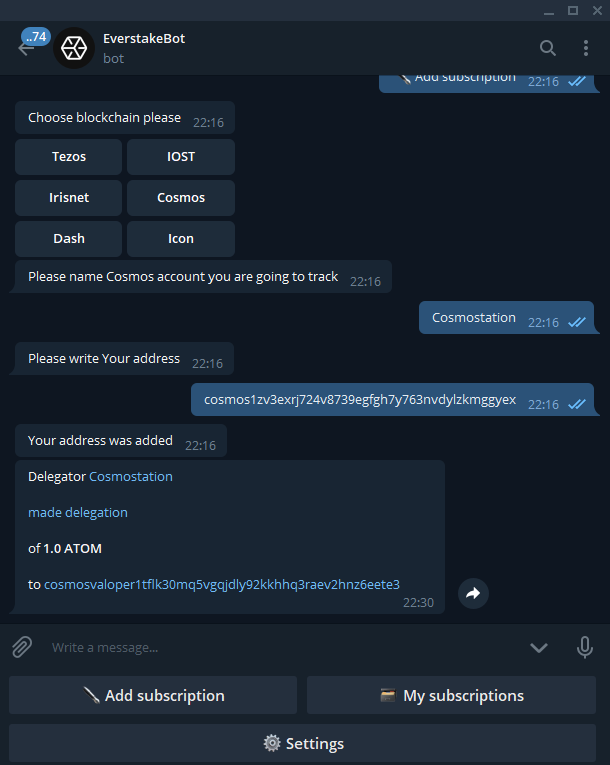 Congratulations! Your ATOM tokens are now staked. The next day, the first reward will be awarded, the following ones will be accrued approximately one every 2.8 days. Please also note that if you withdraw coins, they will be unlocked only after 21 days, after which they will be available again in the Cosmostation wallet.
Subscribe to the Everstake social media, where you will find useful guides on staking and PoS-blockchains reviews. We wish you a profit!