Back to all posts
How to stake Cosmos (ATOM) via the ImToken mobile wallet
2020-11-05 18:57
Blockchain has created an alternative to traditional banking services. Users can buy cryptocurrencies and earn rewards by delegating coins to large nodes — it works just like bank deposits. But token holders get higher revenue and can further increase it due to the growth of the coins exchange rate. In this guide, we will tell you how to stake Cosmos (ATOM) tokens in the ImToken mobile wallet.
How to create a Cosmos wallet
ImToken is a cryptocurrency wallet specifically designed for several blockchains, such as Cosmos (ATOM), Ethereum (ETH), Bitcoin (BTC), EOS, and others. Users can manage ATOM tokens in the wallet, use decentralized applications directly (dApps) in ImToken, stake, request, and transfer coins. The same company also offers the ImKey hardware wallet. Follow the simple step-by-step instructions to create a Cosmos wallet.
Install the application
The ImToken app is available in the App Store and Google Play. Download the app to your mobile device and launch it.
Create a new wallet
After launching, ImToken will prompt you to create a new wallet or import an existing one using the recovery phrase. If you don't have a wallet, click "Create Identity".
Then accept the terms of the user agreement. In the next step, enter your personal information:
Identity Name. It can be not your real name — you can use a nickname.
Password. Enter and repeat it. You will need a password to verify transactions.
Password Hint. Add a hint in case you forget your password.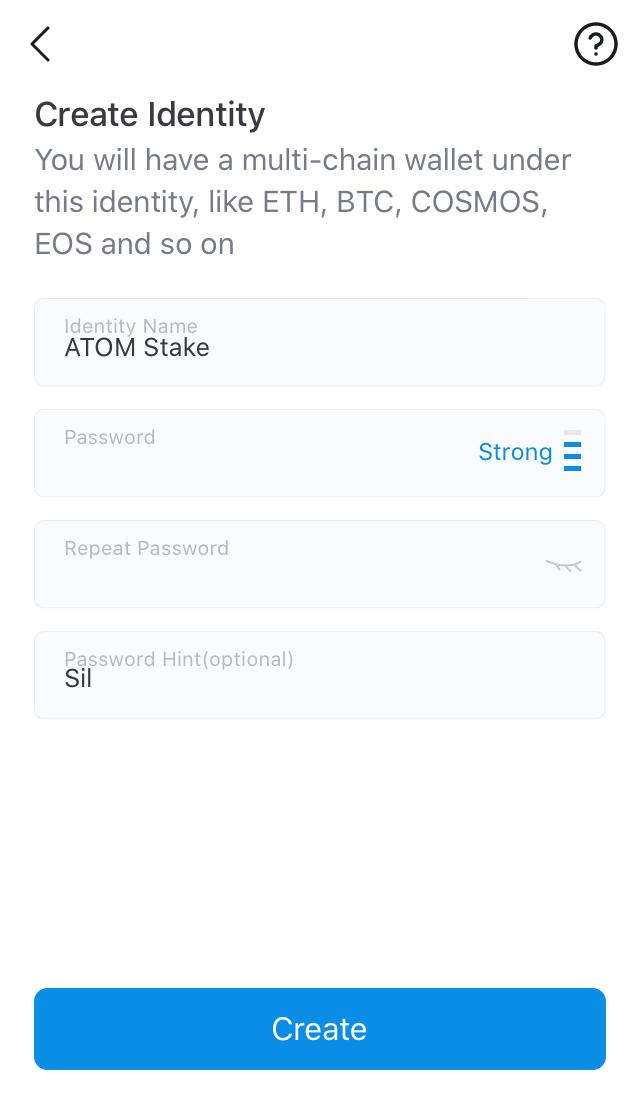 Add the coins you will use to your wallet. By default, BTC, ETH, and ATOM are added. The rest can be added optionally. Click "Confirm" to continue.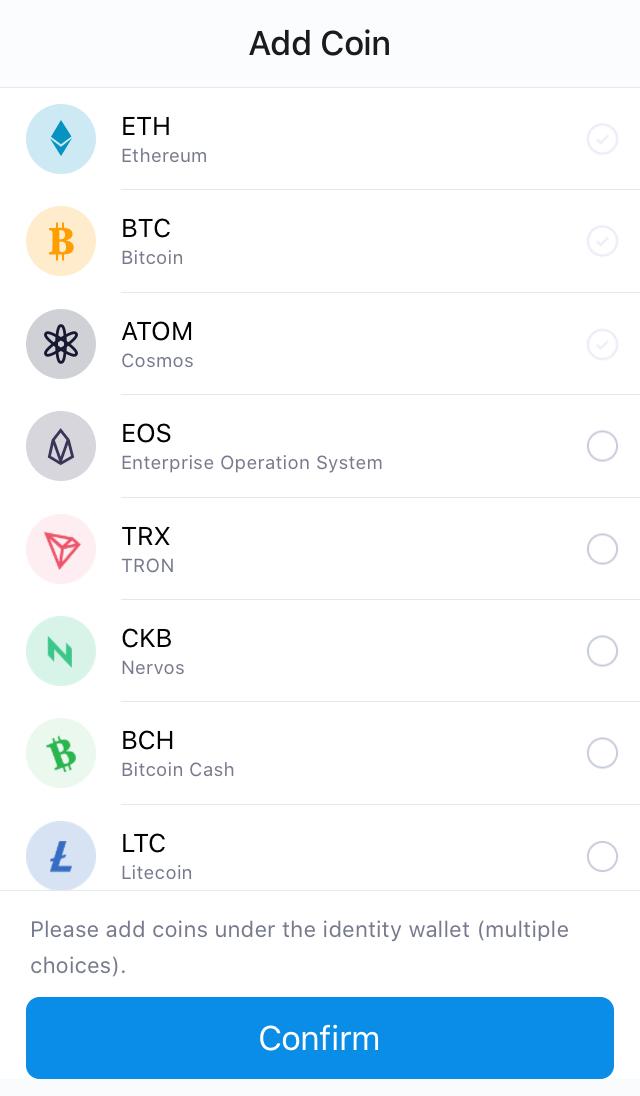 Create a backup copy of your wallet so that you can restore access to funds in the event of loss or damage to your smartphone. If you want to do this later, click "Backup later". But it is better to do it right away, in order to minimize risks. In addition, you will not be able to fully use your wallet until you make a backup copy. A Seed phrase consists of a sequence of pseudo-random words.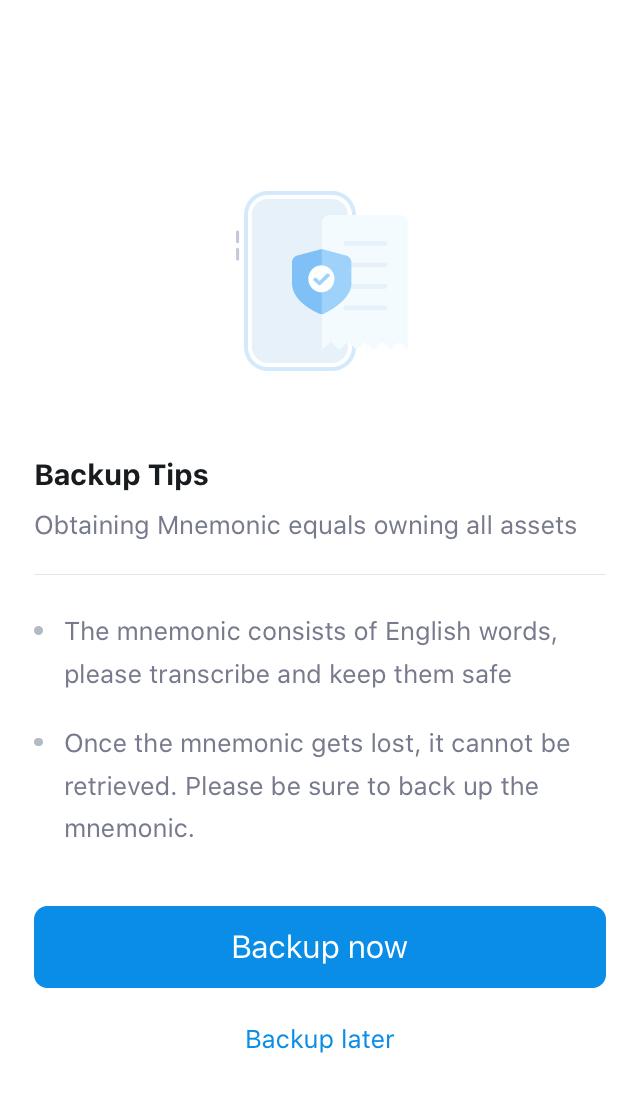 Here is a checklist for wallet security:
Write the seed phrase only on paper or other offline media and maintain the sequence.
Do this in a private place so that it can't be compromised.
Hide the media with the backup phrase in a safe place that only you and your close ones know about.
Do not take screenshots or copy the mnemonic password when creating a backup.
Let's continue. Our wallet has been created, and the only thing we need is to top it up before staking Cosmos. Click "Start now" and let's get started.
How to top up the wallet
You need to get the Cosmos address to which you will send coins from another wallet or receive them from another owner or from an exchange. By default, the Ethereum (ETH) wallet is displayed. To get the Cosmos (ATOM) address, click on the burger-like button and select the desired token.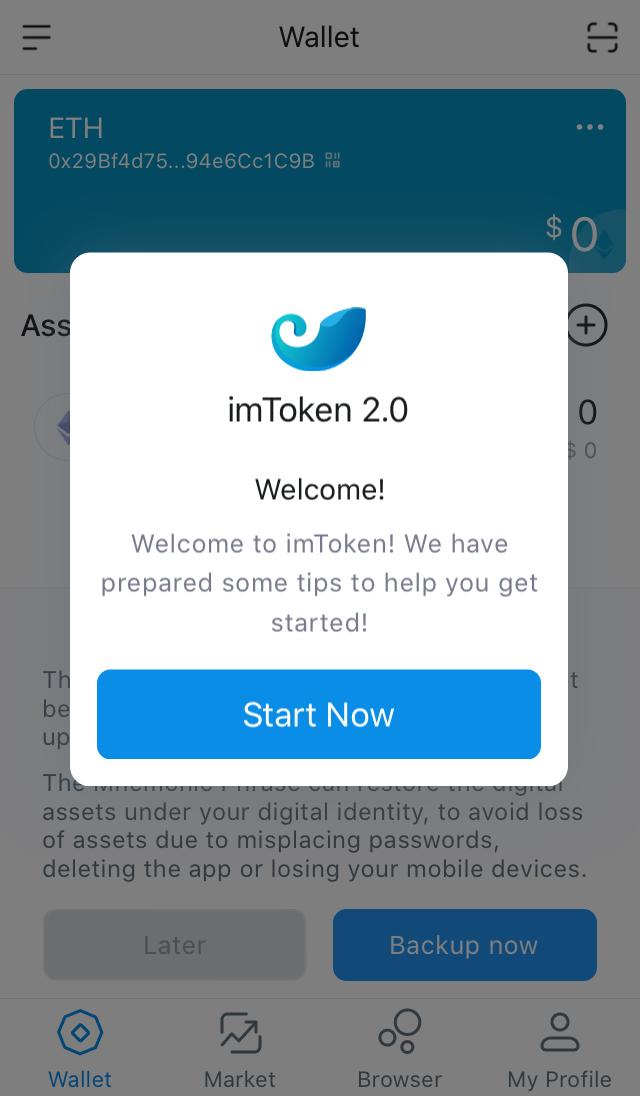 Your ATOM wallet will be displayed, where you can vote and stake tokens to earn rewards. The balance and transaction history will also be displayed here.
Note. For security reasons, ImToken does not allow you to get an address until you create a backup copy. Make a backup to use your wallet and transfer funds.
To get an address, just click on it. A window opens where you can scan the QR code from another app, copy the address, or share it with your contacts on your smartphone via messengers, social networks, or email.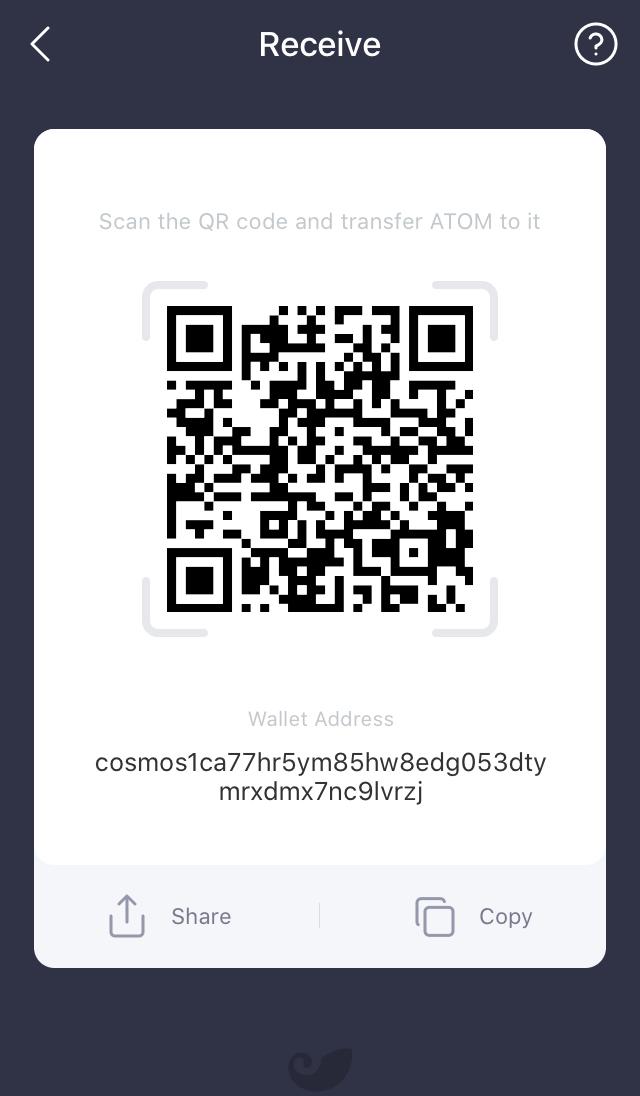 After the incoming transaction is confirmed by the validators, you will see the ATOM tokens in your wallet.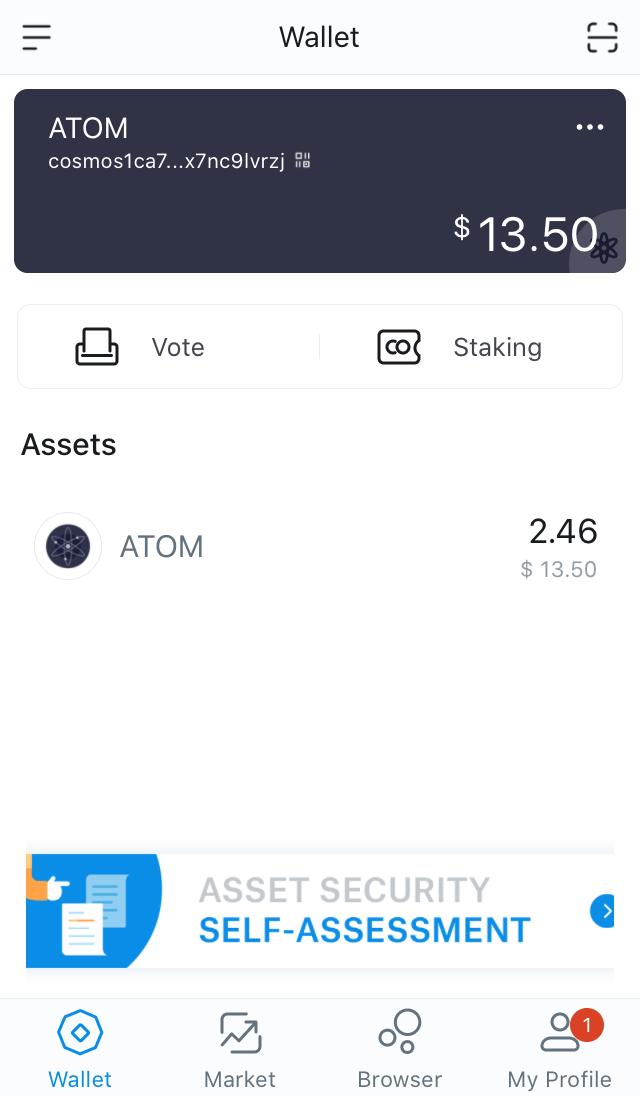 Finally, the coins are in our wallet. We can stake them now.
Add the Cosmos address to the Everstake bot
Everstake has created a convenient bot for tracking addresses in PoS blockchains. With its help, you will always be aware of what is happening with your wallets. The bot will send notifications every time you stake tokens, deposit or withdraw funds from your wallet. You can read more about the Everstake validator on the project's website.
Launch the bot and register. To add an address, click "Add subscription", select the blockchain, add the account name and address. If everything's fine, you will see the following message: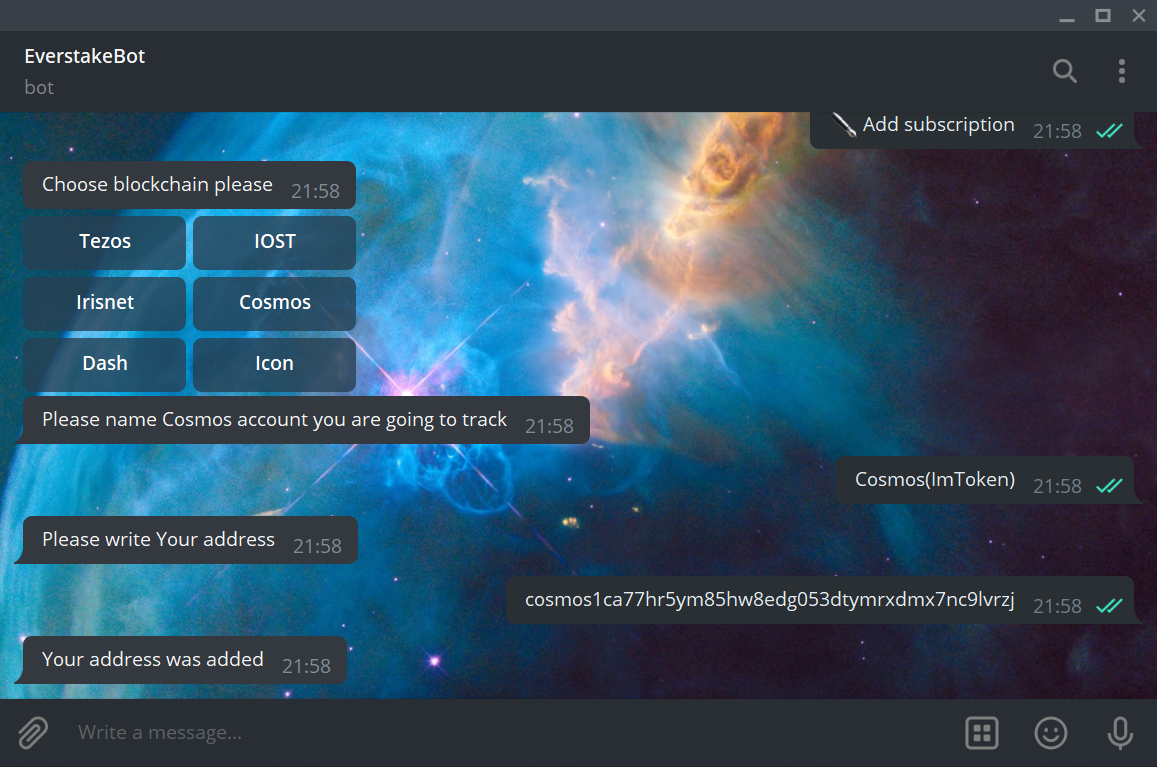 You will now receive notifications when you stake or unstake coins. Finally, we are ready to delegate ATOM tokens. Let's find out how to do this in the ImToken wallet.
How to stake ATOM tokens
The received coins can now be delegated to the validator in the Cosmos blockchain. In your Cosmos wallet section, click "Staking".
By default, your address is hidden and is not displayed on the site. To stake ATOM, you need to make the address of your wallet public. To do this, click "Confirm".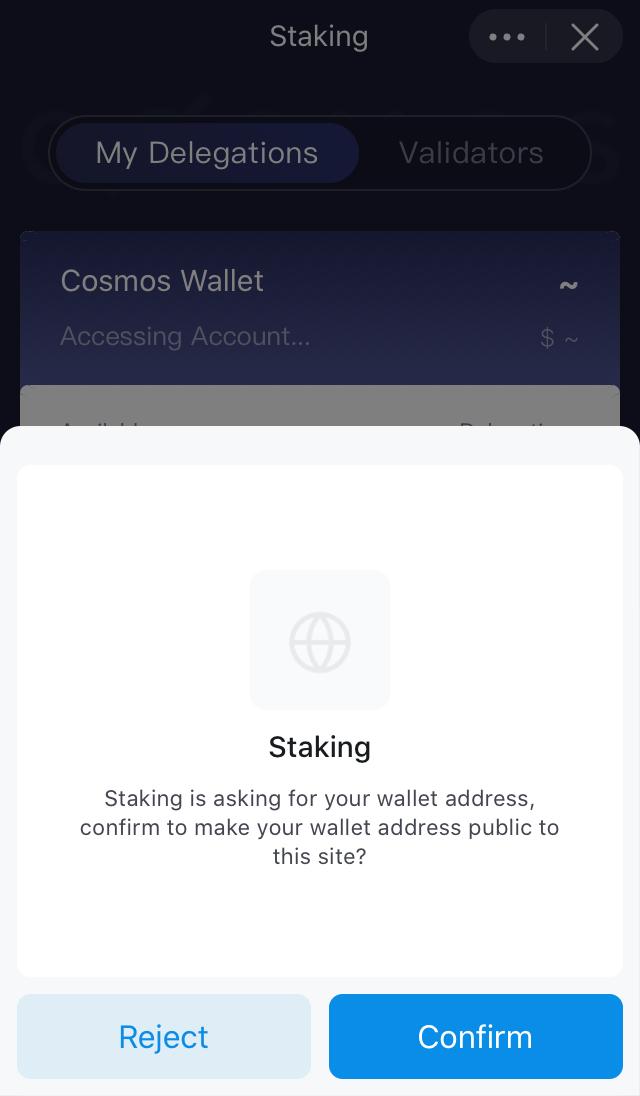 This opens the "My Delegations" section, where you can view statistics on your staked coins: rewards, the number of delegated and non-delegated tokens. You can also exchange tokens in this section.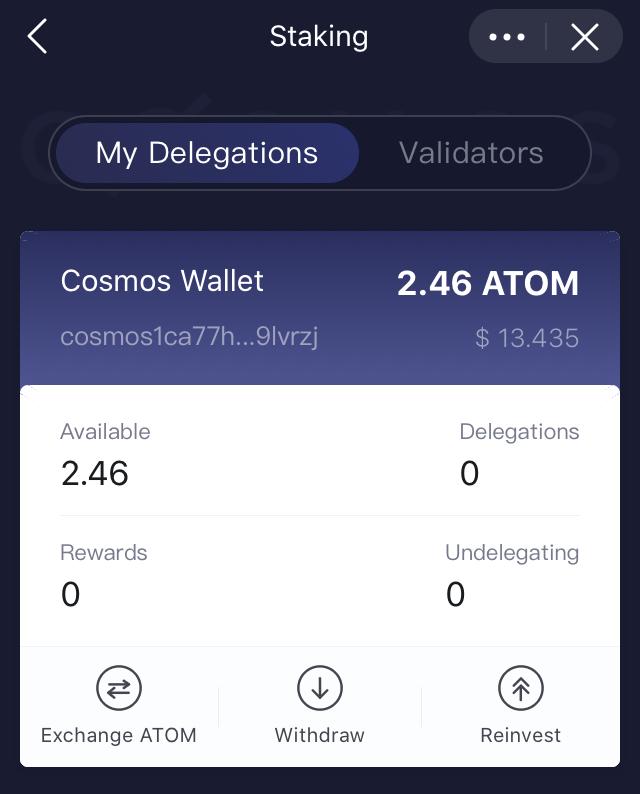 To start delegating, select the "Validators" tab and select the Everstake validator, or start typing its name to find it faster.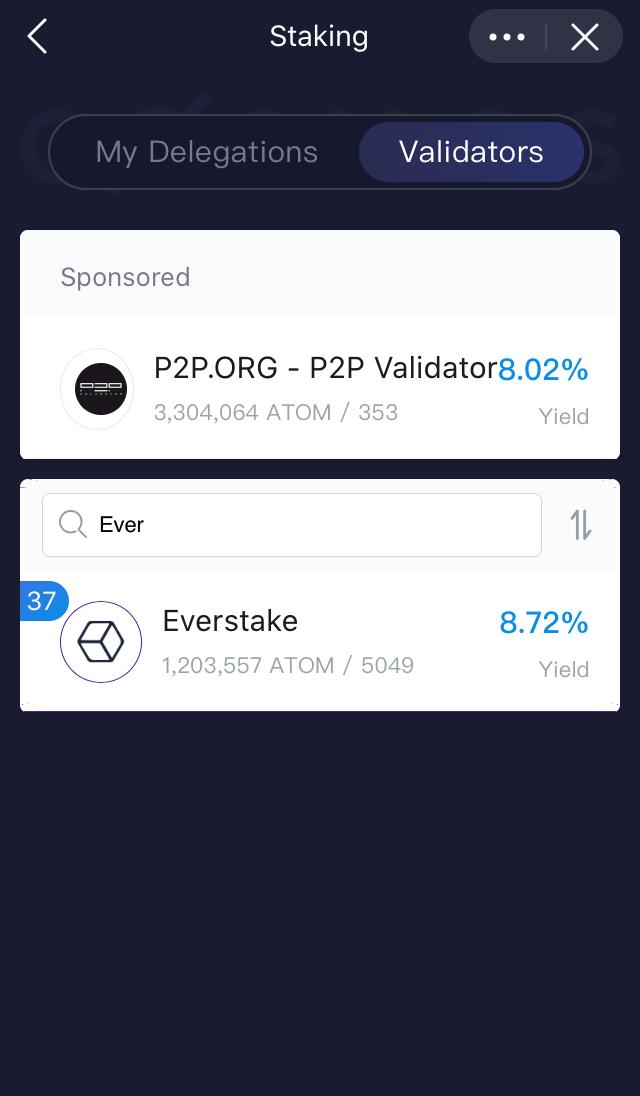 In the next step, you will see basic information about the validator: the total number of coins staked, the number of delegates, and the fee paid from the rewards. As you can see in the image below, Everstake has more than 5,000 delegates, which indicates the high reliability of the validator. Click the "Delegate" button to continue.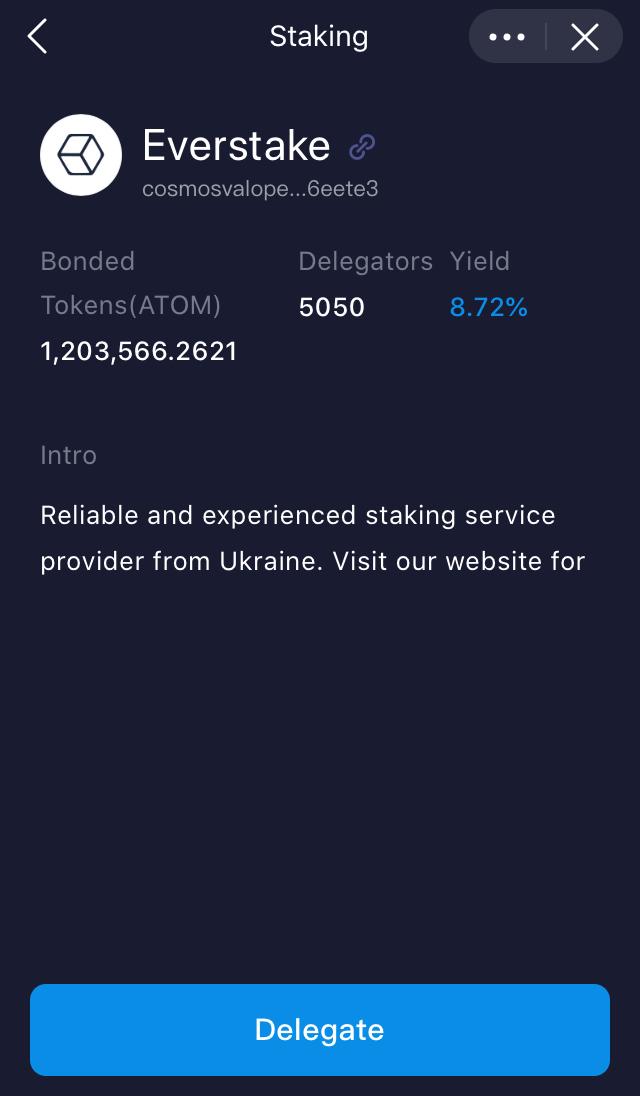 Enter the amount you want to delegate. Unfortunately, the ImToken wallet does not support the "add total amount" option, so you will have to enter the amount manually. And the amount must be entered taking into account the fee charged.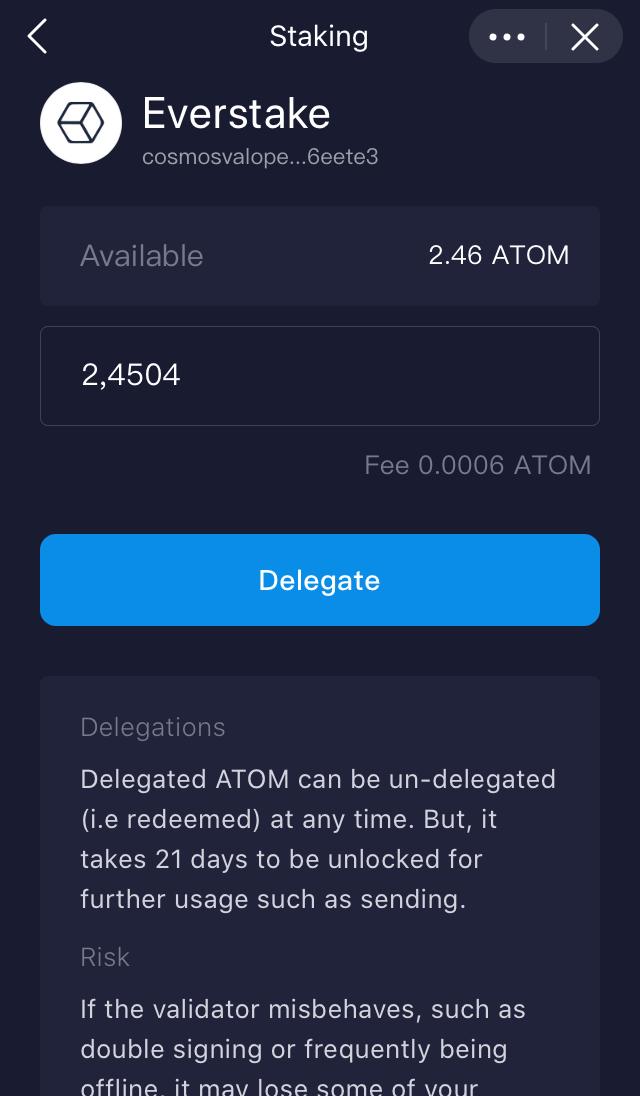 Then check the transaction details to make sure everything is entered correctly and confirm by clicking the "Next" button. Enter your password to confirm the transaction.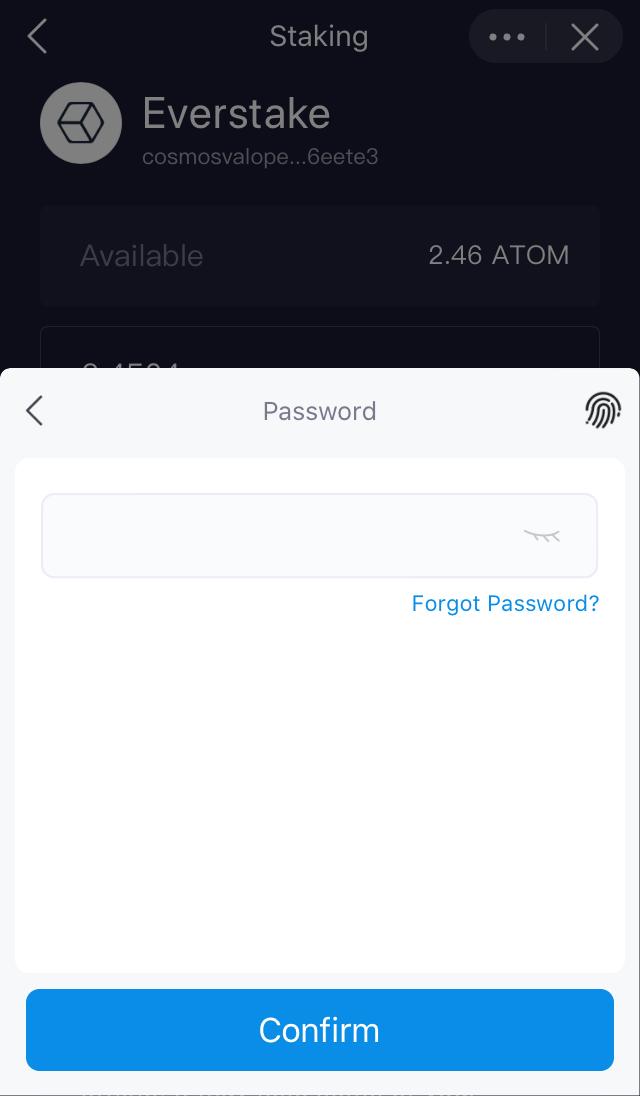 Your ATOM tokens are staked! Now you can see them in the "Delegations" tab.
As soon as the transaction is confirmed, the bot will also send a notification that the tokens have been successfully staked.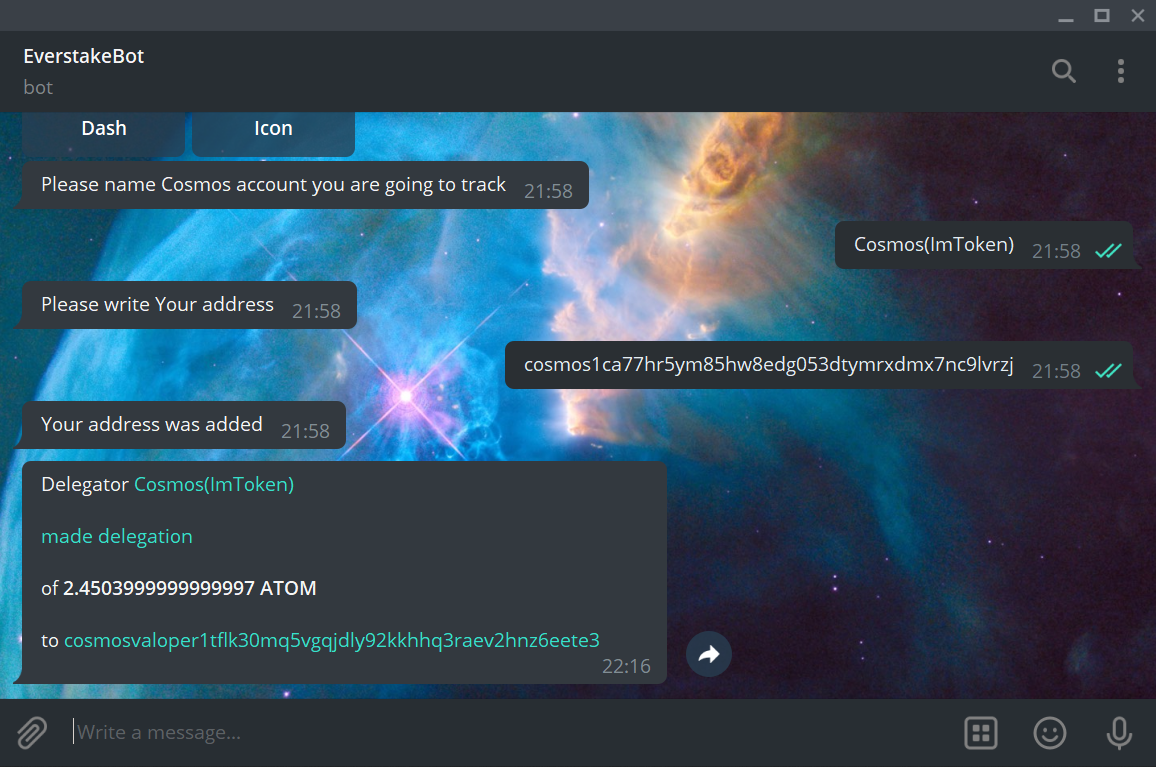 In the ImToken wallet, rewards are accrued every few minutes, and you can withdraw them at any time. You can withdraw coins by clicking on the validator's name and selecting the "Redelegate" option. You can also reinvest your profits using the "Reinvest" button.
Important! Please note that if you unstake Cosmos tokens, you will have to wait 21 days before the coins will be returned to your crypto wallet.
We wish you profitable staking! Delegate to Everstake, a reliable staking provider that ensures stable rewards and low fees that make staking even more profitable. Subscribe to our social media channels, where you will find a multitude of useful guides and reviews.
***