Back to all posts
How to stake KSM (Kusama) via Fearless Wallet
2021-12-21 14:44
What is Kusama?
Kusama is a scalable network of specialized blockchains built using Substrate and nearly the same codebase as Polkadot. The network is an experimental development environment for teams who want to move fast and innovate on Kusama or prepare for deployment on Polkadot. Kusama was founded in 2019 by Gavin Wood, founder of Polkadot and co-founder and former CTO of Ethereum.
Fearless Wallet is a mobile wallet designed for the decentralized future on the Polkadot and Kusama ecosystem, with support for iOS and Android platforms developed by SORAMITSU and funded by Kusama treasury. An awesome user experience, fast performance, and secure storage for your accounts. Fearless Wallet is non-custodial and decentralized, it also communicates directly with blockchain nodes and is listed on Polkadot wiki.
In summary:
An address is active when it holds a set minimum amount on the Kusama networks, this quantity is called the

existential deposit.

On the Kusama network, it is set at

0.0000333333 KSM.

If wallet funds are lower than the existential deposit amount, the account will be deactivated and any remaining funds are destroyed. In order to reactivate it, you must send an amount larger than the existential deposit. However, this will not restore the destroyed funds.

With Fearless Wallet, staking has never been easier, with a minimum of 0.1 KSM you can earn passive income from blocks generated.

The longer you lock your tokens, the better your APY will be.

If you are staking, do not direct staking rewards to an inactive account. If rewards are less than 0.0000333333 KSM, you will lose them.
Staking Step-by-Step
1. Account creating
Go to AppStore/Play Store, and download the Fearless Wallet
After that you have two ways:
Create a new account or

Import an existing one using your seed phrase (or other options)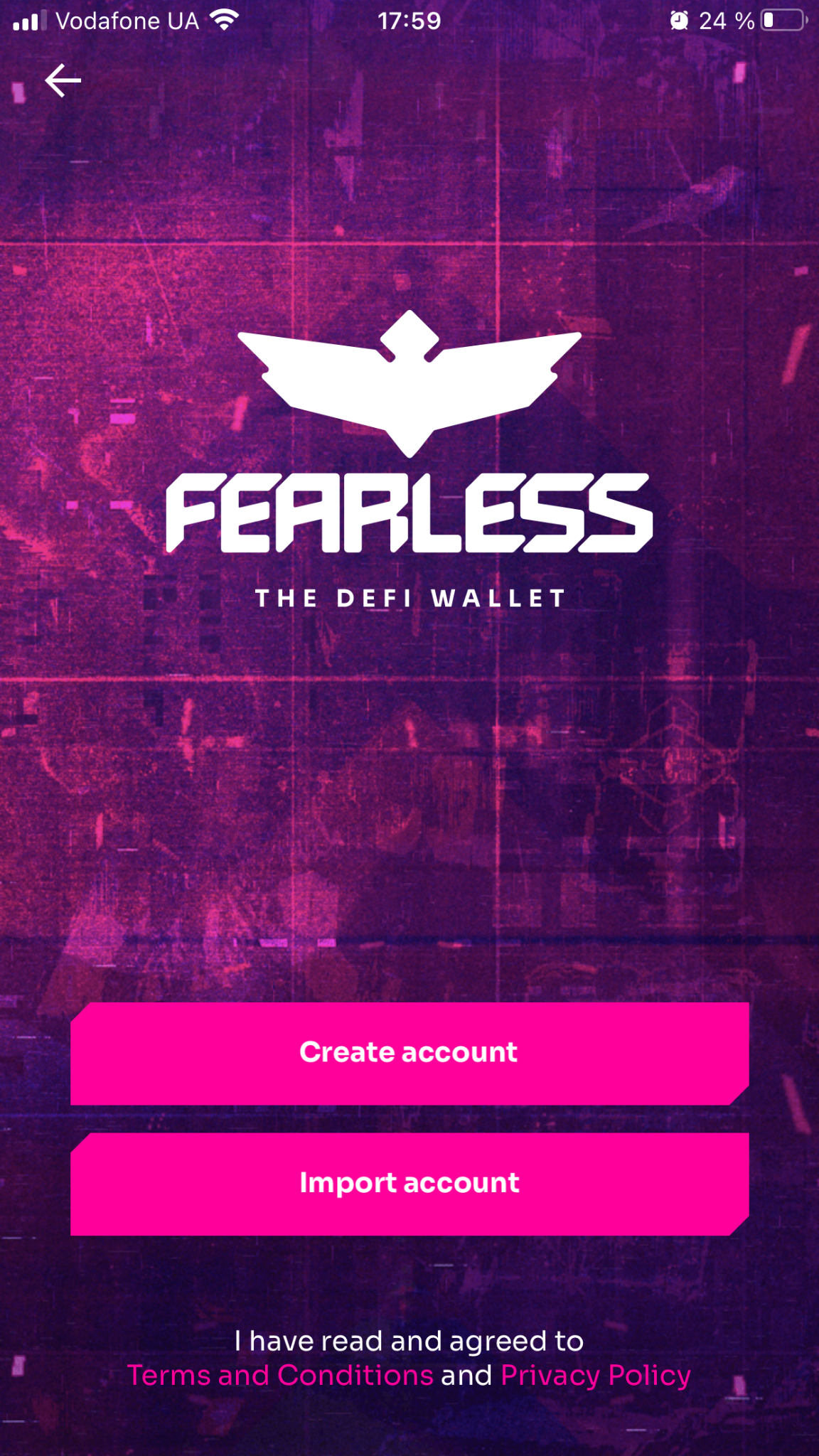 So, if you Import an account:
сlick on "Import account"

select "Source type" and "Network" as shown in the picture below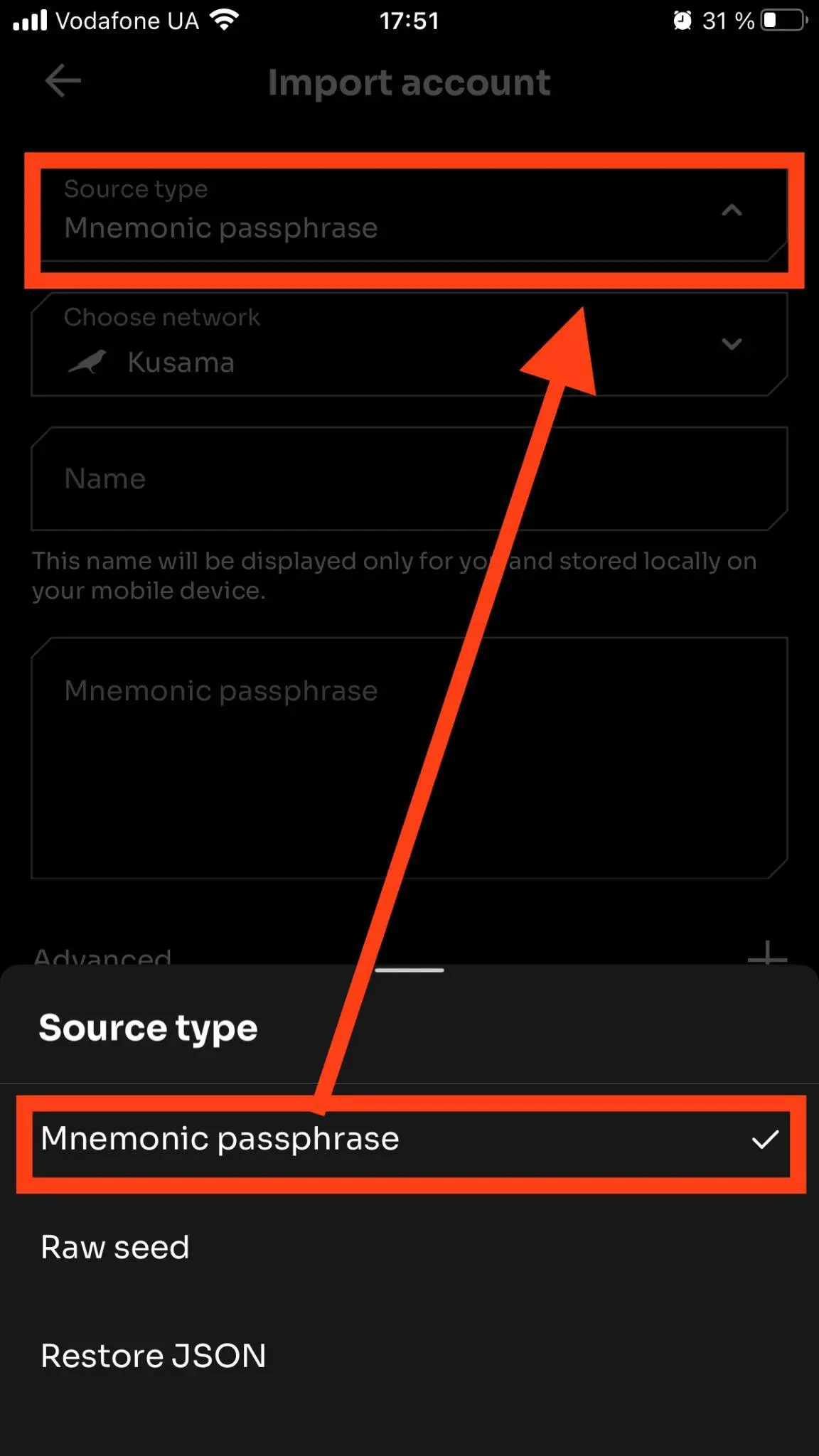 enter your mnemonic phrase in the appropriate field.
Click "Next" and your account is ready!
If you are creating a new account, then follow these steps:
click on "Create account";

select the Kusama network and account name;

click "Next";
save your mnemonic phrase. We do not recommend storing the mnemonic phrase on a source connected to the network. More information about crypto security

is

here

;

click "Next";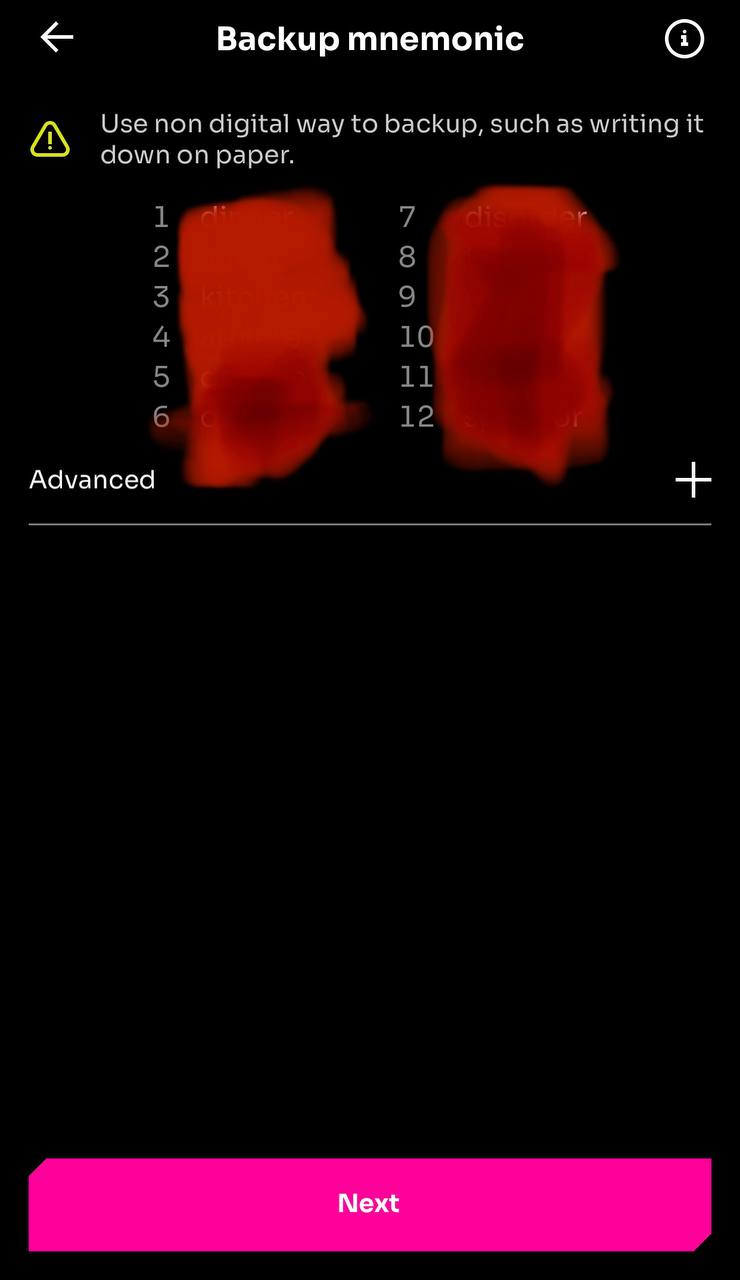 confirm the word order in your mnemonic phrase or skip this step.
Congratulations, you're done!
Once you've created your account you may use the wallet address for your transactions with Kusama: transferring, staking, receiving rewards.
2. Staking
Directly from your Fearless Wallet mobile interface, all you need to do is tap the Staking section.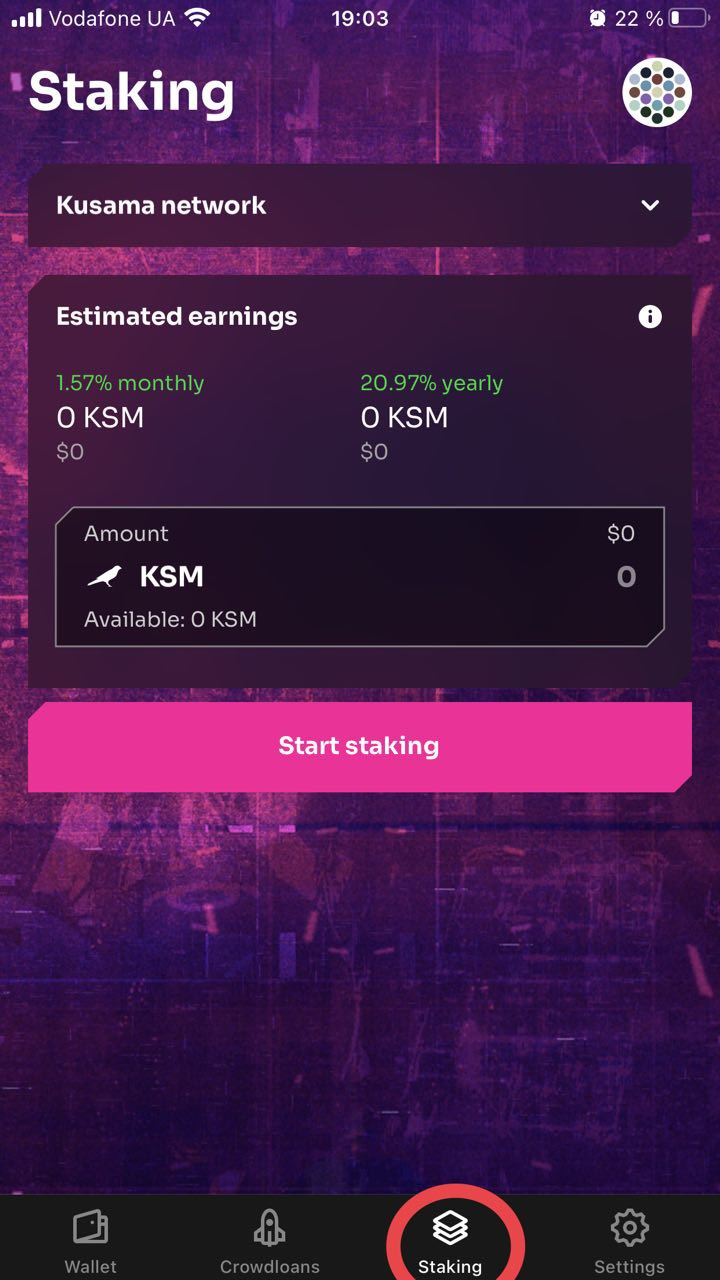 The minimum stake amount will vary from the current quantity displayed. You will see the minimum amount to stake in Fearless Wallet.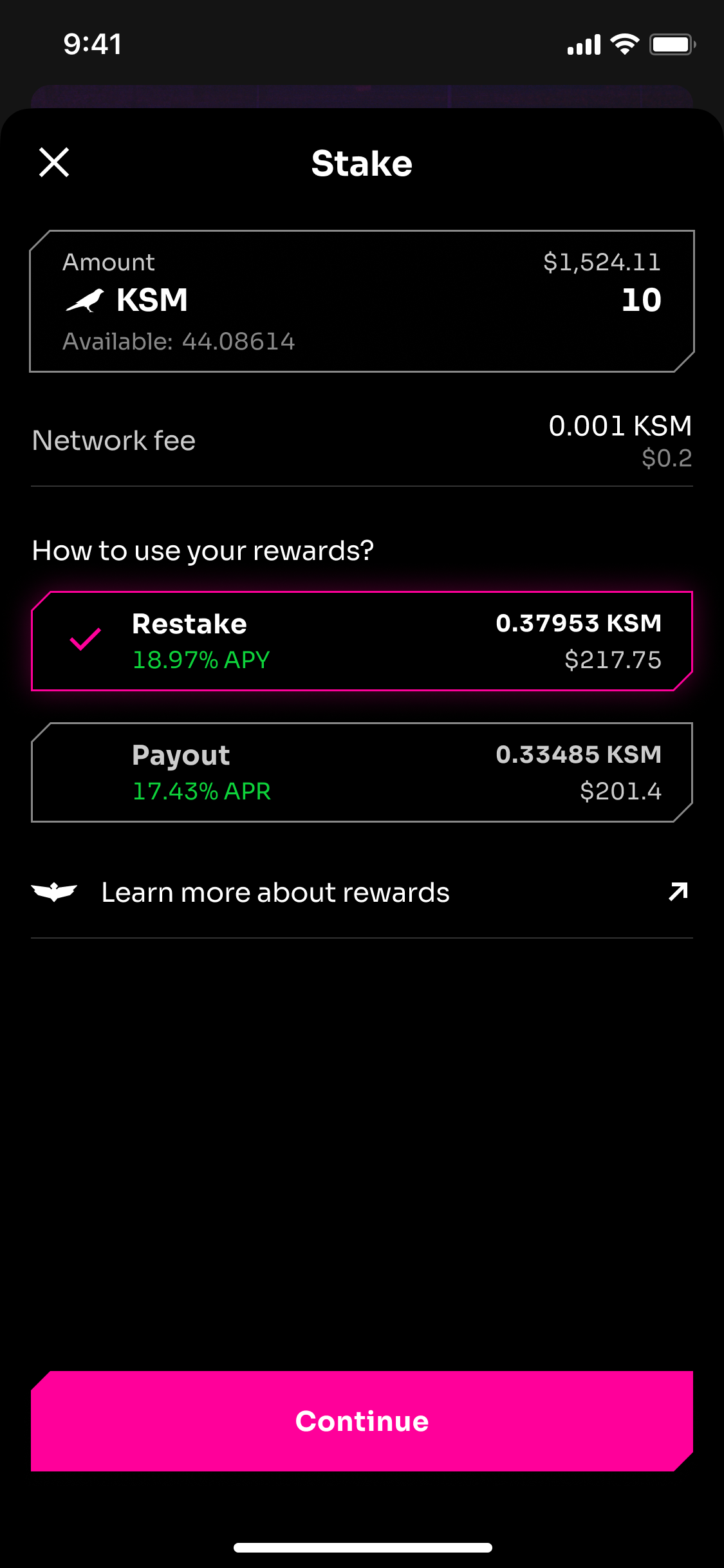 You can then decide your payout method, the options are Restake or Payout:
If you select

Restake

your rewards will increase your stake and will continue doing so every subsequent era, ultimately increasing the eventual rewards;

If you select

Payout

, you can supply an address to receive your rewards (if you want them in a different account).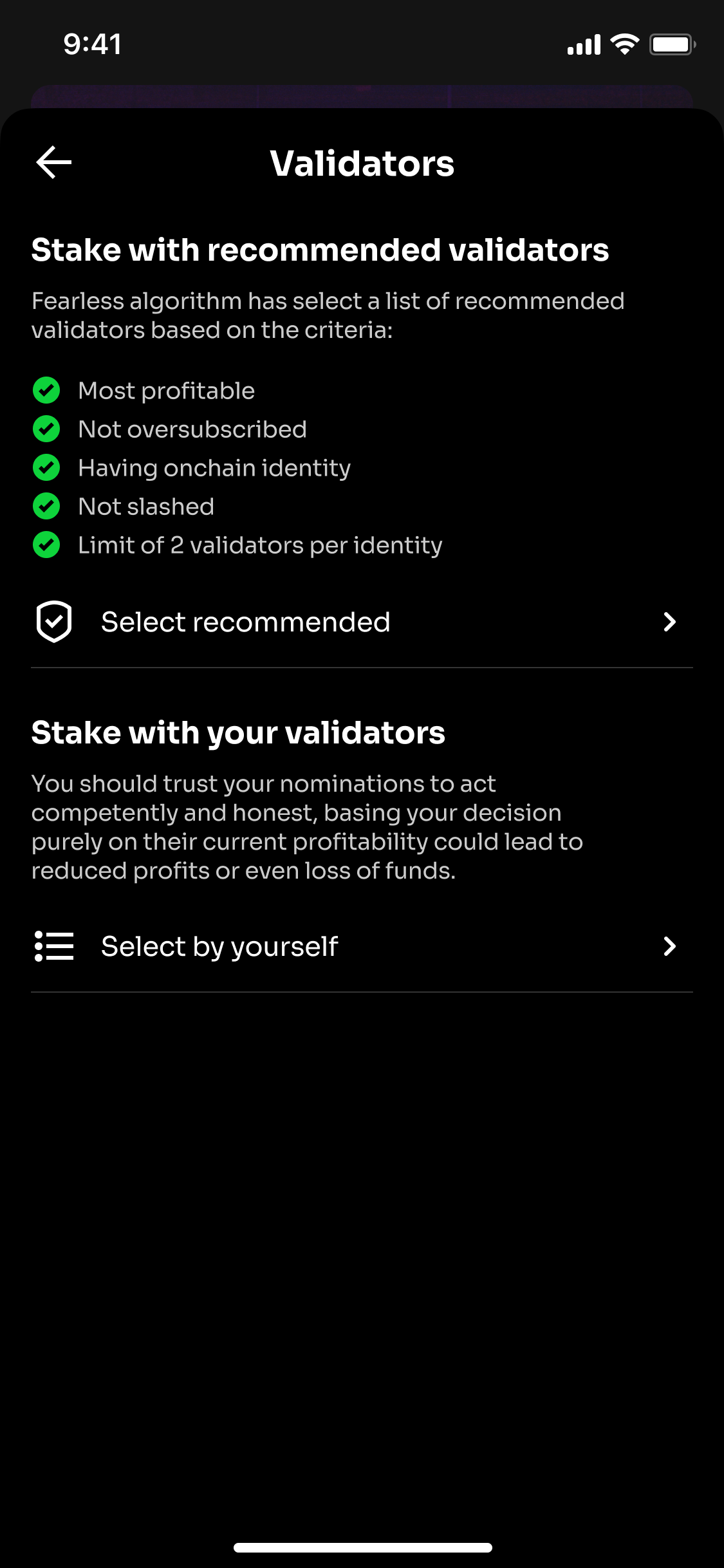 The Validators section gives you two options:
Recommended

validators

will show a list of those that are better reputable and more profitable as well as most trustworthy (this list can change over time);

Your validators

will show a list of all validators available, you will be able to filter or search the list based on different criteria.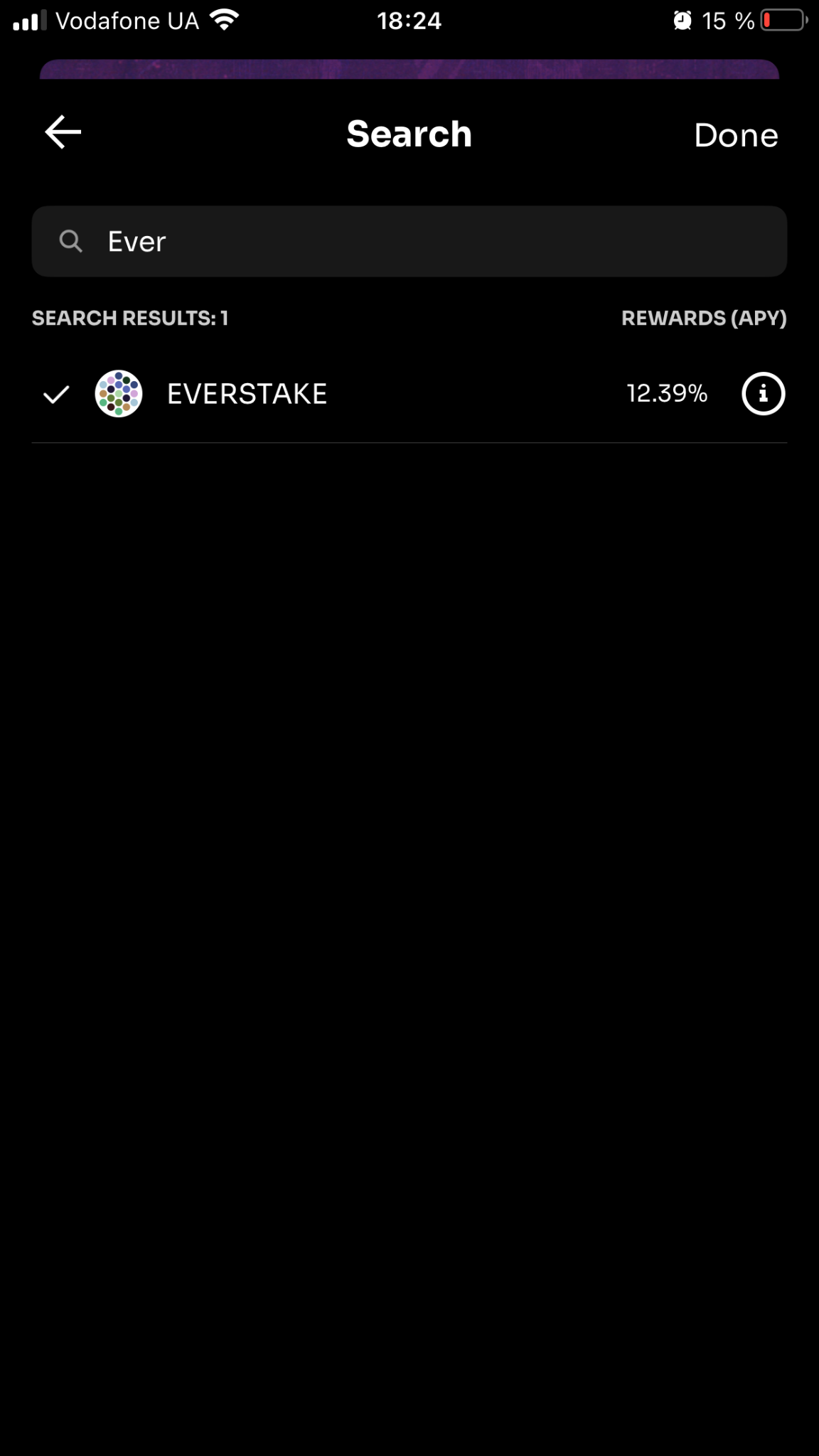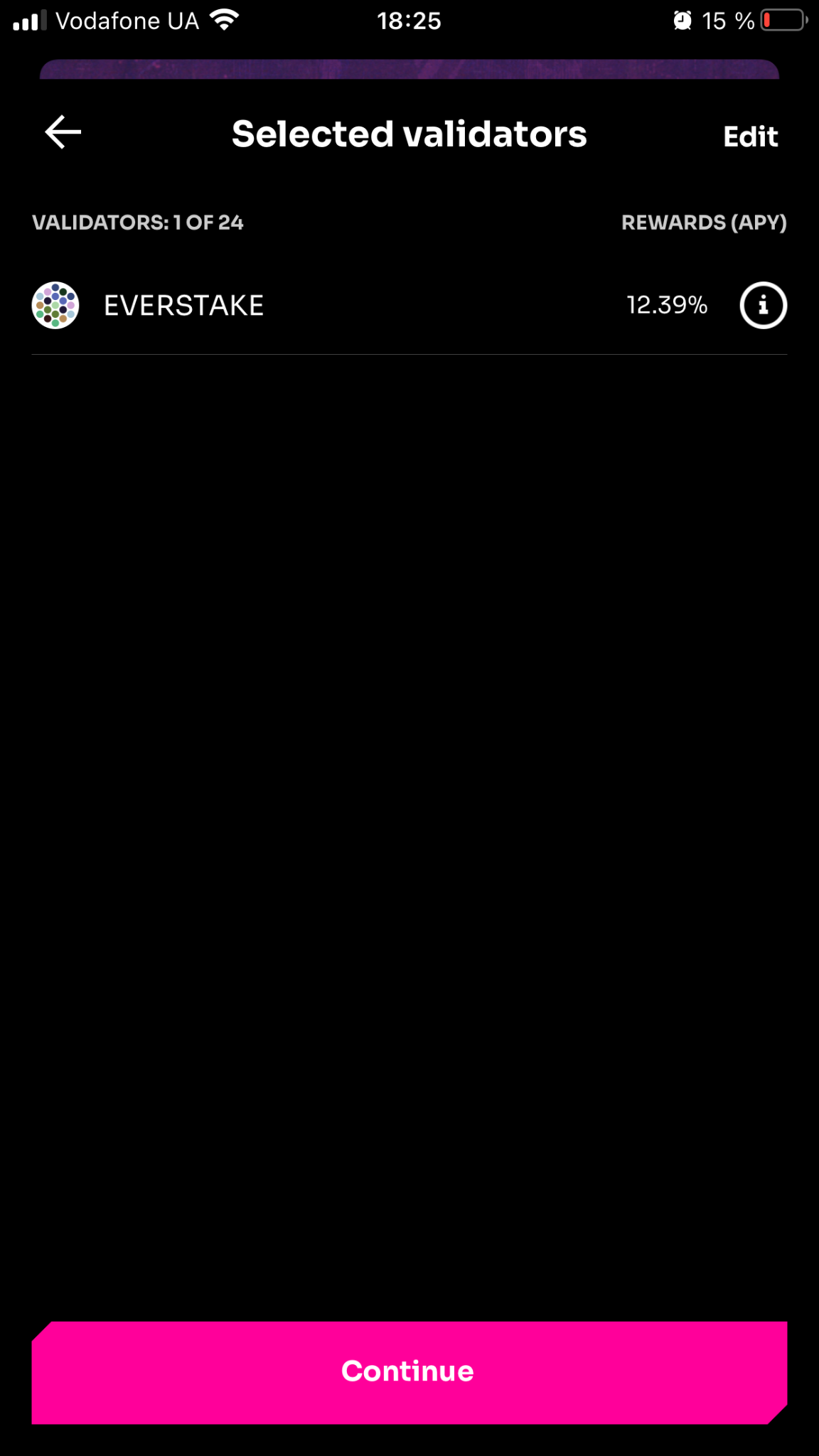 Choose only a reliable and trusted validator. We recommend Everstake as a notable staking provider led by a team of professionals in IT and Fintech with successful traction over three years in the industry, providing 99.99% of the nodes' uptime. A total of more than 460 000 customers worldwide have already staked with Everstake circa $6 billion of their crypto assets in 45 various blockchains.
After you have selected your validator and pressed Continue, you will get a confirmation window that will provide you a summary of your reward payout selection, and the number of validators you have chosen. Review the network fee, now you can press Сonfirm.
After confirming, you will be returned to the main staking screen. Depending on the time and date you proceed to stake, you might not commence staking immediately. Your staking will start in the next "era" (1 era = 6 hours).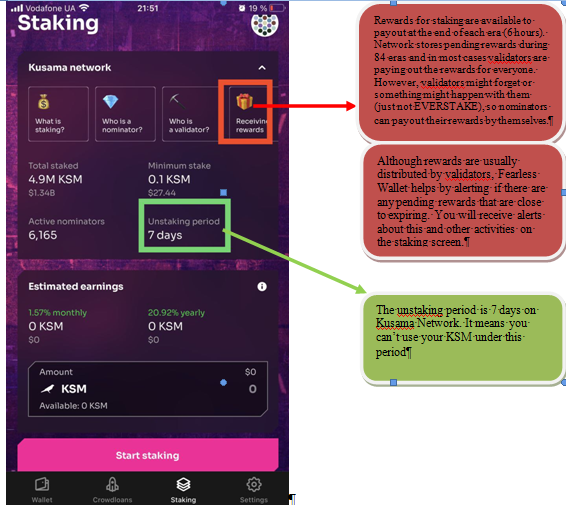 Once you have your staking set up, the Staking section of your Fearless Wallet will become the information hub for all your validators. You can easily access and review notifications from them in the Alerts view and have graphical summaries of your staked assets. It is this simple to stake fearlessly!
Our team is always happy to help you.
Good luck!
Subscribe to Everstake updates on social media! You will always be aware of important events and find useful staking guides.