Back to all posts
How to stake Persistence (XPRT) in Keplr Wallet
2021-08-13 07:28
The developers of Keplr have delivered a simple browser extension in which you can store and transfer crypto assets, and also stake them directly in the wallet. Keplr Wallet supports multiple blockchains such as Cosmos (ATOM), IRISnet (IRIS), Kava, Persistence (XPRT) and others.
Keplr is part of the Cosmos Inter Blockchain Communication (IBC) ecosystem, which is a network of independent blockchains that interact with each other. With the help of the extension, users can access network-based DApps. In other words, Keplr is MetaMask on the Cosmos Network.
In this guide, we'll show you how to create a Keplr wallet, fund it and stake XPRT (Persistence) using the extension.
What is Persistence
Persistence is an open blockchain protocol aimed at development of Institutional Open Finance, whose developers implement innovative solutions for DeFi, NFTs and more. One of the platform's goals is to combine the power of Decentralized (DeFi) and traditional finance, addressing the pressing challenges of cross-border payments and business financing.
The Persistence ecosystem offers products that provide customers with access to blockchain-based financial services such as staking, trading, lending and more. In other words, the Persistence team is committed to bridging the gap between the traditional and blockchain economies. You can learn more about the protocol by reading the article:
Persistence - a New Paradigm of Blockchain-Driven Open Finance
Let's now get acquainted with the Keplr Wallet extension and figure out how to install it and create a wallet, and then stake XPRT tokens.
1. Installing Keplr
The Keplr plugin is currently only available in the Google Chrome store.
Please note that in browsers other than Chrome, the extension may not work correctly and its stability is not guaranteed.
To install the extension, go to the Chrome store
and click the button Add to Chrome. Then a pop-up window will appear. In it, select Install Plugin.
Tip: only download the Keplr extension from official sources. Be responsible when it comes to storing private keys and mnemonic passwords (seed phrases). Do not disclose or transfer this data to anyone in order to prevent theft of funds from the wallet.
In this article, we provided useful tips for storing private information:

Crypto security guide: how not to lose your funds when using cryptocurrency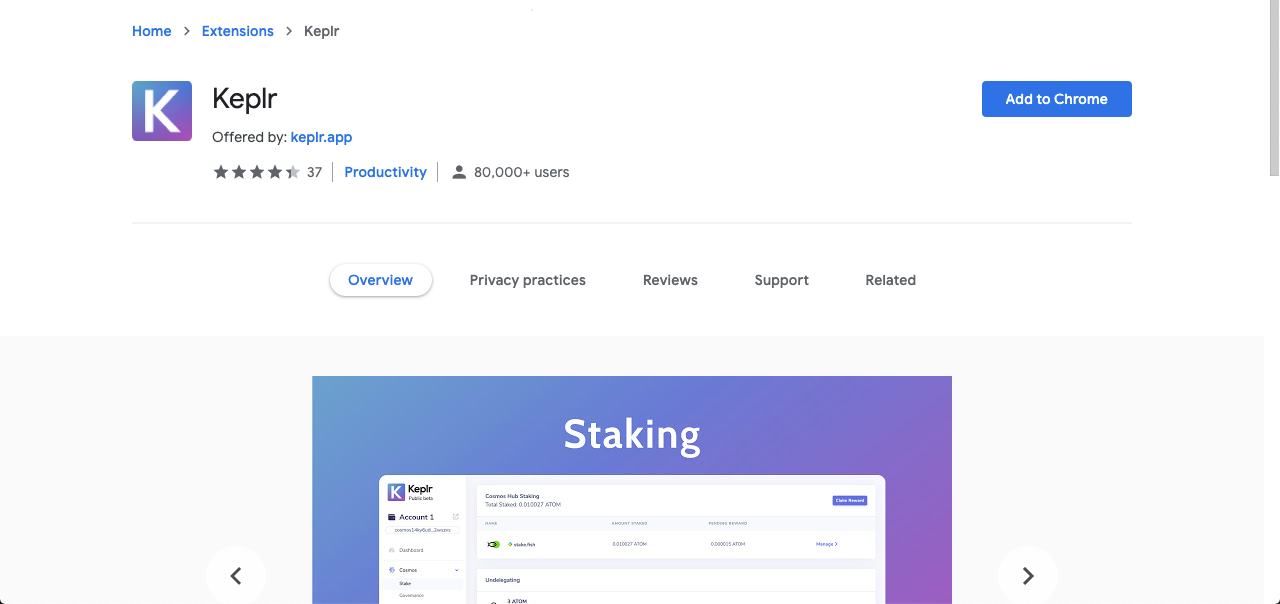 After installation, run the plugin and proceed to create a wallet.
2. Creating a wallet
Creating a wallet in Keplr is quite simple. This can be done in four ways:
Using a Google account;

Using a seed phrase;

Importing an existing wallet;

Importing information via Ledger hardware wallet.
Let's examine each of them in more detail.
2.1 Using a Google account
From the home screen, select and tap Sign in with Google.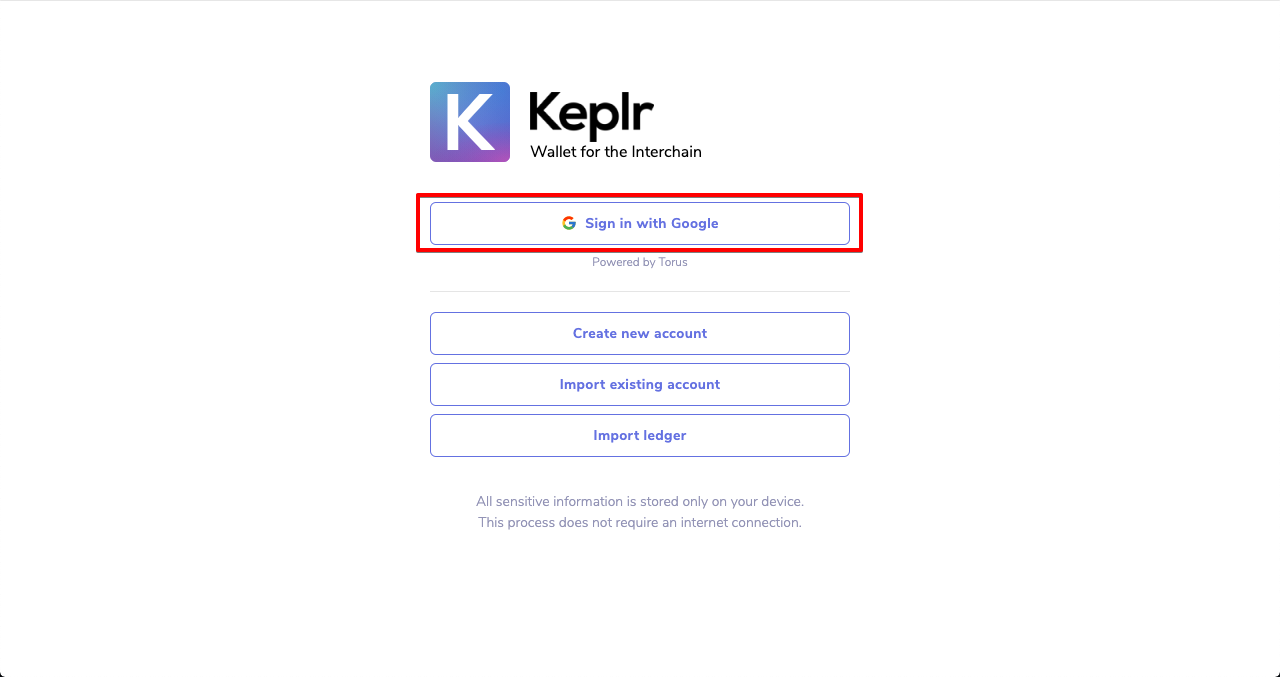 Come up with a name for the wallet and set a strong password. A complex password must be at least eight characters long, contain different-case letters, numbers and special characters. If you find it difficult to come up with one yourself, use password generation services, for example, Online Password Generator. Then click Next.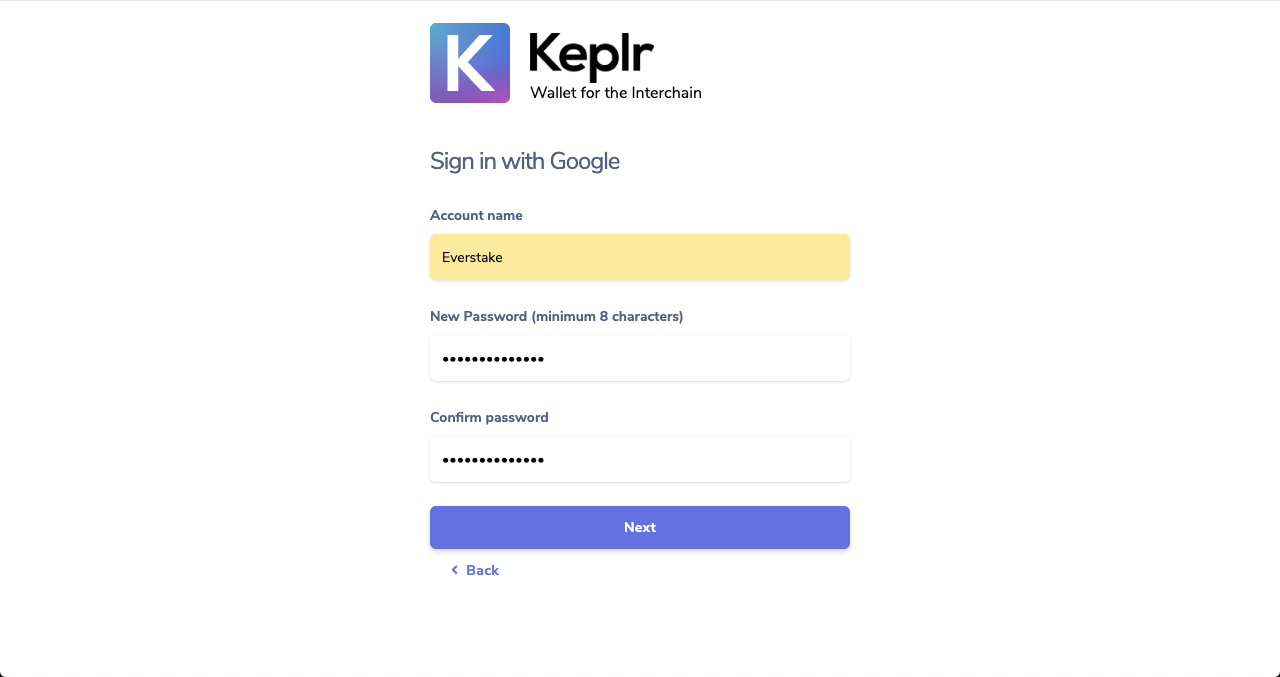 Then log in to your Google account. Please enter your email address first.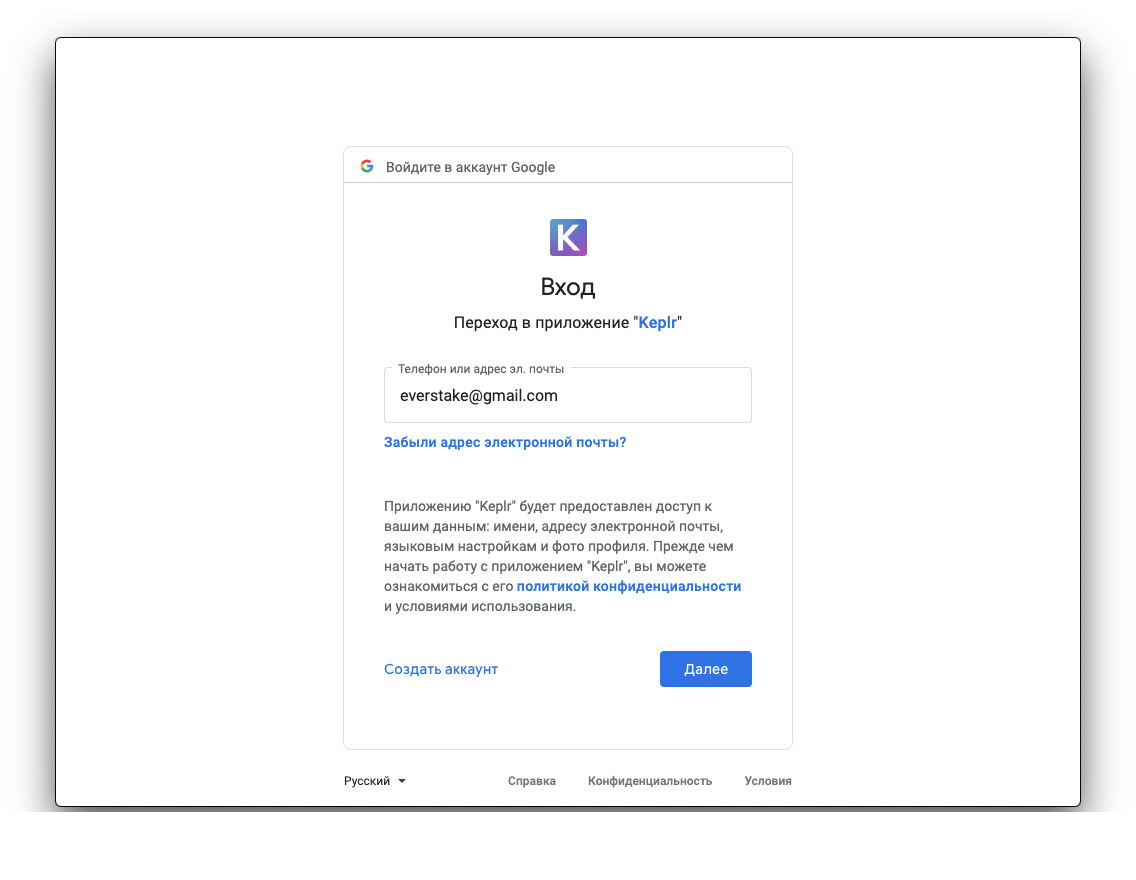 And then the password.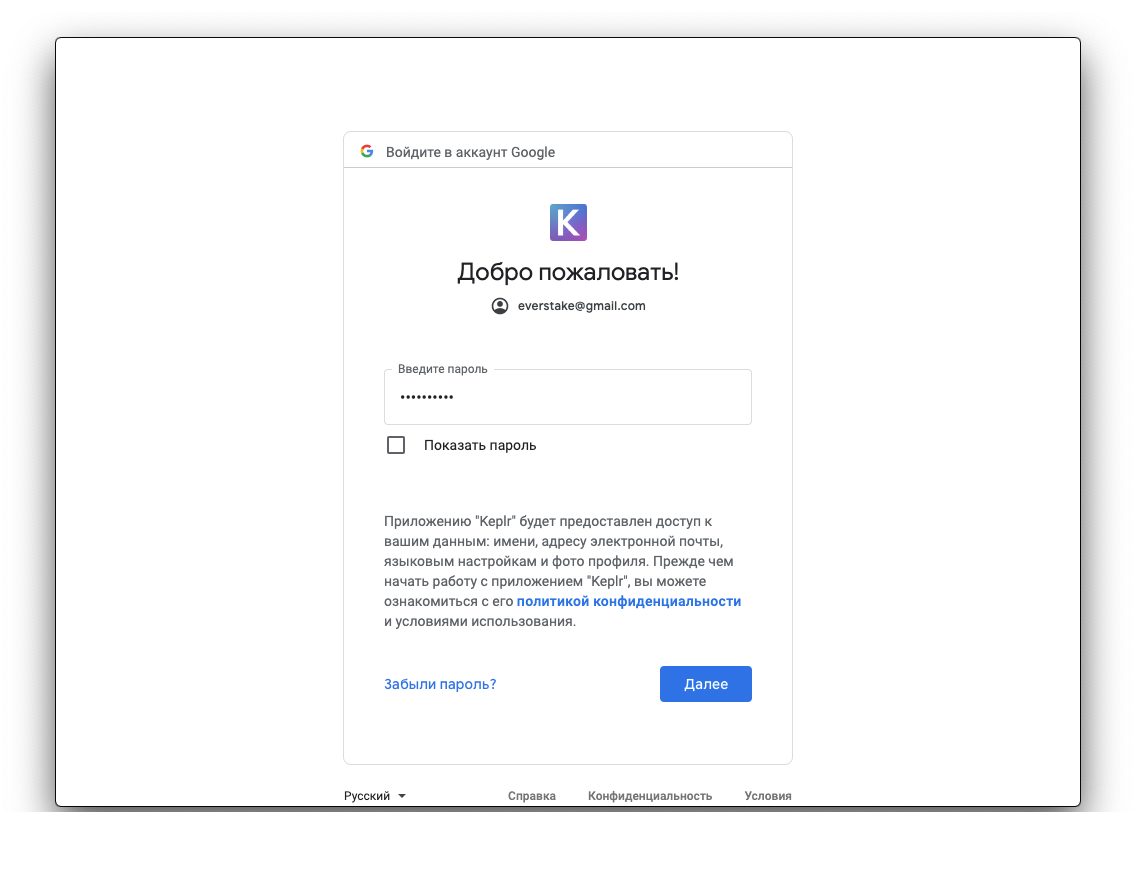 The wallet has been created! Click Done to finish.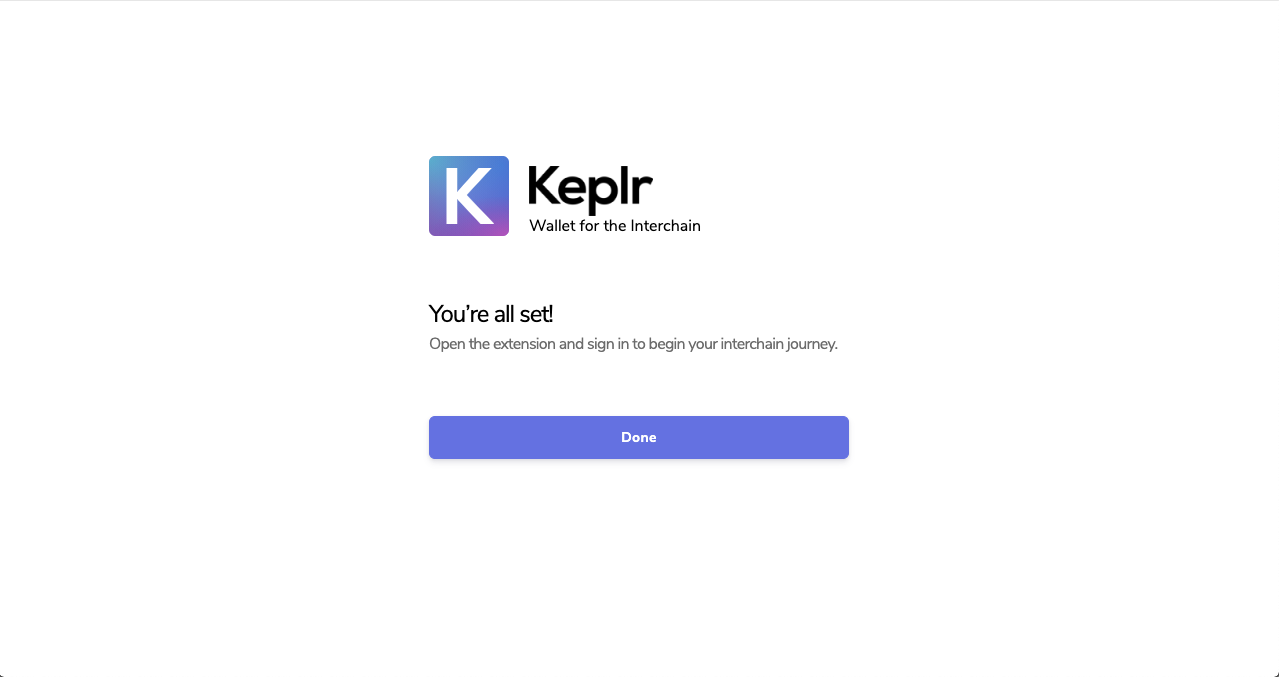 2.2 Creating a new wallet
On the start page, select and click Create new account.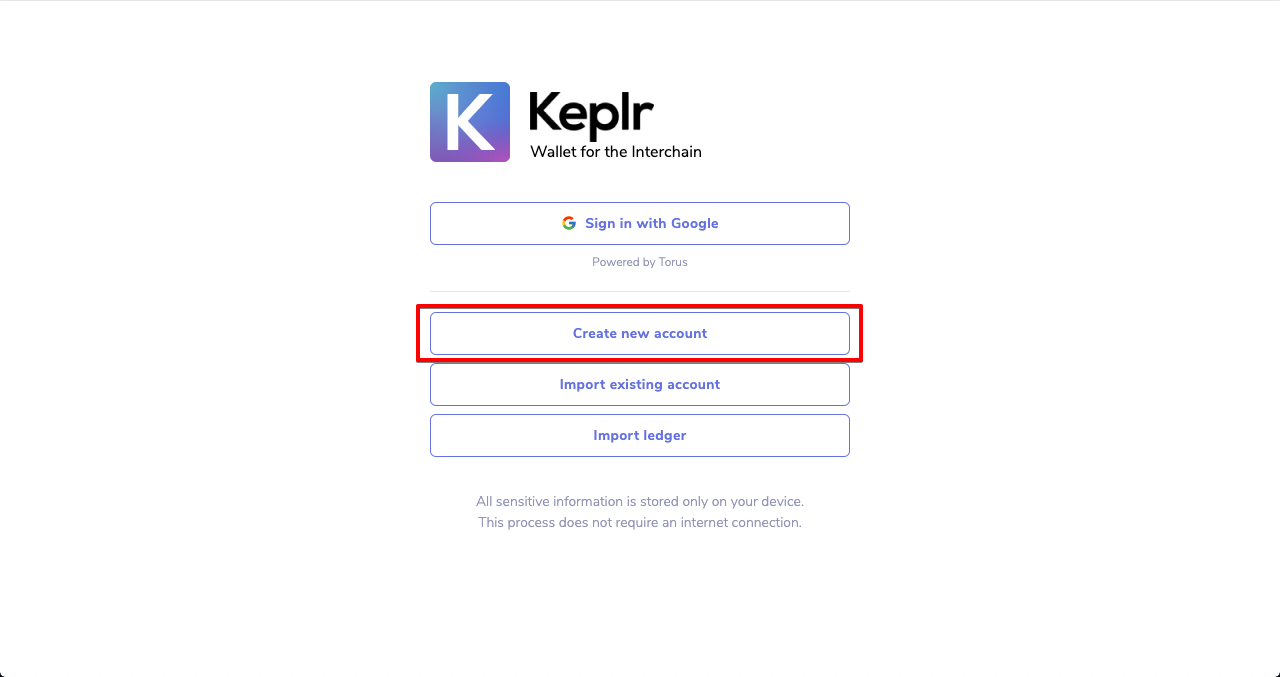 Write down the seed phrase shown on the screen on paper or some other reliable offline medium, while maintaining the sequence. Do not take a screenshot, copy or store the mnemonic password digitally, because this is not secure. You can switch between 12 and 24 word seeds as you like: the more words, the less likely hackers will be able to come up with a reserve phrase.
Then come up with a name for the wallet and set a strong password. After entering all the details, click Next.

Note: if you are a beginner, ignore the option Advanced (for advanced users).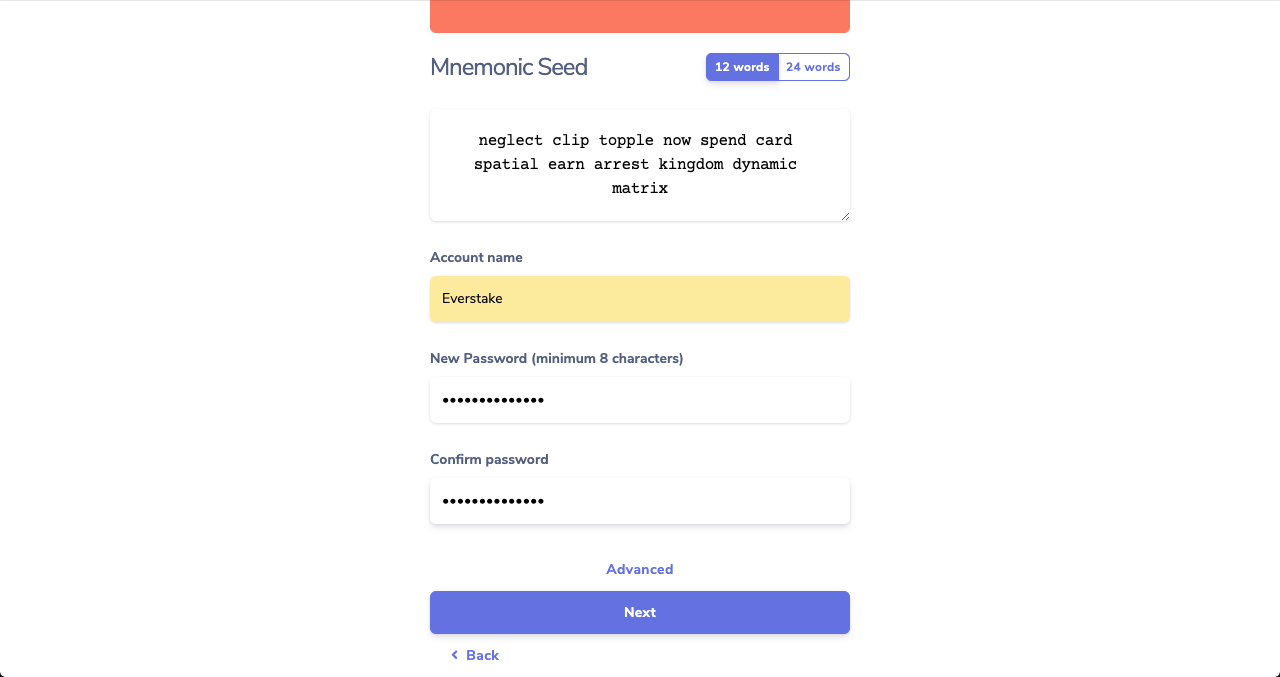 Add blocks with the words of the mnemonic phrase in the same sequence that you wrote them down on paper. If everything is entered correctly, the Register button is activated - click on it.
Ready! Click Done to complete the wallet creation process.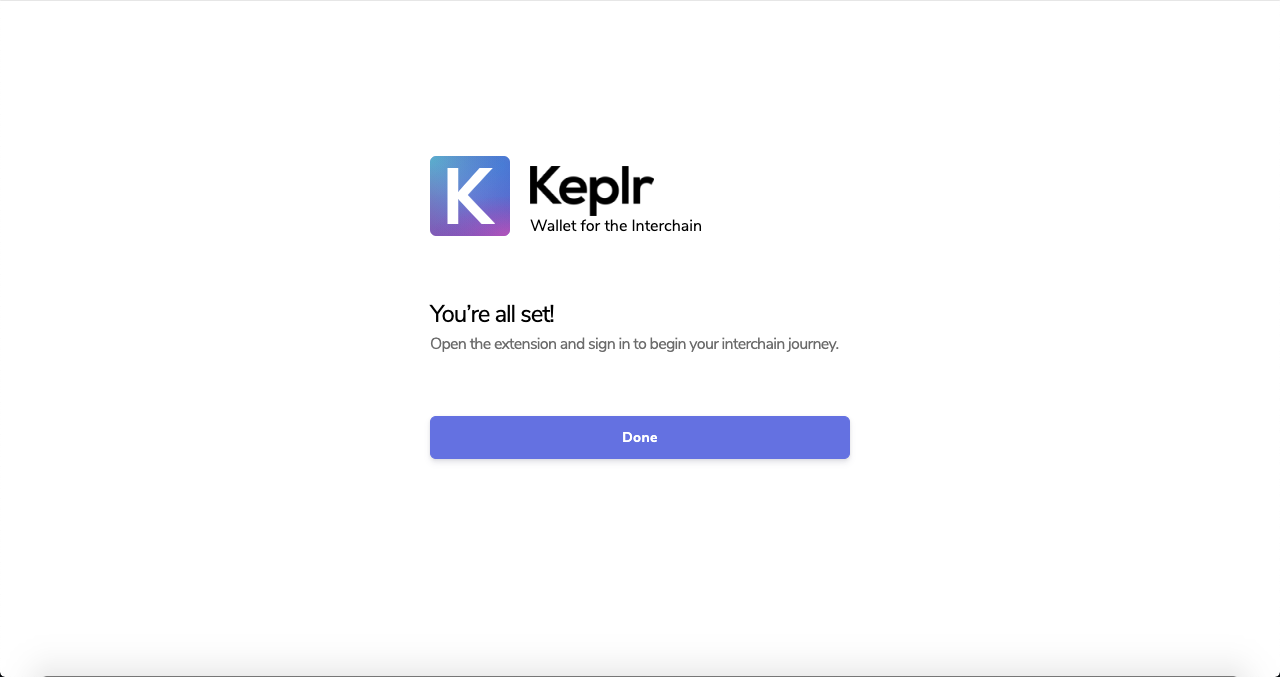 2.3 Importing a compatible wallet
If you have a private key or seed phrase from another wallet that stores XPRT tokens, you can import it into Keplr Wallet. On the wallet start page, select and click Import existing wallet.
For example, we will use the seed phrase that we saved earlier.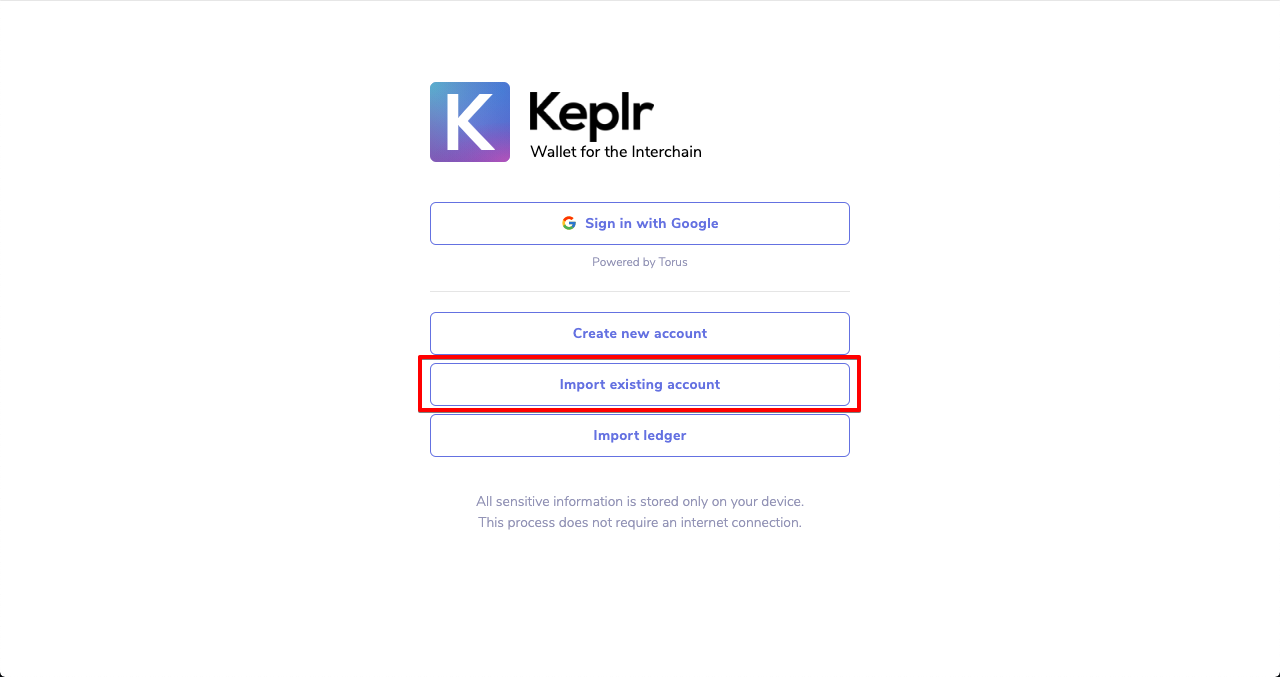 Enter your seed phrase (or private key, if you have one), and then come up with a name and password for the wallet, as you did when creating Keplr. When done, click Next.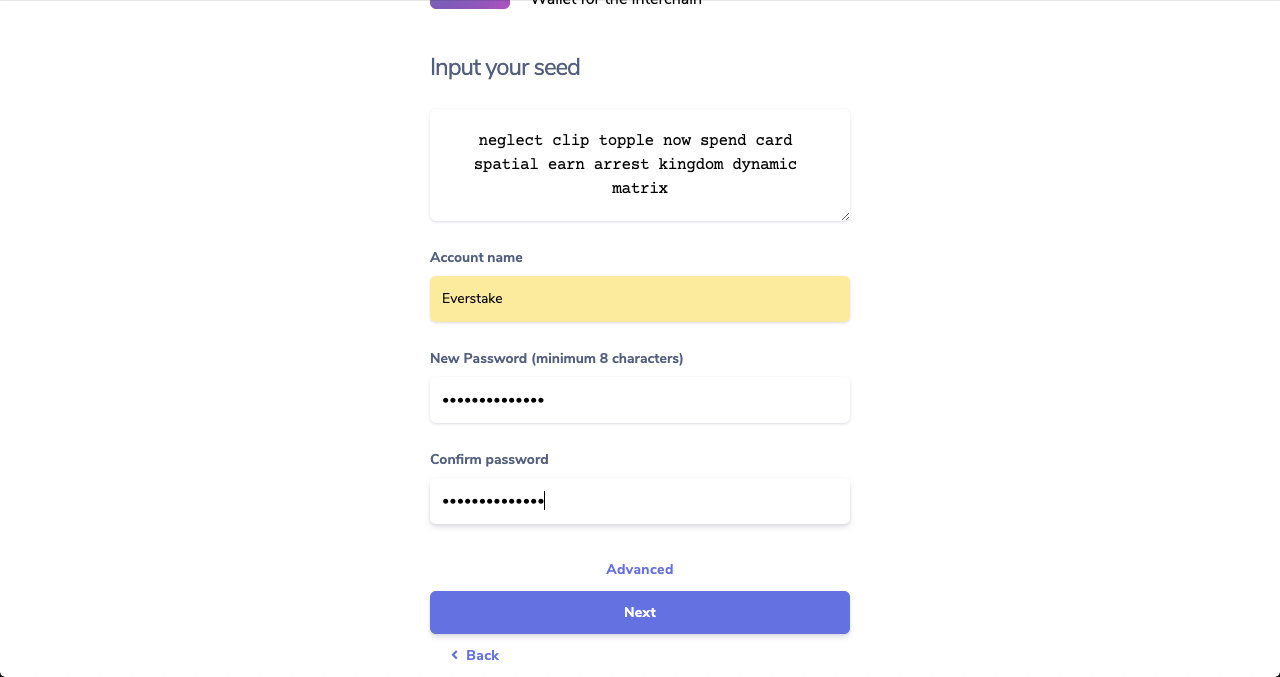 The wallet has been imported successfully! Click Done to complete the process.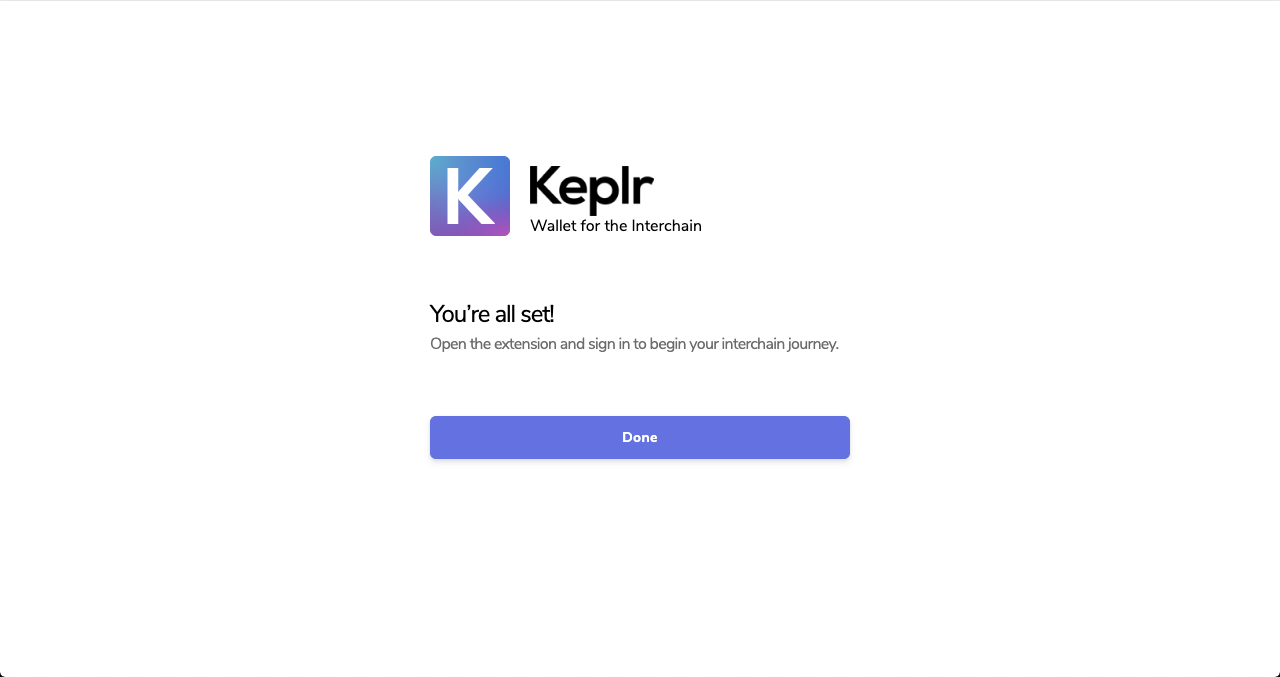 2.4 Importing a Ledger Hardware Wallet
Note: staking XPRT via Keplr with Ledger connected is unavailable so far, it is expected in Sep 2021.
To connect a cold storage device for cryptocurrencies, on the start page, select and click Import Ledger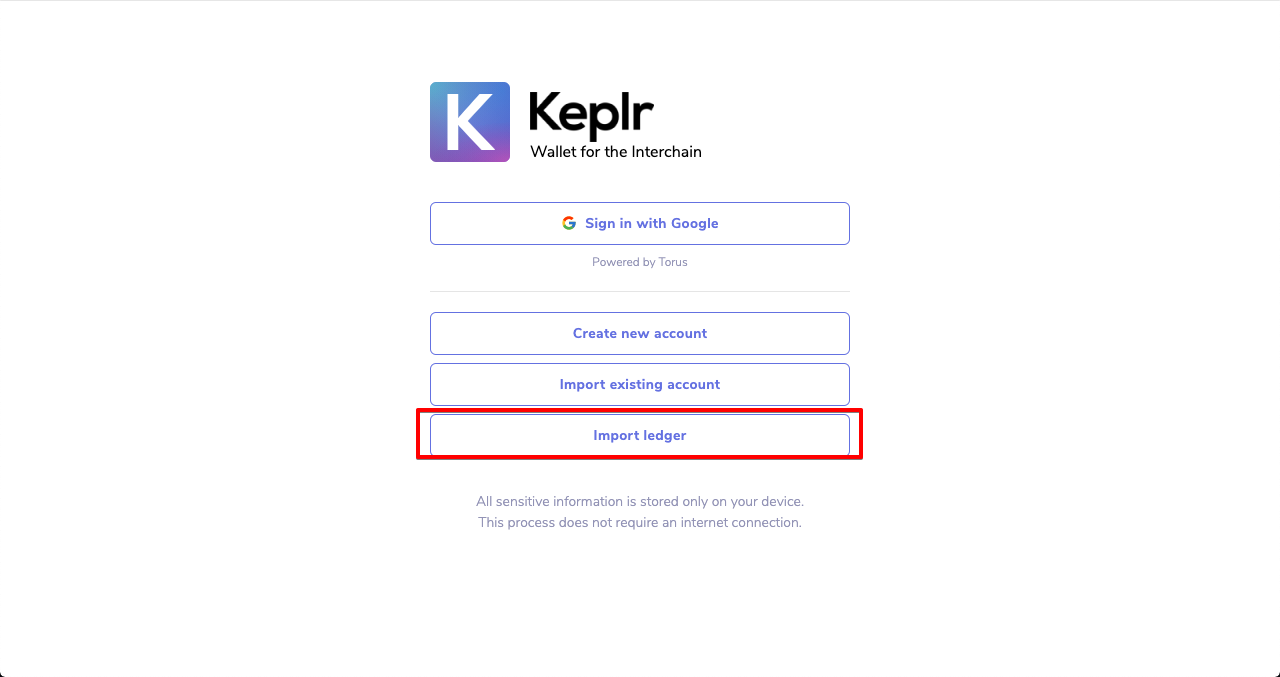 Come up with and enter a name for the wallet, and then a complex password and repeat it, then click Next.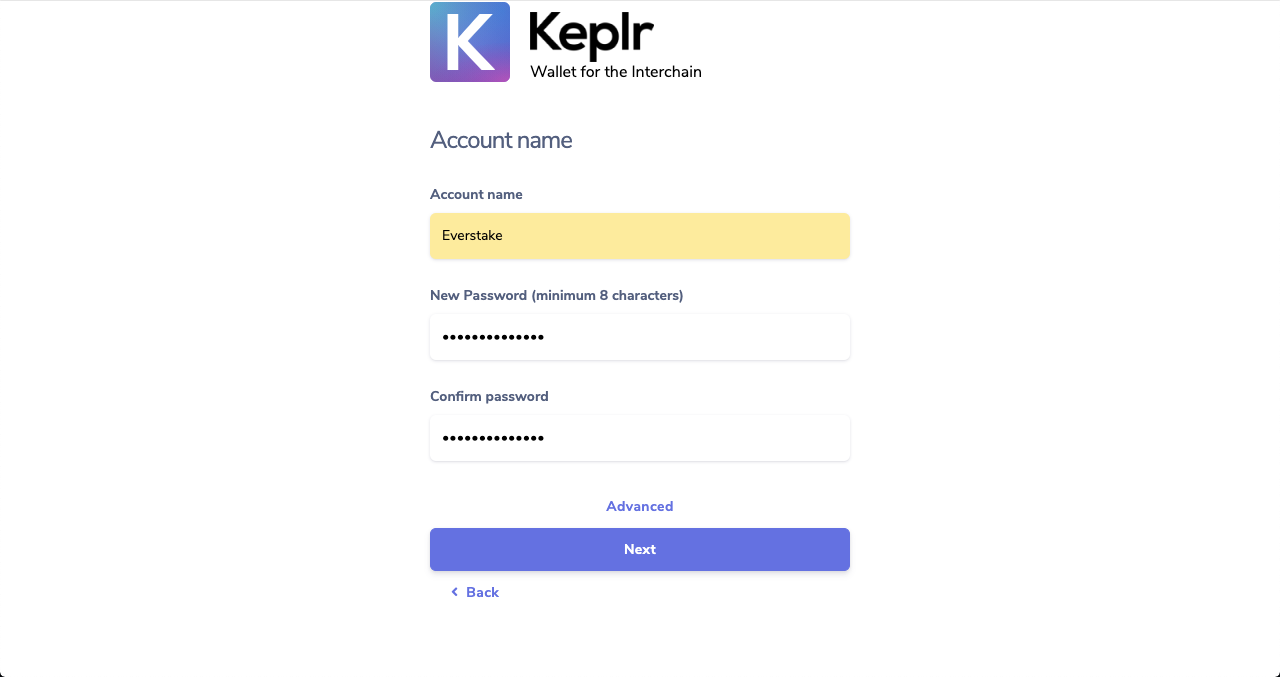 You will then need to unlock your Ledger device and open the Cosmos app. First, connect your hardware wallet to your PC or laptop and open the Ledger Live app. Then go to the app manager and launch the Cosmos App. If you do not have this application in Ledger Live, then you need to install it first.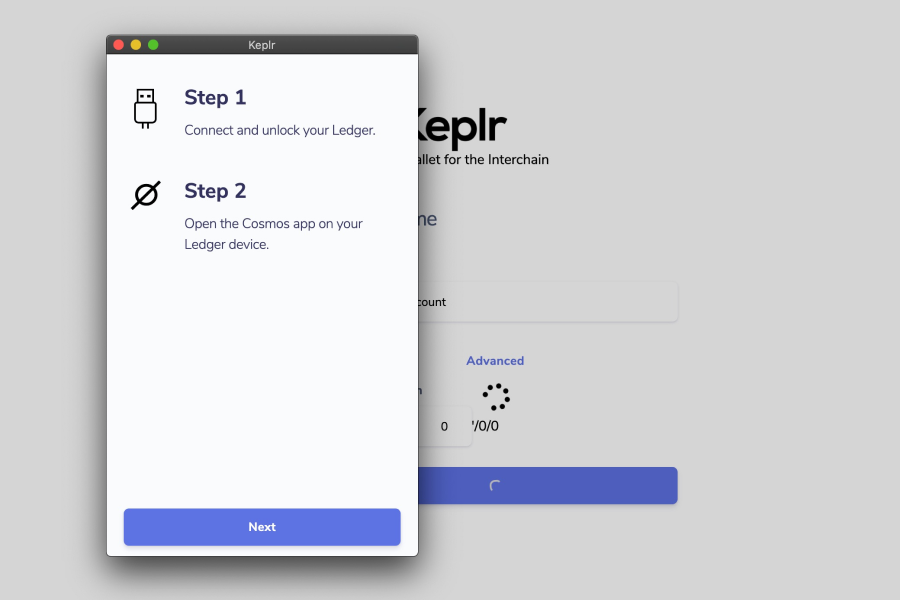 After Cosmos ready appears on the Ledger screen, click Next.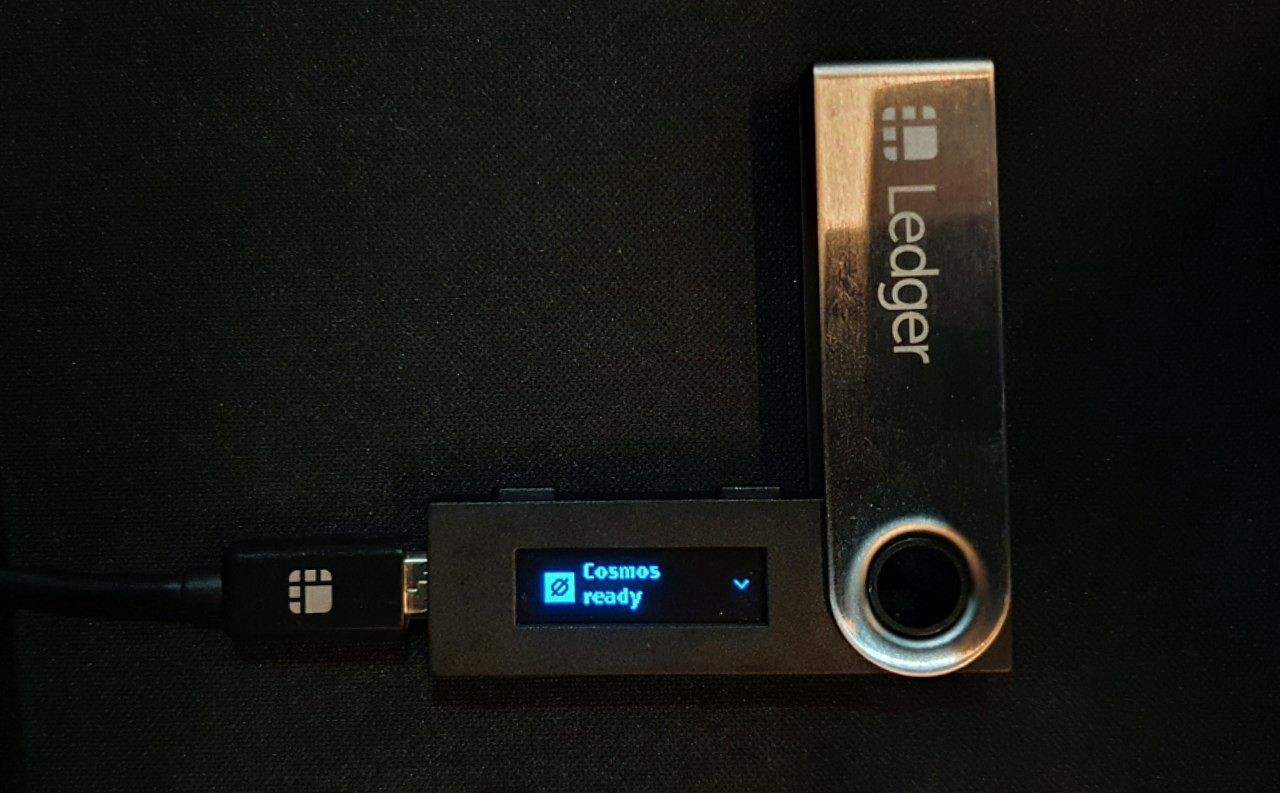 Done! You have imported the Ledger hardware wallet and can now use its balance in the Keplr extension.
So, we have considered all the options for creating a wallet. Now you need to add funds to it so that you can stake XPRT tokens.
3. Adding funds to the wallet
Launch the Keplr extension, select the blockchain network (Cosmos is selected by default) by clicking on its name at the top, and then select Persistence in the list that opens and click on it.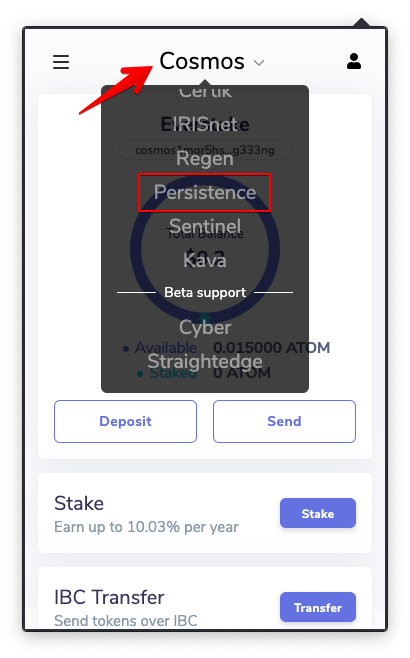 There are two ways to add money to your wallet:
Click on the address under the Persistence network name, as shown in the image.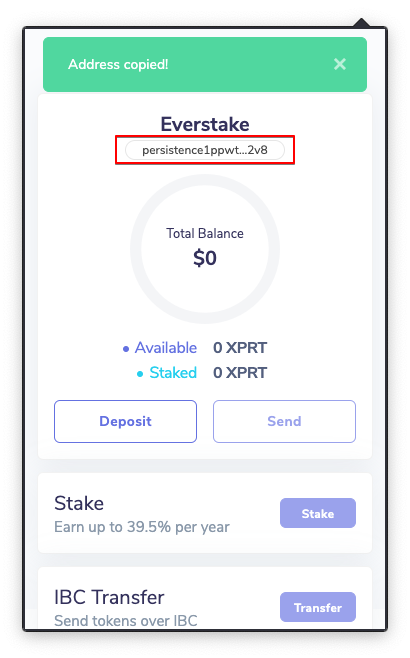 2. First click on the Deposit button.
And then copy the address by clicking on it or scan the QR code.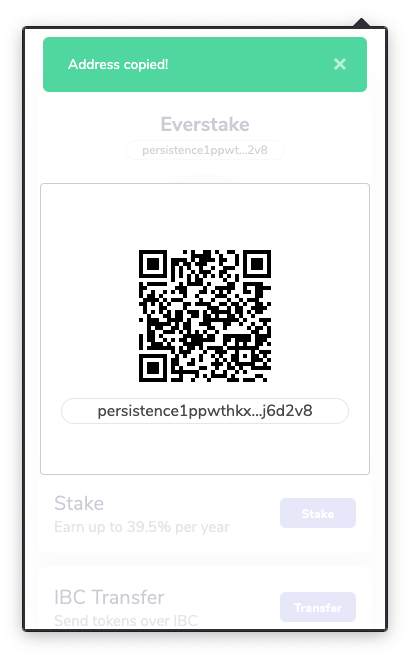 Top up your wallet in any way available to you. If you do not have XPRT tokens, you can buy them on centralized and decentralized exchanges, the list of which can be found on the Coinmarketcap website.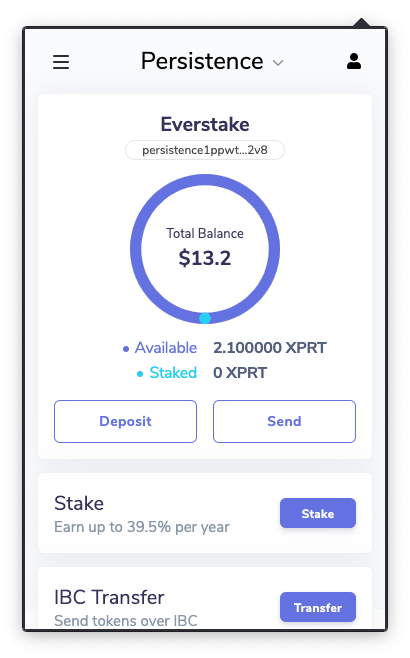 unds have been added to your wallet! The last step remains: to stake the tokens.
4. XPRT staking
Persistence tokens can be staked using the Keplr App. Here's how.
Run the application. A dashboard will open where you can track your staking progress and collect rewards after staking tokens.
Note: The Persistence Network's staking rewards are currently one of the highest among POS networks, with annual returns of up to 35%.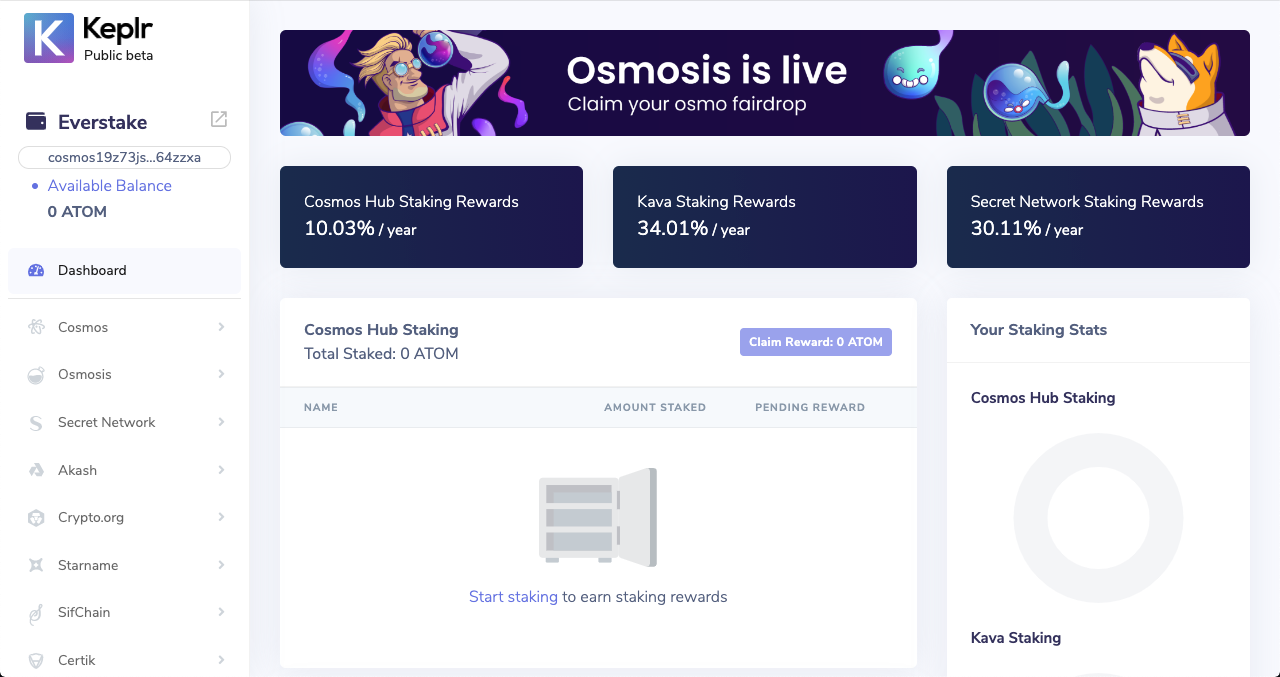 In the left pane, in the list of available networks, find Persistence (scroll down the column) and click on it. A list of available actions will open: select Stake.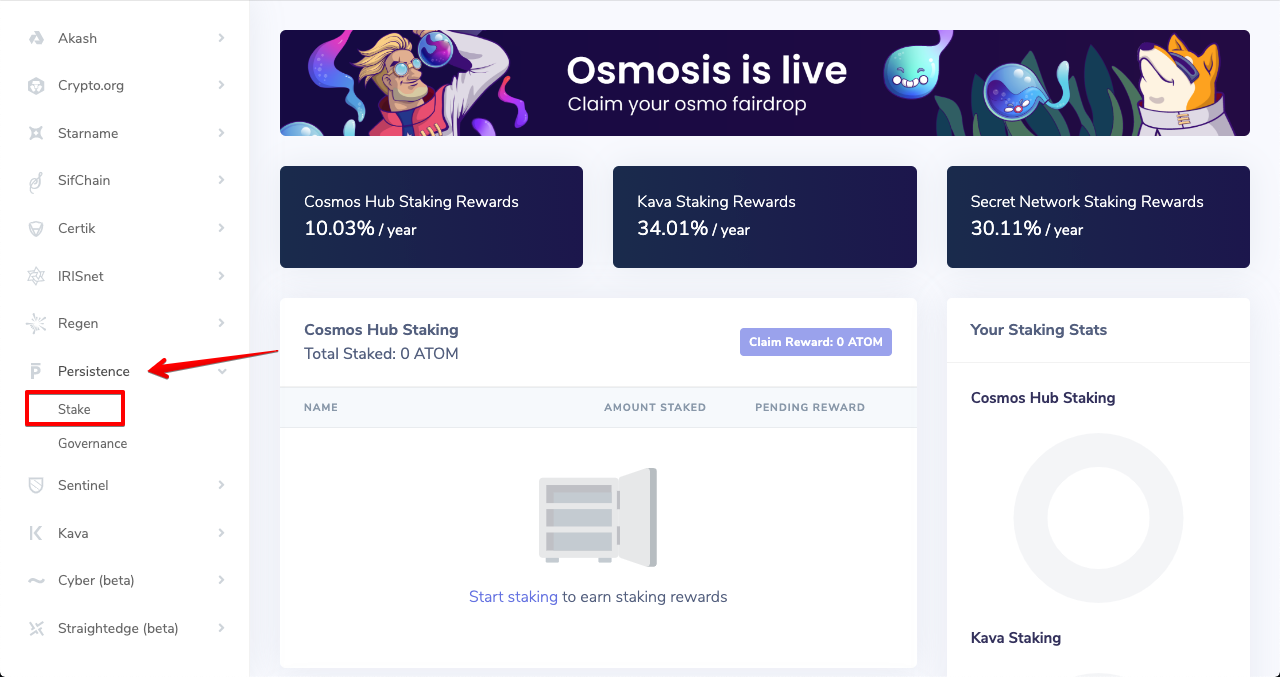 Note: You can also access the tab Stake in the Keplr App from the decentralized exchange Osmosis Zone dashboard.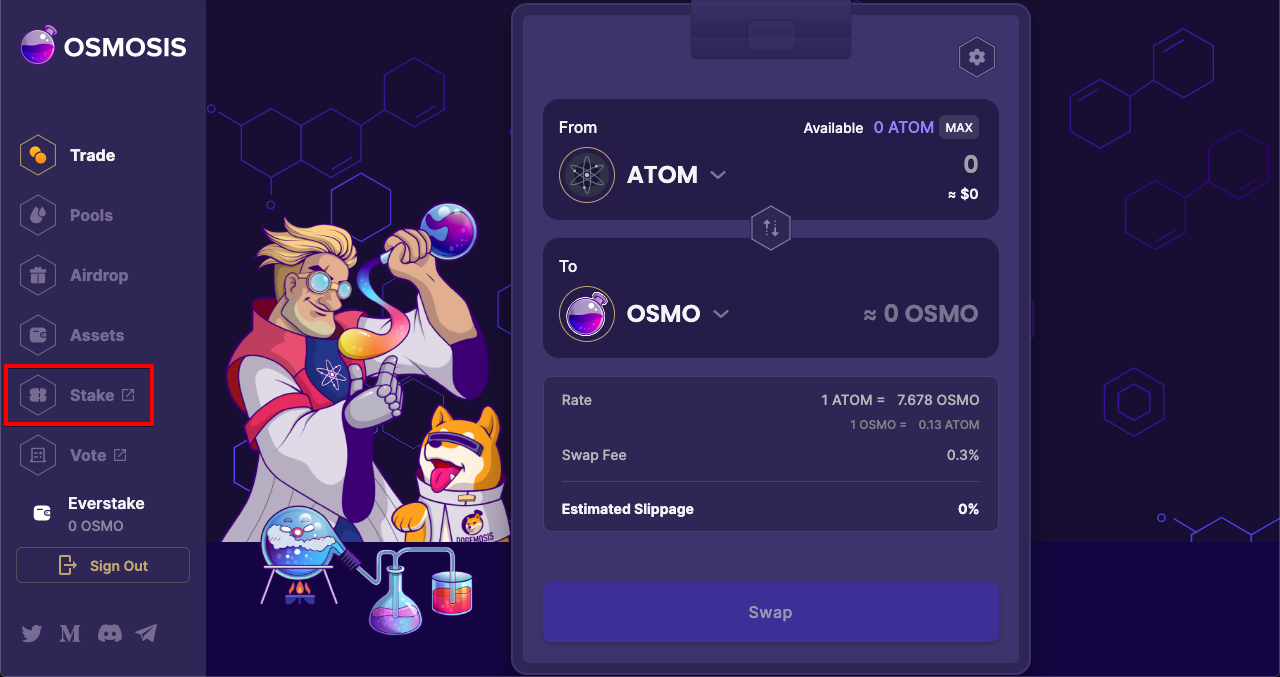 Select a validator from the list, for example Everstake. This is a very important step, since not only the reward of delegators depends on the validators, but also the security of the network. Therefore, choose only reliable validators like Everstake.
The Everstake validator is managed by a team of fintech and blockchain experts who use high-performance server hardware and constantly monitor network health to achieve near 100 percent uptime. In addition, the Everstake fee on the Persistence blockchain is only 7%. The high level of reliability demonstrated by Everstake is evidenced by the successful maintenance of about 50 blockchains with coverage of more than 365,000 users who have deposited about $ 3,500,000 in digital assets into Everstake.
Once you have selected a validator, click Manage.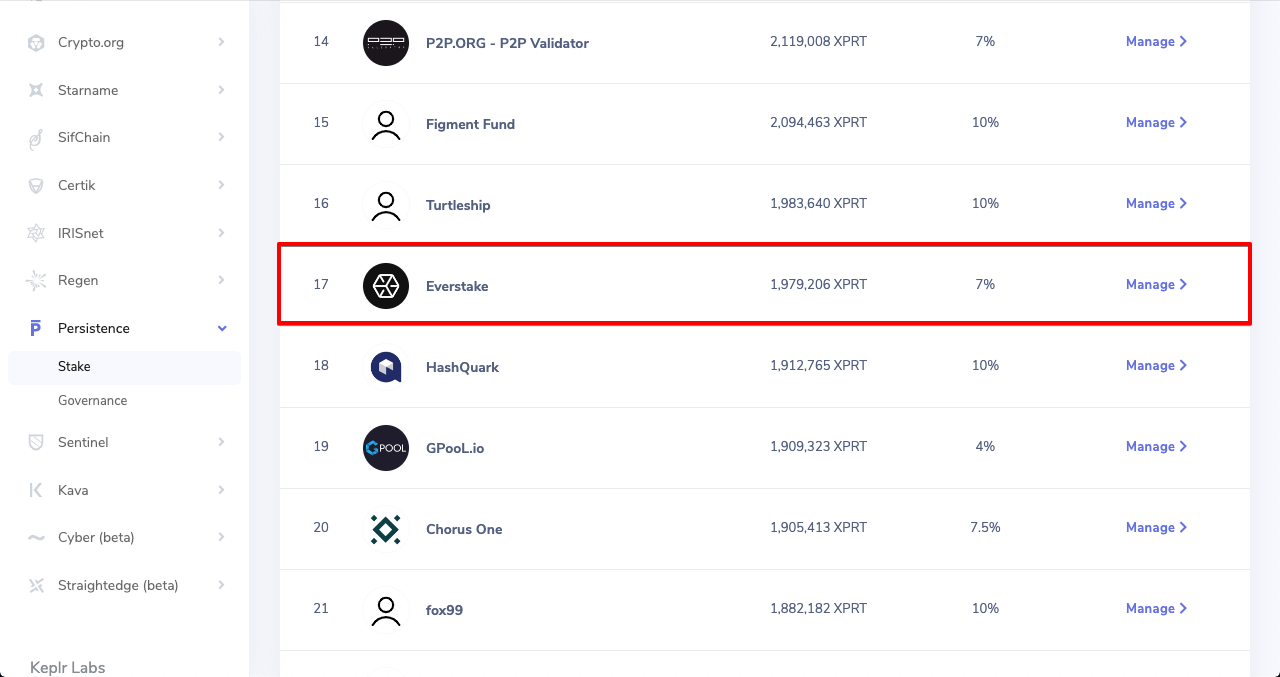 In the window that opens, you will see brief information about the validator, including a website where you can learn more about the company. Click Delegate to continue. Please note that in the same window you can detach and redelegate tokens if you want to change the validator.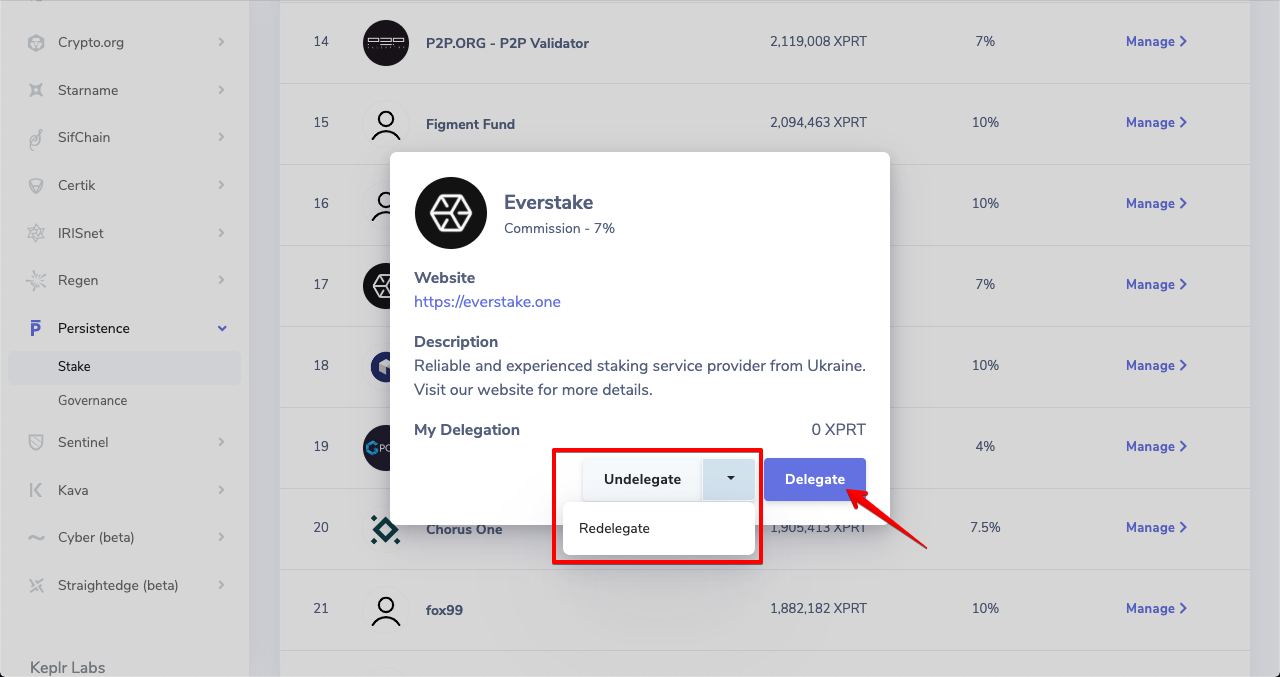 Enter the amount of XPRT you will delegate and click Delegate. Don't forget to leave some tokens to pay for reward withdrawal, staking, and unstaking fees in the future. Please note that the XPRT blocking period is 21 days (unstake period). This means that after undelegation you can use tokens only after the end of the unstake period.
There is no minimum amount for staking, but calculate the delegated amount of tokens so that the accrued rewards cover the transaction fees(!).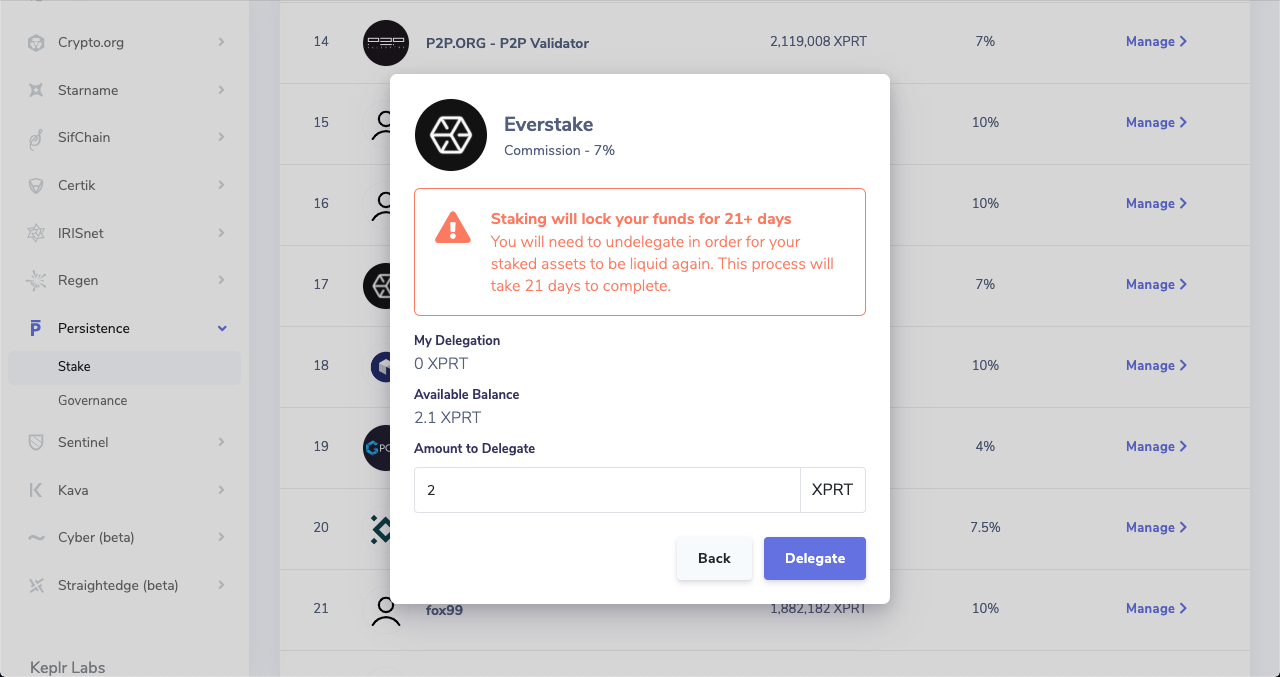 Set the commission manually: the higher it is, the faster the transaction will be confirmed. But given the speed of the Persistence network, even a transaction with a minimal fee is confirmed in less than a minute. After choosing the commission, click Approve.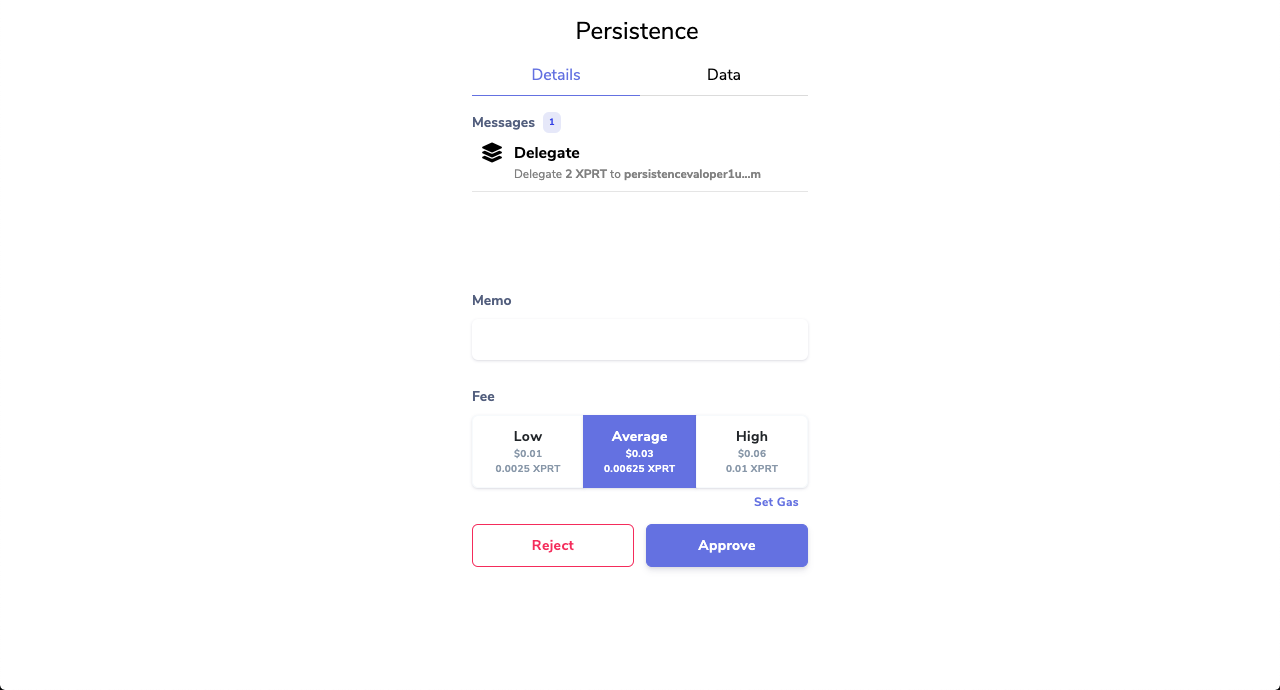 After the tokens are staked, your delegation information will appear in the tab Stake. The amount of accrued rewards will be displayed in the column Pending Rewards. Once these are credited, you can collect them by clicking on thebutton Claim Reward in the upper right corner.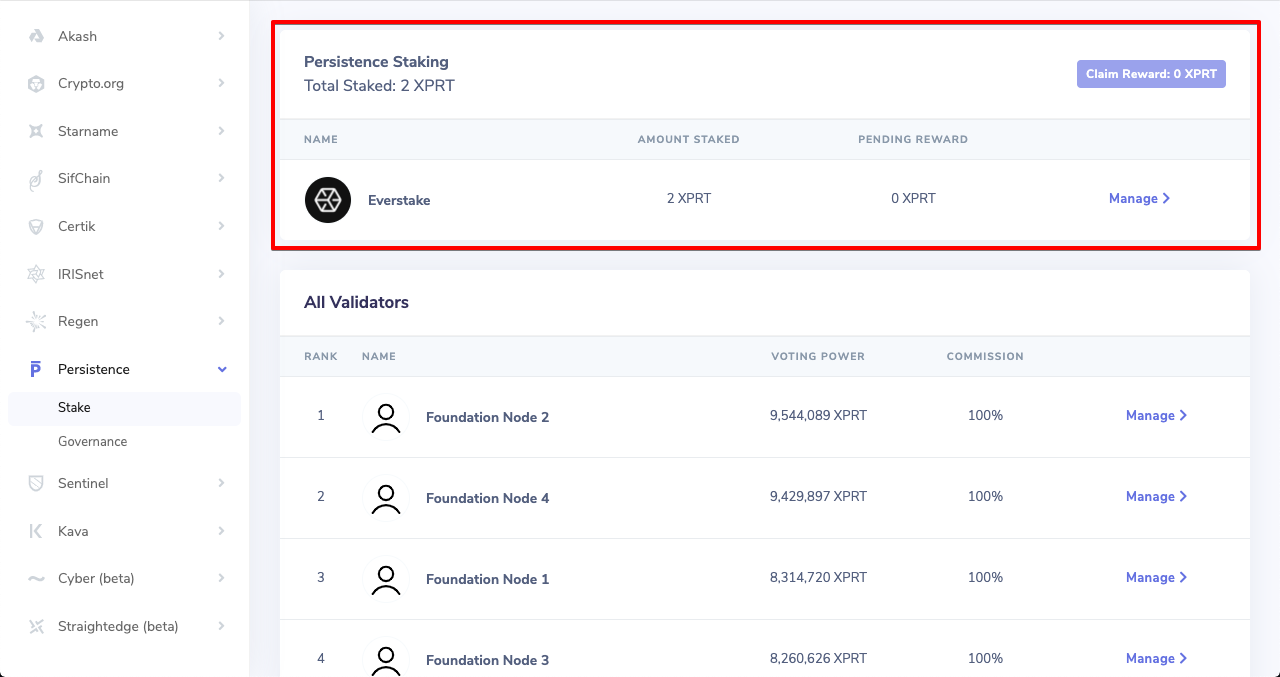 Now you know how to create a Keplr wallet, fund it, stake XPRT and collect rewards. Similarly to delegation, you can undelegate/re-delegate your assets. This guide will also work for staking other assets in the Keplr wallet, such as ATOM, IRIS, or KAVA.
Read other Persistence staking guides:
Subscribe to updates by Everstake on social networks where you can find other helpful guides and articles about Proof-of-Stake blockchains!