Back to all posts
How to stake ROSE (Oasis Network) in the Bitpie mobile wallet: a detailed guide
2021-01-20 12:45
The developers of Oasis Protocol have created a blockchain platform based on confidential smart contracts. The Oasis blockchain processes up to 1000 transactions per second and supports staking. Token holders can delegate their coins to the validation and receive up to 15 % per annum, excluding the validator's commission.
Learn more about the Oasis Protocol platform.
In this guide, you will learn how to stake ROSE tokens in the Bitpie mobile wallet.
How to create the wallet
Bitpie is a convenient multi-currency mobile crypto wallet that offers custodial services. Application users can stake cryptocurrencies, exchange some digital assets for others, borrow and lend coins to other users, and more. Now let's move on to creating the Oasis wallet.
Step 1. Install the application
Bitpie wallet is available on iOS and Android. Download the application from the official website or follow these links:
Note: for iOS devices, only a test version of the wallet is available. For the app to work correctly, Apple users need to install the TestFlight app before downloading Bitpie.
Step 2. Launch the application
On the home screen, you will see several options for accessing the wallet:
Create a new wallet;
Import an existing wallet;
Connect BitHD (via Bluetooth);
Import Hardware Wallet (Bitpie Cold)
We don't have a wallet yet, so select the "Create a New Wallet" option.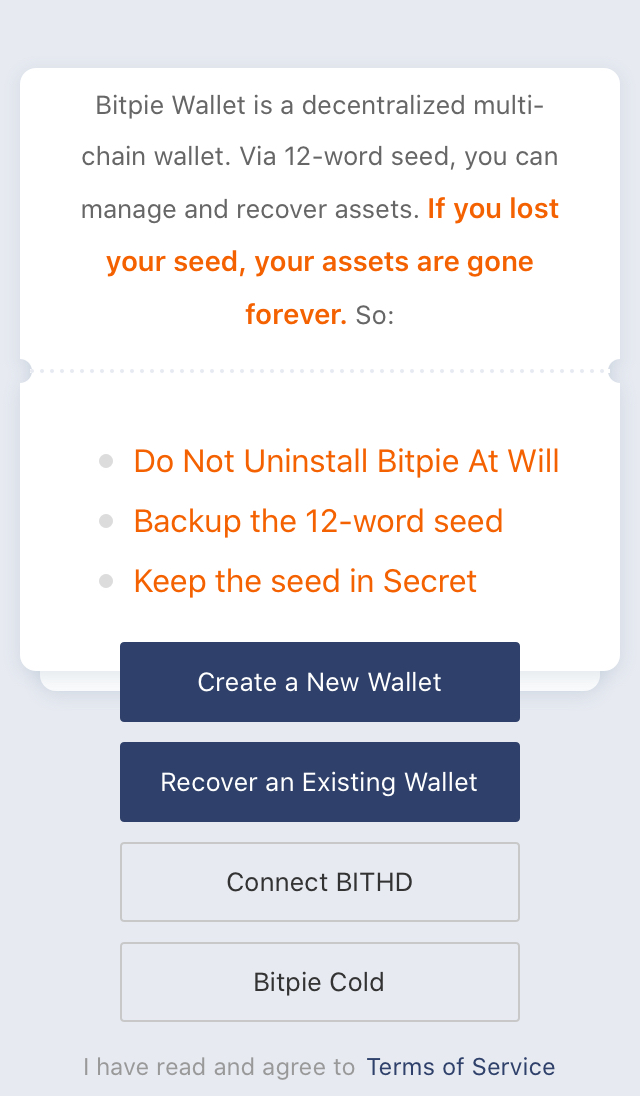 Read these simple rules that will help keep your funds in your wallet secure:
Remember to create a backup so you can restore your wallet to another device if your smartphone is lost, damaged, or stolen.
Store the seed phrase only on offline media (paper or special devices for storing mnemonic passwords) and do not share it with anyone.
Move on and click "Got it. Next".

Step 3. Create a backup
This step can be skipped, but it is better to save the seed phrase right away so as not to suddenly lose access to the wallet. This will keep your funds safe. Do not take a screenshot while recording the seed phrase. For maximum security, enable airplane mode for this time period. Click "I know" and then Bitpie wallet will display the seed phrase.

Step 4. Save your seed phrase
A seed phrase is a mnemonic password consisting of 12 pseudo-random words with which you can restore access to the wallet on another device. Write it down on paper in the same sequence as the phrase appears on the screen. Upper or lower case? Doesn't matter, just pay attention to the word order.
Now check if you wrote down the words correctly. Select words in the same order as you wrote them down. If the sequence is correct, proceed to the next step. Otherwise, go back and double-check if you wrote down the mnemonic password correctly. If not, rewrite it.

Step 5. Set your PIN
This is a required step that cannot be skipped. Enter and confirm a six-digit digital PIN for your wallet's additional protection so that no-one else can access it if they get hold of your smartphone. Install Touch ID on your smartphone for quick access (this way you won't need to enter your PIN when entering the wallet).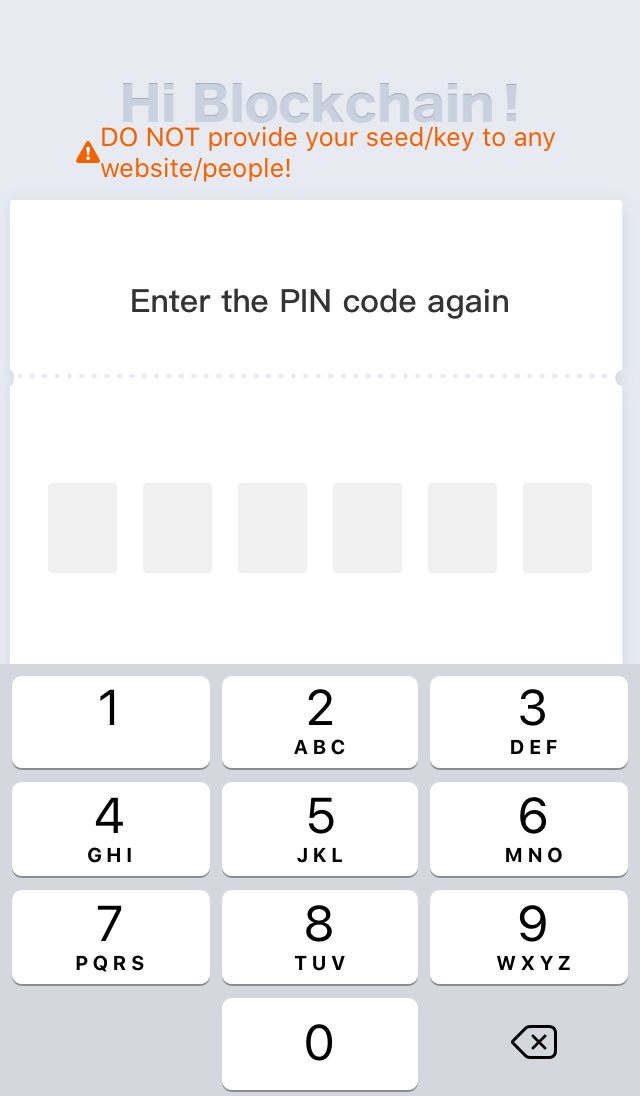 Step 6. Select the blockchain
Now choose the blockchain network in which you will work. In our case, this is ROSE (Oasis Rose).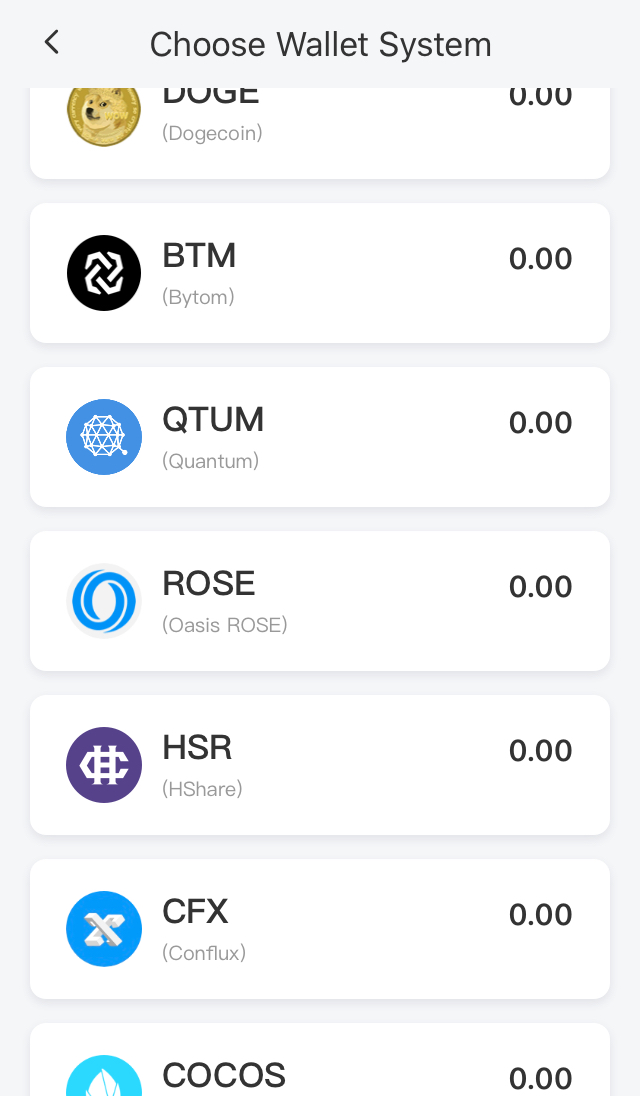 Done. The wallet has been created. Now we can add funds. Click the "Receive" button.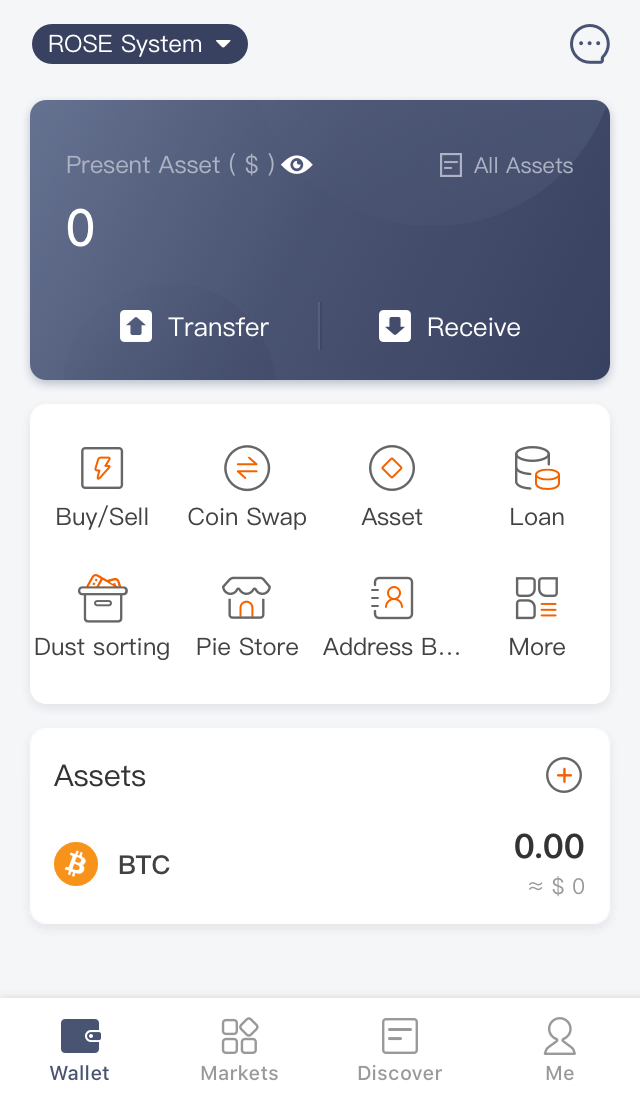 A QR code will appear with the wallet address. You can send it through instant messengers or by mail using the "Share" function, or simply copy the address to which you want to send ROSE tokens.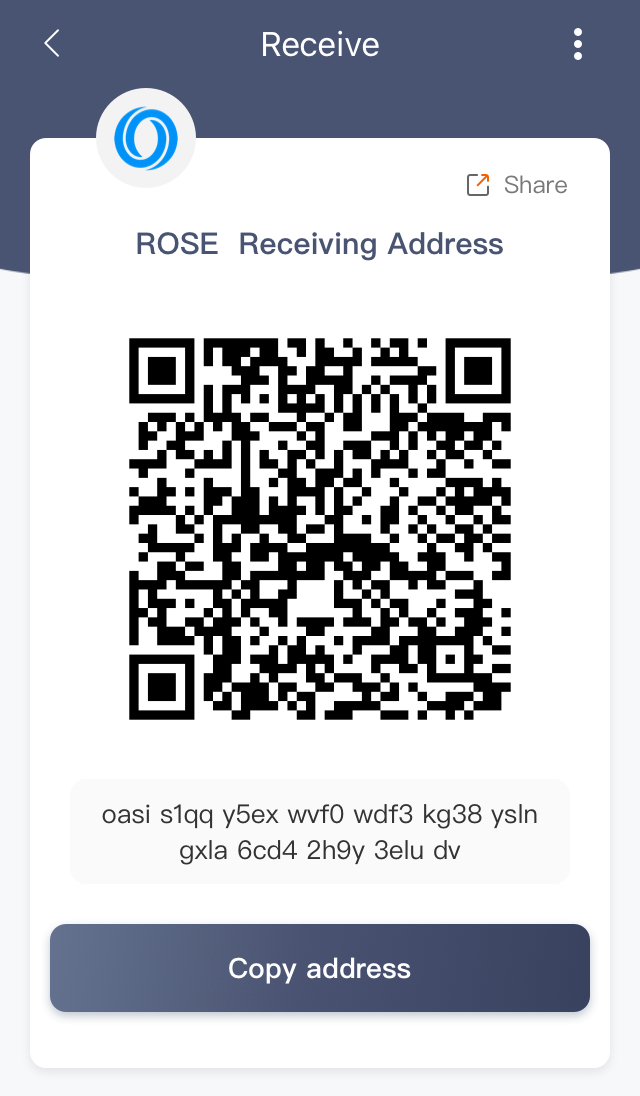 Funds have been added to the wallet. Moving on to ROSE staking.
How to stake ROSE tokens (Oasis Network)
In the Bitpie wallet, instead of "Staking", "Escrow" is used. Click on the "Escrow" section to start the token delegation process.

Step 1. Select a validator
Find the validator in the list to whom you want to delegate ROSE tokens, for example, Everstake, or start typing the name of the validator in the search bar to speed up the process.
Everstake is a reliable staking provider that develops staking monitoring solutions and actively supports PoS projects. The Everstake team has developed the Oasis Monitor block explorer that allows you to monitor network health and transactions in Oasis Protocol.

Step 2. Delegate tokens
On this page, you will find information about the number of delegated tokens and the number of delegators. Enter the number of ROSE tokens you want to stake and click "Ok".

Step 3. Confirm the transaction.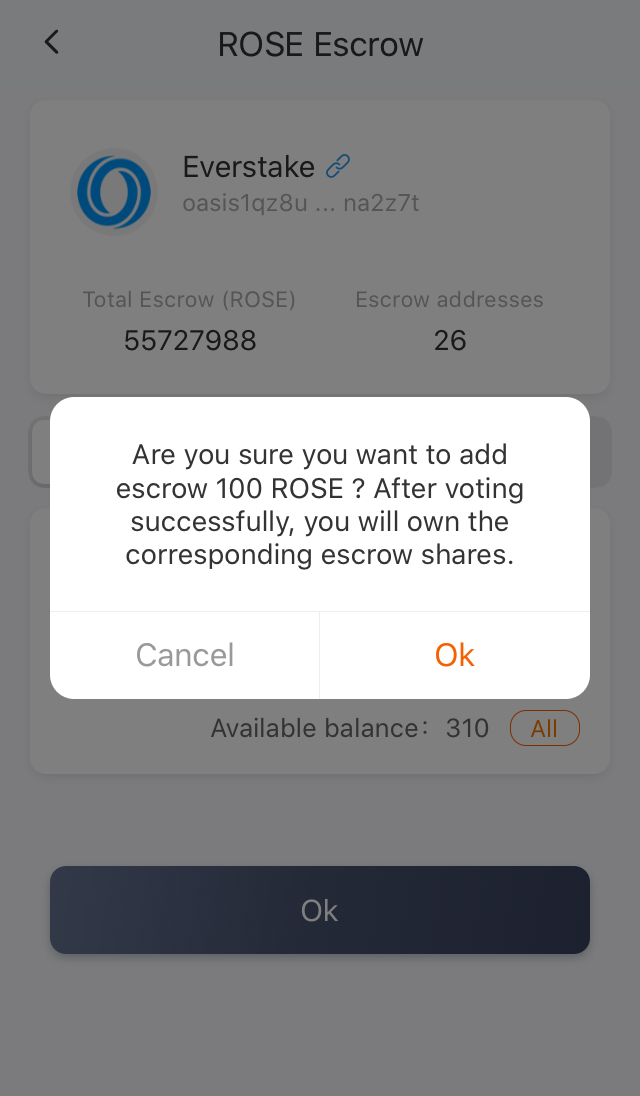 If everything worked out right, you will see the following message: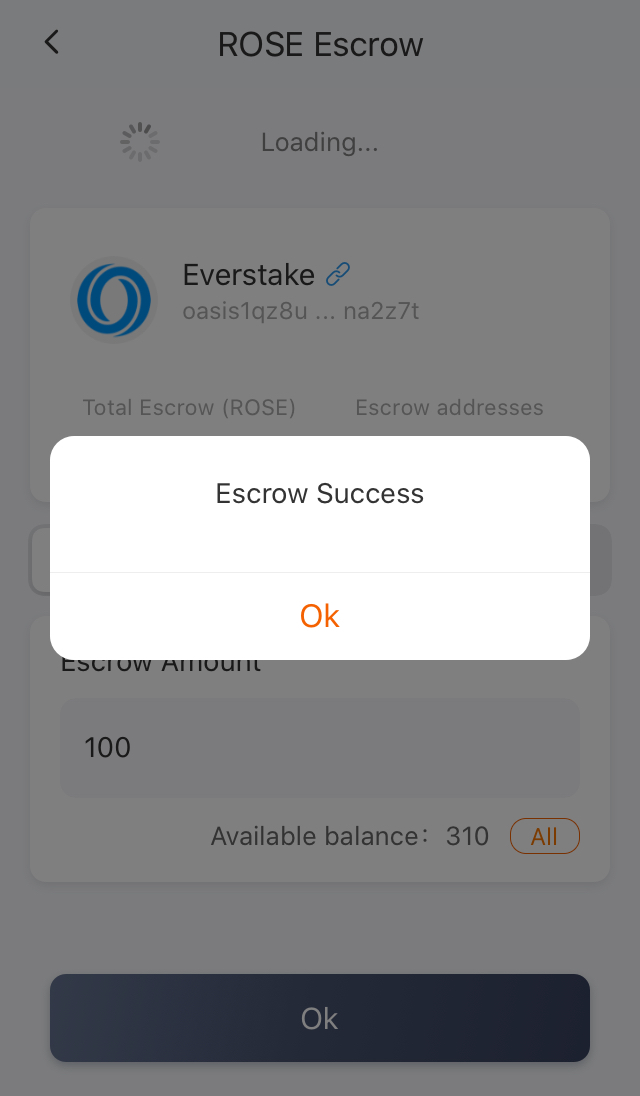 We have successfully staked ROSE tokens. Information about the current delegations and validators you voted for will appear in the "My Escrow" tab.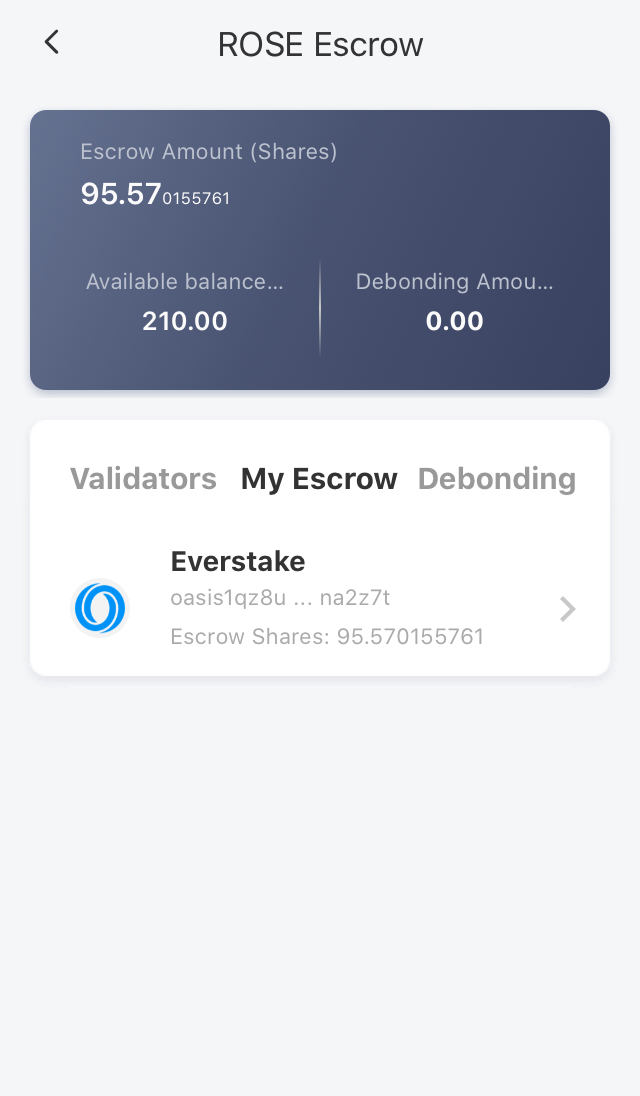 In the same section, you can withdraw tokens. Select a validator, indicate the amount you want to withdraw and click "Reclaim". It will be possible to withdraw tokens 14 days after delegation.
Subscribe to Everstake updates on social media. You will always be aware of important events and find useful staking guides.