Back to all posts
How to stake ROSE (Oasis Network) via official Oasis Wallets (Web and Browser Extension)
2021-11-17 10:17
Oasis Network, in simple terms, is a blockchain platform aimed at supporting users in utilizing secure data that can be controlled, accessed, and privatized by bringing privacy to the marketplace. Oasis Network, having been a privacy-first proof-of-stake decentralized network, solves fundamental problems pertaining to data security.
In this article, you can find more information about the Oasis Protocol and how it improves the Internet
Oasis network confirms its value by many successful use cases, and it also possesses a native token ROSE backing up these use cases.
Tokens can't possess functionalities without being stored in a secure place. Oasis has recently launched the official Oasis wallets (Web wallet and Chrome browser extension) that serve as a safe place to store and also stake ROSE.
Opening & Funding of the new Oasis web wallet/browser extension
You can either create your wallet via the wallet section on the Oasis website or through its extension on Chrome.
NB: The web wallet provides a mnemonic phrase of 24 words while the extension provides a 12 words mnemonic phrase. Remember to store it in a secure place.
We encourage you to read this crypto security guide to ensure the safety of your existing and future cryptocurrency wallets.
Opening an Oasis Web Wallet
Navigate to the wallet section on the Oasis website. You will have two options there: either to add an existing wallet or create a new wallet. To open a new account click 'Create wallet'.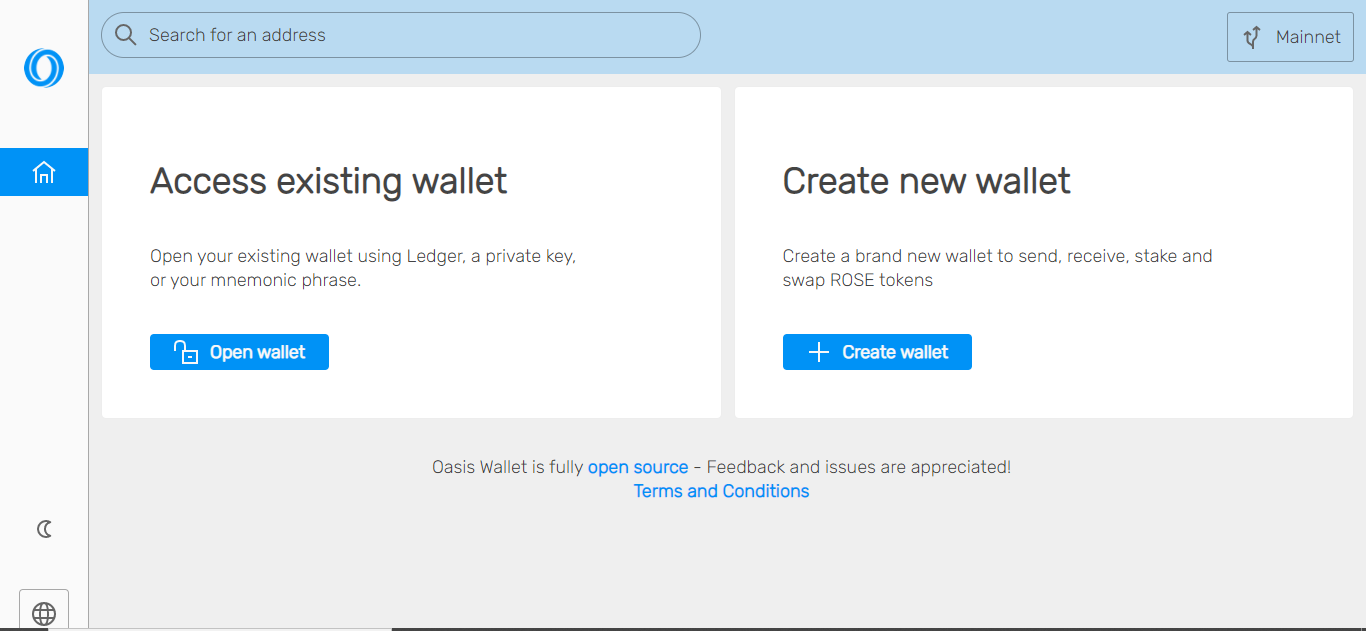 1. After clicking 'Create Wallet', a 24 mnemonic phrase will be displayed. If you feel you don't like the created mnemonics, you can generate another one and save it in a safe place. After saving your mnemonic, click the checkbox 'I saved my keyphrase' and click 'Open my wallet'.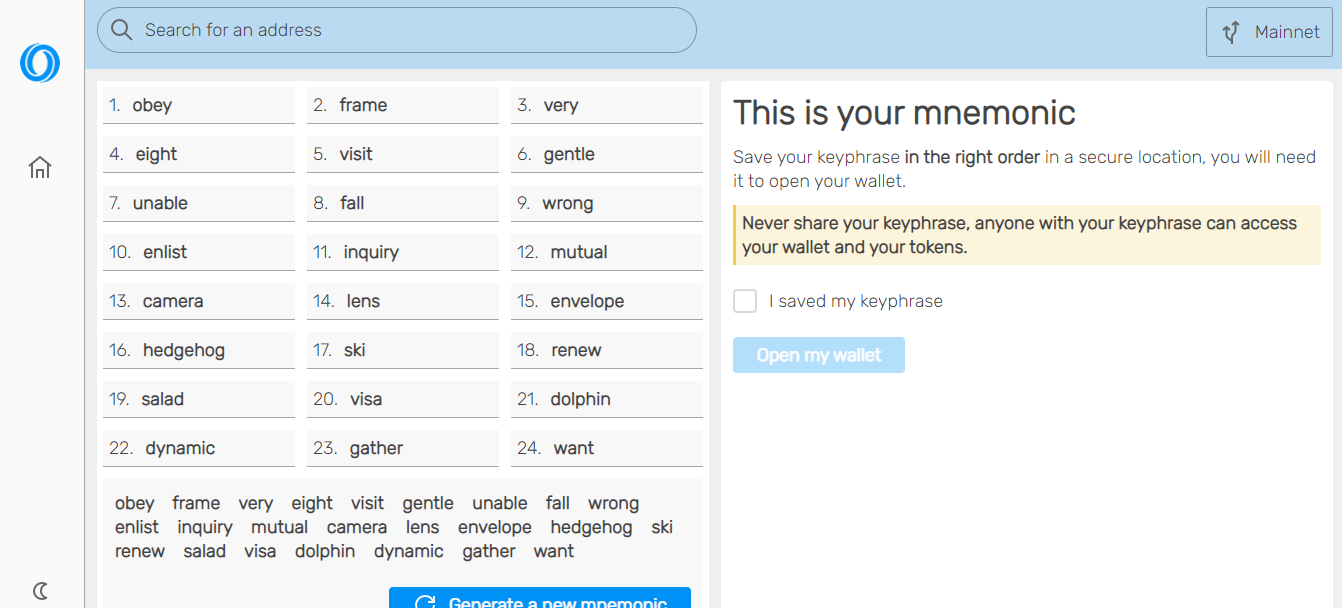 2. The final step is to confirm the mnemonics. Select the words assigned to the mnemonics you saved appropriately.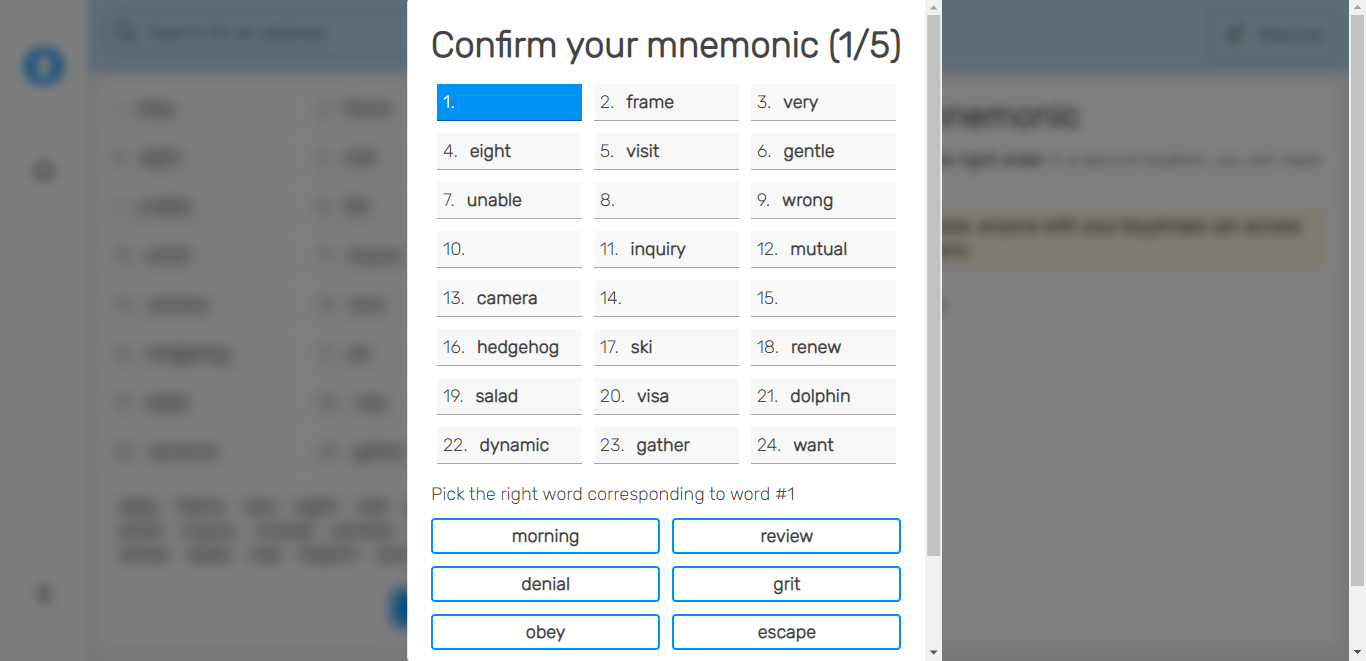 3. After this, your wallet will be created. You can now send and receive ROSE using the address generated.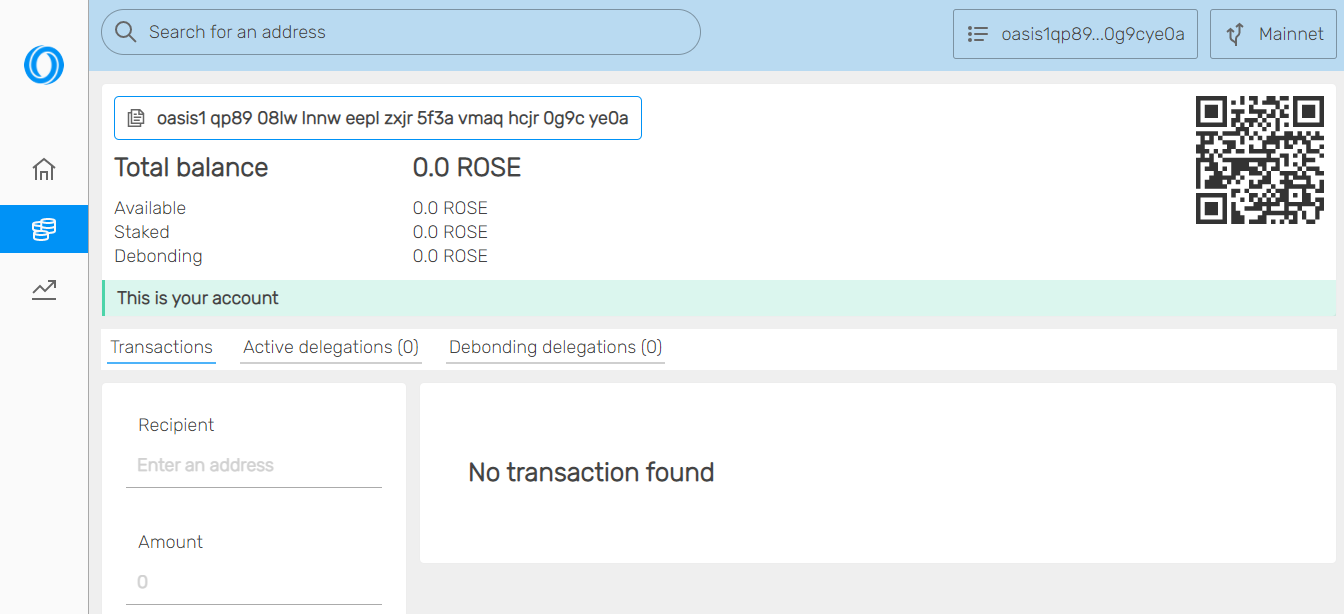 Installing the Oasis Wallet - Browser Extension

Using the extension, there's a 'Create Wallet' button. Click the button and create your security password. After clicking the checkbox below 'I understand that if I lose my password, I will not be able to access the assets' - > click 'Next' -> you will be asked to save the mnemonic phrase that's being displayed and to confirm backup.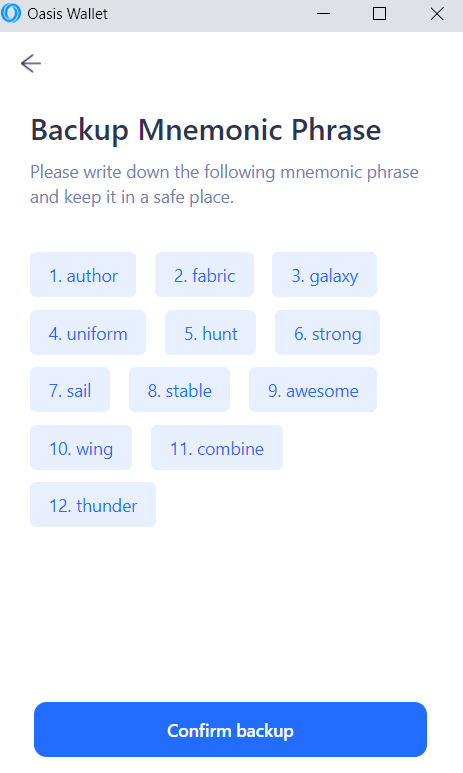 Now that you have successfully saved your mnemonic phrase, it's time to confirm it by picking the right word that corresponds to the word on your screen. Once successfully confirmed, you are already a bit closer to having ROSE funded.





The wallet address interface will be displayed to you with the amount available, active delegations, and debonding delegations.
Funding of the Oasis Wallet
ROSE is tradeable on several top exchanges like Binance, Kucoin, Gate, Coinlist, and many more. Once ROSE is bought on any of the listed exchanges, it can be withdrawn to the ROSE address generated on the newly created wallet. All you need to do is to copy your address and then transfer ROSE to your Oasis web wallet/browser extension.
Check CoinMarketCap to find all of the available exchanges
Staking ROSE
Now that there are funded ROSE in the created wallet, the users can participate in the delegation of their ROSE token to earn rewards through staking and at the same time contribute to the security of the network.
It is very easy to stake ROSE either via the web wallet or the browser extension. Let's dive deeper into the staking process.
Using the Web Wallet
Navigate to the '

Stake

' section on the Oasis web interface, where you will see top validators, active delegations, inactive delegations, and all transactions made via the wallet. Everstake is one of the top validators that offers reliable staking service.

Scroll down a bit and select the validator you want to stake with, for example, Everstake.


You can now participate in staking by delegating ROSE tokens ( greater than or equal to 100 ROSE) to the selected validator.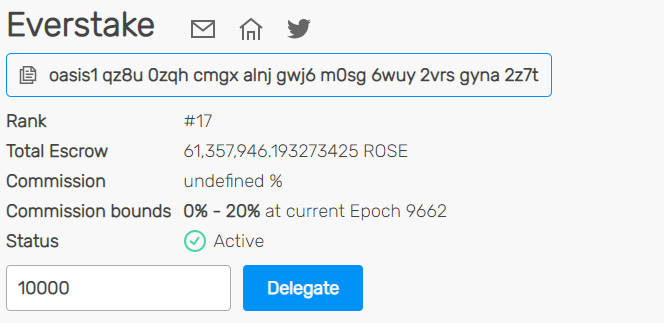 After delegation, take a good rest while Everstake takes over the safety of your tokens and future rewards.
Using the browser extension
First, navigate to the 'Staking' section (the bottom bar) and click on 'Validators', where you will get to see active and inactive validators.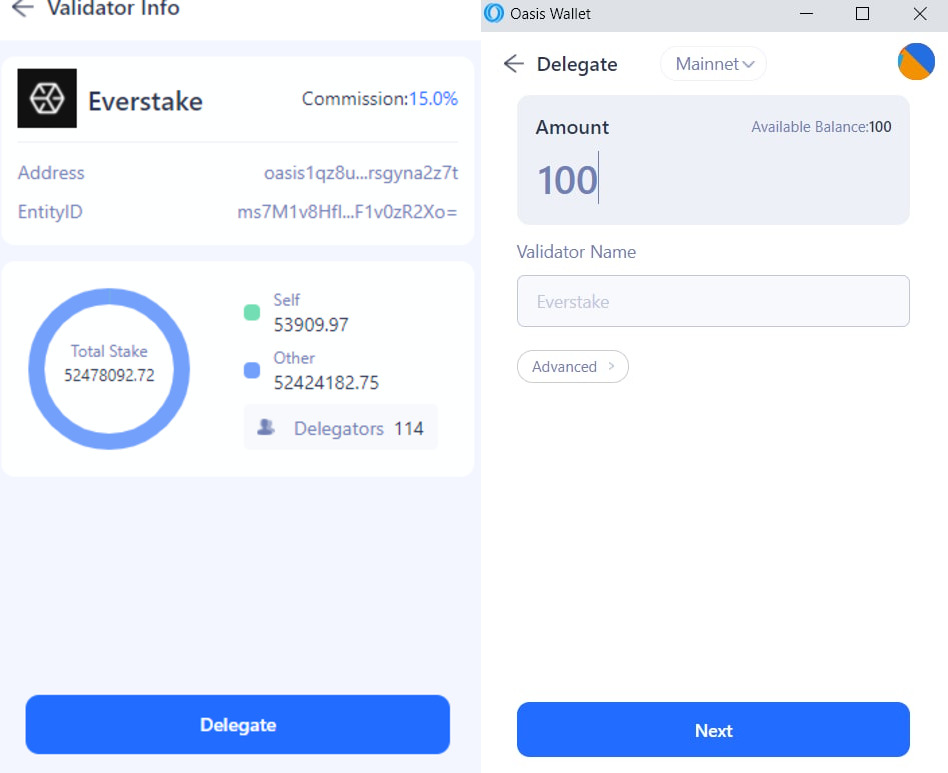 Select the validator you want to stake with and delegate the amount of ROSE you want to stake, confirming your choice.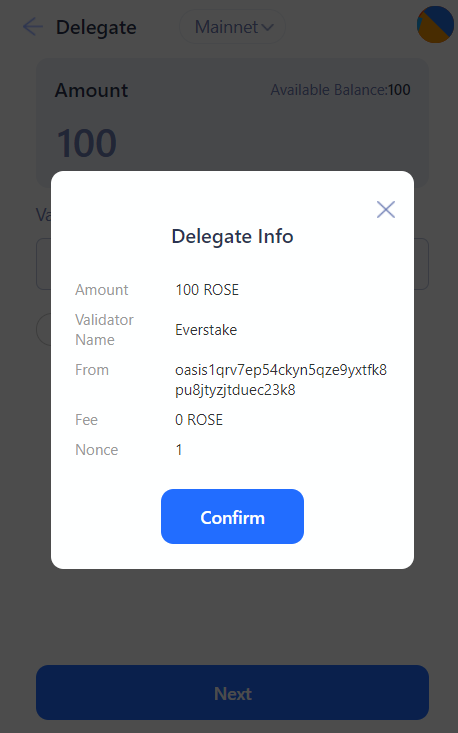 The Everstake team has also developed Oasis-monitor - Oasis blockchain explorer with a user-friendly UI for the Oasis Network where ROSE delegators can view details of any individual transaction, monitor their balance and rewards, as well as the main statistics of the network validators.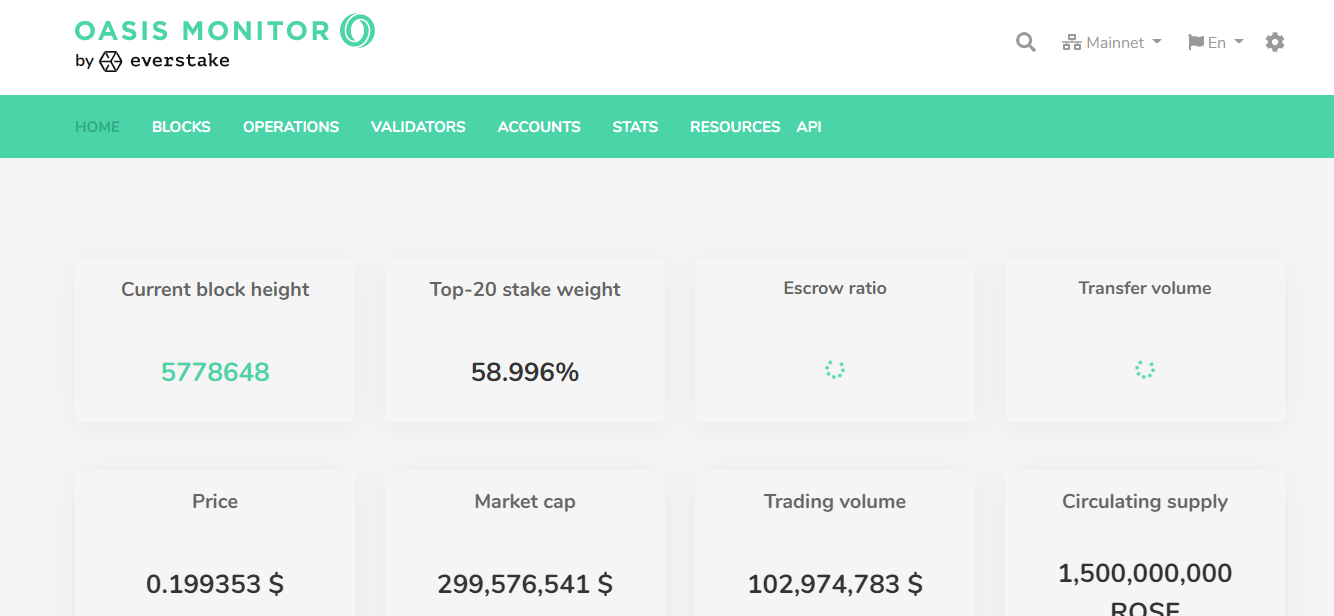 Access the Oasis blockchain explorer here: https://oasismonitor.com/
Knowing what's going on with your stakings even got better as you don't necessarily need to go to the wallet to see your staking information. You can see all information just by searching your address on the Oasis Monitor.
Everstake is a trustful staking provider run by an experienced team that is actively involved in various crypto projects, develops solutions to improve the process of handling PoS blockchain, and provides validator services.
The Everstake team strives to simplify the delegation process for token holders and provide convenient services for staking. Newbies will find useful guides in different languages that will help to figure out how to stake certain tokens in various crypto wallets.
ROSE holders can also stake their tokens using either the Bitpie Wallet or RockX wallet & Ledger.
Check out our step-by-step guides on how to stake ROSE:
Follow our social media for important announcements and helpful guides!