Back to all posts
How to stake Tezos (XTZ) using Temple Wallet
2021-05-06 11:47
Tezos has over time become one of the largest open-source blockchains powered by smart contracts. Developers can create their own decentralized applications on top of this network or become validators to improve its security. Ordinary users can also contribute by staking a cryptocurrency, that is, delegating it to validators, and receive income.
This guide will show you how to stake Tezos using the Temple Wallet browser wallet.
A brief overview of the Temple Wallet
Temple Wallet is a convenient browser-based Tezos-wallet as a browser extension with simple functionality that enables any user, even a beginner, to easily start using cryptocurrencies (storing, transferring and staking) them. This wallet is available in Google Chrome, Mozilla Firefox and Brave Browser. It is also planned to soon add this wallet to Opera, Microsoft Edge, Vivaldi and Yandex Browser.
In this wallet, you can create and import multiple accounts at once. This is useful for those who use separate wallets for different purposes and platforms. Plus, it's safe. For example, if you store a large amount in Tezos tokens, you can set aside a separate wallet to use it to work with DeFi protocols. In the event that the smart contract belonging to the DeFi platform is hacked and your funds are stolen from the wallet, other wallets will not be affected.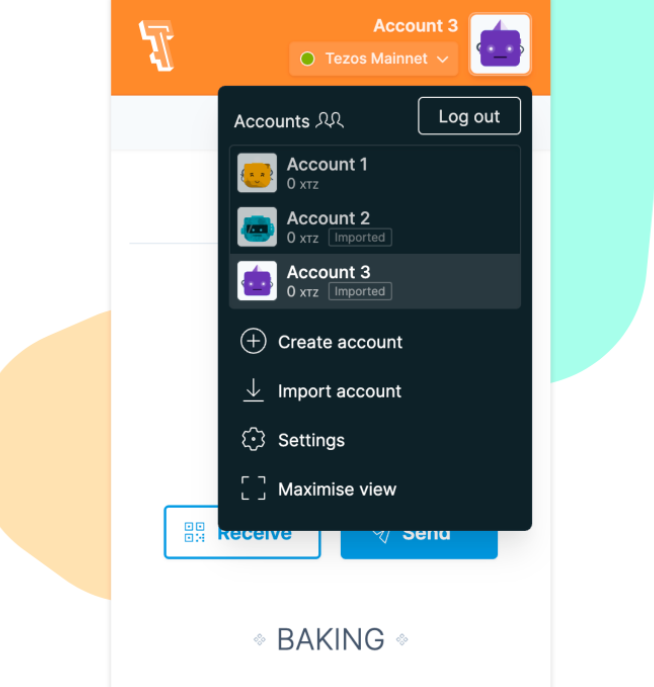 1. How to create a wallet

Open the Temple Wallet download page, select the version for your browser, and click Install.
The app store for your browser will open. Click Add to Chrome or Instal, depending on which browser you are using.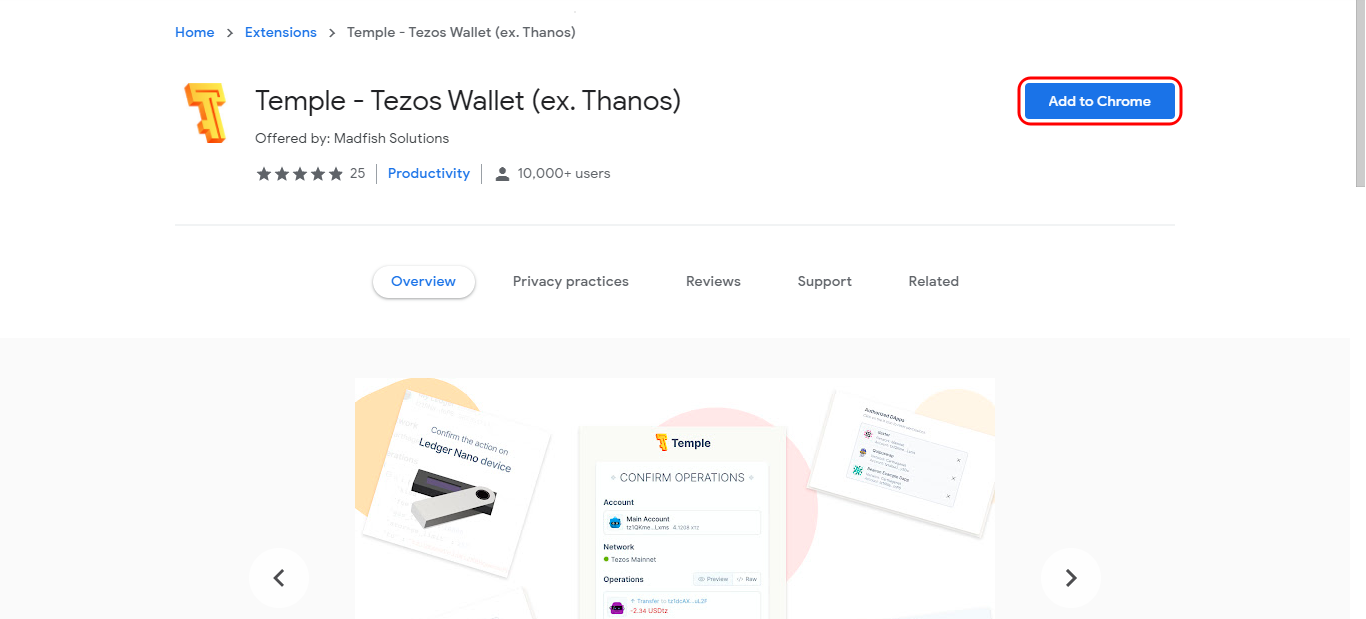 After installation, the wallet start page will open. Click Create New Wallet.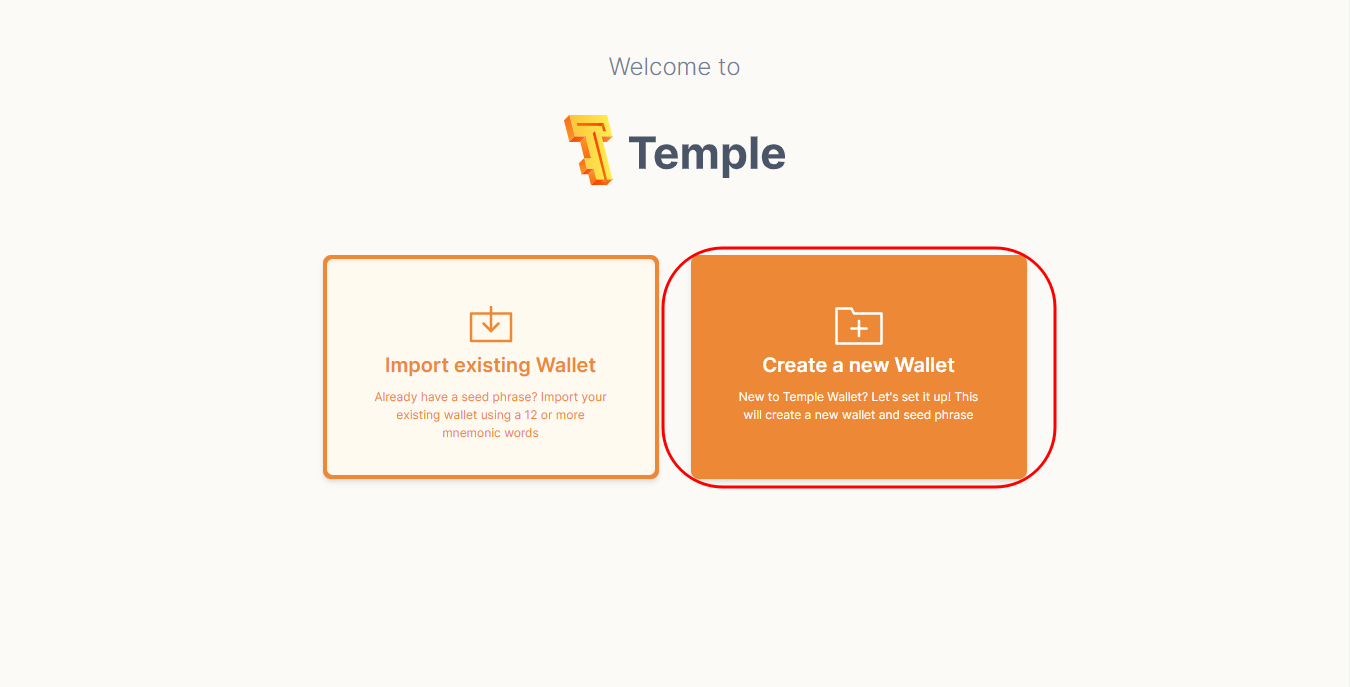 Come up with a strong password for your wallet. This will prevent access if someone from the outside of your system gains access to your computer. Then accept the terms of the user agreement and click Create.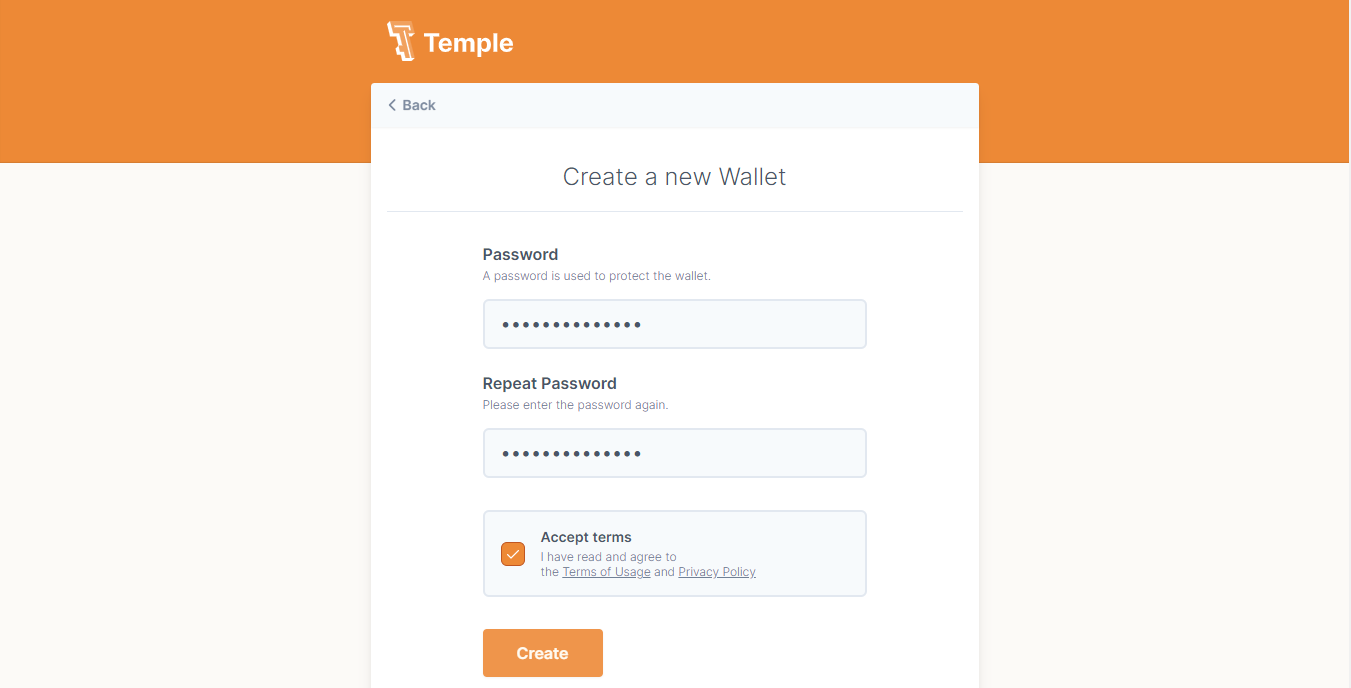 Save your seed phrase. Click on the area with the backup phrase to display it, and then write it down on paper. You need to store the mnemonic phrase in a secure place because without it you will not be able to restore the wallet if you suddenly forget your password or something happens to your device. Do not share your seed phrase with anyone. It is only needed to restore access to the wallet funds.

After you have created a backup, check the box next to I made a Seed Phrase backup and click Continue.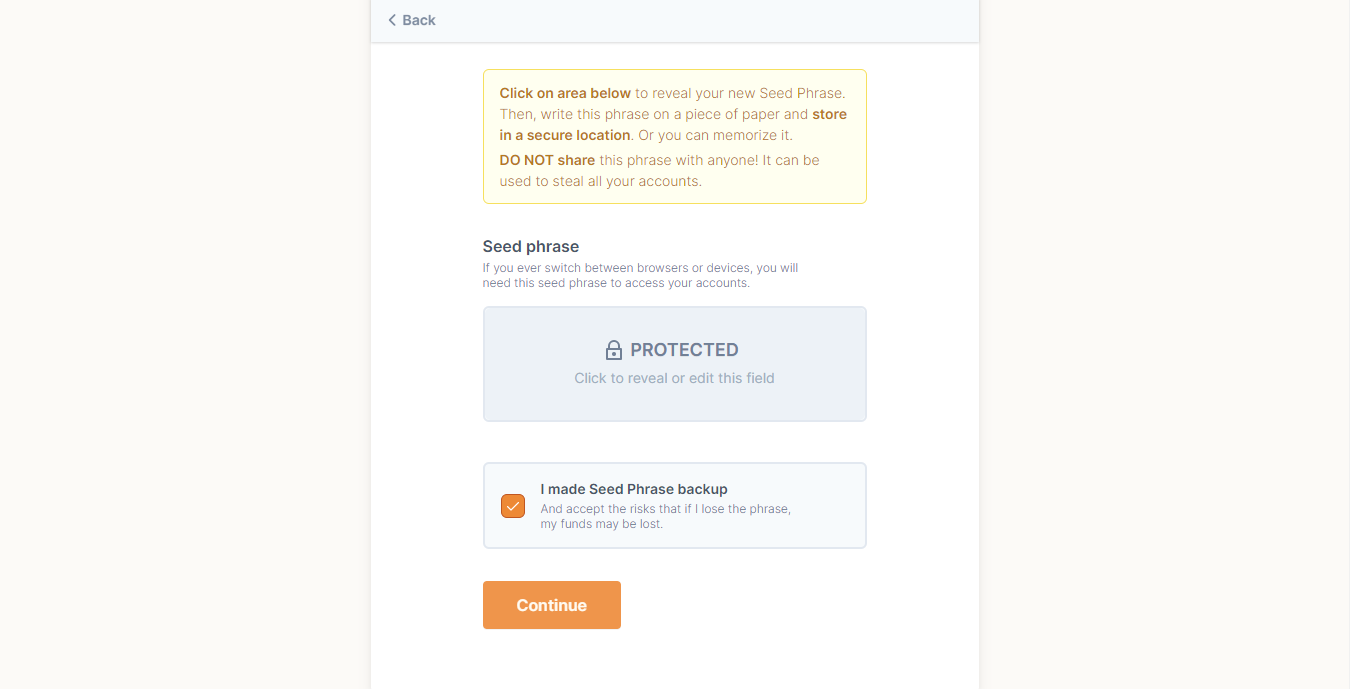 The wallet is ready. The developers propose to allow you to collect information about how you use the wallet anonymously. The company does not store or use users' private keys and other private information. This is a voluntary step. You can agree to this by clicking Confirm or reject the offer by clicking Cancel.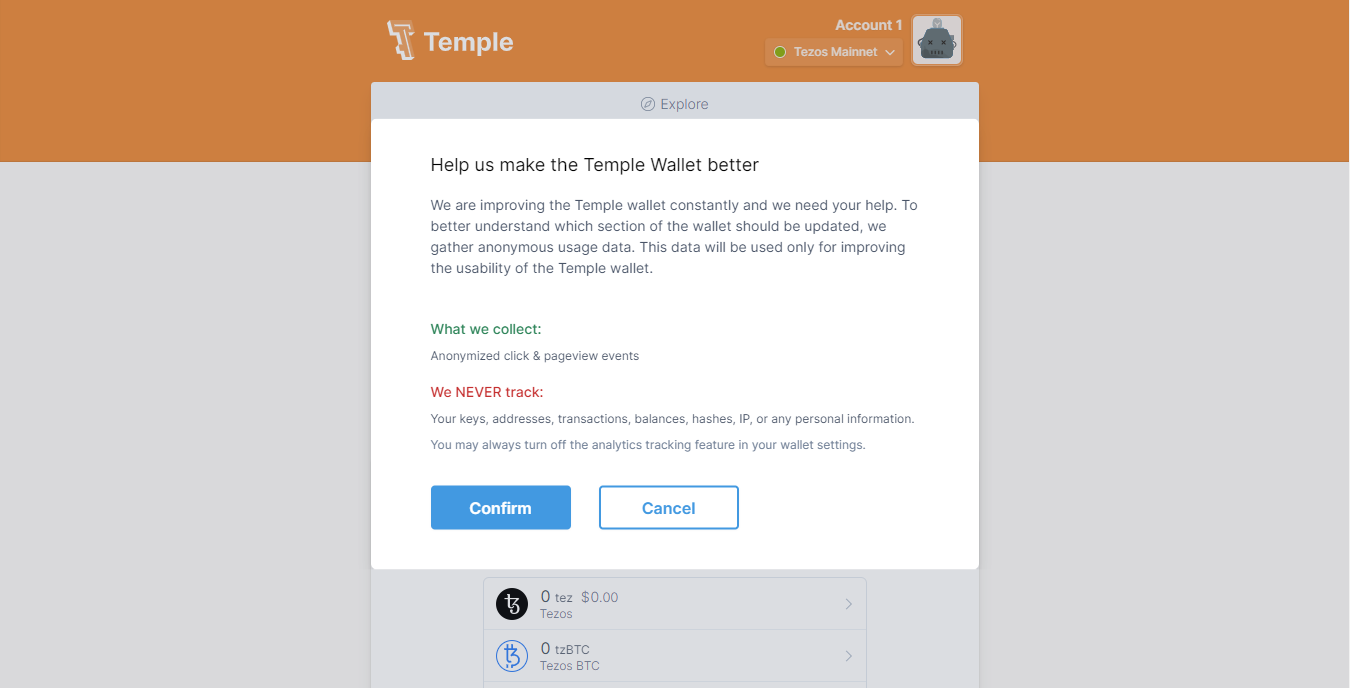 2. How to top up the wallet
The wallet has been created, but you need to top up it before staking XTZ. Simply click the Receive button to receive the Tezos wallet address.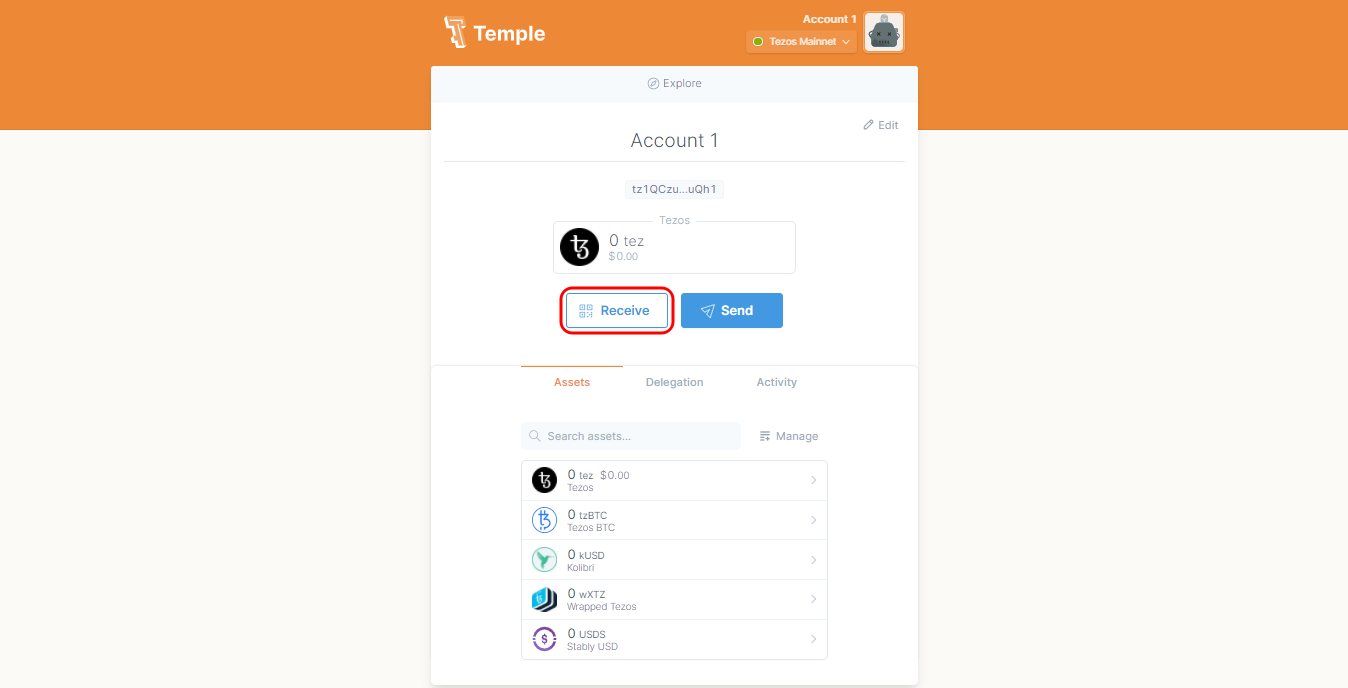 Let's continue. To add funds, copy by clicking Copy to clipboard and send the address to whoever is the recipient or scan the QR code. As soon as you fund your wallet, you can proceed to the final stage, which is staking.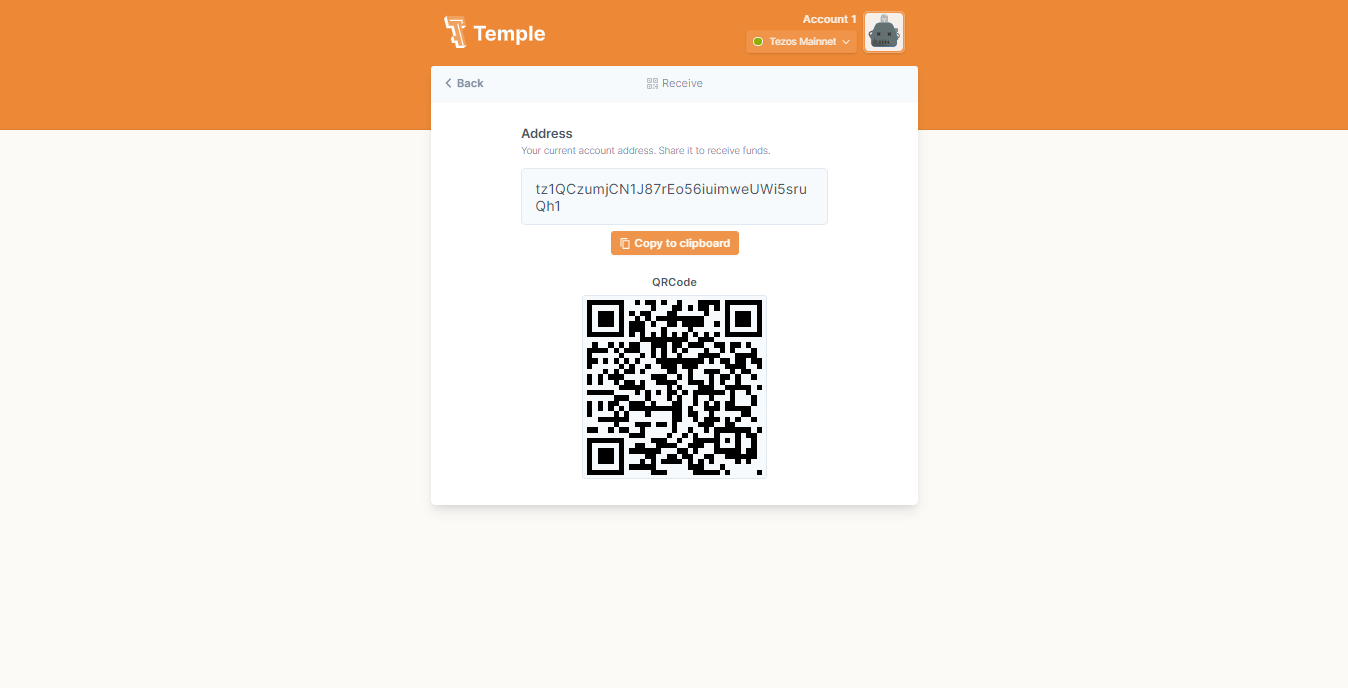 The coins are in your wallet and ready to be staked.
3. How to stake Tezos
Go to the Delegation tab.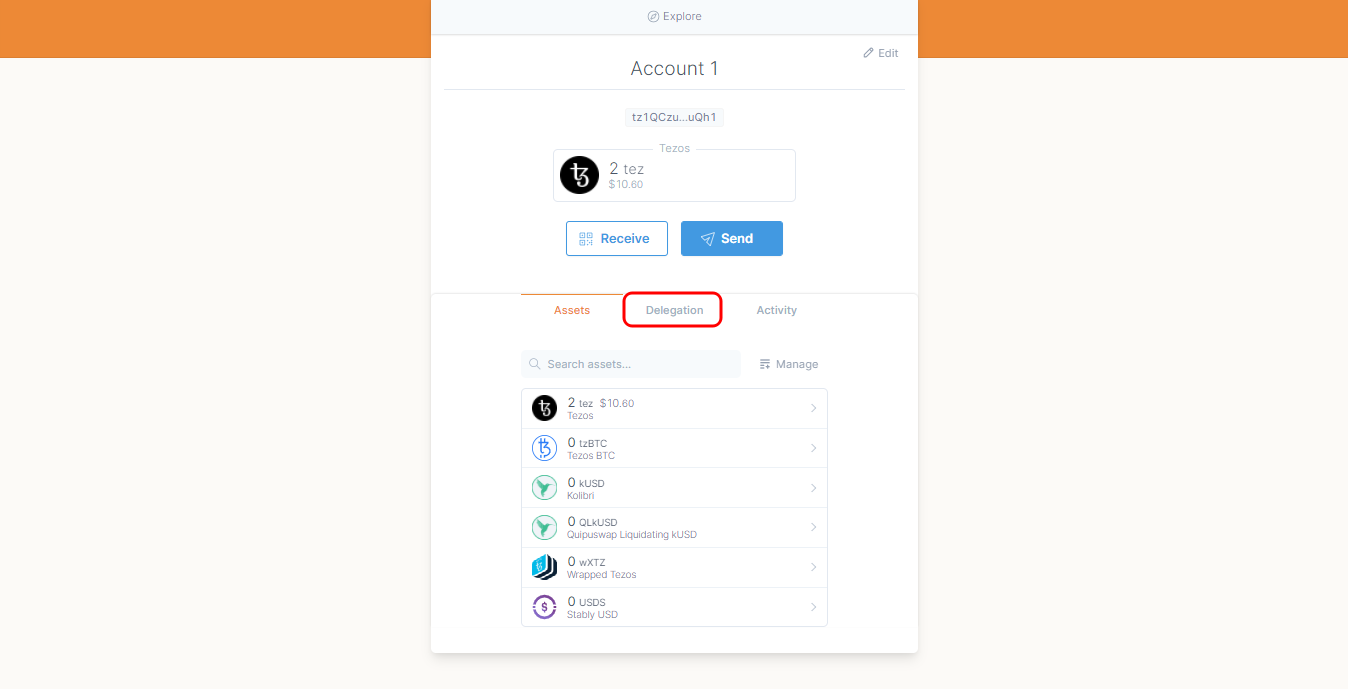 A section will open where you can stake XTZ. Click Delegate Now to continue.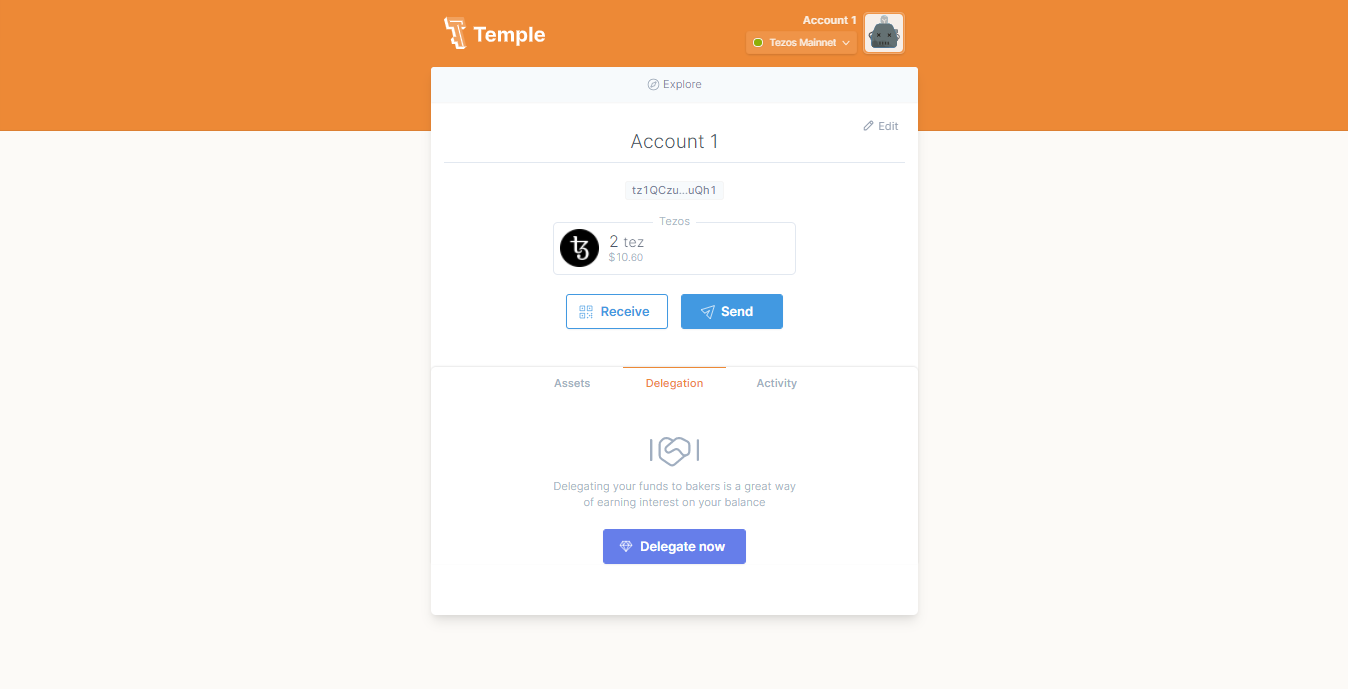 Enter the number of tokens you are going to stake and select the baker to whom you are delegating the coins. You can sort the lists by different parameters. Choosing Everstake as your staking provider is very reliable (plus features low commissions).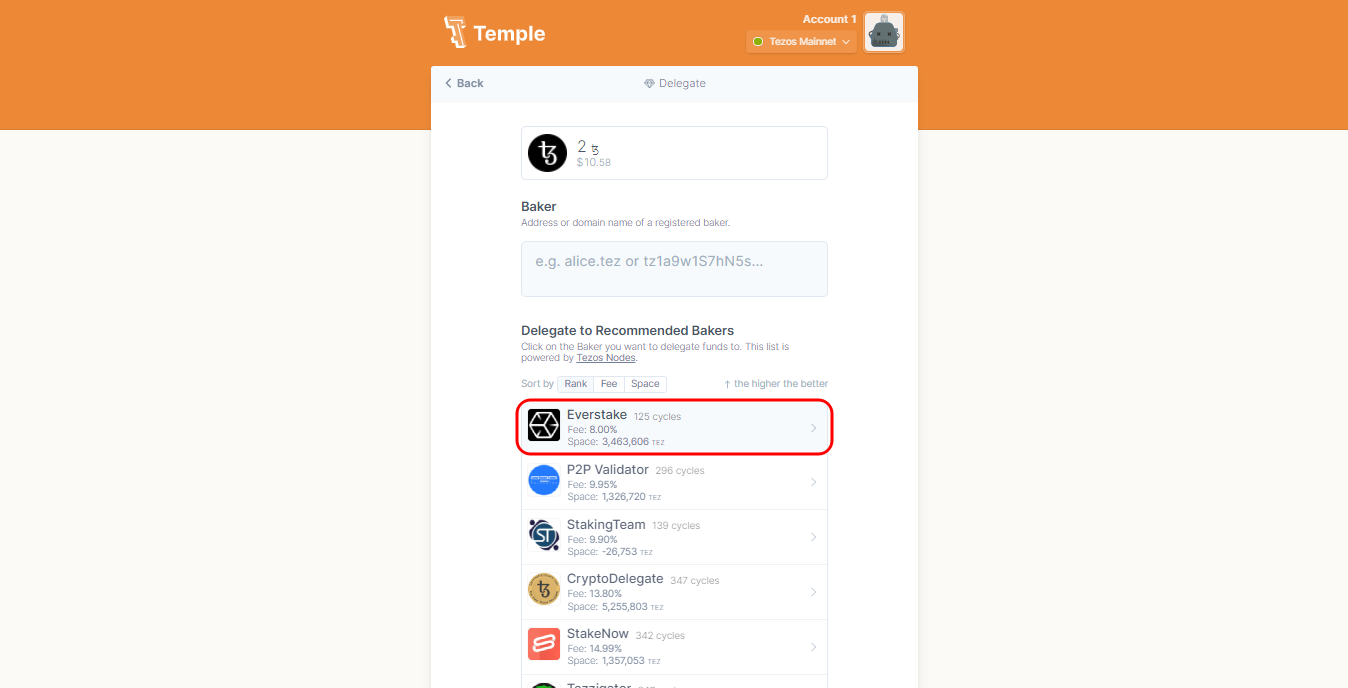 Now that you have selected a baker, set the commission. The more commission you pay, the faster your tokens will be staked and the faster you'll start receiving rewards.
You can stake the whole amount at once. When delegating /undelegating, the commission will be automatically deducted from the staked amount. That is very convenient and you do not need to worry that you do not have enough tokens in your wallet to pay commissions. When you're ready to proceed, click Delegate.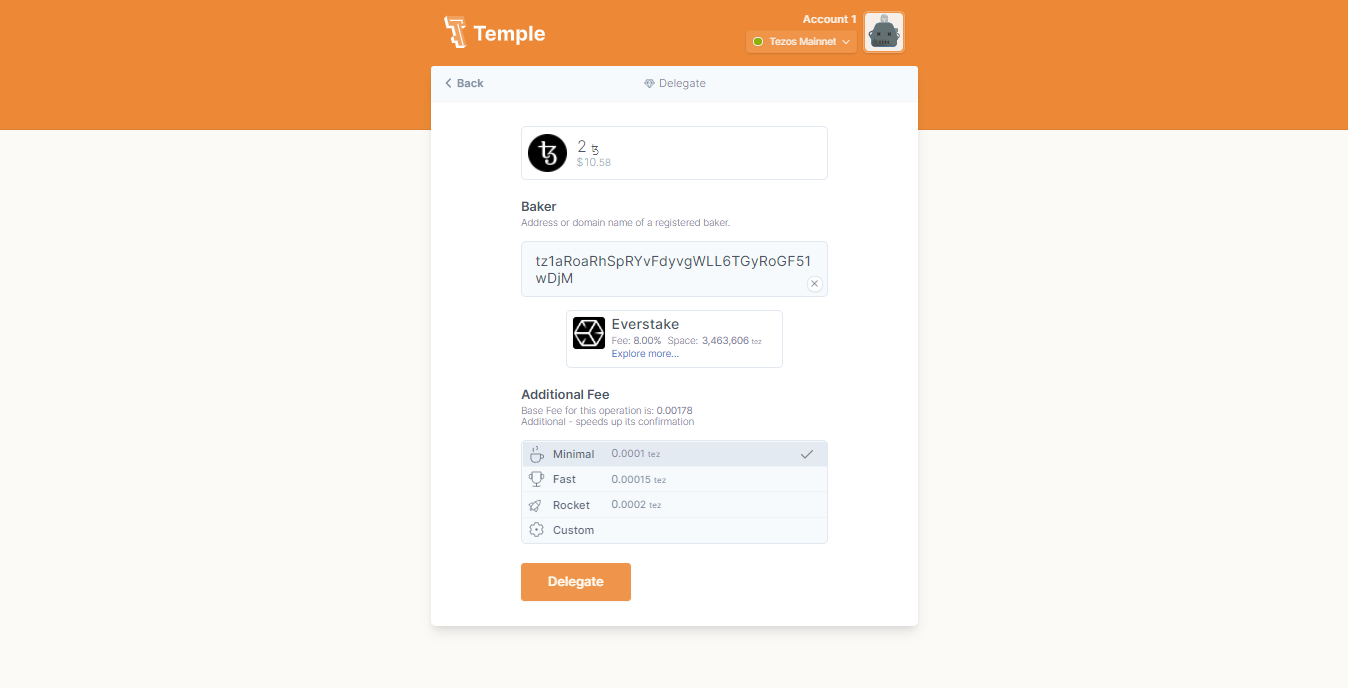 Confirm the transaction. After it is sent to the network, you need to wait a little before it is added to the block and written to the blockchain.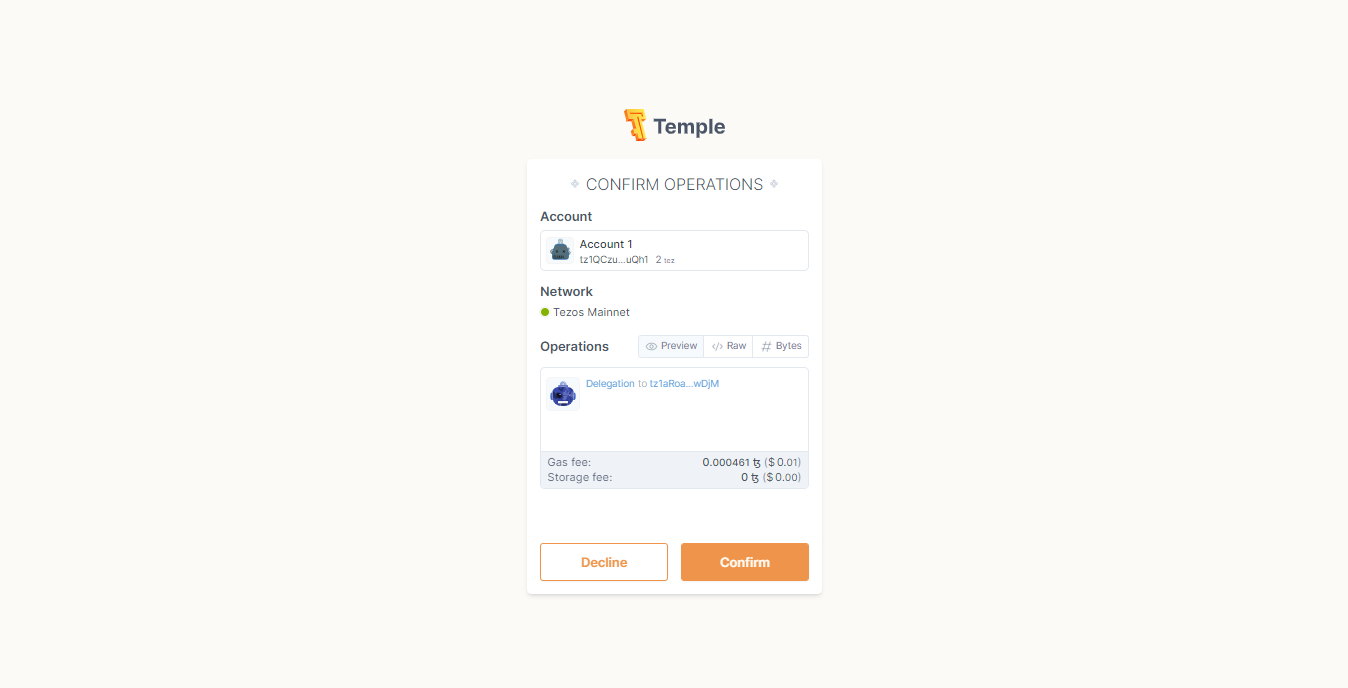 The Temple Wallet status will be updated as soon as the validators confirm the transaction.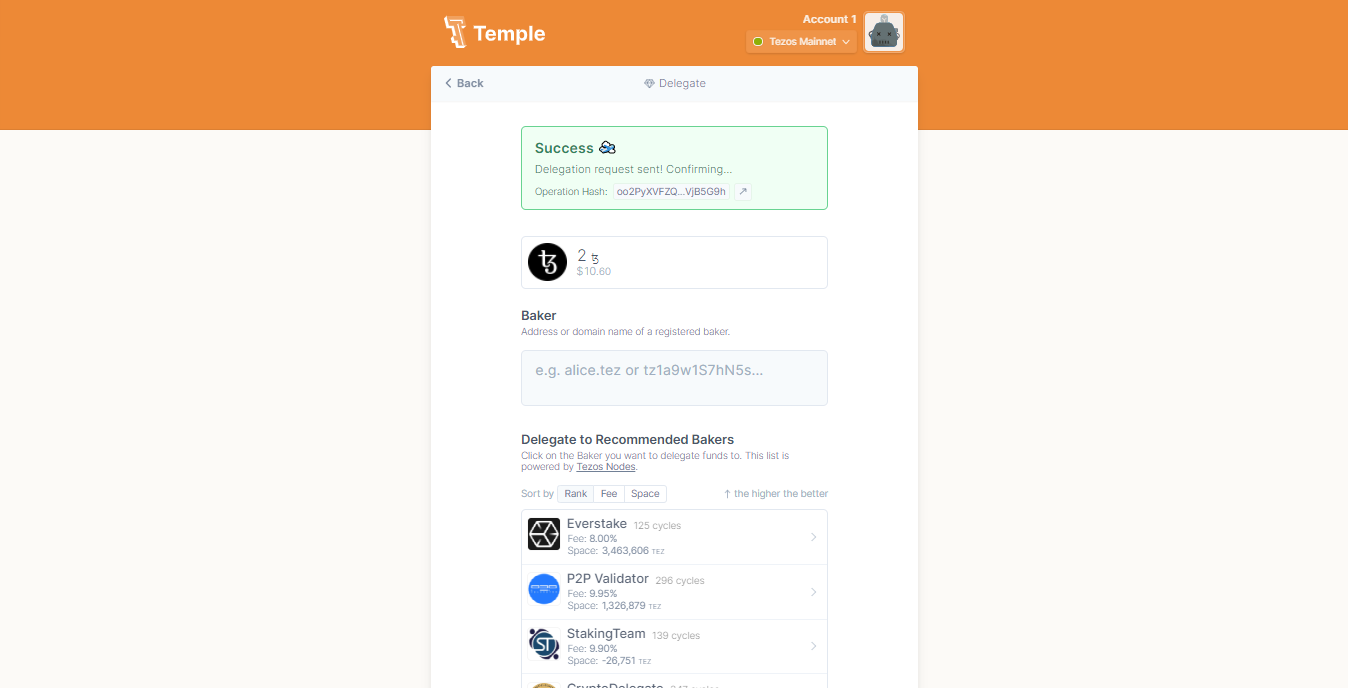 When the coins are staked, you will see the following picture: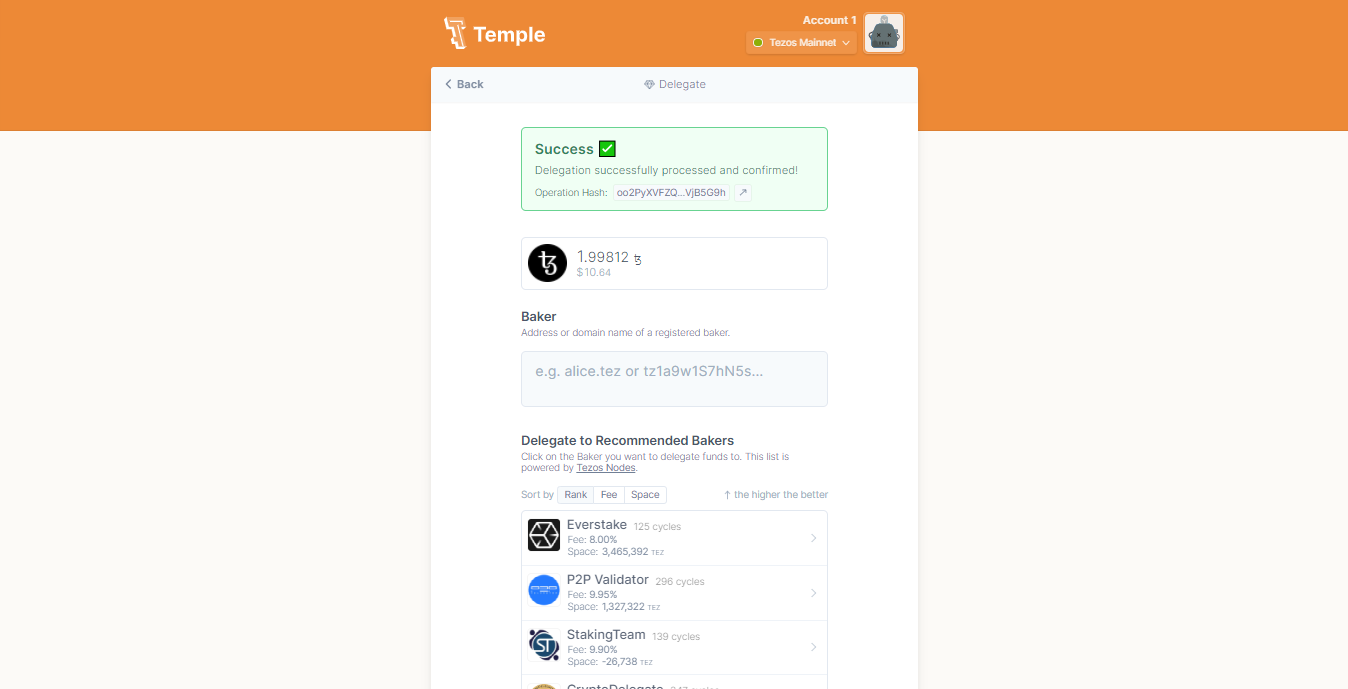 XTZ is delegated. Go back to your wallet. On the Temple Wallet home page, you will see your active delegation. You can re-register tokens at any time. Rewards will be reassigned automatically.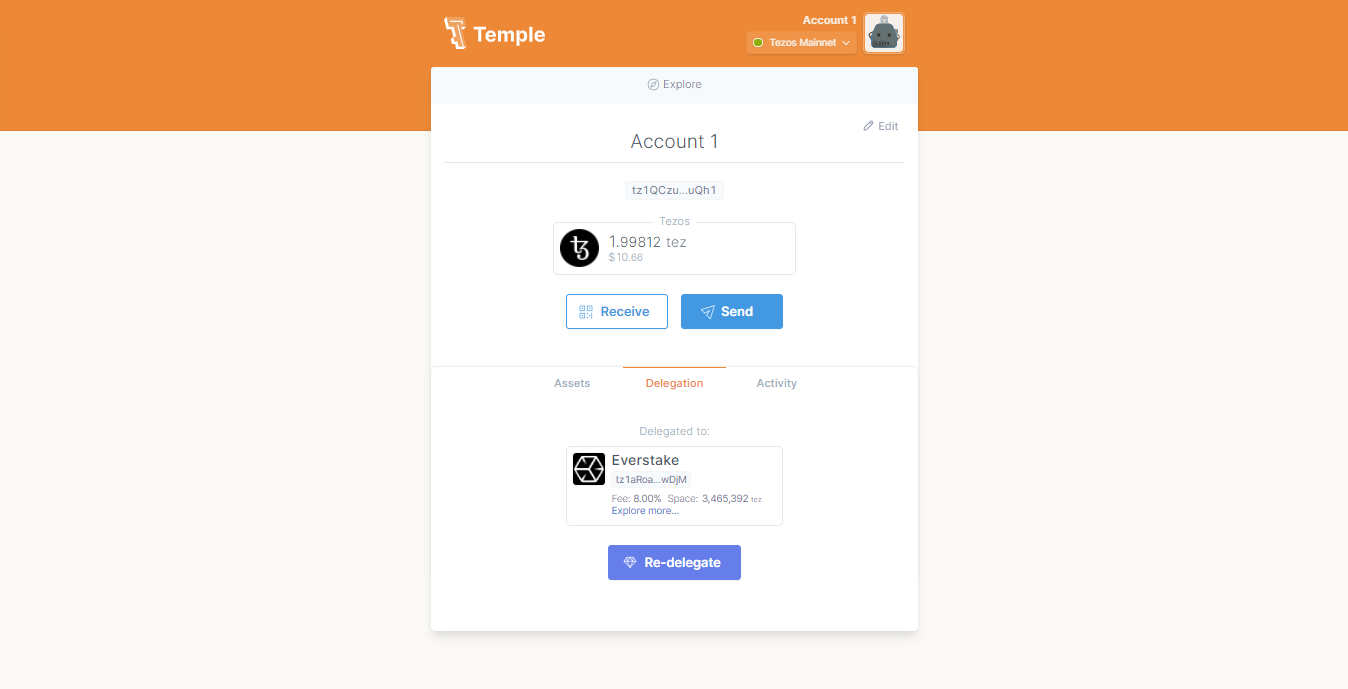 Good to know:
What is the minimum stake for Tezos?
Tezos has no staking restrictions. But you should set up your delegation so that its rewards can cover the cost of commissions. Therefore, the more XTZ tokens you stake, the lower the commission costs as a percentage.
When can I withdraw XTZ and use the tokens in my wallet?
Coins are released as soon as the transaction is confirmed in the Tezos network by validators.
How much can I earn by staking Tezos?
The profitability depends on two factors: the price of the cryptocurrency and the number of staked coins—the more coins users stake, the lower the profitability and vice versa. The current staking yield is 5.46%. The price of cryptocurrency depends on demand and can both rise and fall.
Why Everstake?
Bakers are responsible for the security of the network. If you choose the wrong baker who goes offline frequently, your rewards will diminish. Therefore, choose only reliable and trusted bakers such as Everstake. In this case, you will receive rewards regularly and without interruption since Everstake's uptime reaches almost 100%.
Everstake has launched validators on major PoS networks such as Polkadot (DOT), Cosmos (ATOM), Chainlink (LINK), Cardano (ADA), etc. In addition, the team carefully selects projects whose prospects it's confident about. Choose Everstake to make your staking profitable! Everstake is trusted by over 625K crypto enthusiasts, including 54K Tezos delegates. Everstake is the largest baker on the Tezos network; moreover, we have accepted more than $6.2Bn in digital assets!
Join Everstake on social networks and stay tuned on our channel. Good luck!