Back to all posts
How to stake Tezos (XTZ) with CoolWallet
2022-07-22 15:41
This guide will explain how to stake XTZ using CoolWallet.
What is Tezos (XTZ)?
Tezos is a Liquid Proof-Of-Stake (LPoS) blockchain platform launched in 2018. Its ecosystem has a large organic community of developers.
Tezos validators are called bakers. Users can delegate XTZ tokens to them and receive rewards.
What is CoolWallet?
CoolWallet is a hardware wallet and a perfect tool for Tezos staking. It utilizes advanced security technologies such as physical and biometric verification and military-grade Bluetooth connection (AES 256). A private key is locked within EAL6+ secure element, and all transactions must be physically confirmed with a hardware wallet and a phone. Thus, only a wallet owner can withdraw assets.
How XTZ staking works
When staking XTZ, you delegate an address rather than send tokens to a validator. The address gets paired with a baker — bakers stake at least 6000 XTZ.
The entire amount of XTZ in the wallet is staked, but you can still perform regular transactions. The rewards are calculated on the date of distribution based on the wallet balance. Rewards are automatically sent directly to your address in CoolWallet.
The amount of staking reward depends on multiple factors: block times, transaction fees, etc. At the time of writing, XTZ staking offers 6.09% APY.
Initial rewards get locked in the network for about 30 days before being sent to a baker. Depending on the baker's operating conditions, it usually takes 44 days before users get their first rewards. But from this point, rewards are sent to the delegated address every 2-3 days.
How to stake with CoolWallet
Create a wallet and top it up
Download CoolBitX App and open CoollWallet Pro.
Click "Marketplace" at the bottom of the home page.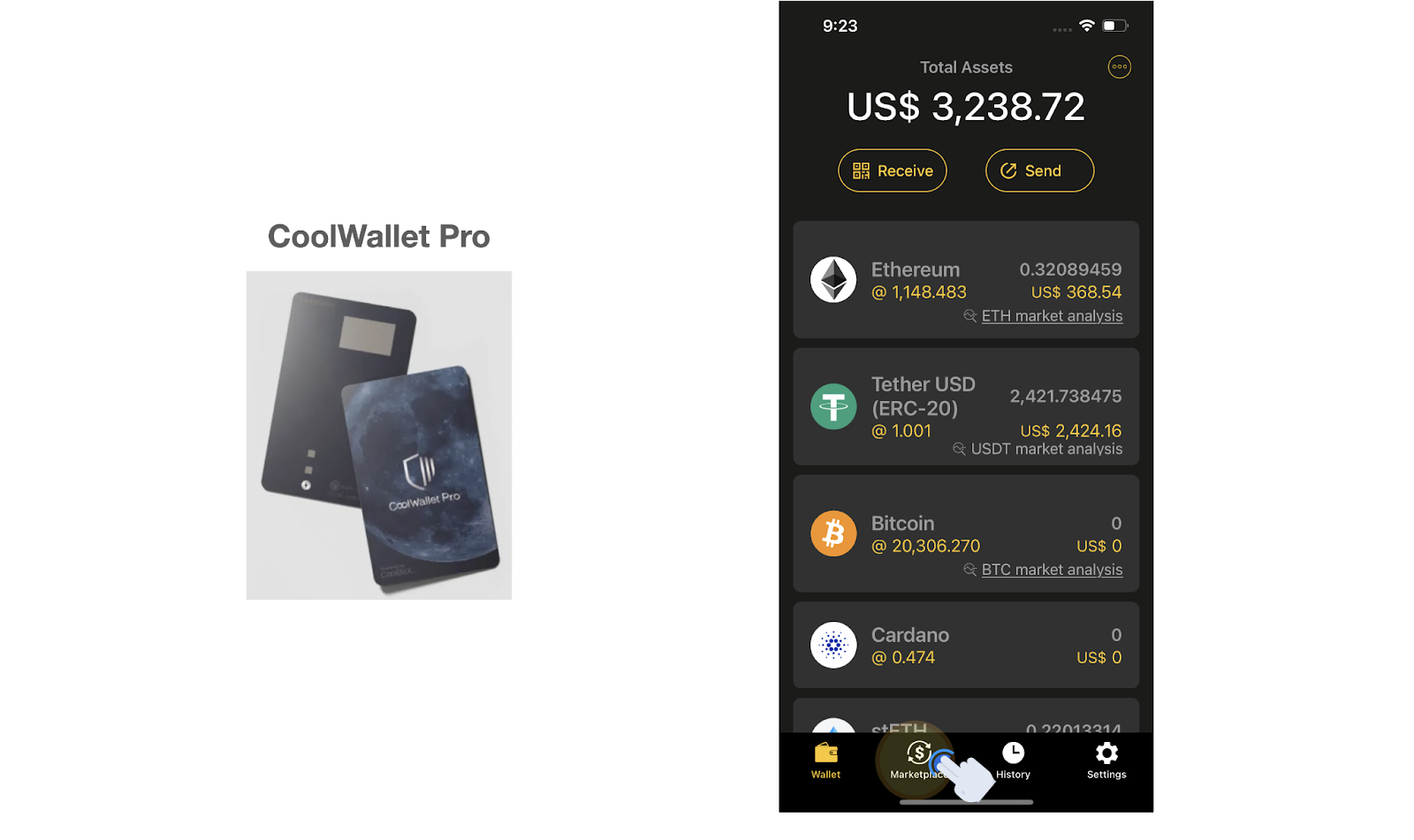 Source: CoolWallet.io
Hit "Staking" and select XTZ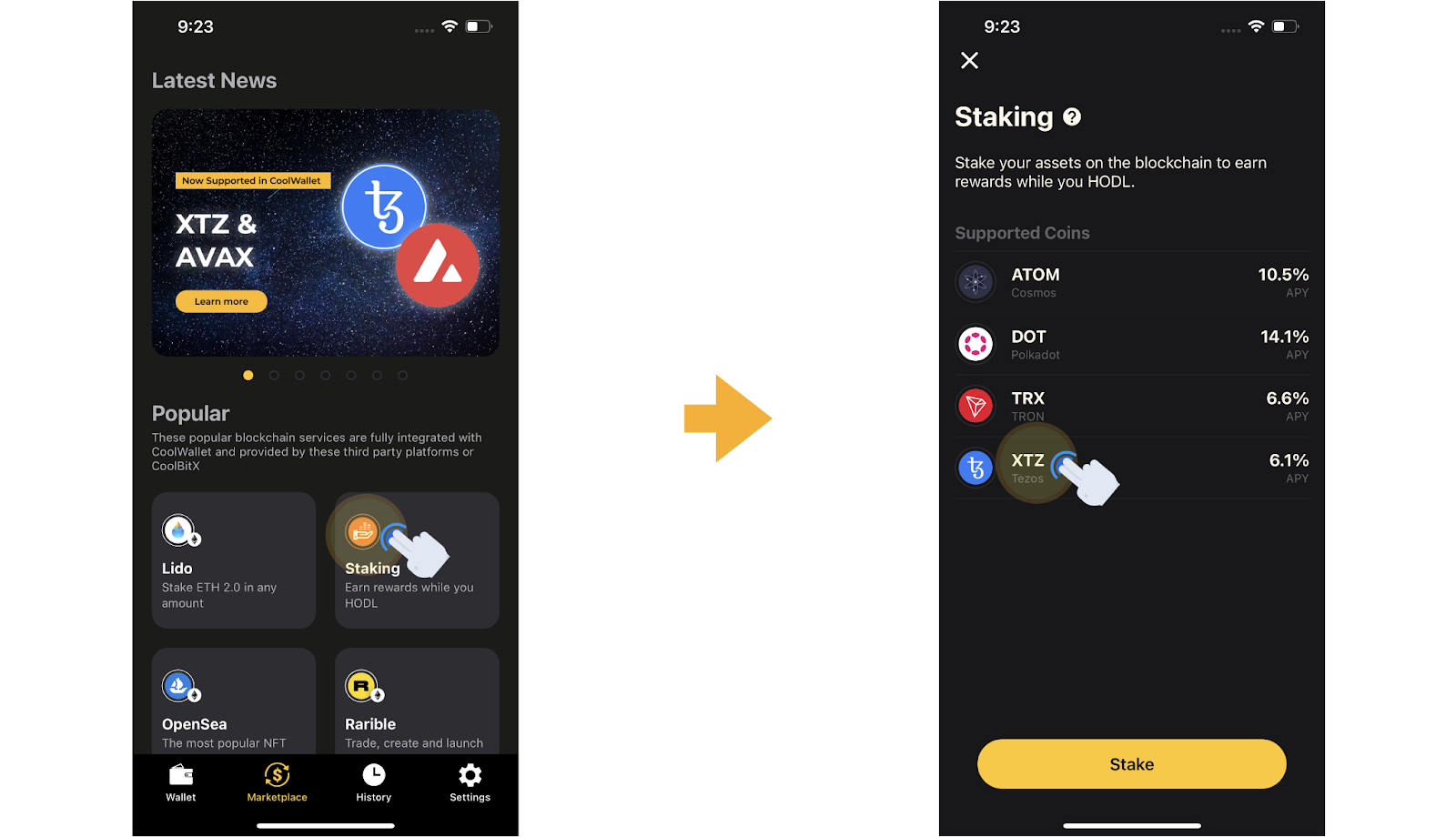 Source: CoolWallet.io
Next, XTZ needs to be activated. Click and hold "Activate XTZ" until "Hello" pops up. It will take about 30 seconds to activate XTZ in the wallet.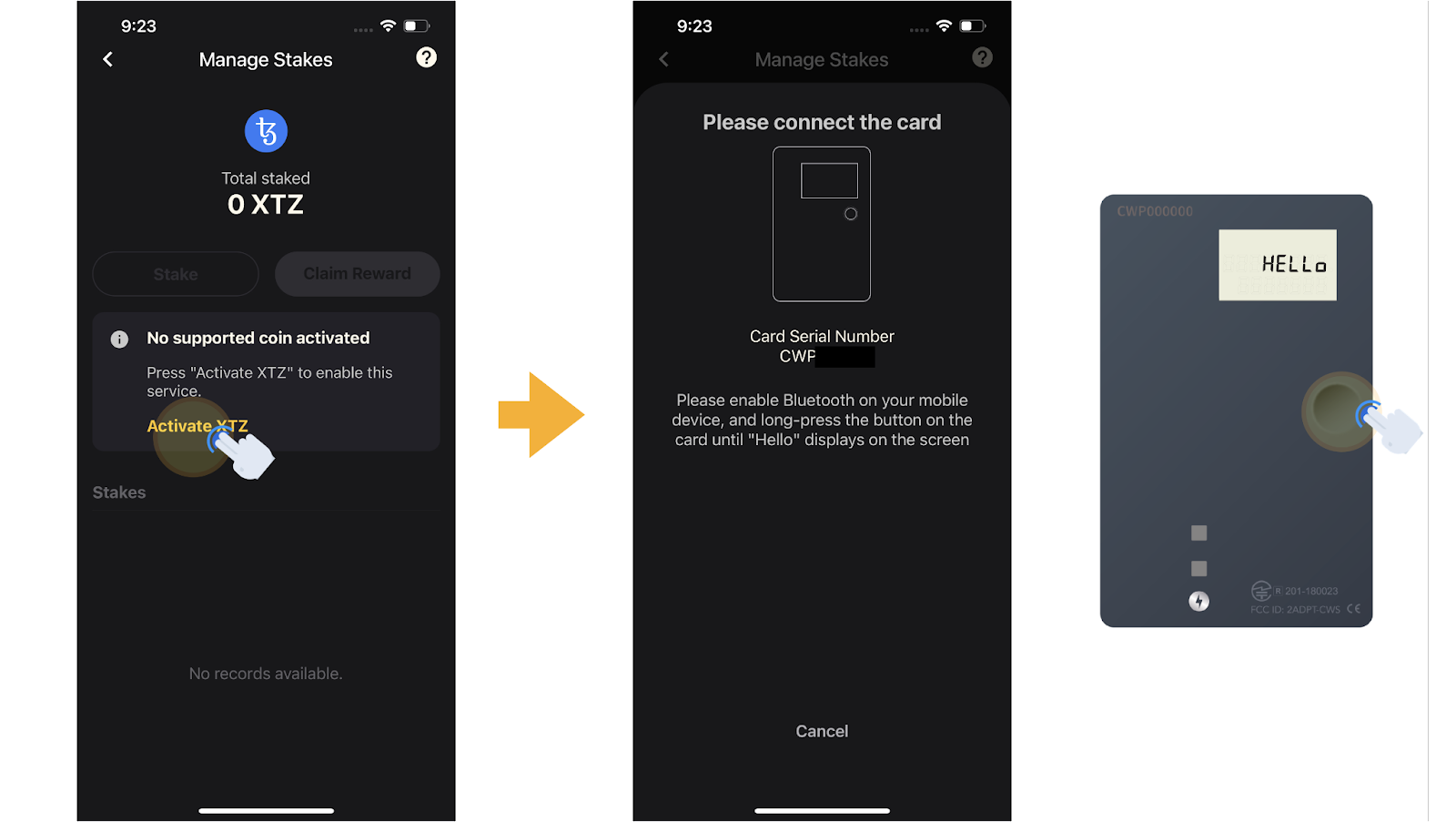 Source: CoolWallet.io
Choose a baker and stake
After the activation, click "Stake."
On the following page, use drop-down arrows to select your XTZ address to delegate. Then choose a validator. Everstake is one of the biggest Tezos bakers. Thus, you can delegate tokens to us, but always DYOR.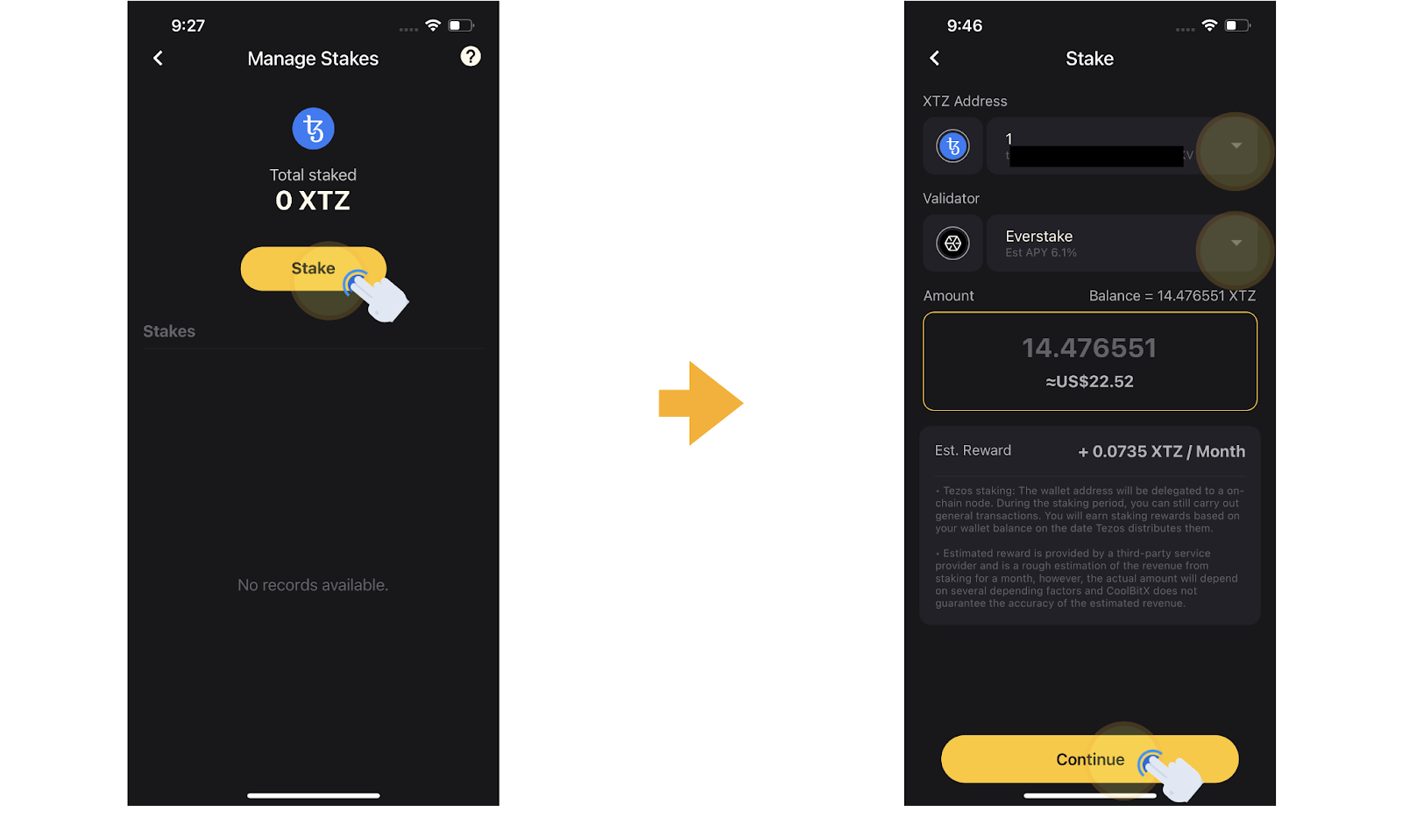 Source: CoolWallet.io
You need to have XTZ for transaction fees. You can buy tokens in the CoolBitX App if you do not have sufficient funds.
Click "Reveal" to uncover information about staking, fees, XTZ amount, and wallet address. By doing this, you confirm that the information is correct.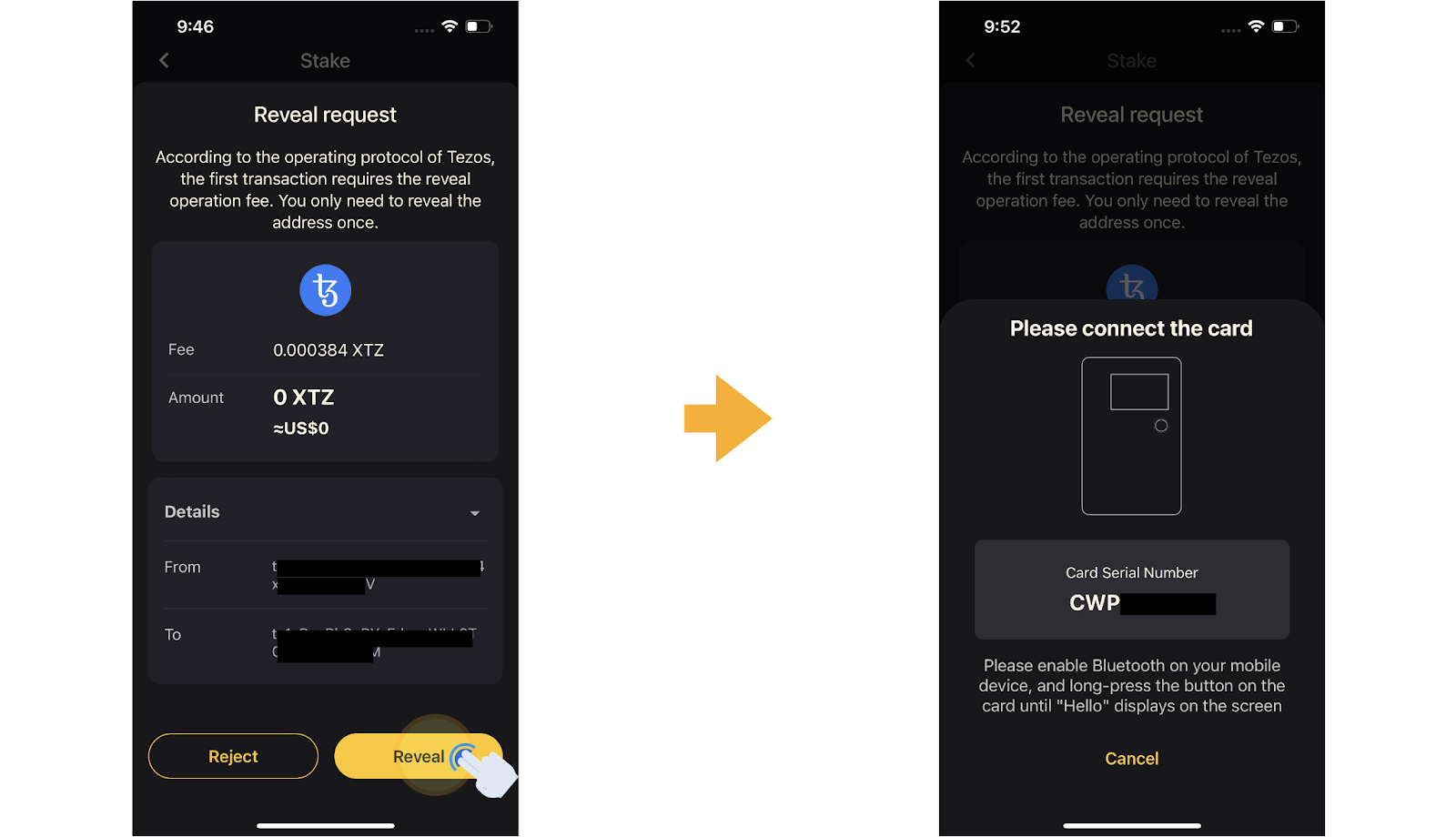 Source: CoolWallet.io
Link CoolBitX App to CoolWallet
Then you have to link the CoolBitX App with your CoolWallet. Click and hold the button on the CoolWallet to activate it.
Once the activation is finished, "Hello" will pop up on the card screen. Make sure the CoolWallet is connected to the CoolBitX App. If yes, the wallet will show "XTZ" first, then the instructions "Reveal", "PRESS button", and "Sent".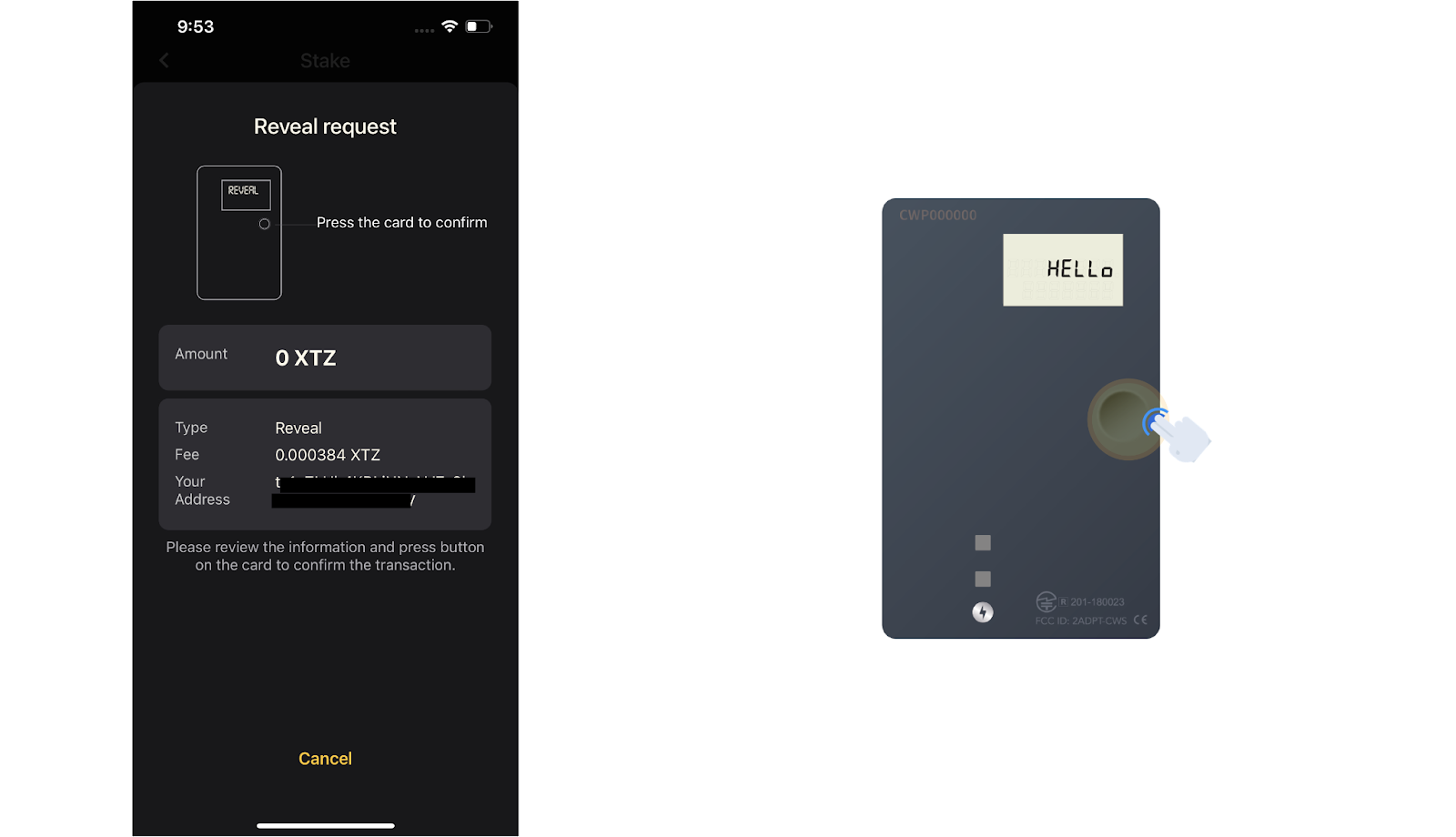 Source: CoolWallet.io
Follow the instructions on the card to finish up the process.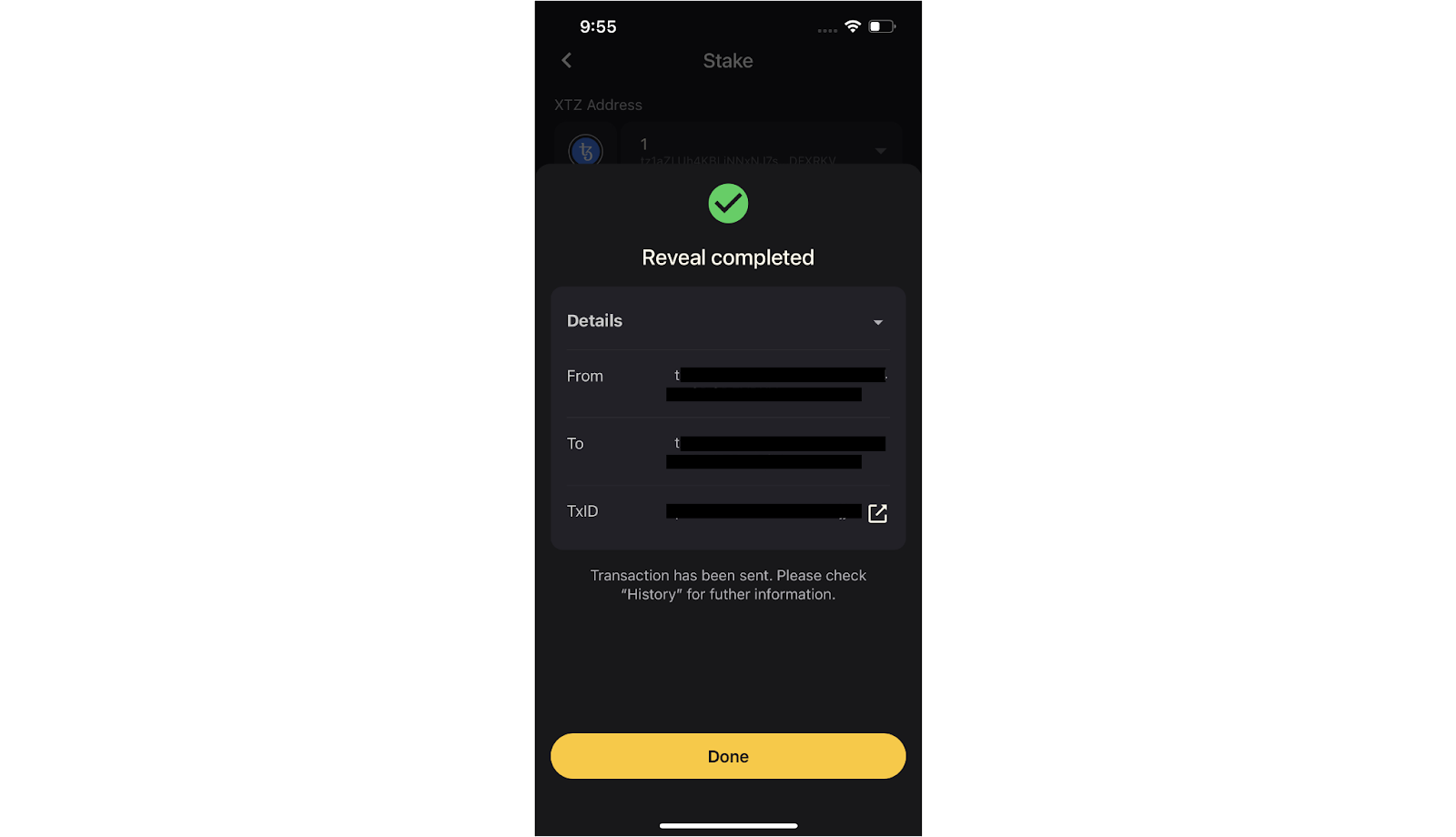 Source: CoolWallet.io
It is everything you need to know about staking XTZ via CoolWallet. When you stake Tezos, you support the decentralized ecosystem while making money.
Subscribe to Everstake to keep up with the latest staking news: