Back to all posts
The Casper Network's Vital Perspectives in DeFi
2021-09-07 07:39
Introduction
Thanks to blockchain technology for allowing the emergence of DeFi, a new frontier for open finance focused on achieving scalable, decentralized, and secured financial solutions. However, the blockchain trilemma is subverting the ingenuity of DeFi. Hence, there is a need for a revolutionary approach like Casper Network launched by CasperLabs.
The blockchain trilemma believes that blockchain can achieve only two of its three foundational principles simultaneously – decentralization, security, and scalability. To unlock the potential of DeFi, blockchain must enable decentralized applications, called DApps, – flexible, user-friendly, cost-effective, and upgradeable solutions. Also, DeFi demands an environmentally friendly and profit-based protocol provided by the Casper network. Here, Casper partners validators like Everstake to validate, secure, and provide sustainable, profitable DeFi protocol through staking.
Blockchain-Enabled Open Finance
The journey of decentralized finance, called DeFi, cannot be complete without the efforts of a pseudo-anonymous entity called Satoshi Nakamoto, who published the famous Bitcoin white paper titled, the Peer-to-Peer Electronic Cash System in a cryptography forum in 2008. A step further, Buterin Vitalik championed Ethereum becoming a reality introducing smart contracts, DApps, and other innovations that made DeFi possible.
Defi is a new financial frontier that leverages the power of the blockchain's smart contract, DApps, democratic consensus, security, and other functionality, geared toward disrupting financial intermediaries. Despite the success of DeFi, the cost of the transaction, throughput, custodian activities are prevalent. This is primarily because most of the DeFi protocols are built on networks like Etherum that hold the blockchain trilemma belief from the onset.
The CasperLab builds on the shoulders of giants – successive blockchain solutions. The team, composed of world-class builders, developers, entrepreneurs, and business leaders, proposes the Casper Network to challenge the status quo.
Casper Network Story
Casper is a network for those who build. Casper Network is CasperLab's response to creating a decentralized and blockchain-enabled world. It is based on the Casper CBC specification, and it provides flexibility for Casper consensus protocols, allowing adjustment of the blocking time, non-probabilistic and irreversible kind of blockchain. It is built from the ground up to allow companies and users the flexibility to choose between privacy and permission that suit use cases without compromising security performance.
Casper Network's journey has been intriguing. Backed by significant stakeholders like IPWe, Oasis Capital, and other well-known hedge funds and crypto firms, CasperLab raised $14.5m through a private token sale in September 2019. Before launching on March 31st, it ran two private rounds where it raised $14m and $8m, respectively.
Read more in our article Introducing the Casper Network – an Optimized Blockchain for Business and Developers.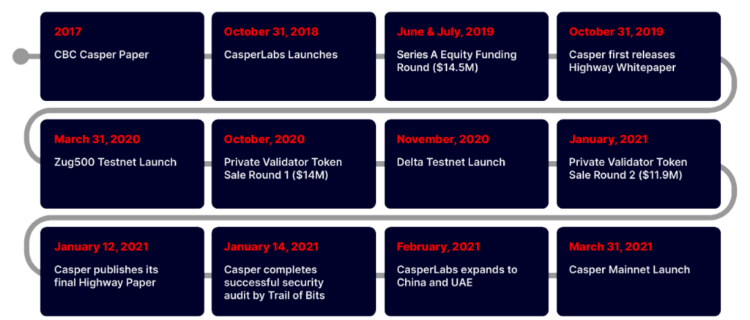 The launch of Casper Network Mainnet heralds a new generation of deterministic, energy-efficient, user-friendly, future-proof, and flexible blockchain. It raises the hopes and speed of mass adoption of blockchain technology for individual and industrial applications.
Casper Network's New Solutions for DeFi
Casper Network is leading the DeFi revolution right; it is changing the face of smart contracts, DApps, network fees and introducing future proof protocols to DeFI. Traditionally, major blockchains – Bitcoin and Ethereum championing DeFi adopted PoW. However, it has proven to come with energy, security, decentralization, and other costs.
Energy Efficient and High Finality DeFi
Other major blockchains rely on miners to achieve consensus. However, Casper Network, through its advanced PoS protocol, is introducing validators to achieve consensus, security, and profit off-blockchain solutions. In most cases, PoS-based blockchain is built on the Byzantine Fault Tolerance principle, while Casper Network operates an advanced PoS protocol called Highway.
The classic BFT PoS model suggests that a protocol requires 67% of the nodes to be honest and resilient against an attacker, allowing only 33% to be dishonest. In contrast, the Highway allows more than 67% of the nodes to be honest. This helps the protocol achieve high finality.
Through the Highway protocol the network rewards node operators who, in turn, provide the infrastructure for staking.
Flexible Protocol
Highway protocol allows varying thresholds for finality. Each node on the network can set a specific threshold for finality. This way, the node relieves the network of an additional consensus mechanism.
Deterministic Protocol
Probabilistic network fees are one of the pitfalls of DeFi. Many believe the EIP 1559, which introduces a base fee, tips, and burning mechanism, makes the Ethereum network fee deterministic. However, Casper Network is the first breakthrough in achieving a predictable and deterministic network pricing model.
Sharding Layer 1 Solution
Developers are opting for Layer 2 solutions, an additional layer to a base blockchain to solve scalability. However, Layer 2 solutions rely on the security of the based protocol. CasperLabs believes that sharding, the Layer 1 configuration, will bring scalability without compromising security and decentralization.
User-Developer Friendly Platform
First, the protocol allows users to choose private or public blockchain and set privacy and permission levels. As a way of paving the way for mass adoption, the protocol features WebAssembly, a software development kit for developers to create user-friendly platforms. With the SDK, developers have the flexibility of deploying Web 3.0 solutions without learning new languages.
Upgradeable Smart Contract
Unlike a typical blockchain smart contract, the Casper Network is upgradable. The protocol is designed to allow developers to upgrade smart contracts directly on-chain without dealing with complicated technical and governance procedures.
What Is A Clean-Energy Blockchain?
Mining and computation power has been one of the significant constraints to blockchain mass adoption. For instance, Elon Musk's Tesla a few months announced it no longer accepts BTC for payment, citing environmental factors. The primary cause of the high energy demand is that major blockchain uses POW, where miners need enormous energy to compute, validate, and secure blockchain networks. According to the University of Cambridge's recent research, the bitcoin electricity consumption index is around 0.6% of the global electricity consumption.
As shown on the attached diagram, Casper Network is the best environmentally friendly blockchain network. Now the question is, how does Casper Network achieve that?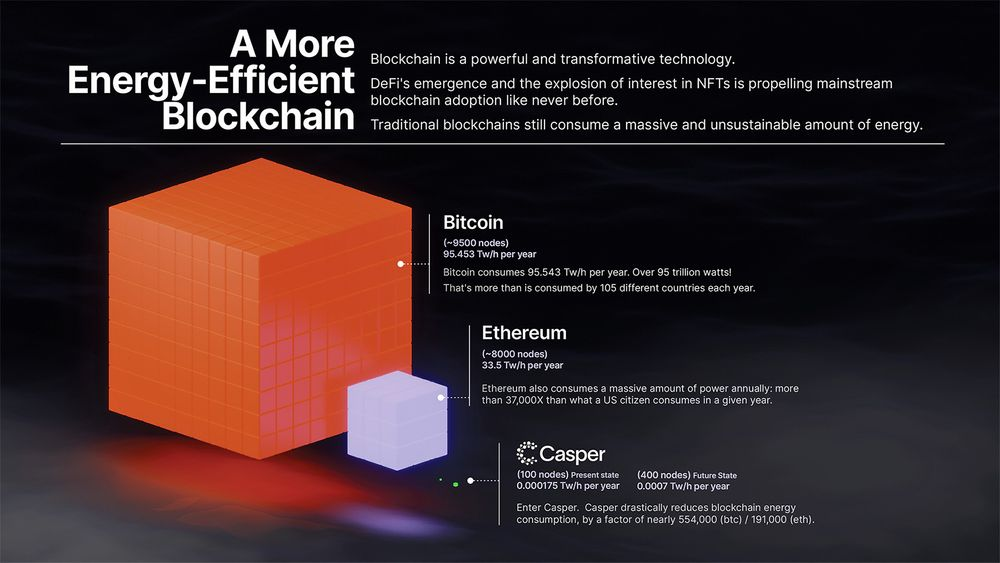 While other blockchains like Ethereum are still thinking their way to PoS, Casperlabs has already deployed Highway, an advanced PoS protocol. Casper Network gives validators the power to reach consensus, secure, and validate transactions on the Casper embedded platforms.
With validators like Everstake, the end-user is free from the hassle of trading crypto, consuming enormous mining power to profit from crypto. Users simply stake tokens to earn rewards.
Casper Network Partnerships
First, Casper Network is the product of a brilliant team of researchers and developers led by CasperLab's CEO, Mrinal Manohar. Mrinal is an early investor in Ethereum who previously worked for large companies like Microsoft, Bain, and Bain Capital and has run a $1 billion hedge fund before teaming up to launch the Casper Network.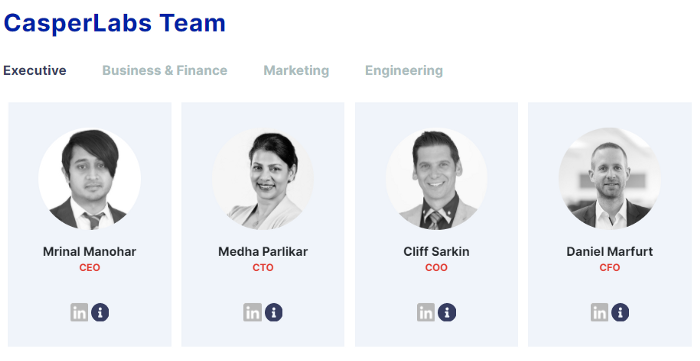 While numerous companies are using Casper network solutions, we will categorize a few ways to contribute to blockchain's ecosystem:
Validators;

Validators are tasked with generating new blocks, providing additional consensus, and ensuring network security by staking tokens and receiving rewards for processing all transactions in the Casper network. Everstake, one of the best validators, boasts of over 365,000 stakers who have staked nearly $3.5 Billion in digital assets. The platform has produced over 12 Million blocks and paid over $2 Million to delegators, as of July 2021.
Wallet providers:

partners provide wallet infrastructures that store and delegate Casper Network token to validators. For instance, the Casper-Plasmapay partnership where

PlasmaPay

, a global digital payment platform,

partnered

Casper in achieving advanced retail access to the Casper network and CSPR token through fiat ramps, chain integration, and wallet infrastructure.
Solution providers;

Casper network has attracted several big players building new solutions to ensure blockchain mass adoption. Such players are:
QuEST, a publicly-traded enterprise, partnered with the Casper Network to build a future-proof supply chain solution in Web 3.0 environments.
IPwe, one of the World's largest Patent Ecosystems for licensing and transferring intellectual property rights, partners CasperLabs in developing a two-phase CoC solution to improve and simplify intellectual property management.
Casper Network's partnerships

Short Conclusion
CasperLabs is changing the face of DeFi through its flexible, user-friendly, future-proof, and energy-efficient Casper Network. To actualize it, the team launched several ingenious solutions like Highway, WebAssembly, updatable smart contract. The Casper Network's Highway protocol improves on the binary finality principles of classical synchronous PoS consensus.
About Everstake
If you want to profit off cryptocurrency, Everstake, one of the biggest staking service platforms, is your choice. Everstake gives both large crypto investors and private token holders a wide choice of cryptocurrencies for staking investment. At Everstake, we run nodes for up to 45 PoS blockchains to provide the highest standard of service to the stakers worldwide. We strive to summarize our extensive experience with numerous PoS chains and derive the most efficient strategy that could be applied to each blockchain while paying attention to those specific features. We run the advanced infrastructure that is being supervised 24/7.
We also support blockchain ecosystems by creating educational content, apps for staking, working on bridges, collaborating on DeFi projects, and so on.