Back to all posts
Under the Hood of EverSOL Governance
2022-03-24 13:38
As the kickoff of EverSOL DAO is drawing nearer, it's high time to talk about what it will bring about for Solana fans and delegators.
In this article, we briefly cover the fundamental EverSOL stake pool features, EverSOL DAO concept, EVS tokenomics, the minting schedule and supply structure, the voting, and upcoming incentives for all players. Let's dig in.
EverSOL DAO – contributing to Solana DeFi
EverSOL Stake Pool uses the standard Solana contract yet it is different from the existing Solana stake pools. Unlike others, EverSOL directs a share of pool rewards to the Treasury that is to be operated by EverSOL DAO. The ultimate goal of the DAO is to finance projects that are vital for Solana's further development and progress. It's the community that decides which projects make it to the list and get eventually upvoted.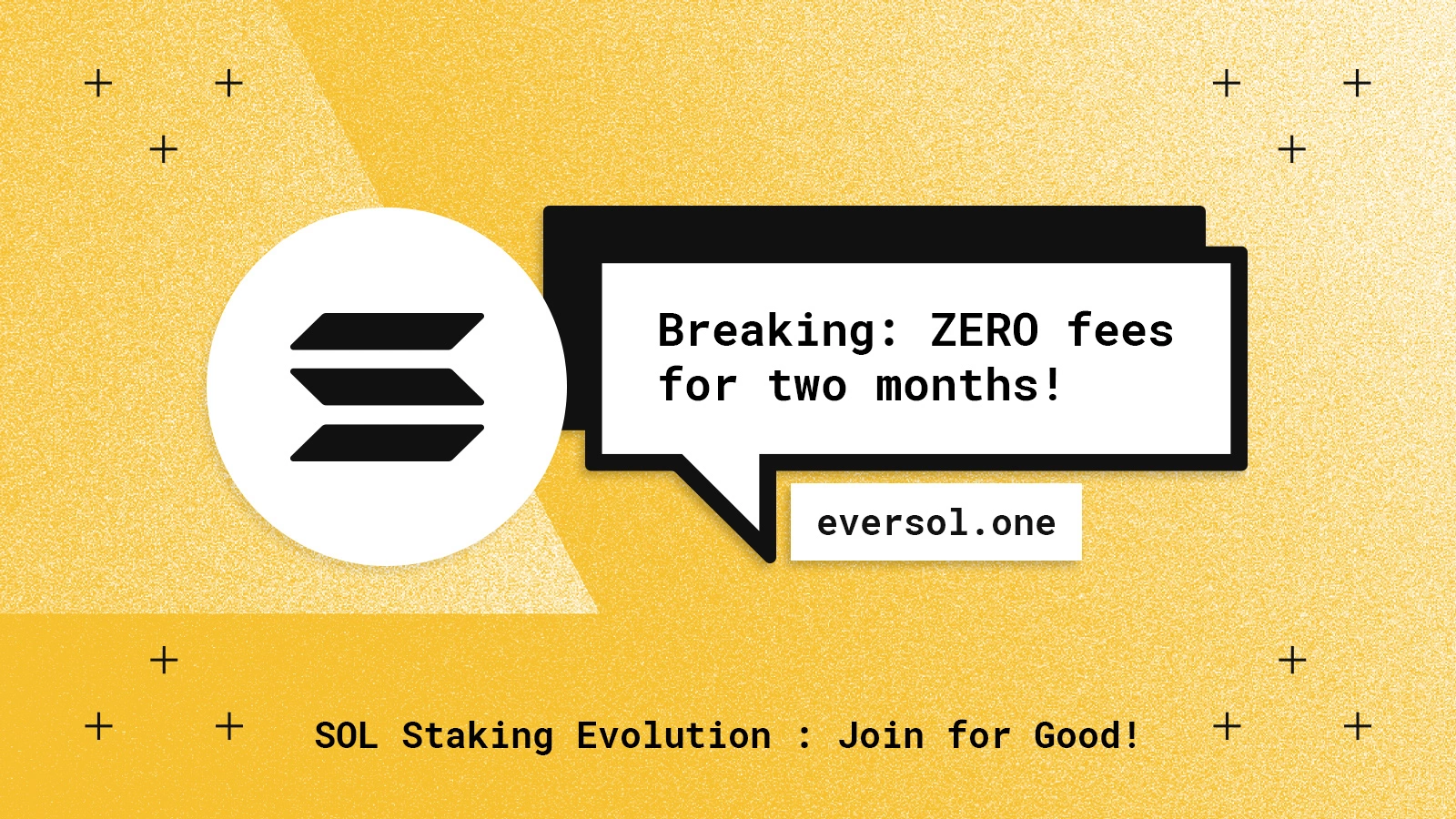 This happens through the EVS governance token that delegators will obtain solely through making stakes. It is not subject to any private or public sales, and no VC or private investors are behind it. The EVS token represents the voting power of the EverSOL DAO community members and seeks to incentivize the community and liquidity providers while supporting operations and strategic initiatives.
To that end, EVS tokens are allocated for DAO Reserve and Strategic Reserve.
In the future, the EVS tokens distribution might be subject to certain marketing initiatives or used to reduce the costs of staking in the form of a cashback, or as a part of the Referral Program.
Three reasons to launch a governance token
Provide EverSOL delegators with voting power and let them play the key role in the distribution of Treasury funds. Incentivize delegators in the longer perspective.

Incentivize liquidity providers within eSOL liquidity pools by allocating EVS tokens as additional rewards for the liquidity provided.

Utilize tokens through strategic partnerships within the DeFi ecosystem to facilitate full profit potential for stake pool delegators.
EVS tokenomics
Max supply: 100,000,000 EVS of which
75% is allocated to

EVS DAO Reserve

.

25% is allocated to

EVS Strategic Reserve

and used to finance strategic initiatives, partnerships, marketing needs, as well as possible airdrops.
How to Get EVS Tokens
– Earn EVS governance tokens by staking to the pool.
Currently, EverSOL allocates 7% of pool stake rewards to the Treasury. With the launch of EverSOL DAO, the Treasury will be run by the community that will be entitled to decide how SOL funds are distributed. Each delegator will be able to vote for Solana projects selected by the community with the pool governance token.
How to obtain EVS tokens?
Stake to the EverSOL pool. The longer your funds are staked, the more EVS tokens and therefore votes you will get. The more votes you have, the greater is your power to influence the distribution of funds from the Treasury. The exact amount of tokens minted for stake depends on the time between the staking and unstaking transactions.
EVS governance tokens will be minted automatically each epoch and issued to the delegator every N epochs. Initially, N=3 but is subject to change in the future.
Every 3 epochs make up a conventional week (≈7-8 days). It doesn't correlate with the actual calendar week.
Chart #1 (smaller scale): for each 1 SOL staked,
in 6 epochs the delegator obtains ≈1 EVS;
in 12 epochs the delegator obtains ≈2.4 EVS;
in 24 epochs the delegator obtains ≈5.7 EVS;
in 30 epochs the delegator obtains ≈7.7 EVS, and so forth.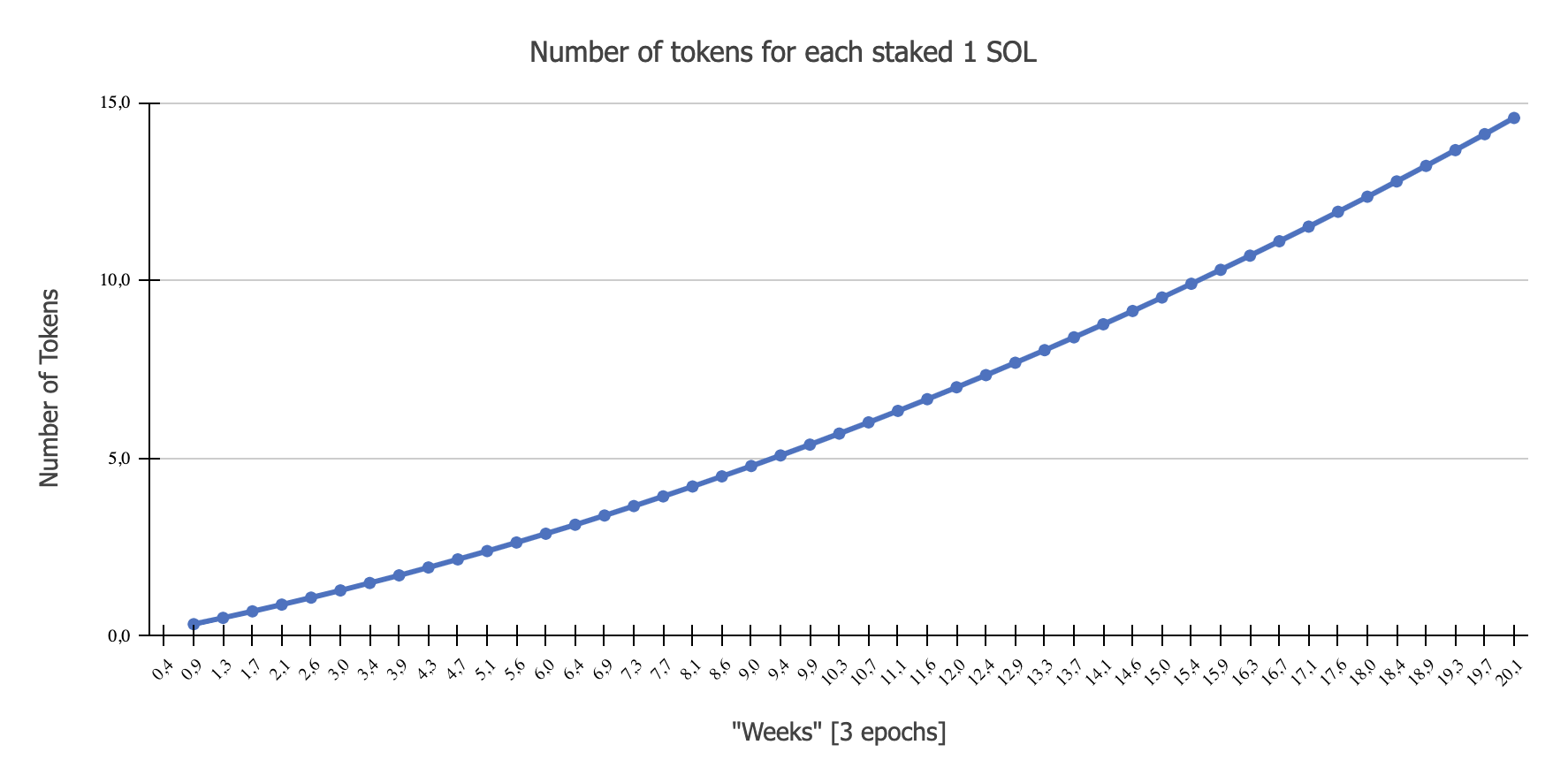 Chart #2 (larger scale): for each 1 SOL staked,
in 100 epochs the delegator obtains ≈47.8 EVS;
in 200 epochs the delegator obtains ≈158.8 EVS;
in 300 epochs the delegator obtains ≈322.4 EVS, and so forth.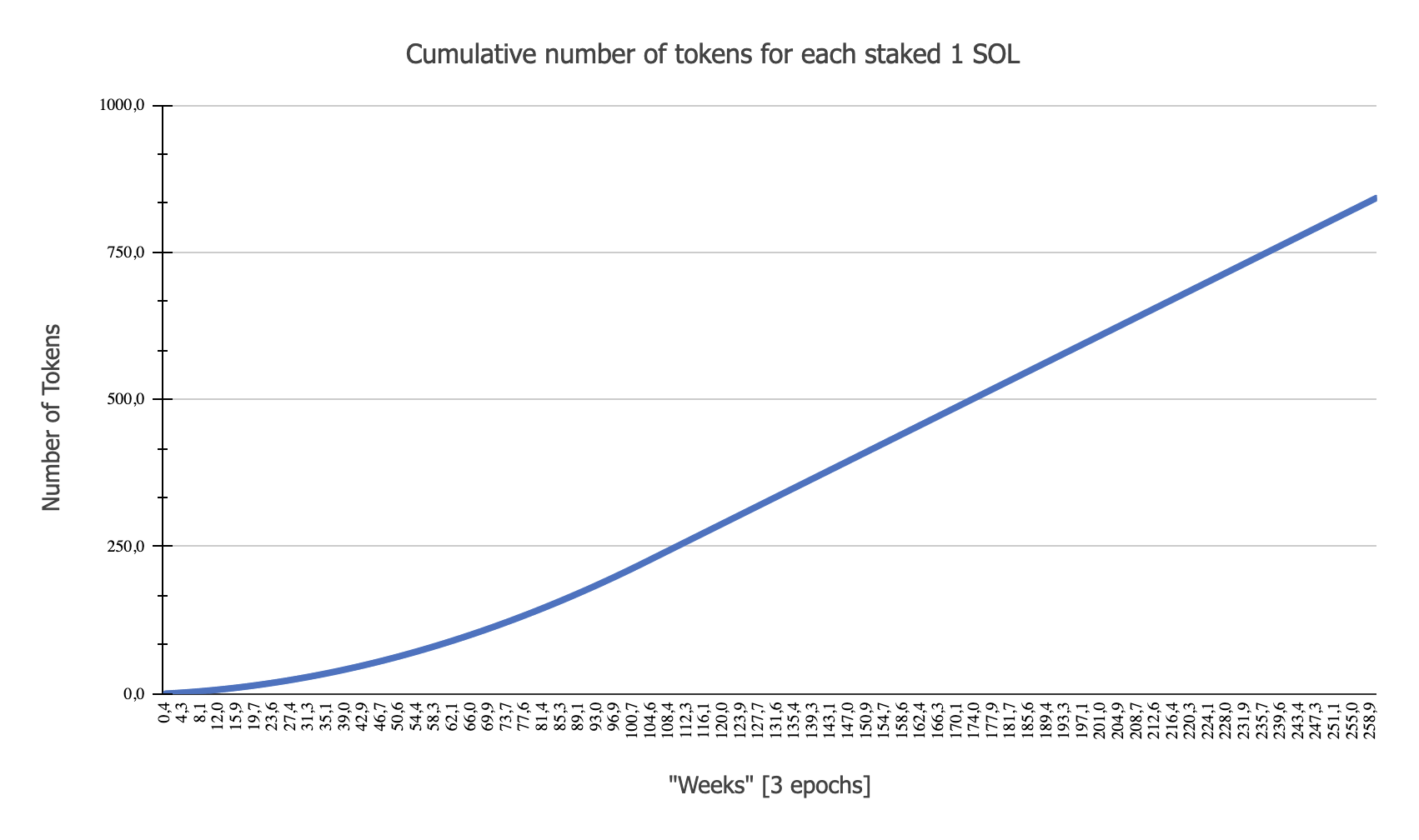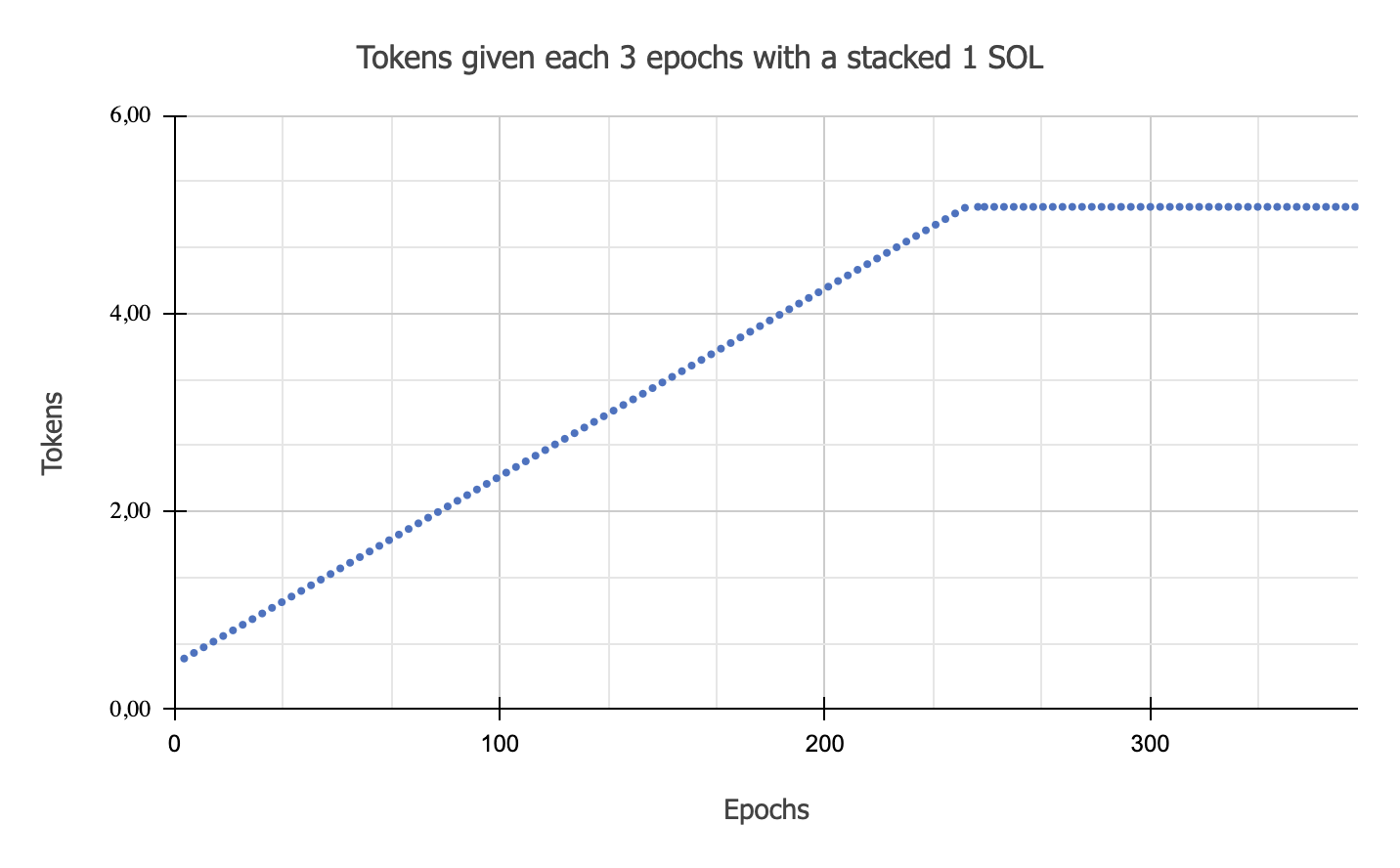 Why earn and hold EVS tokens?
EVS holders will be able to decide on the Solana ecosystem projects to be supported financially by the DAO. In order to vote, you just have to connect your wallet, deposit your tokens to the DAO, and then just choose a project from the list.
Who makes up the list? The community members themselves! Soon we'll roll out some selection criteria for one to use in order to avoid scammers and suspicious endeavours, then anyone can submit a Solana-based project that they deem worthy of financial support.
Further on, we aim to partner with DeFi liquidity protocols and create liquidity/trade/swap EVS pools and pairs to integrate the token fully into the Solana ecosystem. This will provide additional options for EVS holders to benefit from.
Voting Mechanism
To vote, the user needs to deposit EVS tokens to the DAO interface.

The delegators can vote even with a fraction of an EVS token.

The delegators can vote for several proposals (projects). The more tokens you have, the more proposals you can vote for.

Each proposal has a voting quorum and a voting period.

The delegator can withdraw tokens immediately after the proposal is finalized. The delegator can also withdraw tokens before that – but this would cancel his vote.

The delegator then can use EVS tokens whichever way they want.
More to come: the EVS Partnerships Program
In Q2 2022, we are going to release an EVS Partnerships Program using the DAO Strategic Reserve's funds. The program will seek to incentivize strategic partners to cooperate or collaborate with the staking pool in various scenarios.
Thus, liquidity providers would be able to allocate EVS tokens in exchange for a considerable amount of liquidity added to liquidity pools like eSOL-SOL, eSOL-USDC, EVS-SOL, etc. Media partners, meanwhile, will be eligible to obtain EVS tokens for marketing or promotion services. Finally, SOL-compatible wallets could integrate EverSOL staking API and get EVS tokens as a reward.
The partners will be therefore able to enjoy all the benefits of owning EVS tokens, including the opportunity to finance the projects of their interest and to use the tokens in third-party protocols to make additional profits via DeFi options like swapping, borrowing, adding liquidity, or trading.
We are currently working on setting up relevant DeFi options and the market for EVS.
If you're interested in setting up a partnership, please contact us at [email protected].
What is EverSOL?
EverSOL is a stake pool on Solana. More details are available in our Blog or on Medium.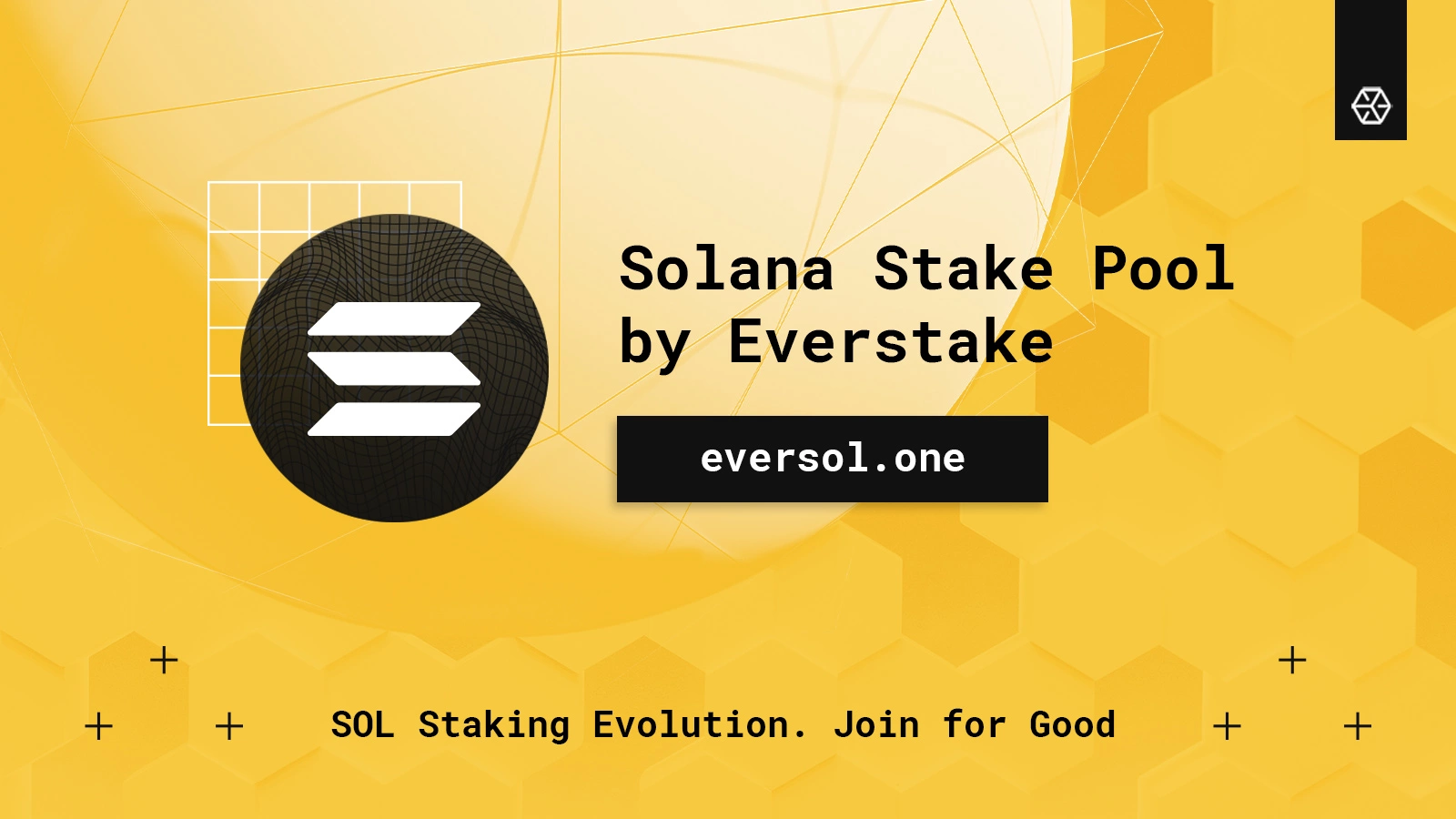 Staking with us offers several advantages to delegators compared to staking to validators directly. By delegating to EverSOL, you will:
facilitate and boost the growth of the DeFi and Solana ecosystem;

increase network safety, integrity, and decentralization;

help promote censorship resistance;

enjoy the staking process simplicity: we'll handle everything, from the stake account management to validators selection and automated ore rebalancing;

obtain a liquid eSOL minted for each staked SOL token, and so extend the range of possibilities to profit off by using it in DeFi.
Our pool provides a possibility of instant unstake to get your SOL back when you decide so. Also, make sure to take advantage of the 0% fees until April the 1st!
Get in touch with EverSOL: