Back to all posts
745k Transactions and 107 Price Feeds: How Everstake Contributes to Chainlink
2022-04-05 11:11
Here at Everstake, we have a long and successful history of contributing to a number of top blockchain networks. With billions in overall staked assets, Everstake has become the biggest decentralized staking provider in the blockchain industry—as well as a reliable validator for 50+ blockchains and hundreds of thousands of delegators who trust our services.
Source: https://www.stakingrewards.com/providers/
This article discusses our involvement in Chainlink and how we've contributed to this blockchain as a Node Operator. We'll cover things like our commitment to the network, our support for Chanlink's overall vision, and how we're continuing to help with the overall adoption of the network.
What Is Chainlink
Chainlink is a network that allows blockchains to securely interact with external feeds, providing off-chain data required by intricate smart contracts. Further, it was one of the first networks to allow for the integration of smart contacts and off-chain data. It allows node operators such as Everstake to earn rewards by running essential infrastructure for its security, data reliability, decentralization, and operation.
Everstake's Contribution to Chainlink
Let's get into the details of how Everstake directly impacts the continued success of the Chainlink blockchain.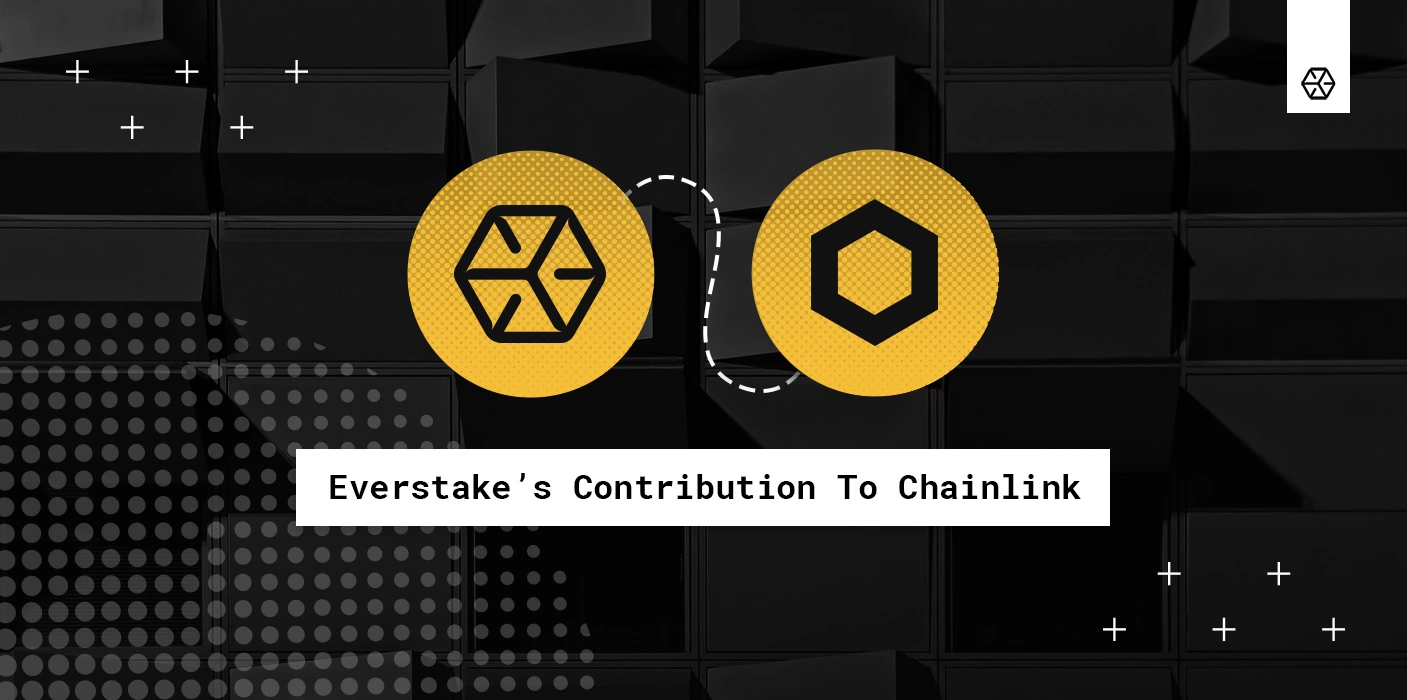 Everstake Oracles
Blockchain oracles are entities that enable blockchain to connect with external systems, and this allows smart contacts to run based on data inputs and outputs from the real world. Web 3.0 ecosystems use oracles to access things like legacy systems as well as data sources, and these oracles help broaden the scope in which smart contracts operate.
At Everstake, we realize how important it is to support decentralized oracles, and that's exactly why we deployed our own oracle service on the Chainlink network.
Currently, we process transactions for Chainlink on Ethereum, Harmony, Solana, and Terra—and in just two years, Everstake has processed over 745,000 transactions on the blockchain.
Here's how they're broken down:
225,000+ transactions on the Ethereum network

6,000+ transactions on Harmony

14,000+ transactions on Terra

500,000+ atm transactions on Solana
Running our own node is important, as it increases the security and data reliability across the network.
Integration of Numerous APIs
One of the things that makes Chainlink so powerful is that it enables smart contracts to access any external data source through its decentralized oracle network. So smart contracts can easily consume the necessary data, whether it be the weather, sports data, or any other kind of publicly available data. Everstake has already integrated more than 22 APIs, creating a reliable and efficient way to provide accurate data to smart contracts on smart-contract enabled blockchains.
Multiple Data Feeds
Chainlink Data Feeds to provide the fastest way to connect smart contracts to real-world market prices for assets. And given that smart contracts need to execute functions based on real-time data, like with DeFi applications, this need to ingest reliable data quickly is critical to the success of numerous projects.
That's why Everstake oracles provide 107 price feeds to the Chainlink network that retrieves the latest pricing data for the respective asset, as well as connects smart contracts on supported blockchains to real-world market prices.
To put the volume of activity into perspective, our first FM ETH node burned $3 Million worth of ETH providing price data feeds on the Ethereum mainnet, and our newer OCR ETH node has already burned almost $1.7 Million worth of ETH.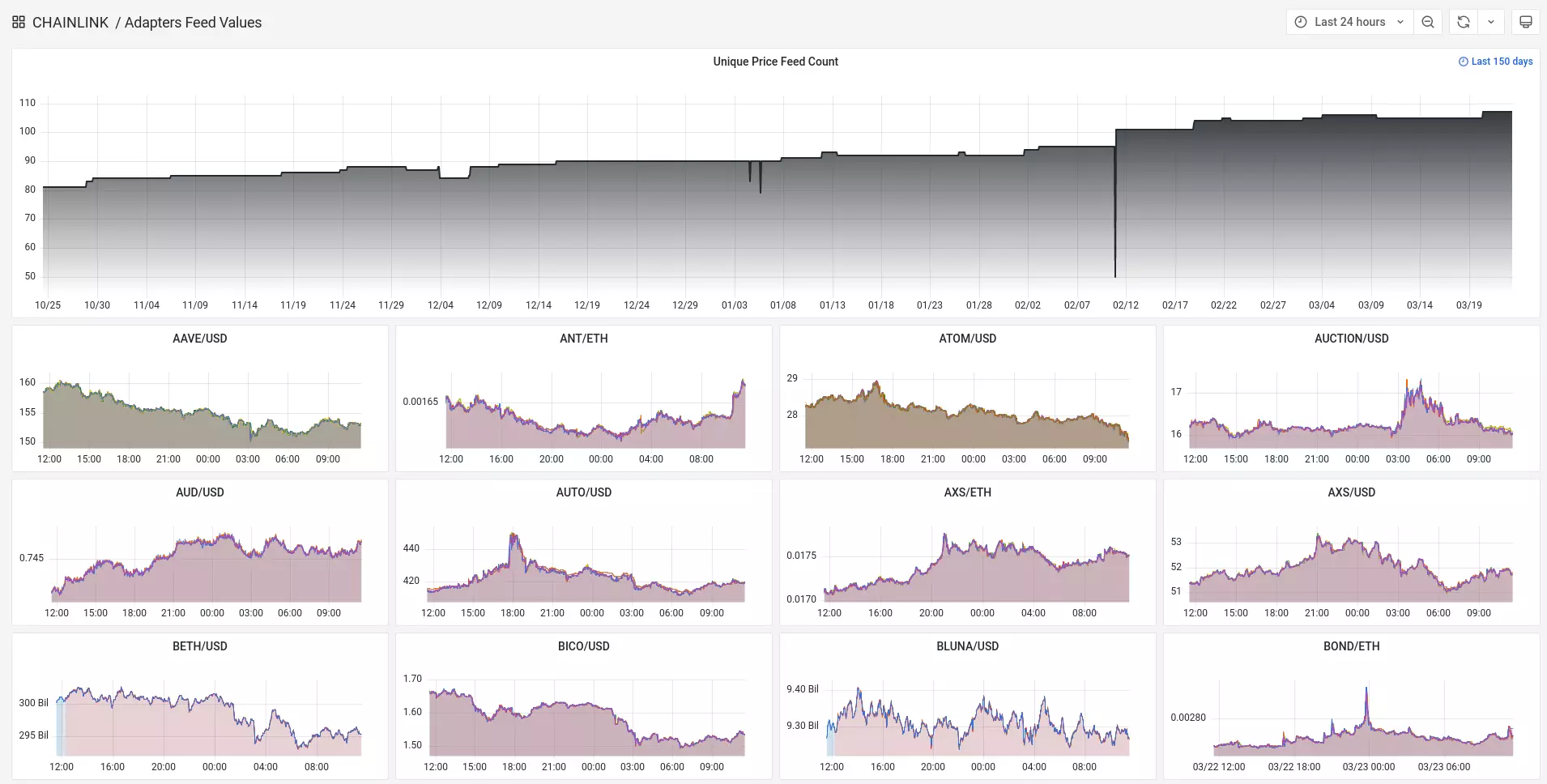 Performance & DevOps Tools
Our team is backed by top-tier developers, DevOps engineers, and cybersecurity experts—so naturally, we bring all this experience to the table when it comes to working within the Chainlink ecosystem. More specifically, our infrastructure for Chainlink includes:
Resilient Cloudflare Load Balancer.

HAproxy for routing between EAs.

Grafana for analytics and Zabbix for monitoring and alerting.

We also make extensive use of Docker Compose to simplify the deployment of new releases.
We painstakingly monitor all infrastructure upgrades to implement them on schedule, as well as to ensure optimal performance.
Regular Feedback and Community Involvement
Being an active and contributing member of the Chainlink ecosystem means adding value in a number of ways—and one of those ways is providing actionable feedback on how Chainlink can be improved. For instance, not only does our DevOps team consistently take part in technical meetings regarding new infrastructure releases and share detailed feedback and recommendations, they also discuss any critical issues and changes with the Chainlink team and other Node operators.
We understand how important a blockchain ecosystem's community is to its long-term success. So we always remain transparent and clear in our objectives and operations and always strive to keep the line of communication open with our community in terms of critical updates and important news.
Educational Materials
Understanding how blockchain networks work and how they add value to the world can be complicated, but we've managed to make understanding how Chainlink works simply through our educational materials. Learn more about Chainlink and why this blockchain platform is so interesting by exploring how staking works on Chainlink and our Chainlink FAQ.
Future Outlook
Chainlink is pushing the boundaries with Web 3.0 by unlocking novel cross-chain use cases, providing decentralized applications with secure access to off-chain data, and its Proof of Reserve (PoR) powering an ever-increasing number of DeFi use cases. Our goal is to help bring Chainlink to new heights by ensuring it has a secure and strong foundation, as well as an educated and supported community of users. Everstake is extremely excited to be part of the Chainlink ecosystem, and we look forward to helping this exciting blockchain grow even more.
Stay tuned for updates on our continued support for Chainlink, as well as stay connected through our social channels.