Back to all posts
How to Stake Solana (SOL) in the Solflare Web Wallet
2022-05-20 11:34
This is a detailed guide on how to stake SOL tokens in the SolFlare browser wallet. Please use it to make your staking process smoother and avoid possible mistakes in the process.
About SolFlare Wallet
SolFlare was the first Solana wallet ever and has a long track of functioning with high-security standards and a friendly interface proposing many useful options to its users.
Token holders can buy, store, and swap coins and NFTs, as well as access Solana DeFi from the web or mobile. Solflare also supports the Ledger hardware wallet on both web and mobile. If you are using Ledger for storing and staking your funds, check our recent guide: How to Stake SOL in the Solflare Wallet via Ledger.
In this guide, we will cover staking in the SolFlare Web Wallet while if you prefer staking on mobile, check our guide How to Stake SOL using Solflare Mobile Wallet.
Create or Import a Wallet to SolFlare
Go to the

SolFlare

website and click

Download

.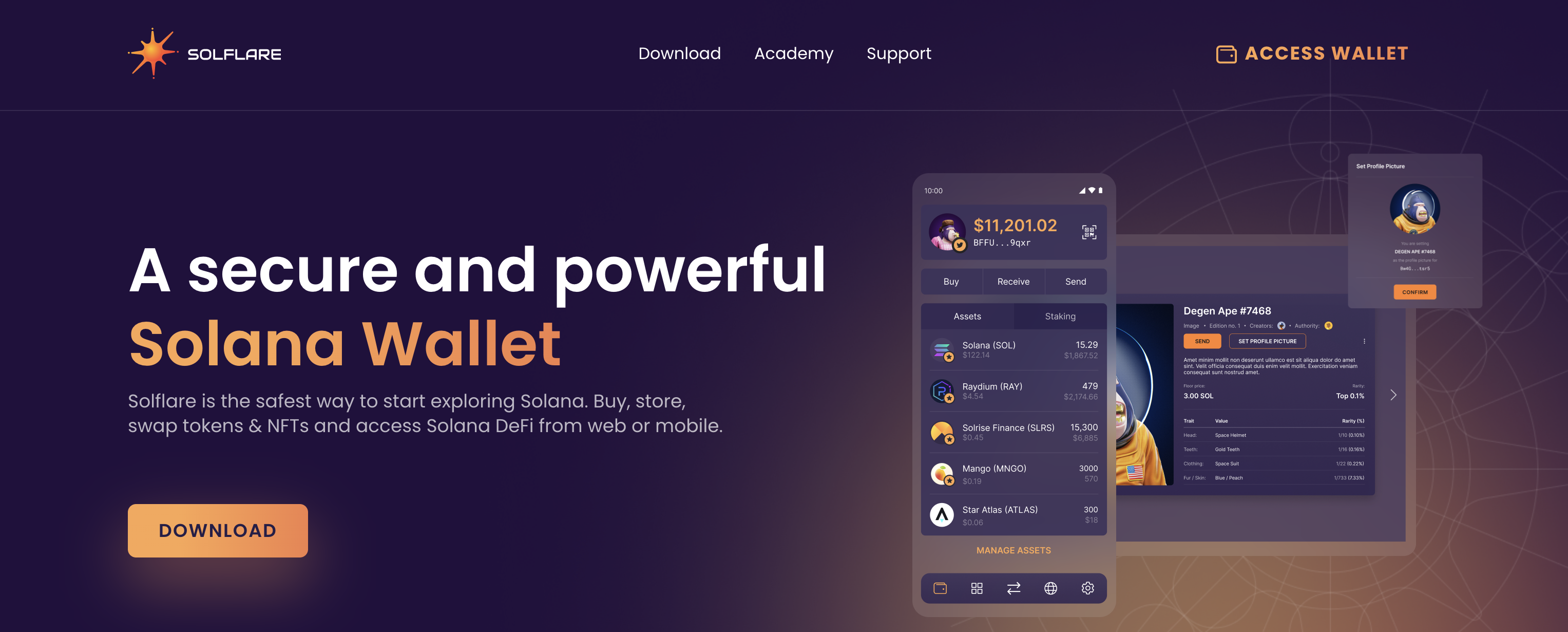 Choose Chrome extension and click Download again.

Click Add to Chrome and confirm that you are going to install the Chrome extension. After that, you can click on the Extensions icon in the top right corner and pin the SolFlare to have easy access to it.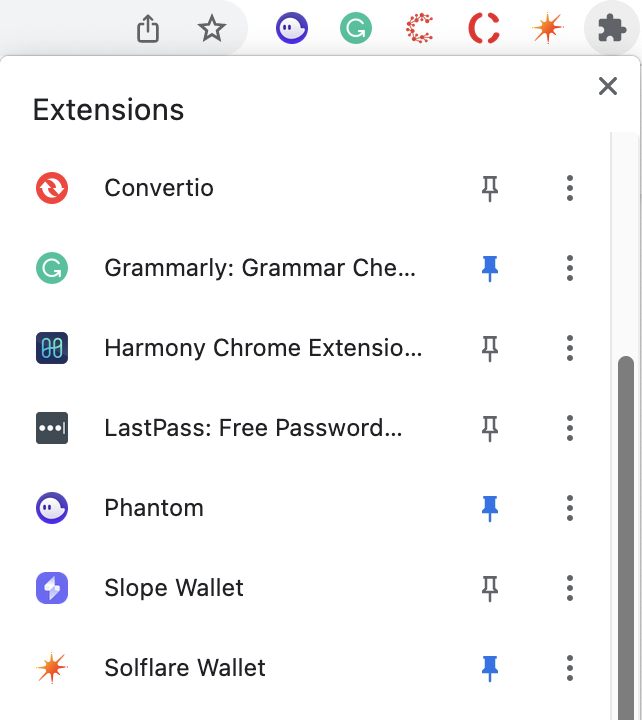 2. Run the extension and choose the method that suits you best:
I need a new wallet

, which creates a wallet from scratch

;
I already have a wallet

, which restores an existing wallet with the seed phrase.

In this guide, we will restore a wallet from a seed. Choose I already have a wallet.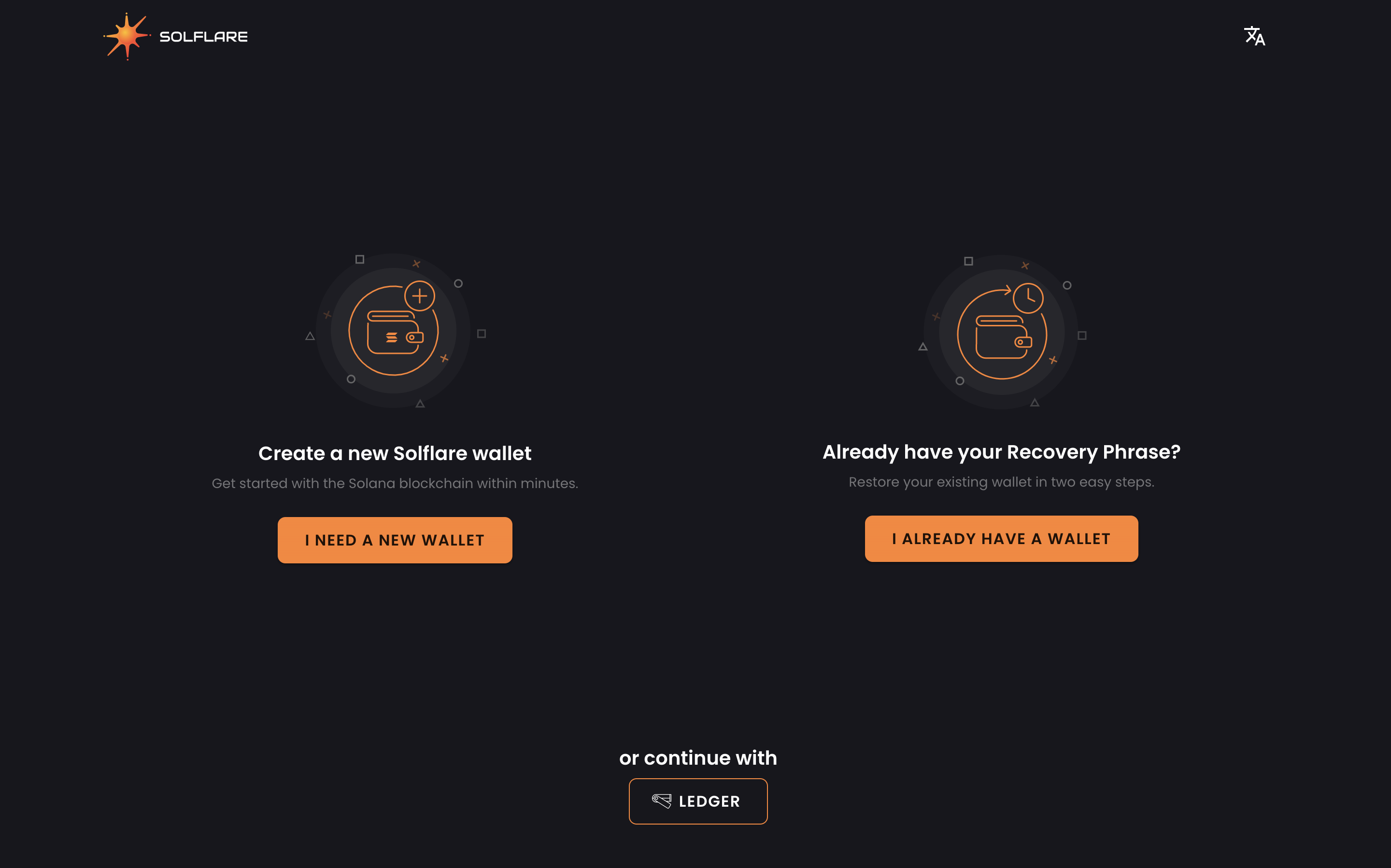 Enter the wallet mnemonic phrase (that you saved in the past)

If for some reason you lost the phrase, create the wallet from scratch and save the seed securely (better on paper). Do not share your seed phrase with anyone! This is the only access to your funds in case you lose the password.
3. Create a strong password and store it in a secure place.
4. Click Import all to finalize setting up your account.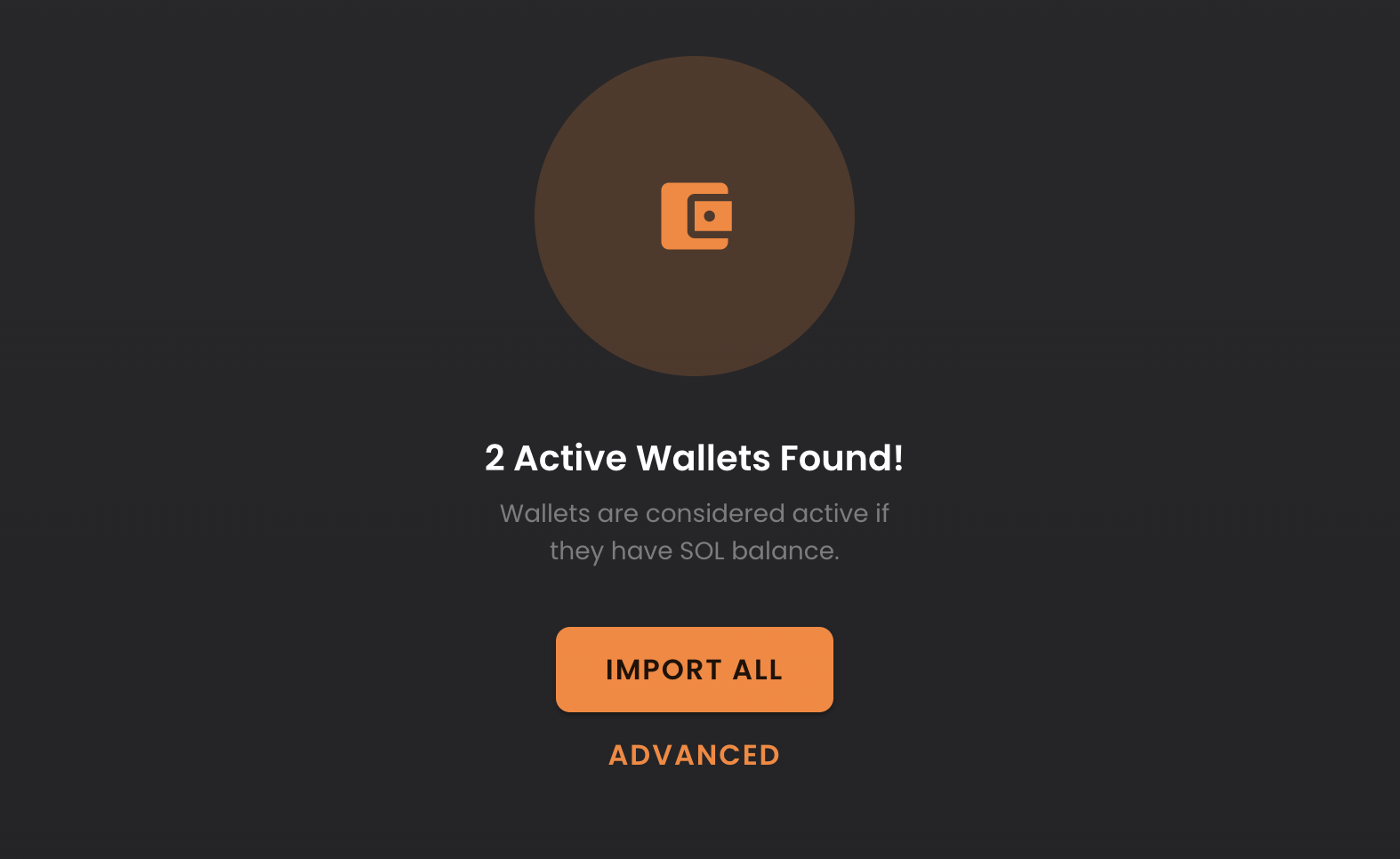 5. Congrats! Your account is imported to SolFlare successfully!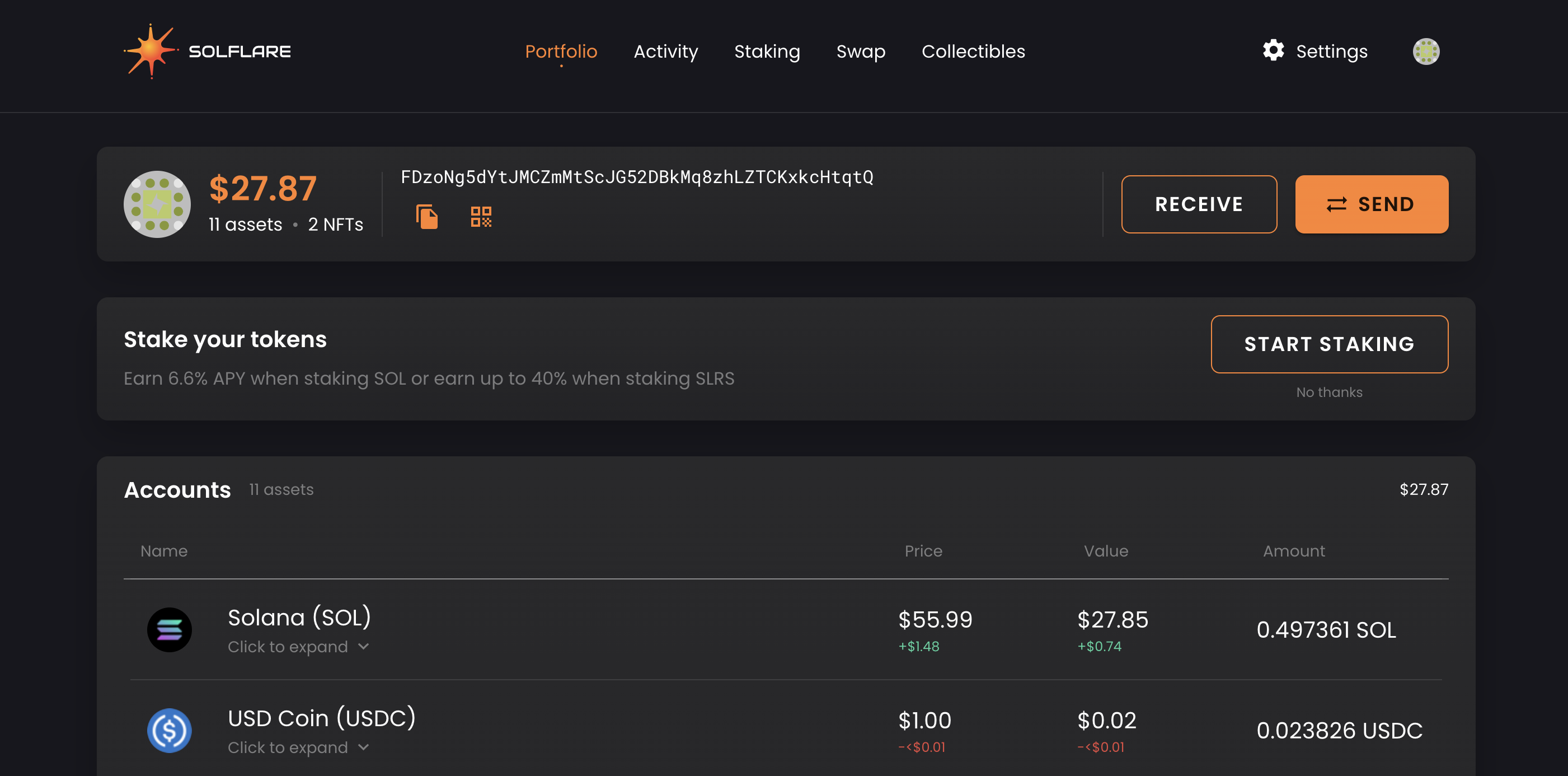 The main page displays the balance and portfolio of tokens.
Use Settings to change your wallet appearance, add contacts to your address book, etc.
You can also launch SolFlare by clicking on the extension icon in the top right corner to see the portfolio of your wallet.
Top Up the Wallet
Copy your wallet address in the header and send SOL to that address from a wallet or exchange, or share the QR code with the sender by clicking Receive.
As soon as the network validates the transaction, the tokens will appear on the balance of your crypto wallet.
Now you can proceed to Solana staking.
Solana Staking
1. Click the Start Staking button in the dashboard.

2. Choose the Native SOL Staking tab to delegate to one of the validators (standard Solana delegation). You can also choose Liquid SOL Staking if you prefer staking to the pool and obtain a liquid derivative. In this guide, we cover Native SOL Staking and select Everstake for a reference – feel free to choose any validator.

Click Start Staking.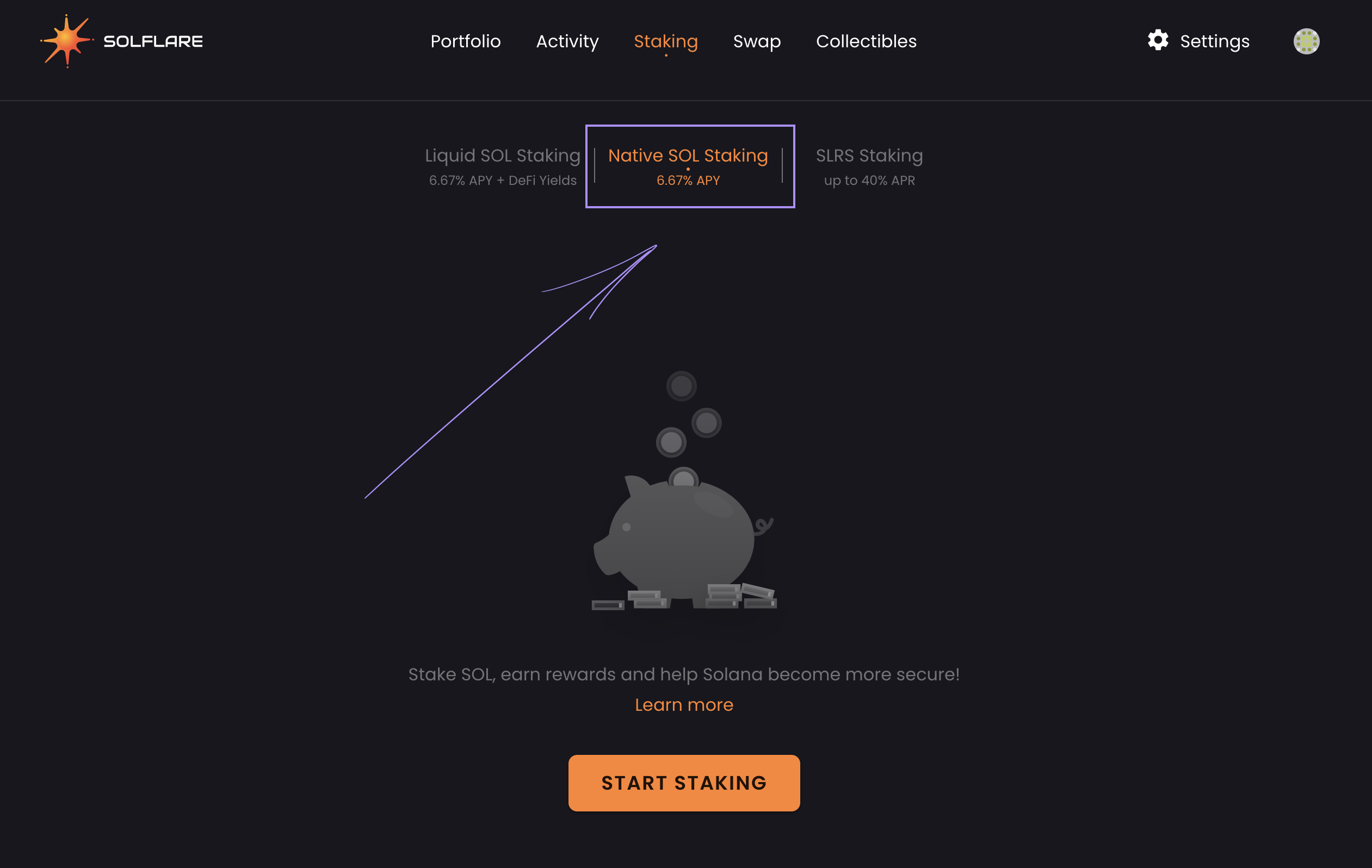 3. Enter the number of tokens to delegate and begin typing the first letters of the validator's name, or choose a validator from the list.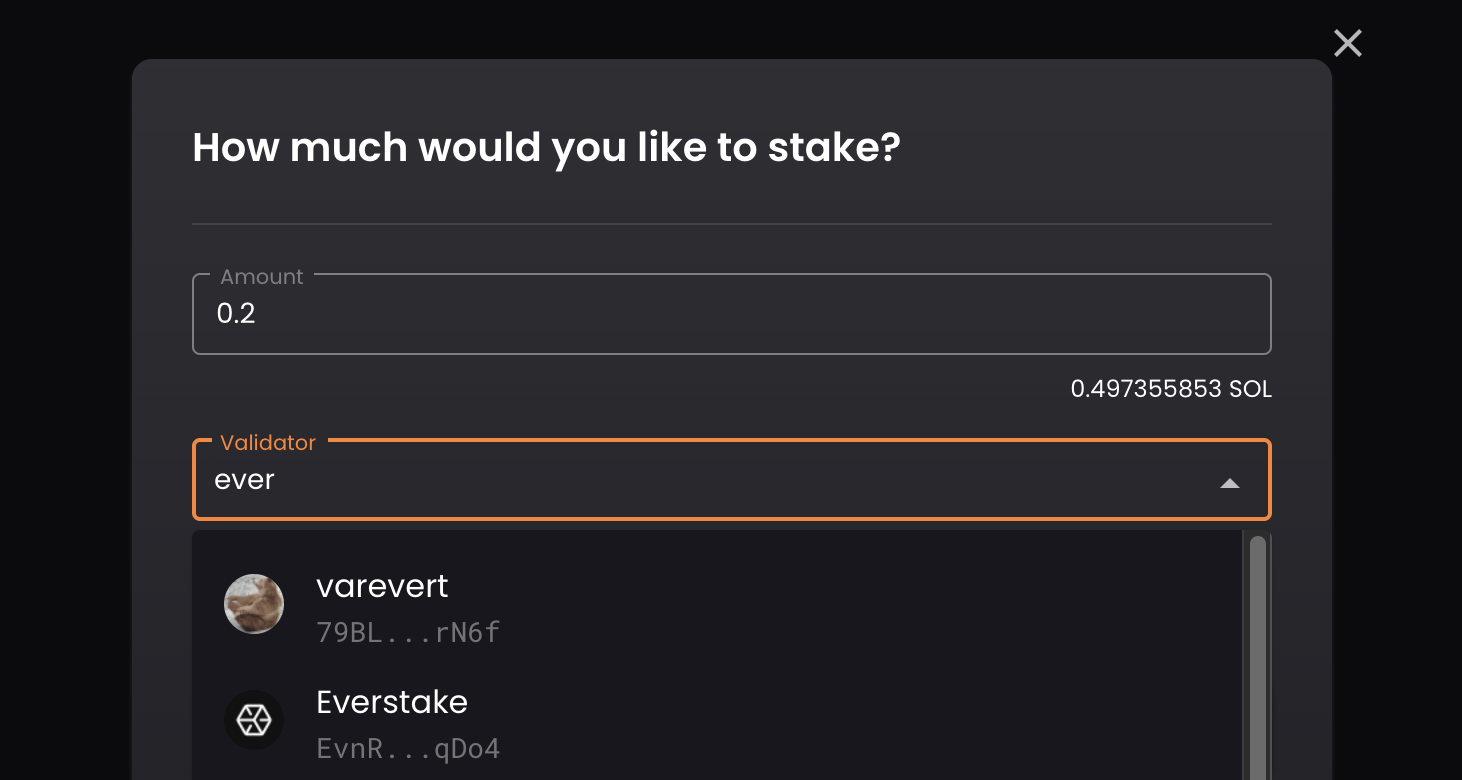 You will see how many coins are staked with the validator and the validator fee. The commission may vary from 0 to 100% depending on a validator.
Why stake with Everstake?
It's profitable: the validator charges an average commission (7%) and ensures ≈100% uptime. Read more about us here. We also propose special terms for large investors. Contact us for more details.
It's reliable: Everstake is a large, high-performance validator constantly improving its services and performance and running the best hardware/software with highly professional specialists on board. We have a vast validating experience in ≈50 PoS blockchains.
It's convenient: we provide services for staked assets monitoring. We support users and assist with staking-related issues. Proceed to Everstake's page dedicated to Solana for more information about the Solana staking.
It's simple: we regularly issue staking guides in our Blog to help newbies quickly figure out how to delegate assets across different wallets. We have dedicated Blockchain Managers for each of the networks to manage the operational flow in the most efficient way.
4. When you are ready to proceed, click Stake.
Note: before staking, make sure to keep at least 0.05 SOL in your wallet to pay for transactions! If you stake the maximum possible sum, you won't be able to unstake and withdraw coins further on. Wait while the transaction is validated by the Solana network.
5. Confirm the transaction in the Solflare app.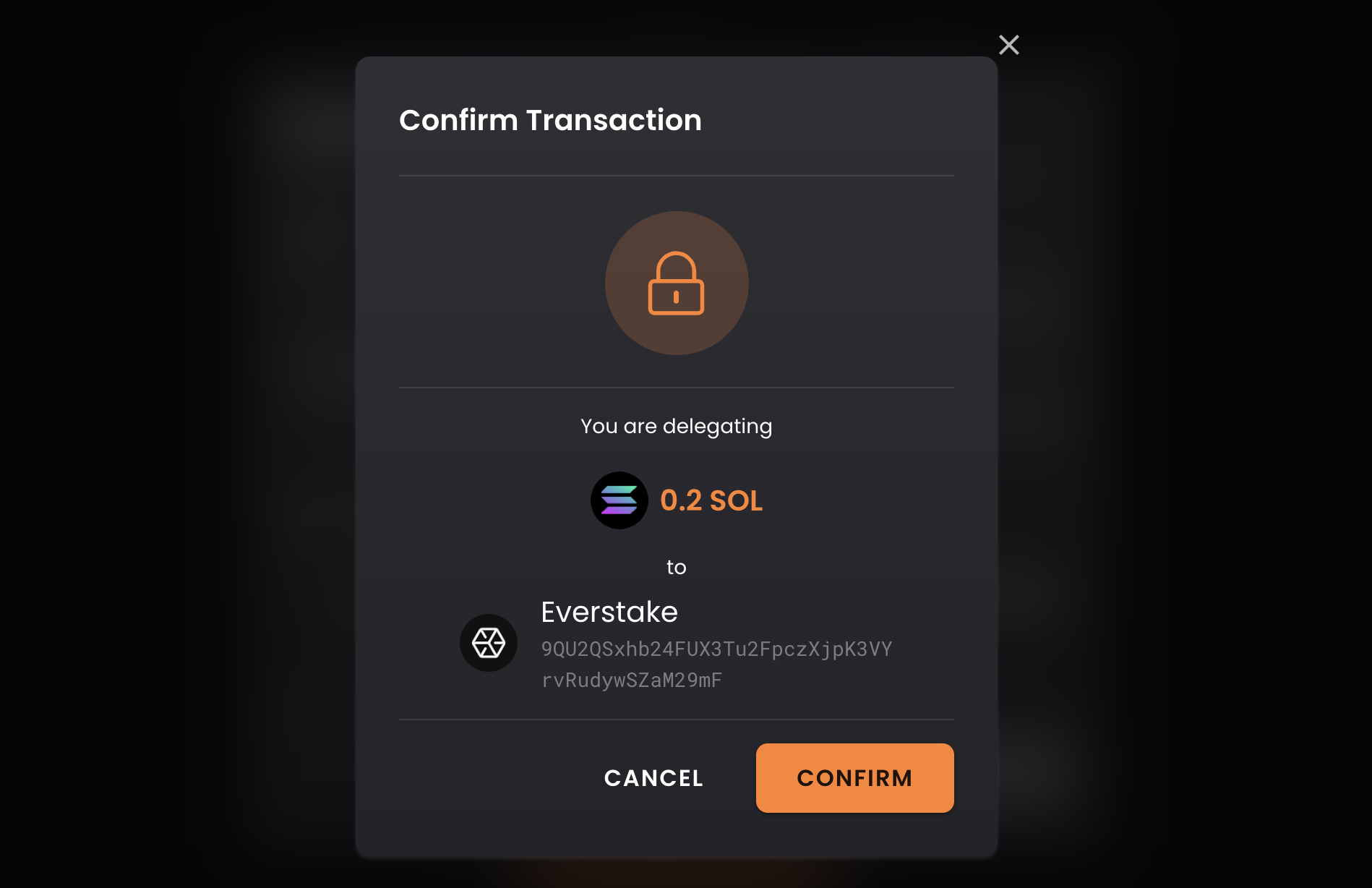 6. Done! Your stake is being activated and you will start receiving rewards as soon as the current epoch ends. Track the epoch progress on solanabeach.io.

How to Track Rewards and Unstake
1. Click on your active delegation (check the previous step and a screenshot) and expand it to track your stake.

In this section, you will find information about the state of the delegation. The rewards will be compounded, i.e. added to the active stake each epoch.
2. Here you can also split your stake or unstake tokens by clicking the Undelegate button. If you decide to undelegate, confirm a transaction in your wallet.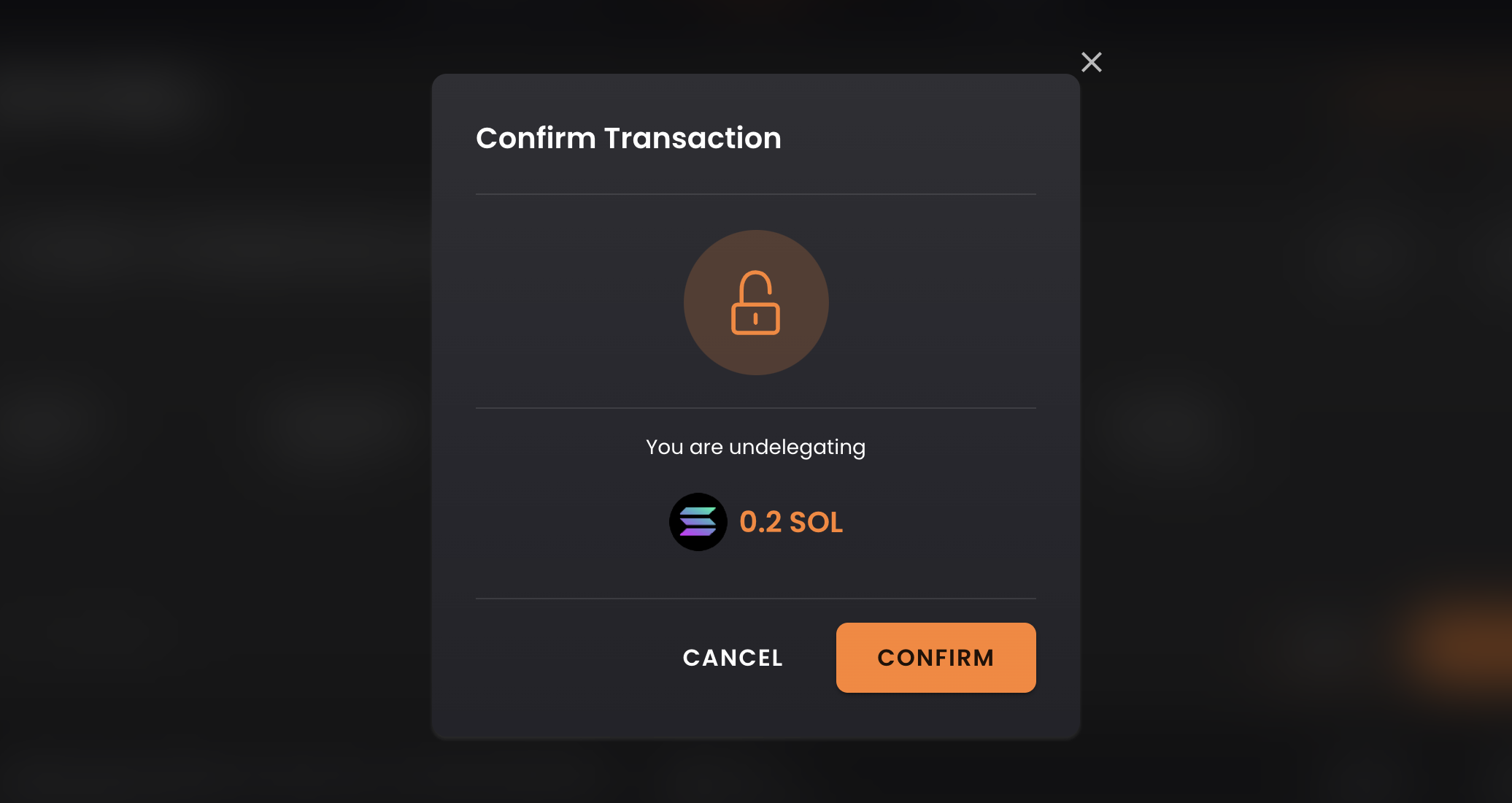 Done! Tokens have been unstaked yet must be withdrawn. Wait until the epoch ends: your stake is deactivating.
3. Оnce the stake is inactive, withdraw tokens. Only after that, you will be able to use the tokens freely. Please note that rewards will no longer be generated from the moment of unstaking.
Solana Staking FAQ
What is an Epoch?
An epoch is a unit of time in computing. It varies slightly but is normally around 2-3 days. When you start staking, the epoch you are in will not accumulate rewards. Check the epoch length on solanabeach.io.
What does activating/deactivating stake status mean?
When you delegate or undelegate a stake account, the tokens do not change state immediately. Newly delegated tokens are considered "activating" or "warming up", and are not eligible to earn rewards until they are fully activated. Newly undelegated tokens are considered "deactivating" or "cooling down" and are not able to be withdrawn until deactivated.
I staked all my SOL and I cannot unstake.
You need to transfer a small amount of SOL to the wallet to pay for trxs. Solana's recommendation is to keep at least 0.05 SOL in your wallet for all future gas fees.
How long to unstake, and do I have to do any extra steps?
It takes an epoch for the stake to get deactivated. After that, you will need to withdraw tokens.
How to track my SOL staking rewards?
Track your staking rewards with the help of your staking address and Solana explorers. Read our detailed guide–: How to Track SOL Staking Rewards.
Find more answers and Staking Guides for Exodus, Phantom, Solflare, and Trustee wallets on our SOL dedicated page.
About Everstake
Everstake is the biggest decentralized staking provider, trusted by 625,000 users. For the past four years, the company has been using enterprise-level hardware to run over 8000 nodes for 50 blockchain networks, including Cardano, Solana, and Polygon. Everstake employs 100+ experts worldwide and has been heavily involved in the development of complex blockchain products, such as Metaplex.
Everstake is the co-initiator of Aid For Ukraine, a charitable organization raising funds from the crypto community for the benefit of Ukraine's military and humanitarian needs. The initiative is endorsed by the Ministry of Digital Transformation of Ukraine and has raised over $60 million since its launch.
Together with the Ministry of Culture and Information Policy of Ukraine, Everstake has launched Save Ukrainian Culture, an initiative that seeks to raise funds in order to safeguard the country's cultural heritage amidst the ongoing barbaric invasion of russia.
The Everstake team selects only promising PoS projects. Delegating with Everstake is safe and profitable – our team performs thorough project research before joining the network as a validator.
Subscribe to social network updates from Everstake where you will find more guides on staking and useful articles about PoS networks!