Back to all posts
EOS Rate: Boost the EOS Ecosystem by Rating Block Producers
2022-02-21 11:53
It is a well-known fact that in EOS BPs are the ones responsible for maintaining high service quality and developing the EOS ecosystem. Exactly, with all existing Block Producers, there is also AtticLab. AtticLab's mission is not only to maintain block-producing processes at a decent level but to contribute and develop new tools for network participants. Our contribution includes education guides, translations, computational resources aid, as well as for analytics tools and plugins. Learn more about AtticLab's contribution to EOS.
In order to be able to maintain high service quality and at the same time know what to improve, it is always great to receive feedback from the users. The EOS community can now provide it using a special dApp called EOS Rate, which makes the whole process easier, more transparent, and efficient.
About EOS Rate
EOS Rate allows for any EOS account to submit a rating for Block Producers in 5 distinct categories and visually compare their attributes. Its goal is to capture the collective opinion, or "wisdom of the crowd", and measure if voter sentiment is actually reflected in voting patterns. EOS Rate strives to be a visually appealing tool that helps token holders make an informed vote for the best performing Block Producers and ultimately strengthen the EOS network as a whole.
This open-source dApp uses a radial graph to represent the most important qualitative aspects of a Block Producer. Ratings are generated by the EOS community and then stored on the EOS blockchain. EOS Rate will also provide a BP profile page with some quantitative facts, a compare tool, dynamic filtering, and links related to each BP. The objective is to inform potential voters and allow them to easily share their ratings with others.
Note: Ratings differ from votes because they are agnostic to the amount of EOS that account holds. One account = one rating submission. Users are able to update their ratings at any time.
Rating Categories
EOS Rate provides five categories that we believe are the most relevant for voting. The rating will be on a scale from 0 to 10 in each of the following five categories:
Transparency
Is the BP compliant with disclosure of ownership and complete bp.json, does it disclose the use of rewards and provides financial disclosure?
0 = No disclosure.

10 = Full disclosure.
Infrastructure
Does BP have a stable and reliable infrastructure?
0 = Unstable infrastructure or no information available.

10 = Demonstrated infrastructure reliability.
Community Engagement
Does the BP provide value to the community through education, promoting talks, chats, hackathons, conferences, seminars, developer spaces, and useful content?
0 = No community engagement.

10 = Demonstrated excellence in community engagement.
Testnets
Does the BP provide dedicated resources to community testnets, leadership in testing, and administration of test environments? Does the BP provide tools for dApp testing or otherwise?
0 = No Testnet involvement.

10 = Demonstrated Testnet Engagement.
Tooling
Does the BP provide tools like open-source software, scripts, framework, software as a service, wallets, voting portals, metrics, etc?
0 = No tools or services

10 = Added value through tools
How to Rate?
In order to be able to rate for your preferred BP, you just have to follow a few simple steps:
1. In order to unlock rating ability, first, you must make sure that you have voted for at least 21 BP or proxy. Only after that, you will gain the right to rate. Check our article on Voting in EOS via Anchor Wallet, if you need a guideline.
2. Proceed to the EOS Rate Website and click the sign-in button that is displayed at the top-right corner of the UI.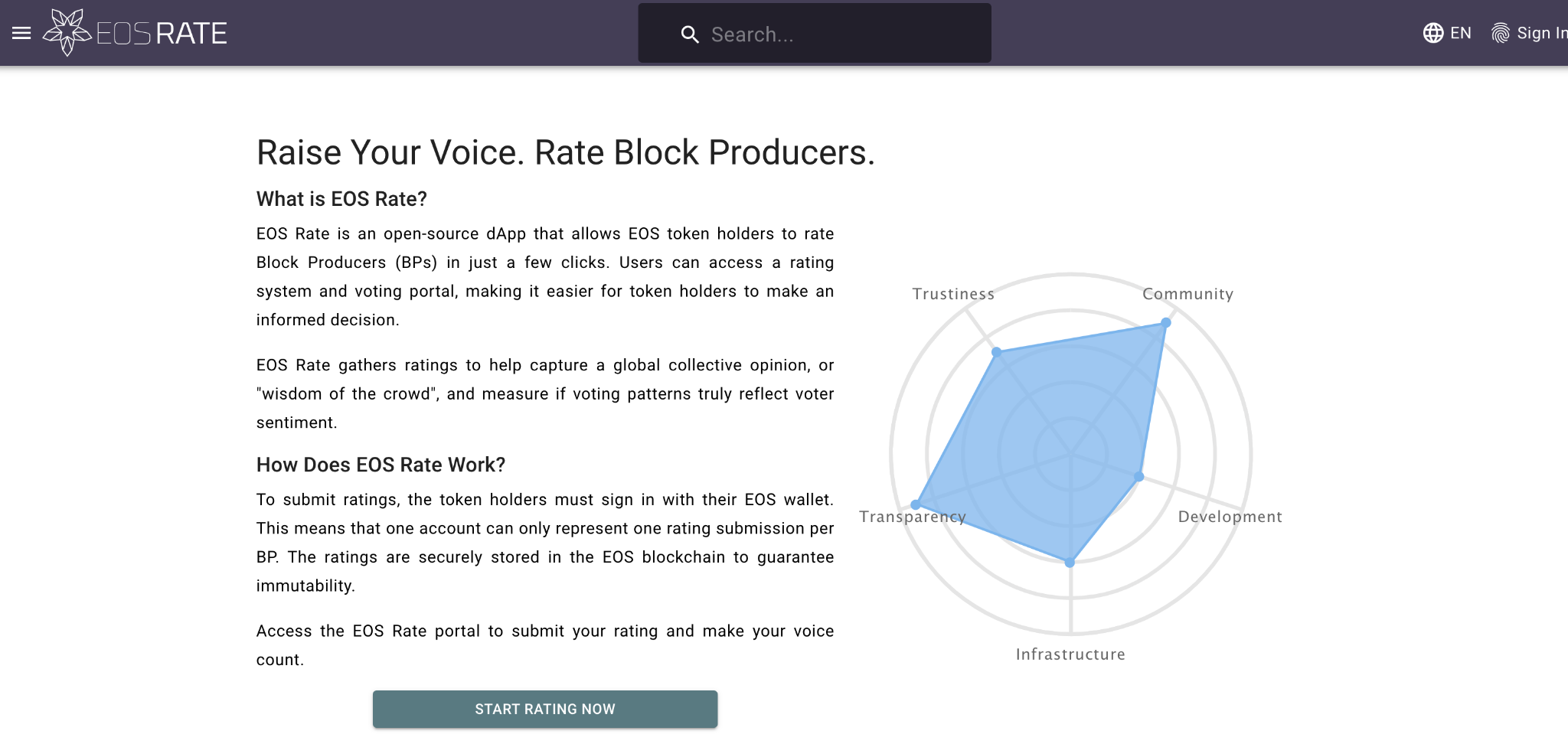 3. Choose the option through which you would like to log in. In this case, we are going to proceed with the mentioned action using the Wombat wallet. If you have not used the mentioned wallet before, you can check out our guide about it. You can also use the Anchor Wallet or Ledger to log in.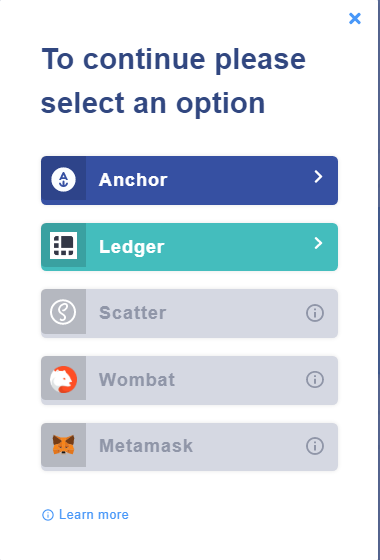 4. From the main menu, choose the Block Producers sub-menu.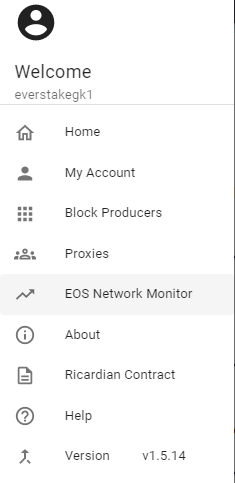 5. Find the preferred BP, which you would like to rate. In this guide, we are going to rate AtticLab BP for a reference. After that, press the Rate button.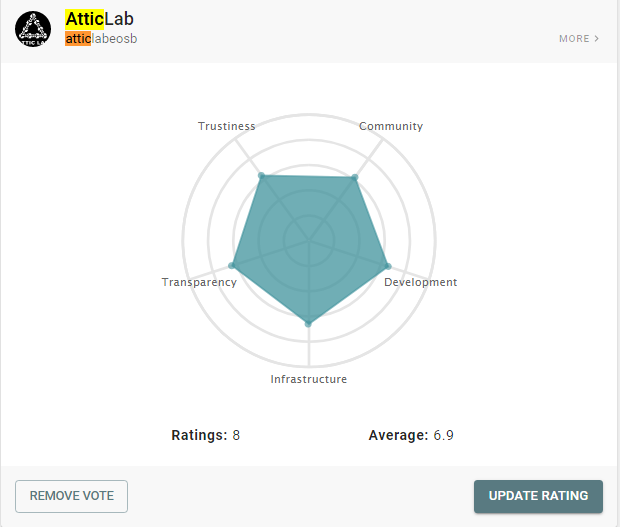 6. On this page, you will have to drag the slicer to rate each category. As mentioned before, 1 means poor performance while 10 means outstanding performance. You can also disable any category if you feel you want to do some research before rating it. Once you are ready, publish your rating using your wallet.
7. Set the slicer and press the Publish Rating button.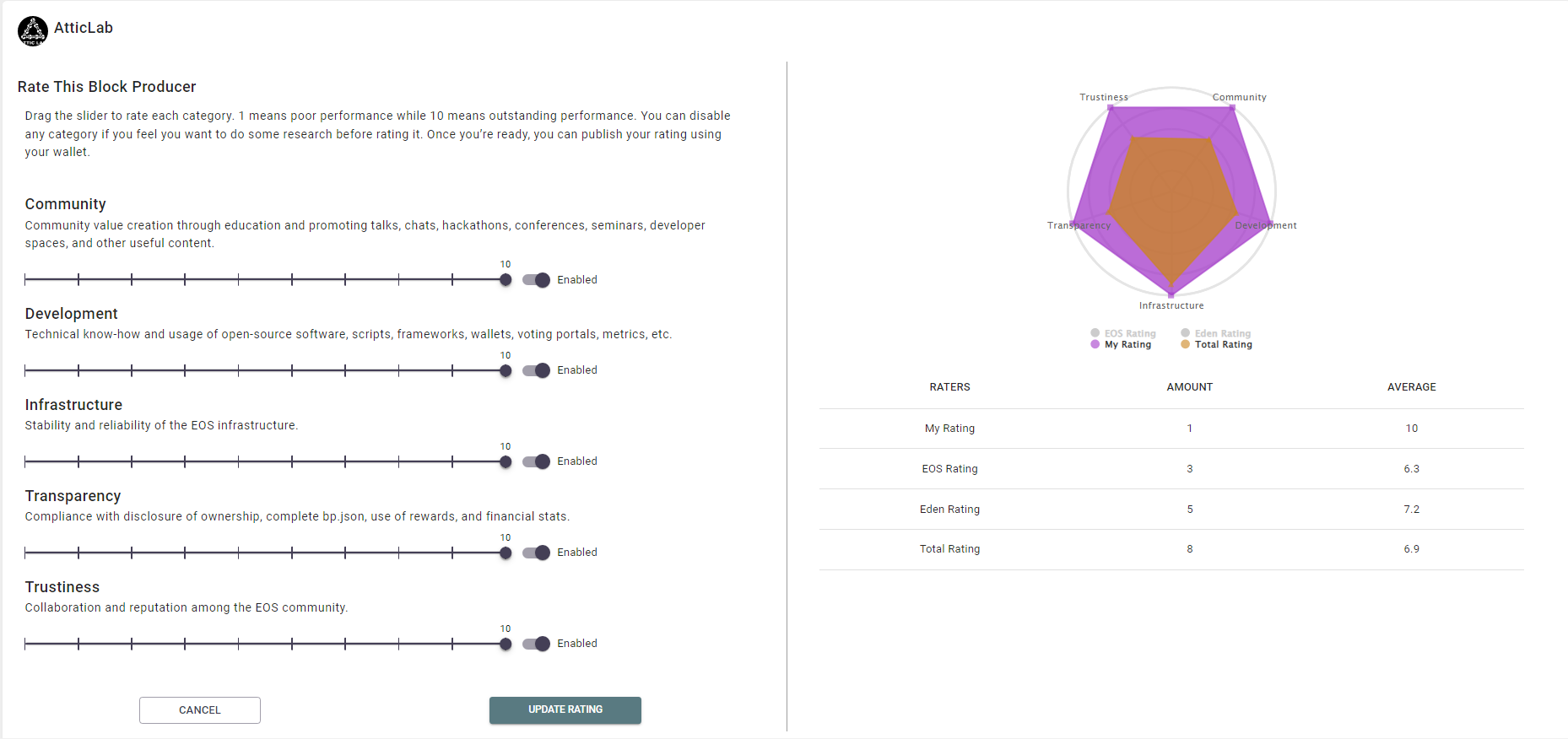 All done! You have voted for your preferred BP.
Note: if you change your mind, or your rating opinion changes, you have an opportunity to update your rating.
About AtticLab/Everstake team
AtticLab (Kyiv, UA) was set to work in 2014. In the very beginning, we developed blockchain solutions for banks and other financial institutions in collaboration with Ambisafe, Alliance Bank, and Humaniq. Now our diverse and experienced team allows us to focus on building our own blockchain applications. As part of our strategy, we support open-source blockchain initiatives and share our expertise with the blockchain community by delivering guides and educational content as well.
Being EOS Block Producer
At AtticLab, we believe in the concept and technology behind EOS. That is why we commit our resources to its development and mass adoption. As a Block Producer, we run a complex infrastructure with nodes located in Ukraine, Singapore, and Germany. Our top-notch hardware and software allow us to be in the TOP-5 of the fastest EOS Block Producers.
As a Block Producer AtticLab:
performs technical tasks (creates and validates blocks, hosts full seed node and back-up servers);

bears governance responsibilities (manages buggy accounts, take-down notices of files, manages hard and soft forks).

You can support the AtticLab/Everstake team by voting for us and rating our performance on EOS Rate. This will help us to intensify our support of the EOS Ecosystem and add to the platform development.
Contact us
Website: atticlab.net, everstake.one/eos
Telegram: atticlabeosb
Twitter: @atticlab_it
Medium: attic-it-lab.medium.com and medium.com/everstake
Useful links
Delegation Guides and Articles
Subscribe to Everstake on social networks and stay on top of important Proof-of-Stake blockchain updates! In the blog, we regularly publish detailed guides on staking in various crypto wallets.