Back to all posts
How to Earn Rewards in EOS Using SimplEOS Wallet
2022-01-10 10:41
Since April 8th, 2021, PowerUp was able to completely replace the previous staking approach model and REX Approach. We described the PowerUp model in detail in our previous article — EOS transition to PowerUp article. Model Solutions for possible RAM, CPU / NET issues.
Using this guide, we will provide you with a step-by-step guide regarding the topic of connecting your Wallet to the Anchor account. This is a great opportunity to learn how to earn a 2–3% yield with the EOS tokens.
Do not know yet how does Voting work in EOS? Why Vote? No problem, the Everstake team has provided detailed answers to the given questions in our second guide. Interested? Press the Link.
Obtaining a private key
To create an EOS account in SimplEOS, you need a private key from your wallet, which can be obtained from any crypto wallet that supports the EOS Power Up model: for example, Wombat. We will illustrate the process of obtaining a private key using the example of the Wombat wallet. There is also another way, which at some point stands to be a more costly option, thus we are going to proceed with the first choice.
So, download the Wombat Wallet and install it. To get the private key, go to the Wombat wallet settings and select the Keys & Accounts section.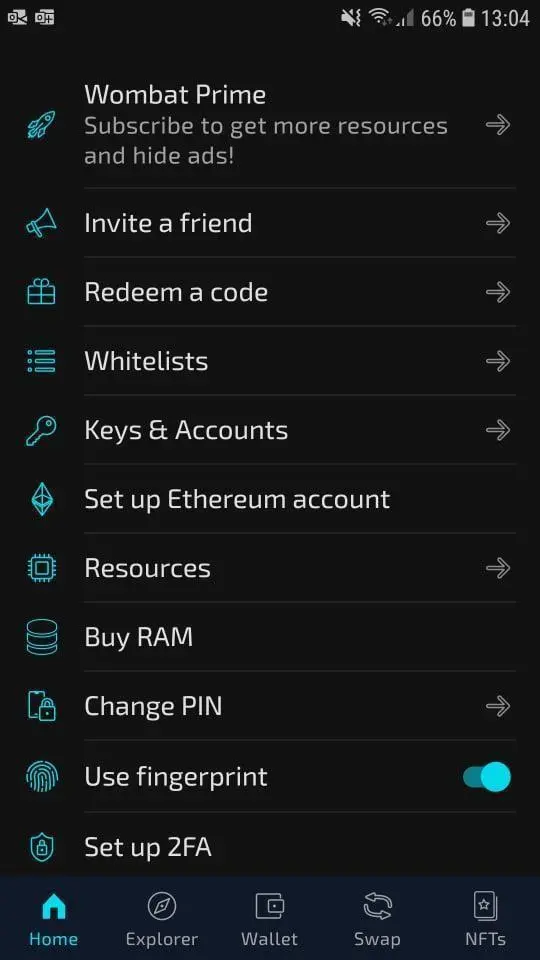 If the private key has already been purchased before, it will be displayed on the screen and you can copy it in order to import it into another wallet.
If the account has not been used yet, add a couple of EOS tokens and purchase the private key (costs 2 EOS). It will take 5–15 minutes after payment in order to generate it. When Wombat verifies the payment, you will receive your personal private key. Copy it — you will need it to create an EOS account in the SimplEOS wallet.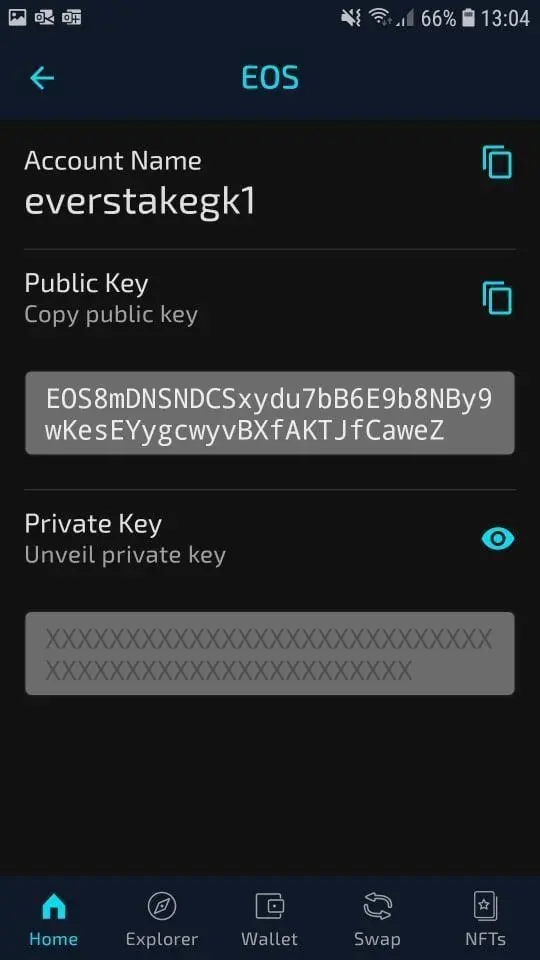 Setting up a SimplEOS Account
SimplEOS is a wallet made solely for the EOS ecosystem and fully integrated with all features available in the EOS.IO software. It is a desktop application compatible with the most popular operating systems and it's available on Github to be audited by the community.
In order to install the Wallet Desktop application on your PC or MAC, go to the developer's web-page and press the download button (According to your OS).

Install the program and run it. The wallet will be installed automatically — all that remains is to create an account. Press the import existing key button.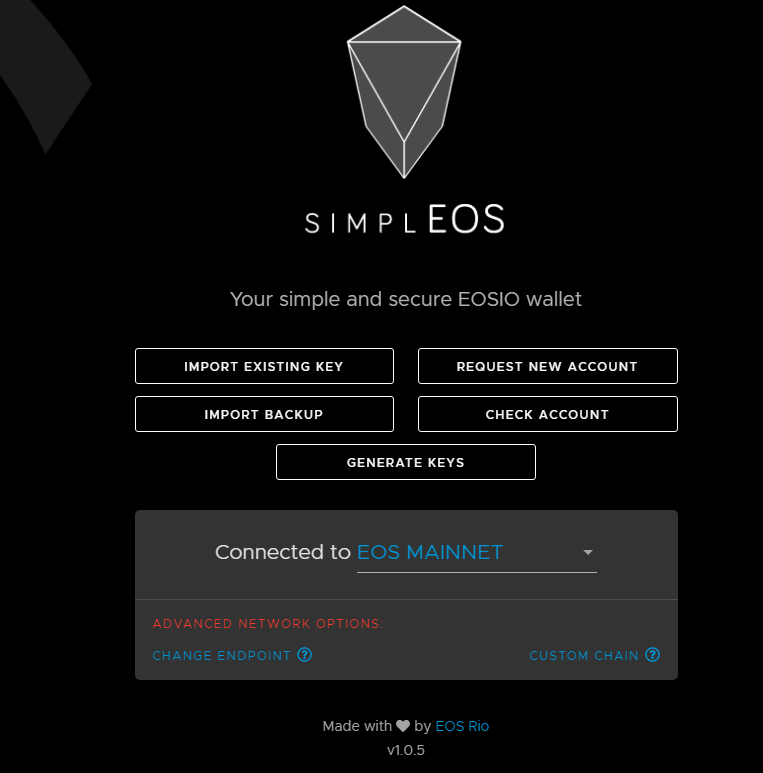 After that paste the private key, that you have copied from the Wombat Wallet and press Next.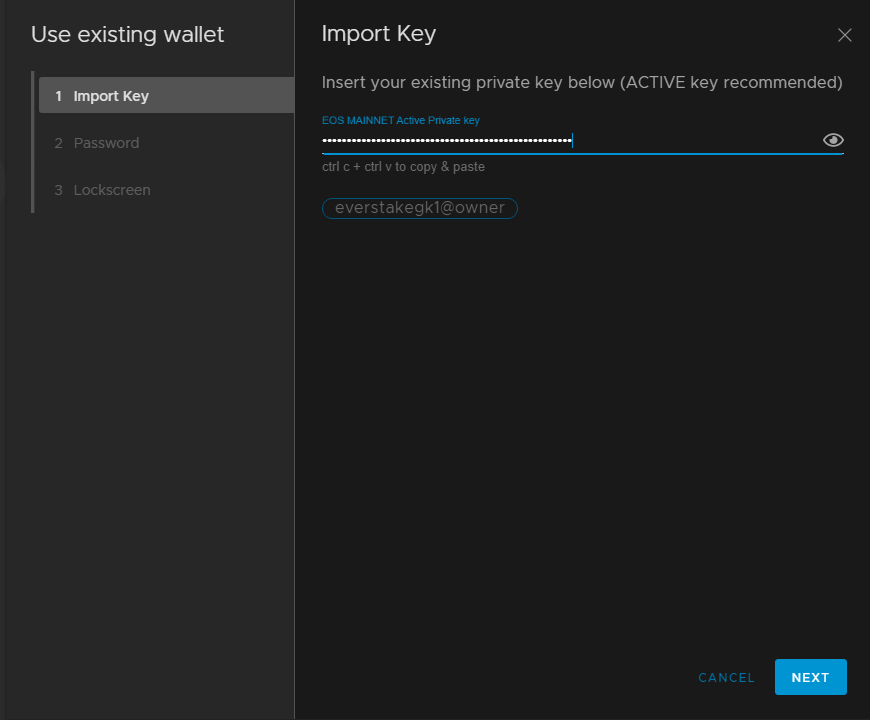 Create and enter a strong password that is used to access encrypted wallet files, then store it in a safe place: on paper or in a password manager. In case someone takes possession of your computer, he will not be able to access the wallet without knowing the password. So create a strong password (for example, eX1£[email protected]²L). The more symbols you use and the more varied they are, the better. After setting the password, click Next.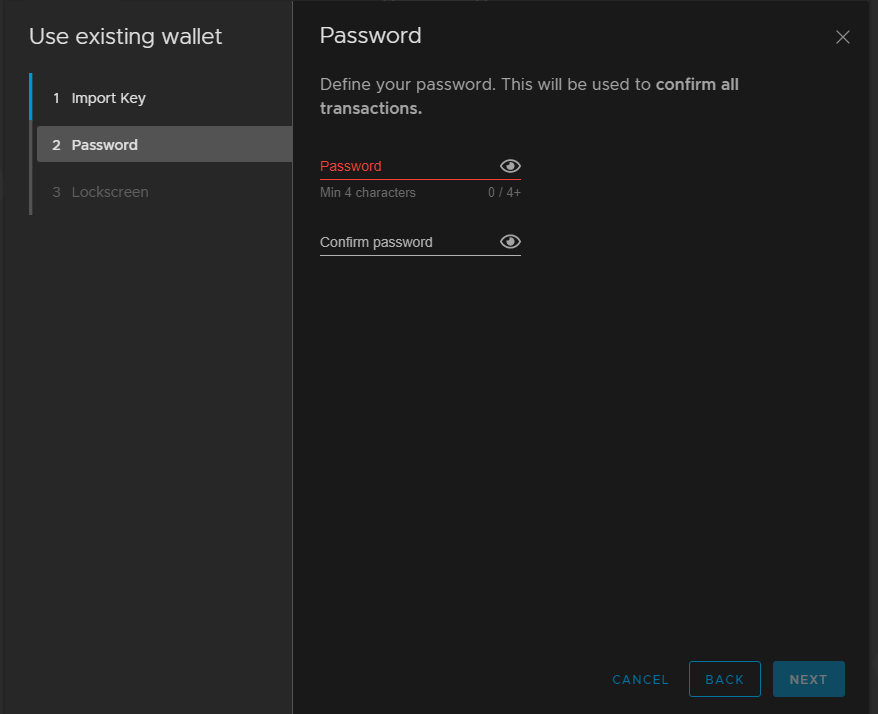 And the very last option before finishing the mention process is to set up the Lockscreen, which is the fully optional step.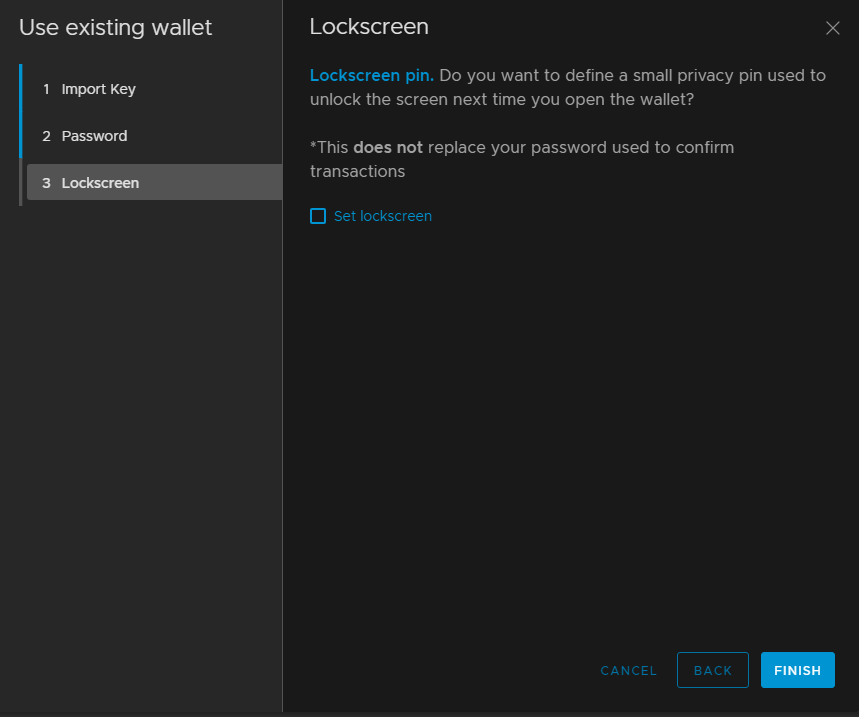 Congratulations! You have successfully imported your EOS account into the SimplEOS wallet and can now use it to vote. But for this, you need to activate the PowerUp function.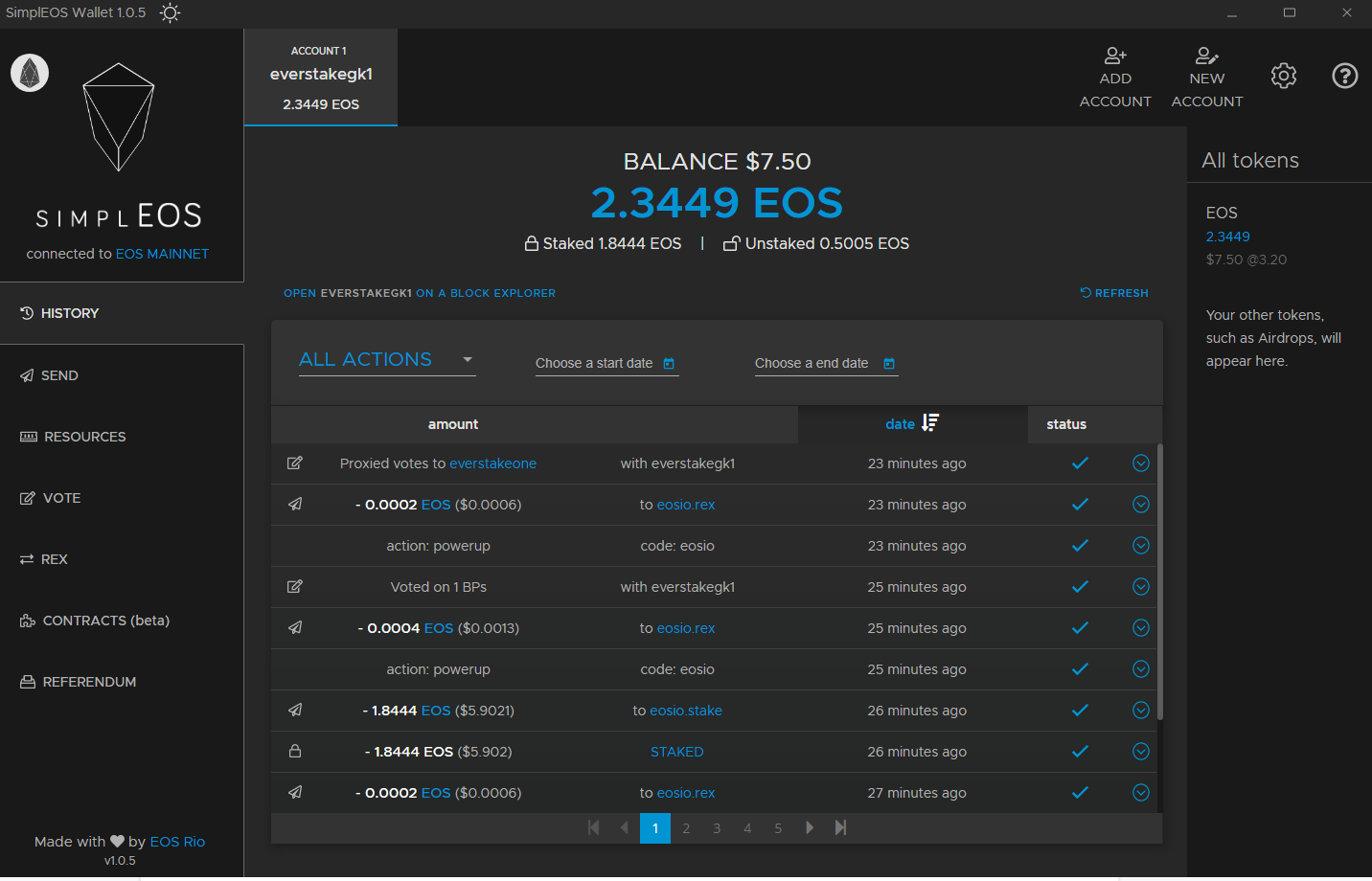 Using the PowerUp function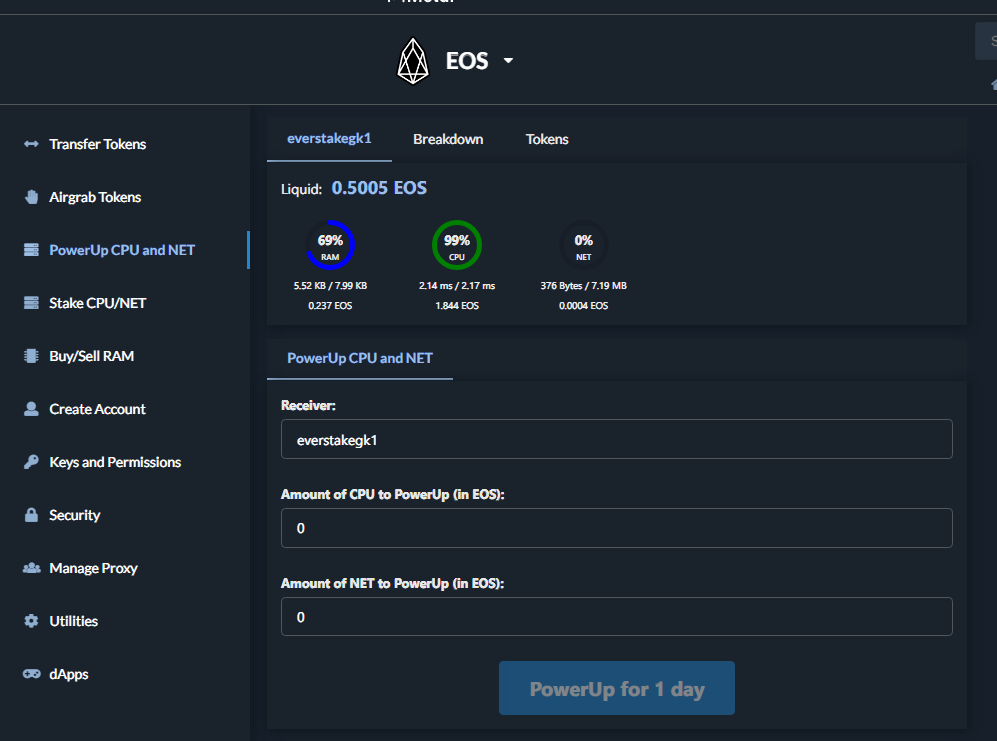 After the last update of the EOS network, any user can use the PowerUp function. to rent CPU and NET resources to perform operations in the account.
To activate PowerUp, address its functionality via bloks.io or learn more about the new PowerUp model through our article.
Staking / Voting for rewards
The amount of EOS staked is also your voting power. Only staked tokens contribute to voting power when you vote for Block Producers. Summarising, stake EOS if you wish to vote and get returns! Otherwise, just power up your account for transactions.
Staking is simply possible through the Vote section of the wallet. You just need to set up the willing values and press the Stake button.
Note, that in order to earn rewards by voting, you must specifically vote for proxy that provides rewards (for instance, 'everstakeone'). While voting for BPs helps them to maintain their level of service and supports the EOS ecosystem it doesn't provide you with rewards. Still, voting for BPs is highly encouraged.
Voting for a Block Producer (BP)
Block producers act as validators of the blockchain network, thereby making a significant contribution to the open ecosystem of EOS, which we also wrote about in the article, the link to which you find above. For more information on block producers and AtticLab in particular, visit the EOS Block Producer Research Portal.
Users who use their EOS tokens to vote for proxies can receive rewards of up to 3% per annum. Further down we will explain how to do it.
First, let's see how to vote for the block producer. In order to vote, move to the Vote menu, located at the left side of the panel, and choose the Vote for Block Producers option.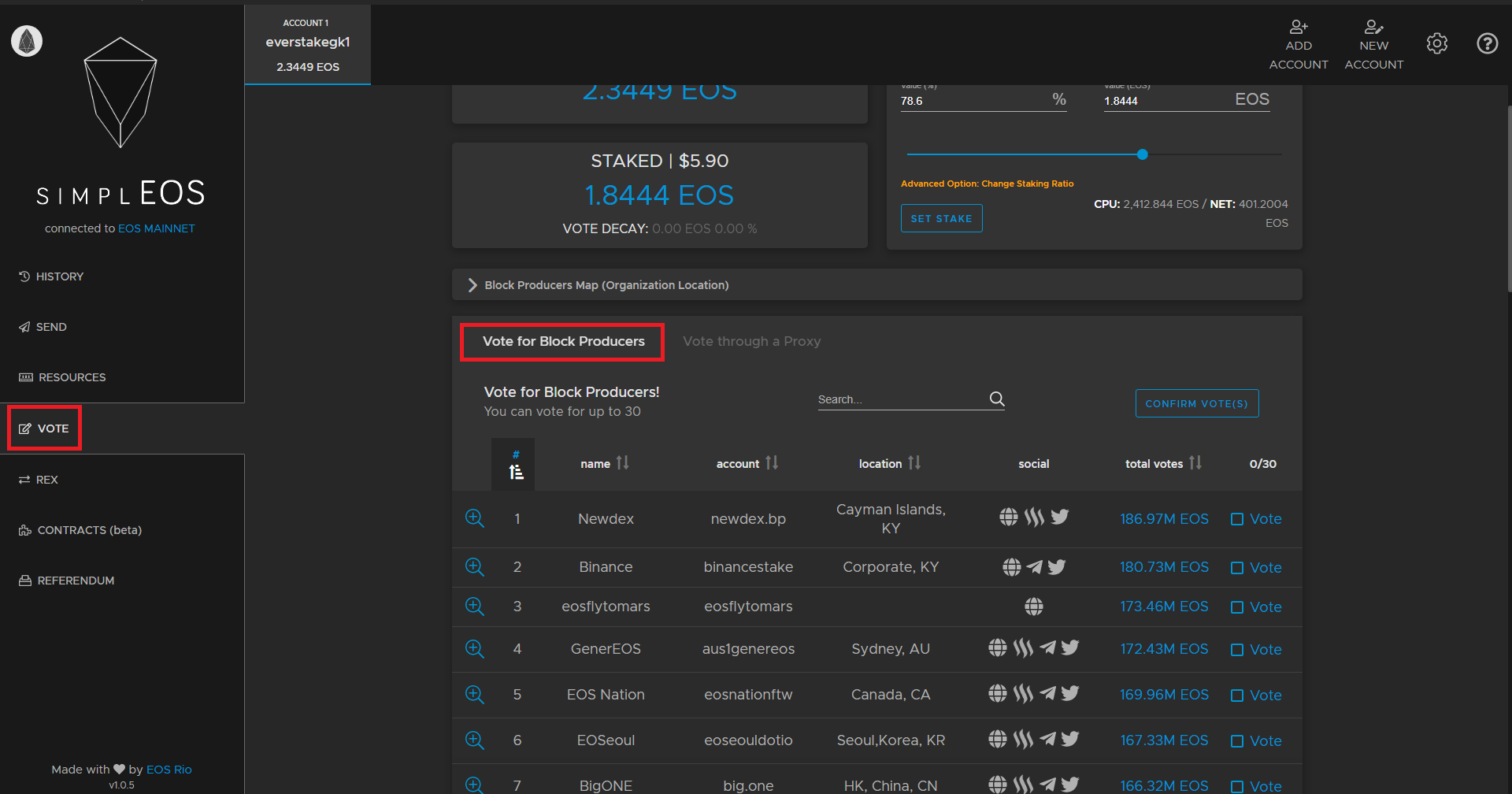 In the list of active block producers, find Attic Lab (atticlabeosb) by manually scrolling the page or using the search function.

Select a block producer and click on the icon (Check-box) on the right side of this line and press the Confirm Vote(S) button. It should be noted that you have an opportunity to choose and vote up to 30 BPs.
Note: voting for block producers does not entitle you to receive rewards. This is used to motivate BPs to maintain a high quality of service and actively develop the EOS ecosystem.
Voting for proxies and getting rewards
In EOS, proxies are given the right to vote for BPs using the delegated votes of the holders. To get the reward, vote for proxies like the one from Everstake (everstakeone). To quickly find the required proxy, use the search box and enter the name of the required proxy: everstakeone.

Confirm your selection by clicking Confirm Vote.
Don't forget that you need to stake EOS in order to be able to vote and get rewards. Don't get confused — we don't stake to get resources for performing transactions. We stake to vote.
For that, on the Resources page enter an amount of CPU and NET to stake (in EOS). We use a small amount for CPU in our example, just for a reference. Also keep in mind that you don't need to stake much NET resources — 0.1 EOS will be enough for that. Stake CPU to get actual rewards.
In case if you stake and vote for 'everstakeone' proxy, the yield is 2–3% and it will be applied to the total amount you staked.
Let's say, you have staked 1000 EOS for CPU and 0.1 EOS for NET — you'd get 2–3% yield on 1000.1 EOS, which is ≈20–30 EOS per year.
Also, staking your tokens in exchange for voting adds a three-day buffer for you to save your tokens from theft should your keys ever be compromised. Once you stake your tokens, there is a 72 hour cool-down period until you're able to transfer them out of your account.
Ready! You voted for the Everstake proxy and will now receive rewards.
How to Unstake
In the aspect of unstaking, one has an opportunity to use the SimplEOS wallet for the given process as well, or address to the bloks.io for the above-mentioned procedures. Don't forget, you'll need to wait 72 hours to be able to claim your refund.
If you would like to explore other Unstaking opportunities and websites through which all these can be done, check out another article.
FAQ on Voting in EOS
You can check EOS Voting Stats here.
Voting Analytics is available here.
All EOS account holders are kindly requested to vote for the ideal Block Producer candidates. You can vote for up to 30 Block Producers at a time. The information below is provided by EOS Community:
How long is my vote valid for?
Your votes are valid for a long time. However, they do have a half-life of 365 days. This means after 90 days, the votes are worth 80% of their original weight.
How often can users vote?
EOS accounts will be able to vote as many times as they want, every time an account changes its choices, the votes are allocated to the producers chosen.
What happens if I change my vote?
Every time you vote, the previous votes are overwritten with the new votes. This happens each time you vote, so new choices you make will overwrite the old ones.
Does voting cost me anything?
Voting for your favourite block producer candidates is absolutely free! It is important to select candidates that you feel will help the community and the EOS network.
When will voting end?
There is no end date on voting. You can vote and change your vote as many times as you want. Votes will keep being accepted as long as the EOS network is available.
Is Voting Secure?
As long as your private key is safe. Do not use your private keys in places that you don't trust. We recommend not to use private keys on any website directly.
About AtticLab
AtticLab (Kyiv, UA) was founded in 2016. In the very beginning, we developed blockchain solutions for banks and other financial institutions in collaboration with Ambisafe, Alliance Bank, and Humaniq. Now our diverse and experienced team allows us to focus on building our own blockchain applications. Our roadmap of the projects includes cryptocurrency exchange Cryptagio and open-source banking software openbankIT.
The mission of AtticLab is to create a compliant and decentralized financial system that benefits all its participants. As part of our strategy, we support open source blockchain initiatives and share our expertise with the blockchain community by delivering guides and educational content as well. Our past experience of working with banks and other financial institutions gives strong evidence that the modern financial system suffers from the "code is the law" attitude. The future decentralized financial system needs arbitrage. That is why we believe in the approach that the EOS team sticks to. To facilitate the development of the EOS ecosystem, AtticLab has become the EOS Block Producer and shares its expertise along with resources with the global community.
Being EOS Block Producer
At AtticLab, we believe in the concept and technology behind EOS. That is why we commit our resources to its development and mass adoption. As a Block Producer, we run a complex infrastructure with nodes located in Ukraine, Singapore, and Germany.
As a Block Producer AtticLab:
– performs technical tasks (creates and validates blocks, hosts full seed node and back-up servers);
– bears governance responsibilities (manages buggy accounts, take-down notices of files, manages hard and soft forks).
You can support the AtticLab/Everstake team by voting for us. This will help us to intensify our support of the EOS Ecosystem and add to the platform development.
Contact us
Website: https://atticlab.net/, https://everstake.one/eos
Telegram: atticlabeosb
Telegram Support Chat: https://t.me/everstake_chat
Twitter: @atticlab_it
Medium: https://attic-it-lab.medium.com/ and https://medium.com/everstake
Github: https://github.com/atticlab/
Useful links
EOS Website:
EOS Explorer:
Wallets:
Wombat Wallet (free tx and automated resource management)
Anchor Wallet (free accounts and free tx)
To power up an account:
Create EOS account:
https://eos-account-creator.com
EOS Community Forum:
https://forums.eoscommunity.org
Subscribe to Everstake on social networks and stay on top of important Proof-of-Stake blockchain updates! In the blog, we regularly publish detailed guides on staking in various crypto wallets.