Back to all posts
Everstake Major UX/UI Update: An Important Step Towards Usability
2019-11-06 17:43
Our team cares about every single user on our platform, and we are always eager to improve our services so that everyone can benefit from it. For the last few weeks, we were actively preparing the new version of the website, which brings an advanced interface and a few useful features. All sections of the website were significantly reworked in accordance with users' feedback and our suggestions. Welcome to the new Everstake!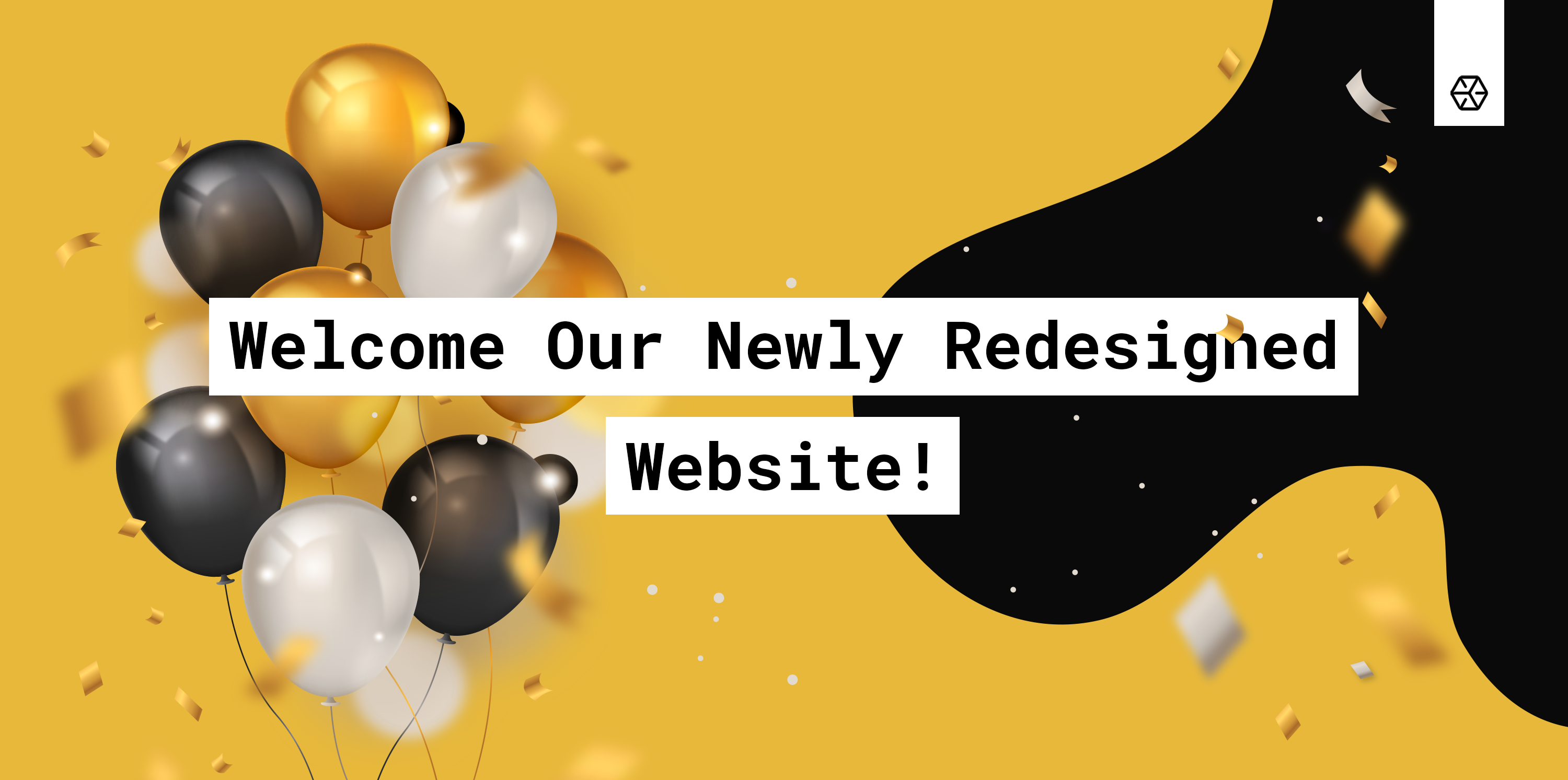 During this year, we have dramatically improved our staking platform, so that it could meet user demands in terms of usability, as well as analytics. The latter allows tracking the most important metrics related to transactions, dApps, addresses, and much more across different blockchain networks. On top of that, users are able to track effectively their staking performance, such as rewards statistics, balances, and other essential information.
In the near future, we are planning to add other useful features that should improve the usability of our platform while helping users to get valuable insights. If you have never used the Everstake before, you can get familiar with it by reading the next section of this press release. Thanks, everyone, for being our loyal users!
A Quick Sneak Peek
In case you are planning to start staking PoS cryptocurrencies that are available on our platform, you can create an account with us by going on our official website and clicking on the 'Sign Up' button.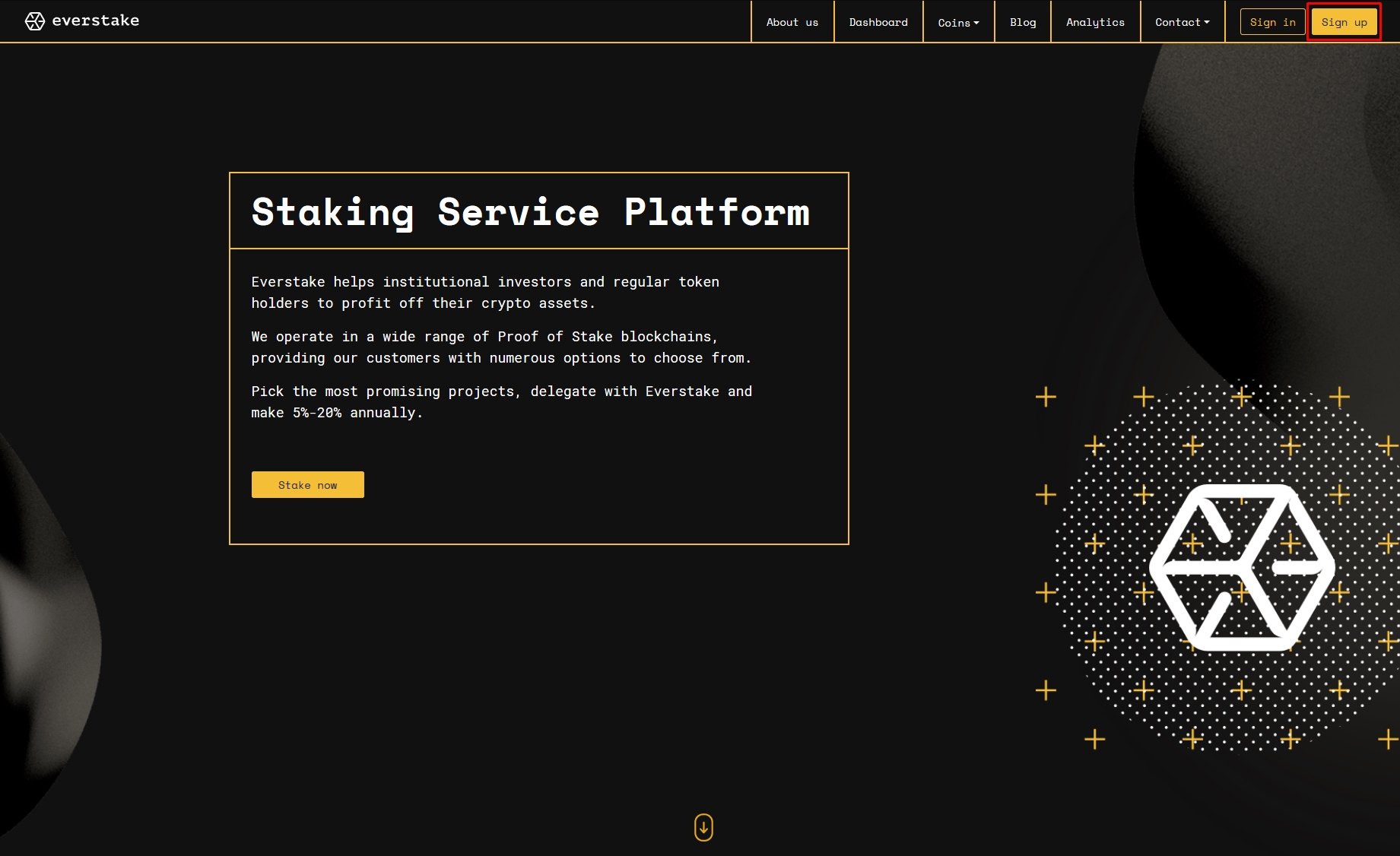 Enter all necessary details such as email and password, check the Terms and Conditions box, and complete the email verification procedure.
Once logged in, you will be able to see a toolbar on the left, which navigates you to the most important sections of the dashboard.
The main block will give you an overview of your staking operations.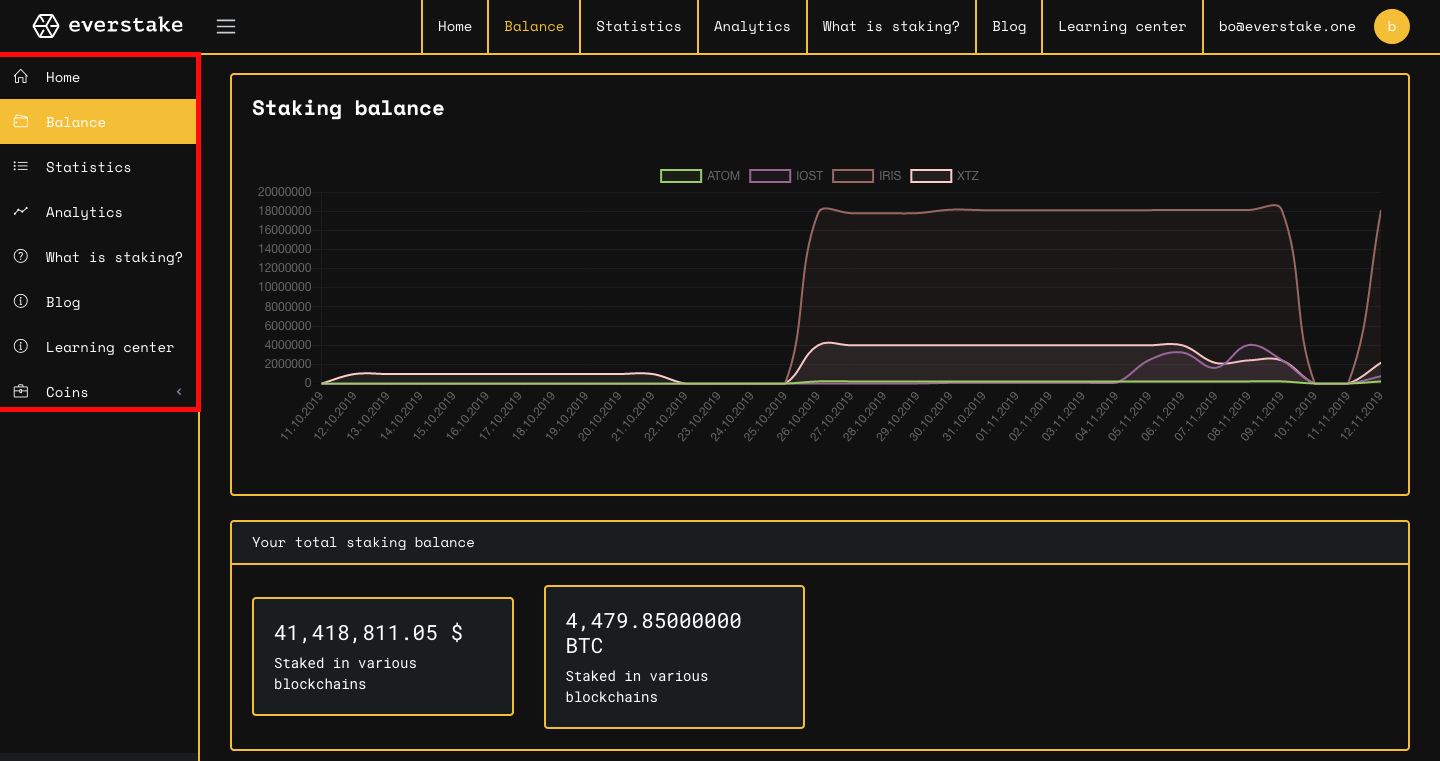 If you want to find interesting insights across different blockchain networks, you can refer to the 'Analytics' section. It will allow you to check basic information related to transactions, dApps and addresses.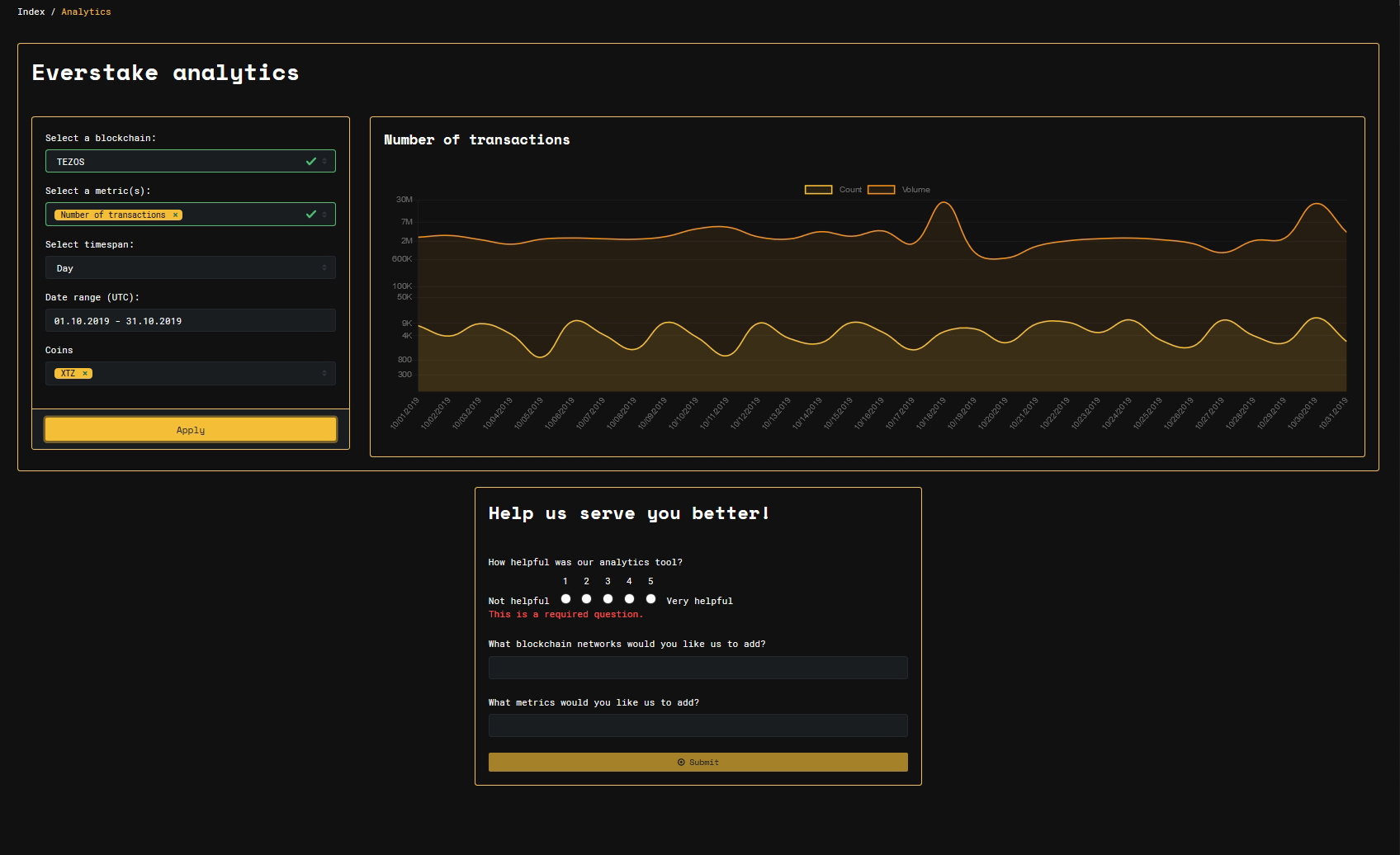 In case you want to start staking different cryptocurrencies, please click on the 'Coins' button and in the dropdown menu, choose the desired cryptocurrency (e.g., Tezos).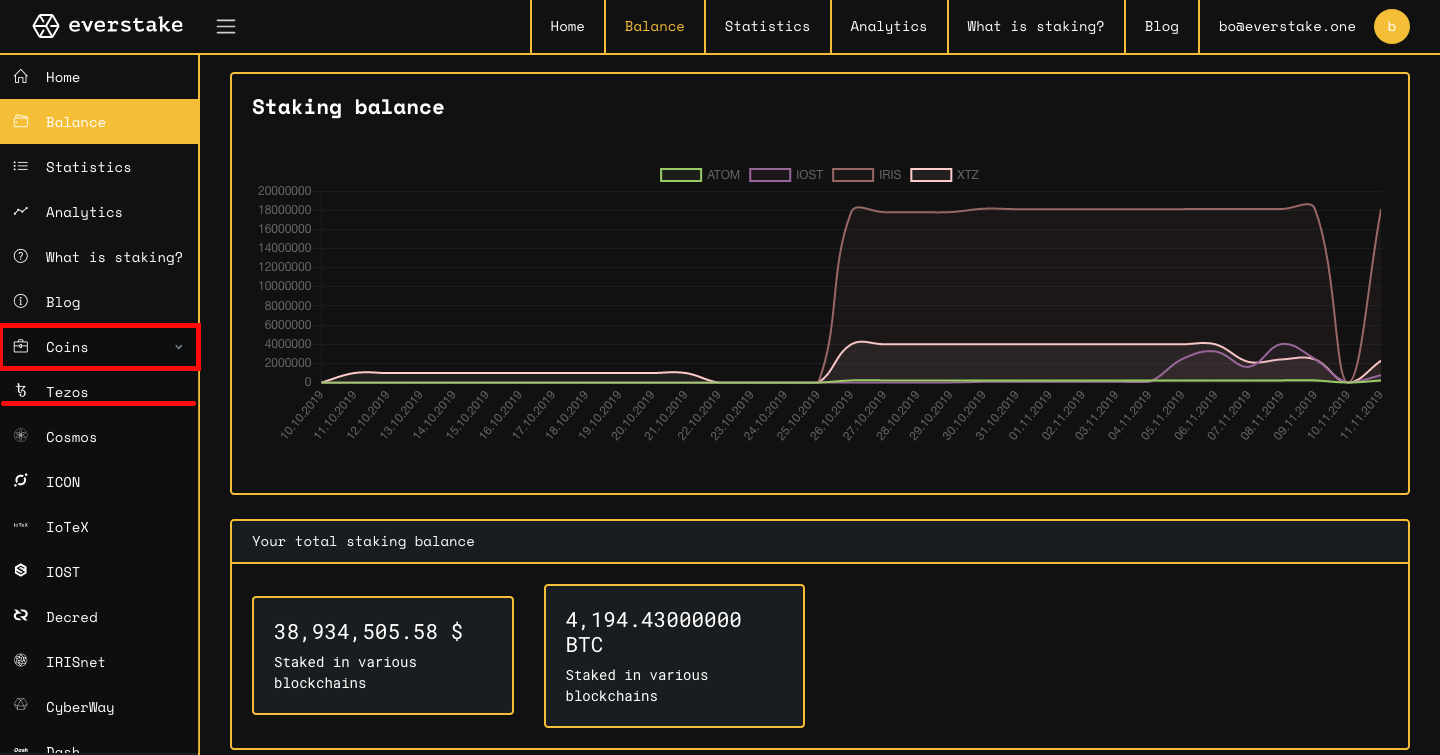 Moreover, if you are planning to stake Tezos, then we recommend referring to our recently created guide for TezBox on desktop and Ledger Nano S. And also if you planned to redelegate your #TEZ you can refer to this material which explains all technicalities that you need to know after the Babylon update.
***
Follow news and updates from Everstake by subscribing to the newsletter on our website and join the discussion on our social channels through the links below.
Website: everstake.one
Twitter: @Everstake_pool
Telegram: @Everstake_chat
Facebook: fb.me/everstake.one
Reddit: /r/Everstake/
Medium: medium.com/everstake