Back to all posts
EOS transition to PowerUp Model. Solutions for possible RAM, CPU/NET issues
2021-06-10 11:44
The EOS PowerUp Model
On April 8th, 2021, PowerUp completely replaced the previous staking model and REX approach. In this Guide we will cover the model main features, as well as possible issues with the resources management.
What is PowerUp?
The model suggests that any user can pay a fee and power up their account to transact on the network. EOS accounts can claim two PowerUps every 24 hours.
What has changed?
Staking won't provide your account with free CPU or NET access anymore. Instead, feel free to claim free transactions offered by

bloks.io

, EOSAuthority, Wombat and/or Anchor wallet, or

PowerUp

your account.

More system fees will be generated with REX.

You won't be able to rent CPU or NET with REX. It is advised to use PowerUp instead.
The EOS PowerUp Model explained
"How public blockchains allocate and manage on-chain resources is extremely important. Some networks operate on the basis of transaction fees, where prices go up as more people try to transact. Those fees are collected by miners. The EOS Public Blockchain has a different model that involves locking up EOS tokens to reserve resources." (Source: https://eos.io/news/eos-powerup-model-explained/).
Generally, the EOS Blockchain uses three resources to perform its operations:
CPU bandwidth (

CPU

) – the amount of time it takes to process a transaction;

network bandwidth (

NET

) – the size of a transaction measured in bytes;

RAM

– the method for storing data on-chain measured in bytes.
Talking about CPU and NET, the new model proposes to operate with them differently.
Previously, a user would control a percentage of the total resources on-chain by owning some of the EOS tokens. This could be compared to owning "a digital real estate asset". By locking up your tokens, you'd reserve a percentage of the blockchain's total available resources. The amount of CPU and NET each user received was proportional to the amount of tokens they had locked up. Imagine that you own 1% of tokens – this would give you an opportunity to operate with 1% of the resources.
This model, however, faced challenges:
There is a scenario when

the resources sit idle

while otherwise those could be potentially accessed by other users. We know that some users lock up their tokens simply for security or for voting.

Potential issue of the lack of resources

while trying to transact. In this case, a user had to:
Purchase more EOS tokens to perform a transaction (obviously, not a desirable course of events for a user).

Obtain resources from the Resource Exchange (REX). Since REX might not have enough liquidity to support resource allocation needs across the chain, this is a tricky point as well.

Use a wallet that takes care of the resources. The issue here is that such wallets, again, mostly depend on REX resources, plus this step presumes that users would have to do more research on the available wallets functionality.
The EOS PowerUp Model becomes the next step in the blockchain's evolution.
The model is meant to "provide greater freedom and efficiency for the EOS Public Blockchain" and it has been evaluated and tested since the Fall of 2020. The EOS Community actively participated in the model discussions, which resulted in shaping and implementing it in a quite short period of time.
The new model proposes a nice metaphor when PoW blockchain fees generated by transactions etc. on-chain activity are obtained not by block miners but by the network token-holders. "Depending on your usage level and the total amount of tokens deposited, the fees you collect may offset the fees you pay to power up your account. And all of this happens within the context of ensuring greater availability of system resources".
Comparing available resources management methods
Currently, PowerUp is the most efficient method for users to obtain resources, while both staking (for CPU/NET) and REX (renting CPU/NET) are possible but not cost-effective.
The Anchor Wallet developers kindly provided us with this example to see the difference between solutions and how older ones are no longer cost-effective:

Take a closer look at the prices of 1ms of CPU on EOS right now for PowerUp, REX, and then staking. "They all work, but PowerUp is drastically more cost effective to use."
If you are ready to manage your own resources on EOS, use the PowerUp system before performing transactions. However, for those users who do not want to deal with any of this, they can use a wallet, like Anchor, which manages resources allocation in the background.
Solutions for RAM, CPU/NET errors upon transition to PowerUp Model
If you keep getting RAM, CPU or NET error messages while trying to perform a transaction on EOS, you need to change your approach. Staking to CPU is not an efficient method upon transition to PowerUp, and so you are prompted to pay a fee for each transaction. However, there are few solutions to this problem:
Claim your free transactions
Use free transactions provided by bloks, EOSAuthority, Anchor or other wallets. EOSAuthority has introduced free transactions in April 2021. If you donate to the EOS account "cpuauthority", you'll assist in keeping this service free.
Rent resources for a day.
Few resources will help powering up your account:
Finally, you might choose to install Anchor Wallet or similar for resources management.
Install Anchor Wallet v 1.2.0 or higher. Upon installation, import your private key to access your EOS account.
Anchor Wallet offers from 5 to 10 free transactions per day (sponsored by Greymass). Once you use them up, the wallet will perform automated resources management. Keep some EOS on your account balance and don't stress about resources. RAM, CPU, and NET will be calculated for each transaction in the background. A small fee per transaction will be charged (≈0.01 EOS) and if eventually, you run out of EOS in your account, the wallet will display an 'overdrawn balance' error. Simply fill up your account with some EOS to keep your ability to transact.
Creating EOS Account and powering it up
Create EOS Account
If you don't have an account, you'll have to create one using EOS Account Creator or Wallets (like Wombat). The service provided by the EOS Account Creator isn't free. You will be prompted to pay for account creation upon the initial steps of choosing the account name and generating public/private keys.

If you want to create an account for free, you can use Wombat Wallet.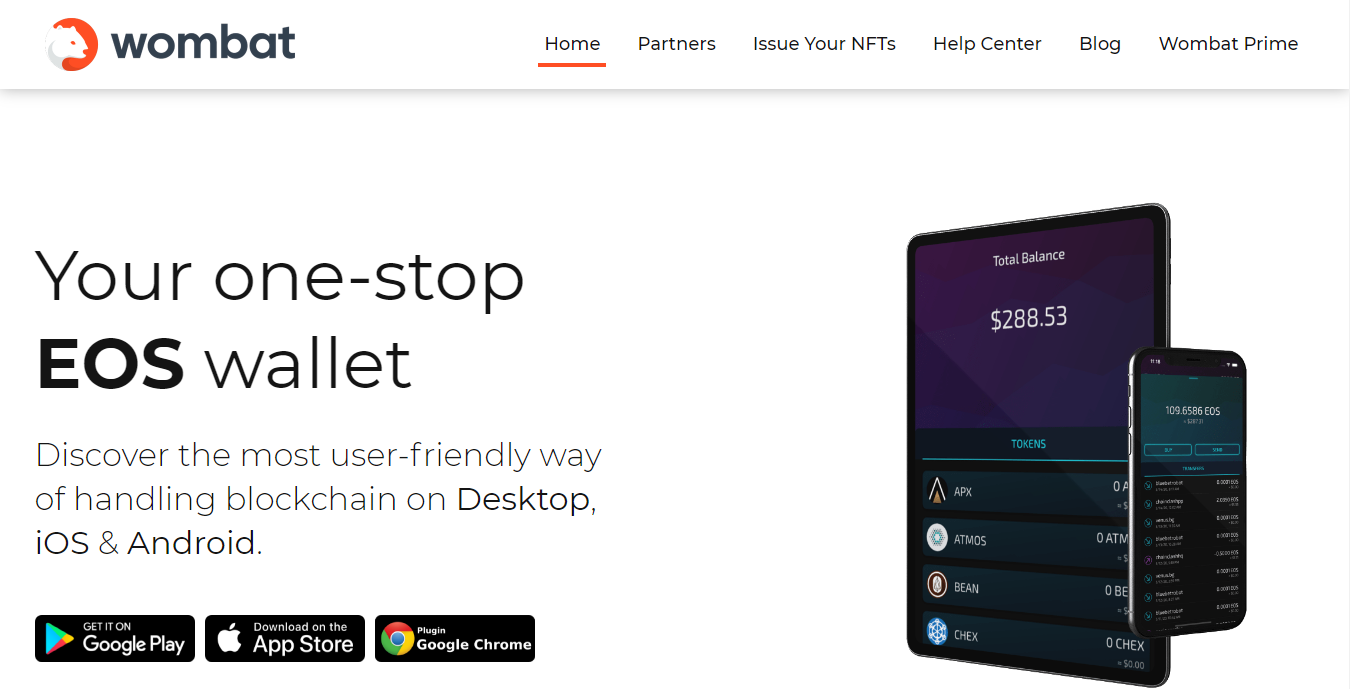 Proceed to the website and choose the relevant version. The wallet is available on desktop, iOS & Android. Let's introduce the desktop version in this Guide.
Install Google Chrome extension and open Wombat Wallet in your browser by clicking on the extension icon in the upper right corner of the browser.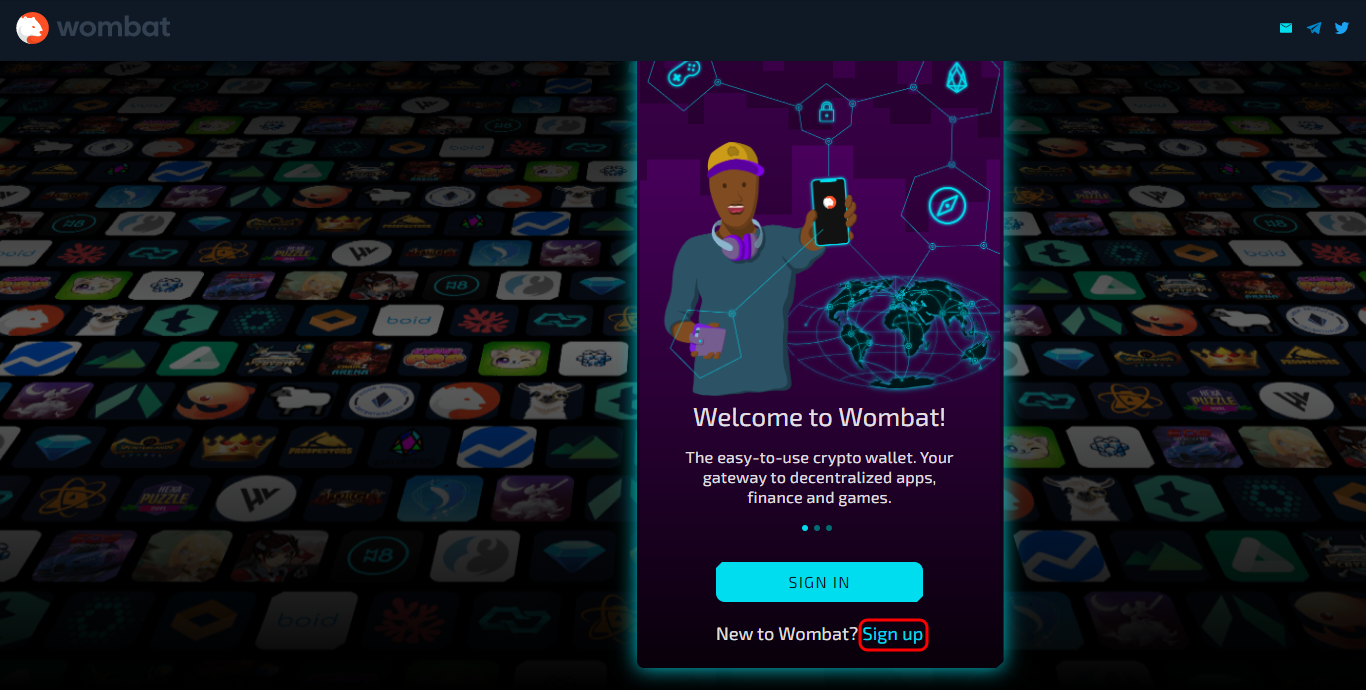 Sign in if you already have an account, or click 'Sign up' link.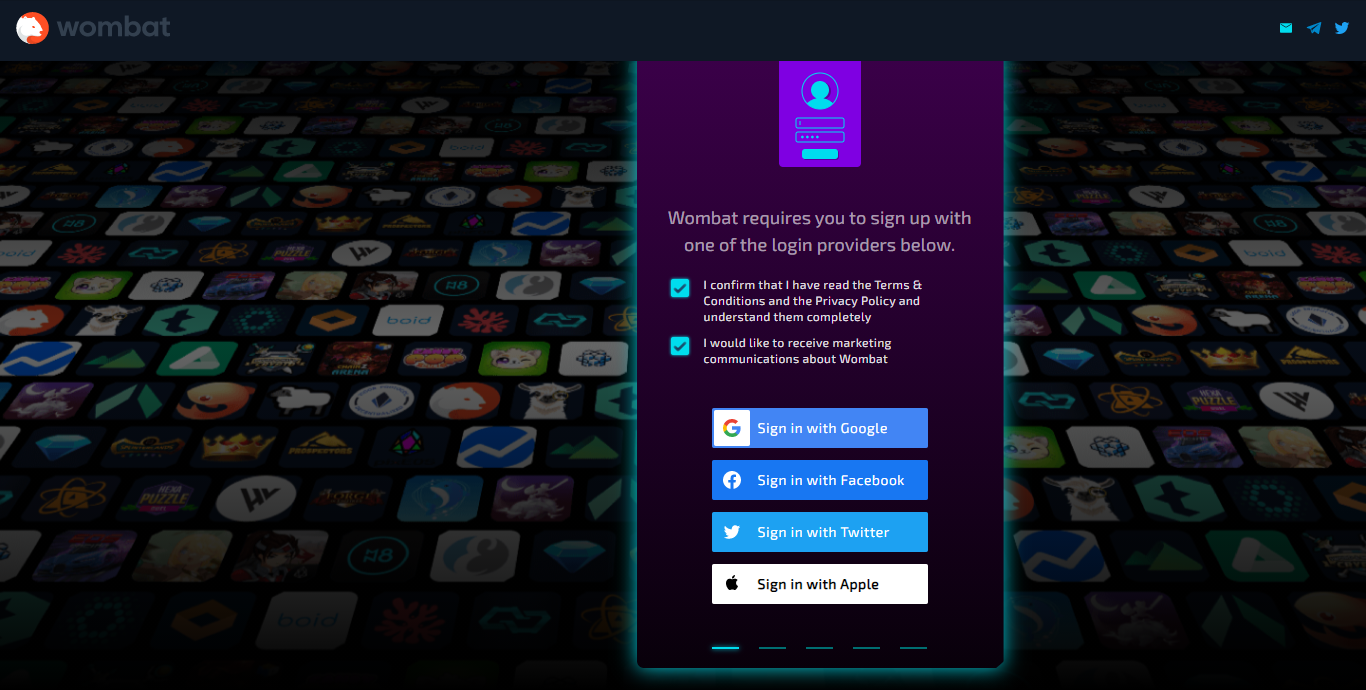 Follow the instructions and sign in with Google, Facebook, Twitter, or Apple. Set a passphrase to protect your account.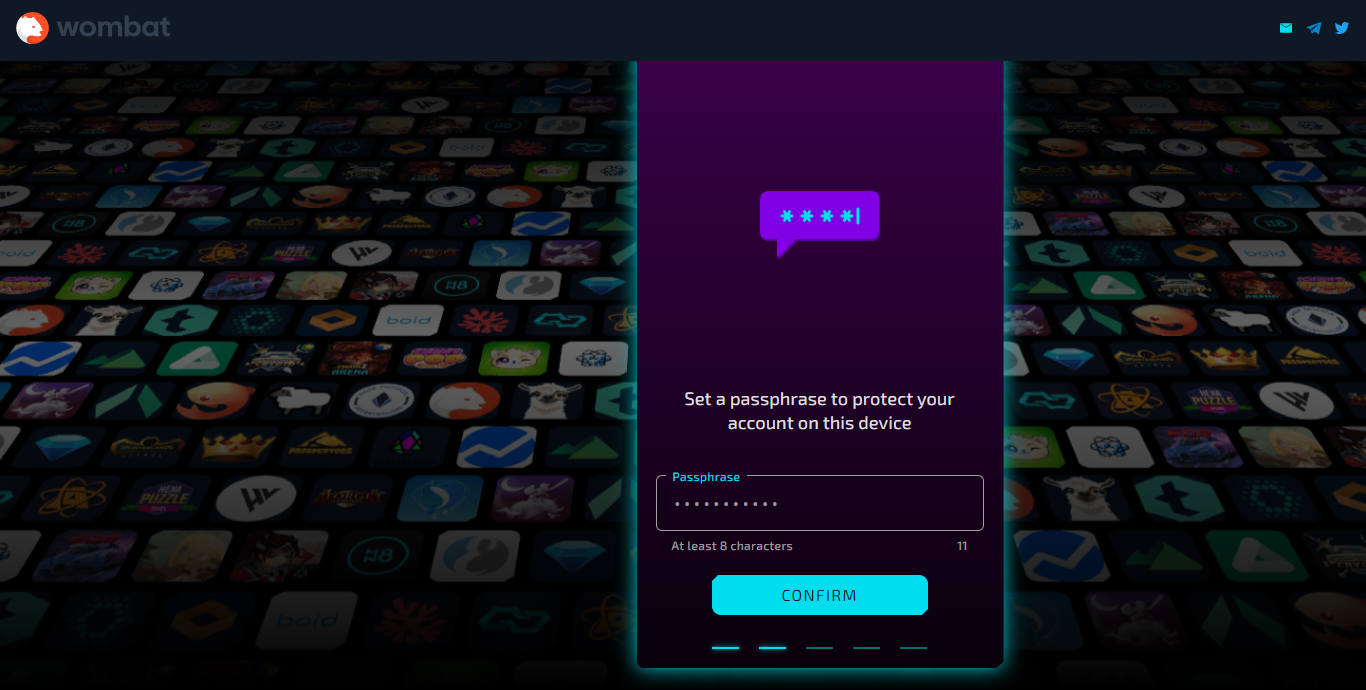 Click 'Create new account', or 'Import existing' if you have one already: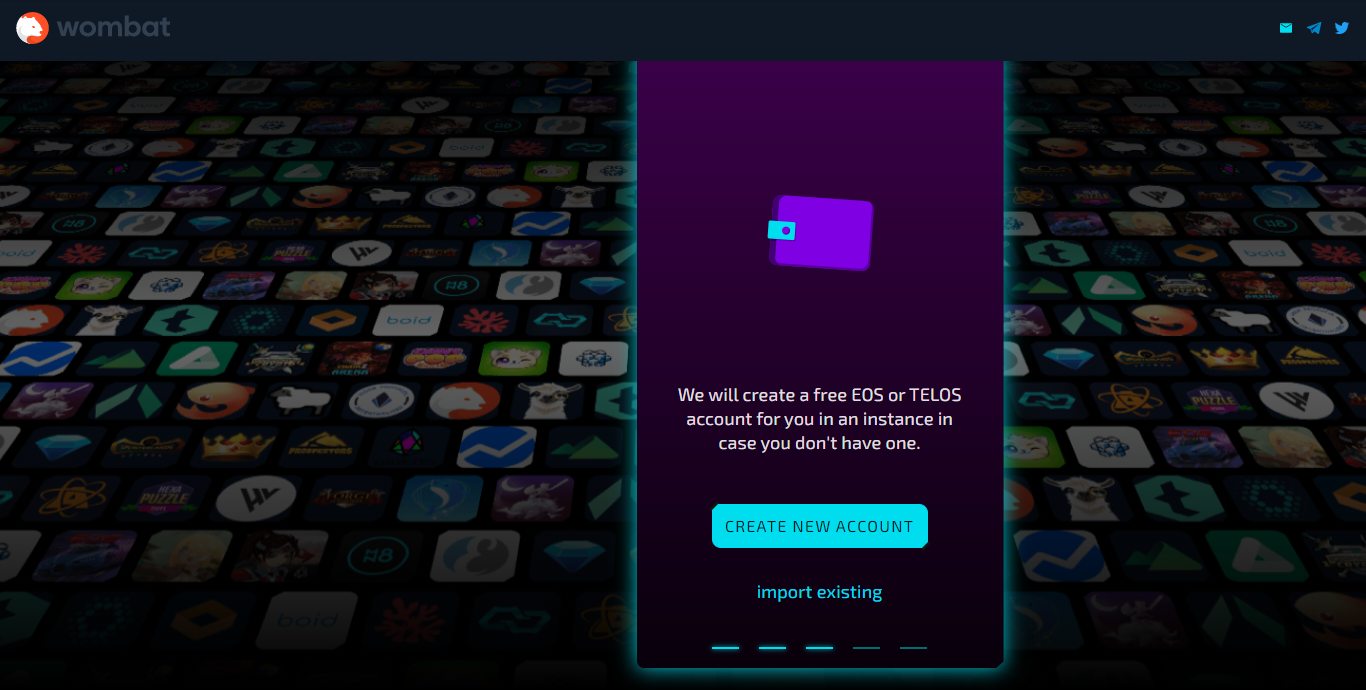 In case you are creating a new account, proceed to choosing an account name and follow instructions. The name shall include 12 symbols (a - z and/or digits from 1 to 5, lowercase Latin letters). Choose the EOS tab in the wallet's top menu: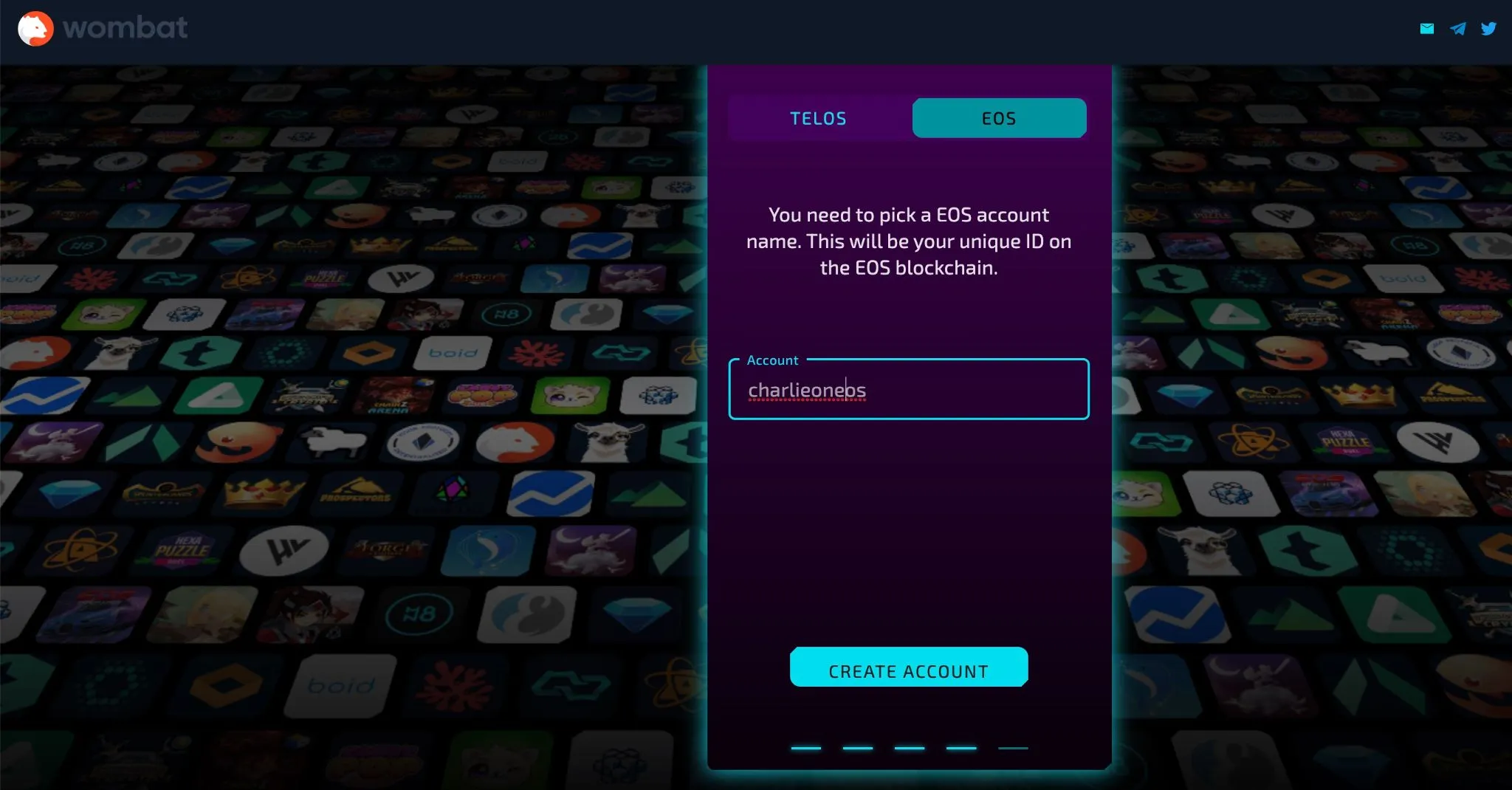 Choose how you'd like to restore your account from the cloud if needed – with the help of Google Drive or Dropbox: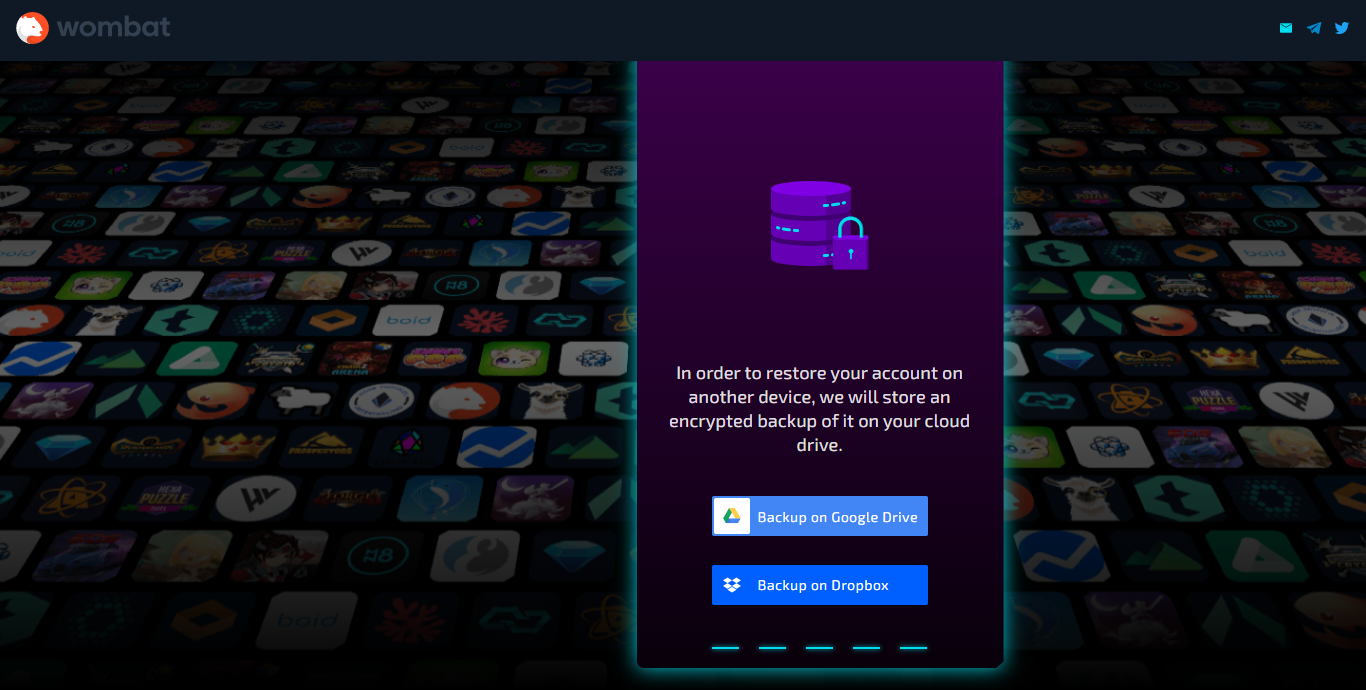 Done! Close the tab and start using the extension by clicking on its icon in the upper right of your browser window.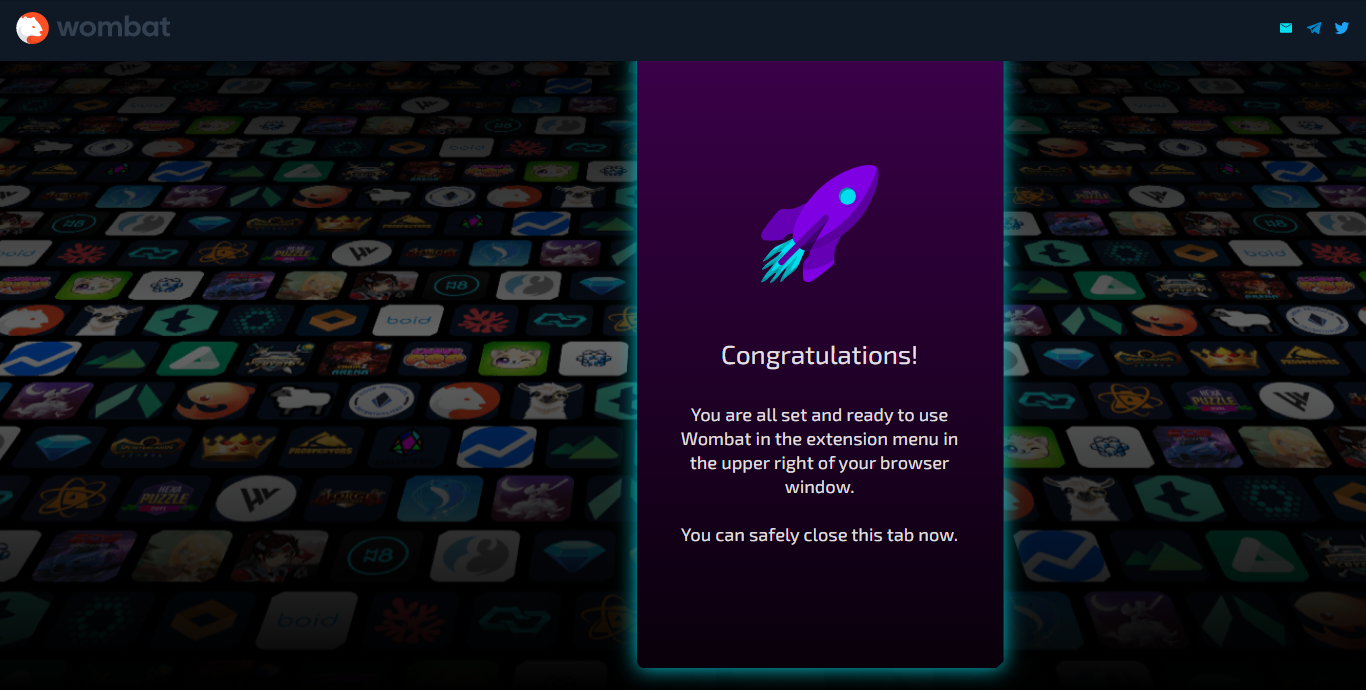 Let's open a Wombat Wallet extension and start using our EOS account by selecting 'EOS':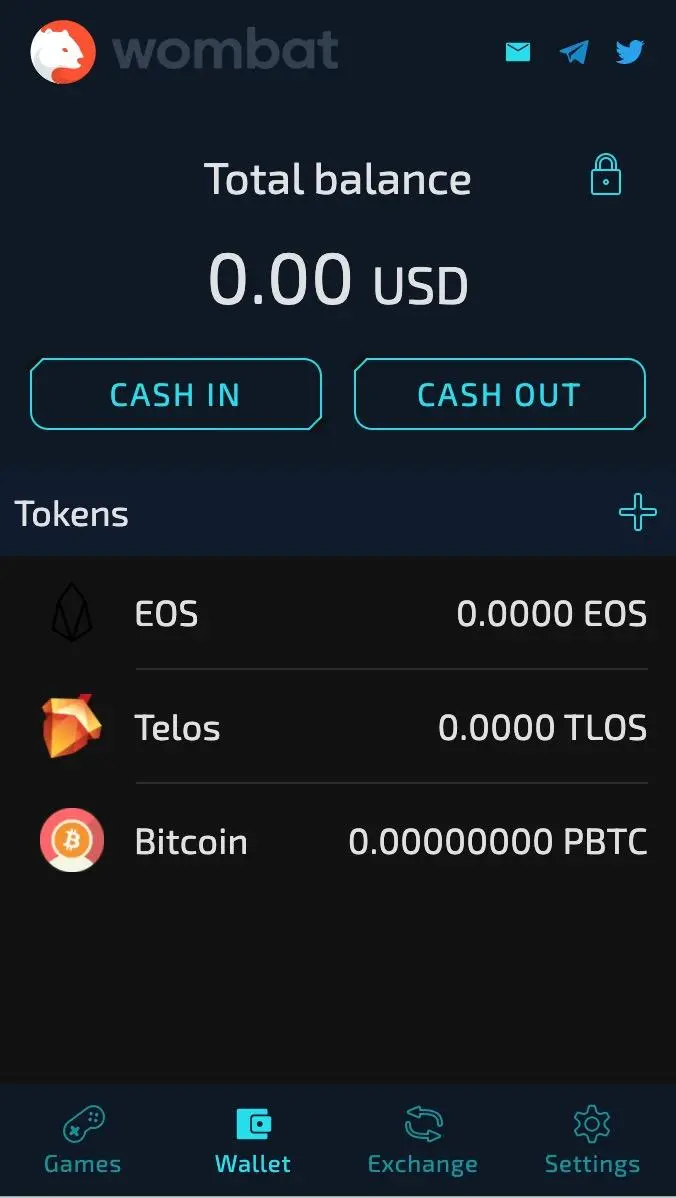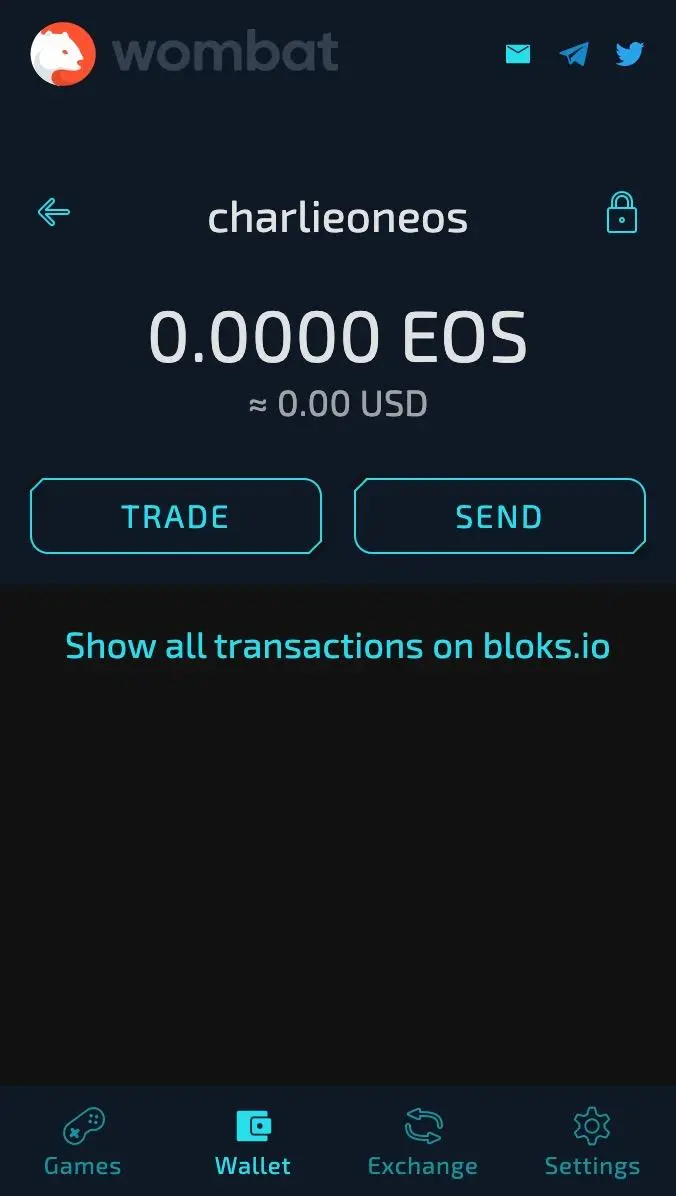 In EOS, the account name plays the role of your address for transactions. Feel free to copy and share it with the sender when you need to receive tokens.
EOS Account PowerUp
Let's power up our EOS account in order to make transactions in the network.
We'll use the easiest method at the moment – EOS PowerUp Telegram Bot, which is in alpha testing mode at the moment and works just fine. Follow the link on your smartphone and open the bot in the Telegram app.
Claim your free PowerUp in just a couple of steps: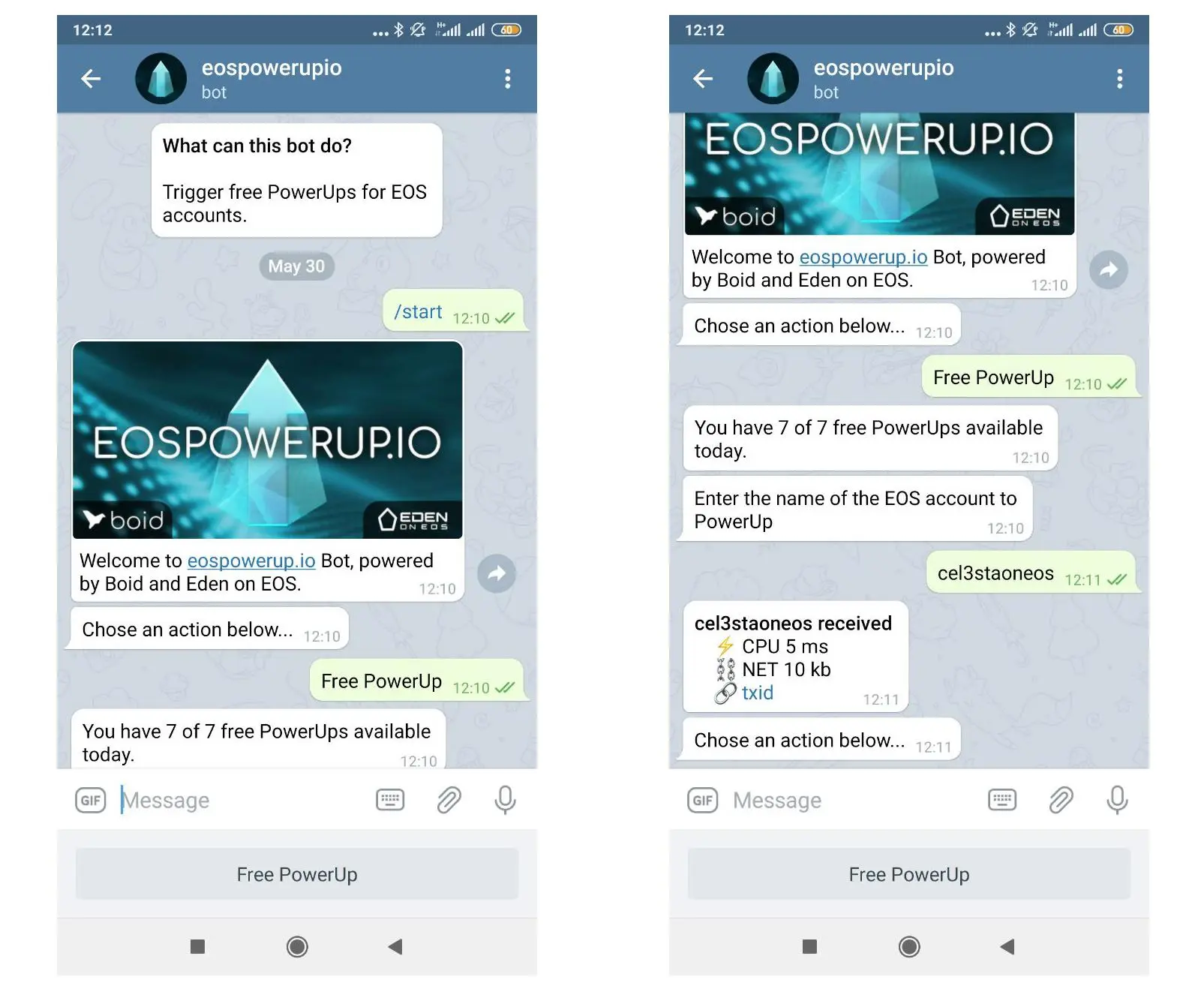 If you don't use Telegram, feel free to claim your free PowerUp in the web version. Press 'PowerUp' to get your resources instantly!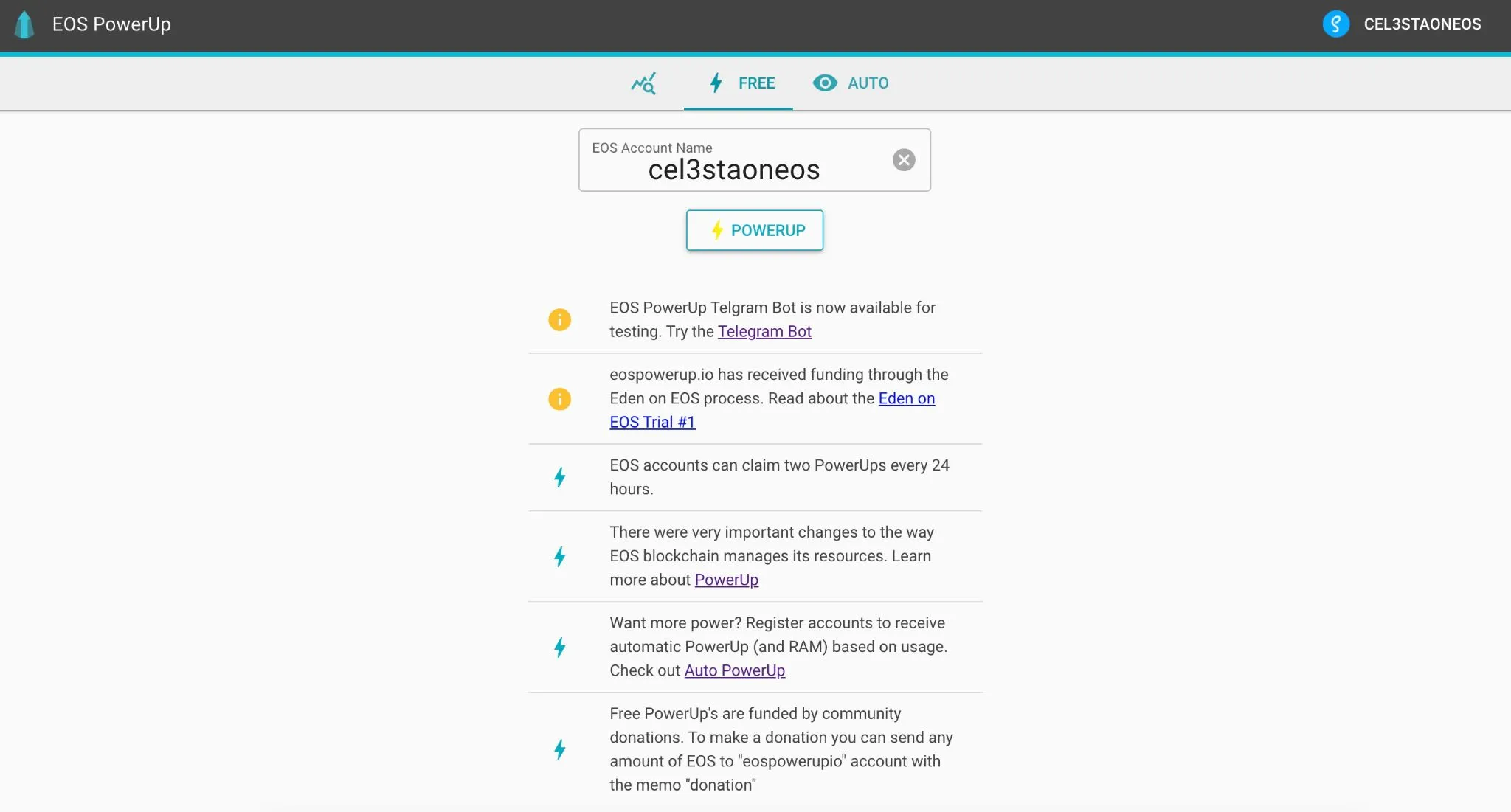 Staking and Voting in EOS for rewards
Why to Vote?
Vote for Block Producers to get up to 4% APY. You can use Anchor Wallet, bloks.io, genpool.io, eosx.io or eosauthority.com to vote for a Block Producer or for proxy.
"Voting helps align interests among token holders, developers, and network operators, which paves the way for innovation. Vote to prioritize network security, encourage constructive participation, and promote transparency". We refer to one of the community sources to explain a voting concept in more detail: https://eos.io/eos-public-blockchain/voting/.
Block Producers (BPs) contribute to the EOS Public Blockchain ecosystem, support community programs and initiatives. You can get more information about AtticLab BP on EOS Block Producer Research Portal.
Сheck out our step-by-step Guide on Staking and Voting in EOS for Rewards.
About AtticLab
AtticLab (Kyiv, UA) was founded in 2016. In the very beginning, we developed blockchain solutions for banks and other financial institutions in collaboration with Ambisafe, Alliance Bank, and Humaniq. Now our diverse and experienced team allows us to focus on building our own blockchain applications. Our roadmap of the projects includes cryptocurrency exchange Cryptagio and open-source banking software openbankIT.
The mission of AtticLab is to create a compliant and decentralized financial system that benefits all its participants. As part of our strategy, we support open source blockchain initiatives and share our expertise with the blockchain community by delivering guides and educational content as well. Our past experience of working with banks and other financial institutions gives strong evidence that the modern financial system suffers from the "code is the law" attitude. The future decentralized financial system needs arbitrage. That is why we believe in the approach that the EOS team sticks to. To facilitate the development of the EOS ecosystem, AtticLab has become the EOS Block Producer and shares its expertise along with resources with the global community.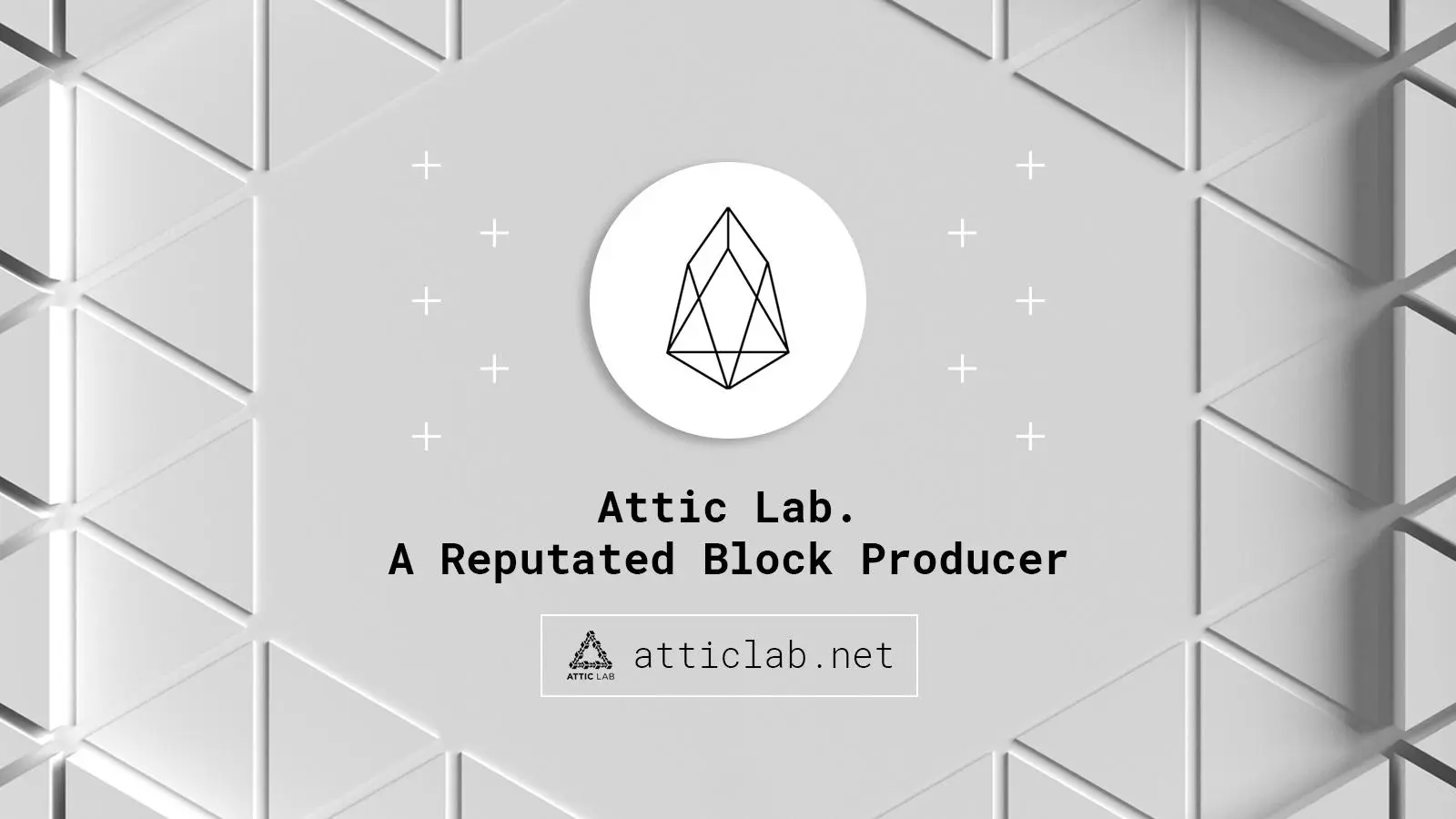 Being EOS Block Producer
At AtticLab, we believe in the concept and technology behind EOS. That is why we commit our resources to its development and mass adoption. As a Block Producer, we run a complex infrastructure with nodes located in Ukraine, Singapore, and Germany. Our top-notch hardware and software allow us to be in the TOP-5 of the fastest EOS Block Producers.
As a Block Producer AtticLab:
– performs technical tasks (creates and validates blocks, hosts full seed node and back-up servers);
– bears governance responsibilities (manages buggy accounts, take-down notices of files, manages hard and soft forks).
You can support the AtticLab/Everstake team by voting for us. This will help us to intensify our support of the EOS Ecosystem and add to the platform development.
Contact us
Website: https://atticlab.net/, https://everstake.one/eos
Telegram: atticlabeosb
Telegram Support Chat: https://t.me/everstake_chat
Twitter: @atticlab_it
Medium: https://attic-it-lab.medium.com/ and https://medium.com/everstake
Github: https://github.com/atticlab/
Useful links
EOS Website:
EOS Explorer:
Wallets:
Wombat Wallet (free tx and automated resource mgmt)
Anchor Wallet (free accounts and free tx)
To power up an account:
Create Eos account:
https://eos-account-creator.com
EOS Community Forum:
https://forums.eoscommunity.org